Aussies are smart cookies, so it's little wonder a Melbourne family has created a super clever baby and toddler feeding gadget.
Subo is a food bottle that lets kiddos feed themselves independently, and it's mess free. That's right: Mess. Free. That's because the bottles are non-squeeze – the food only comes out when tots sip the spout.
There's a nifty little platform inside the bottle that gently and automatically pushes the food up using some sort of magic (or a nifty one-way valve that takes in air as the platform moves up).
The bottles are designed to be used with purèes, smoothies, yoghurt and mashed food – just fill it up and bub is good to go. Even soggy breakfast cereal will be lapped up with minimal fuss using a Subo bottle.
And it's a big tick for the environment, Subo can be used over and over unlike single-use squeezable food pouches.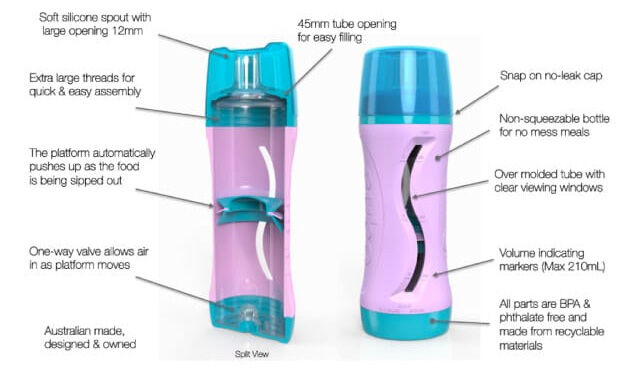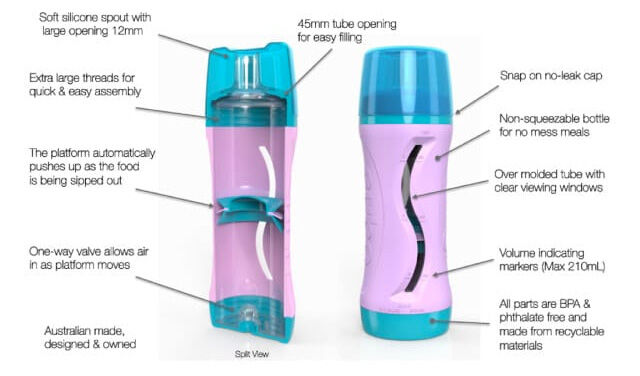 The bottles are Phthalate-free and BPA-free, and you can put cold and warm foods into Subo – as always just testing the temperature before letting a hungry toddler devour the contents. Subo bottles are Australian made and owned.
Subo ($29.95) is available online in Australia.
---
Join the pregnancy and baby groups everyone's talking about: Mum's Grapevine Due Date and Baby Groups – your online mother's groups.