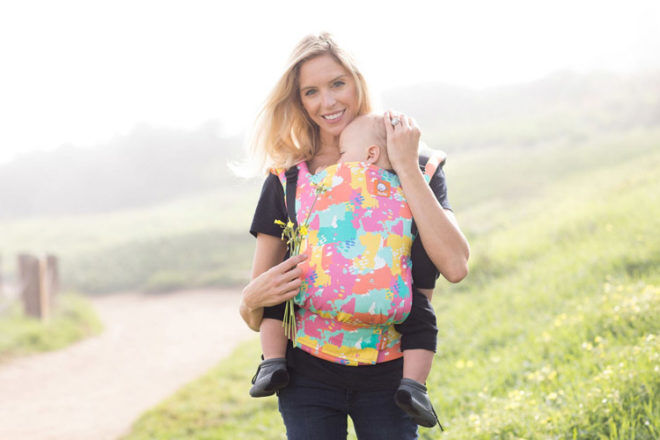 Of all the benefits that come with babywearing, being able to smell those sweet baby smells and plant endless butterfly kisses on their chubby cheeks have to be top of the list.
There are plenty of fringe benefits for babies too. Newborns love to snuggle in close and feel mums heartbeat, smell her clothes and feel her warmth and making sure your babe is safe and secure in their carrier or sling goes a long way to ensuring peace of mind and a great day out for all.
We chat with Mum's Grapevine expert babywearing consultant Brooke Maree who's outlined everything you need to know about safely carrying bub in a baby carrier or sling.


Currently, there are no regulated safety standards for the manufacture of baby slings and carriers in Australia. So it's important you know the safest way to position your baby in a carrier or sling from day one.
Tips for safe babywearing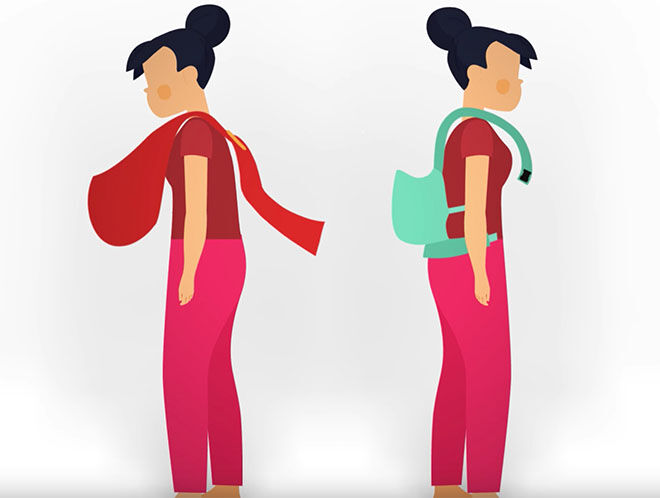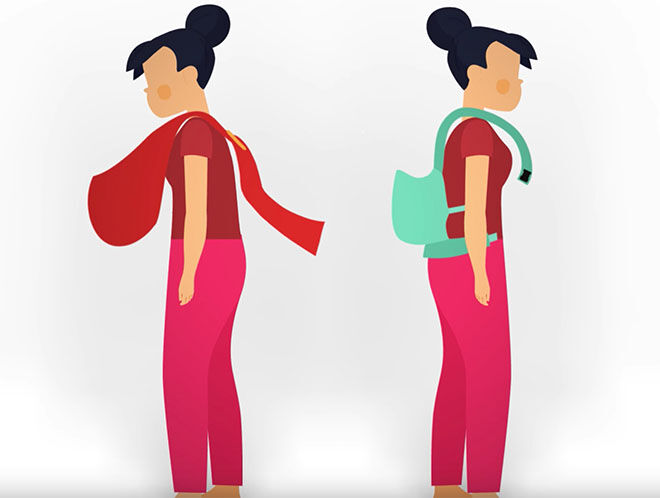 Carrying babies isn't a new fad or modern invention. Women and men from cultures all over the world have been carrying their babies in their own traditional way since the start of time.
Here are a few tips parents do today in a busy modern world to ensure the utmost safety for their babies and themselves. And it doesn't have to be complicated.
Position, position, position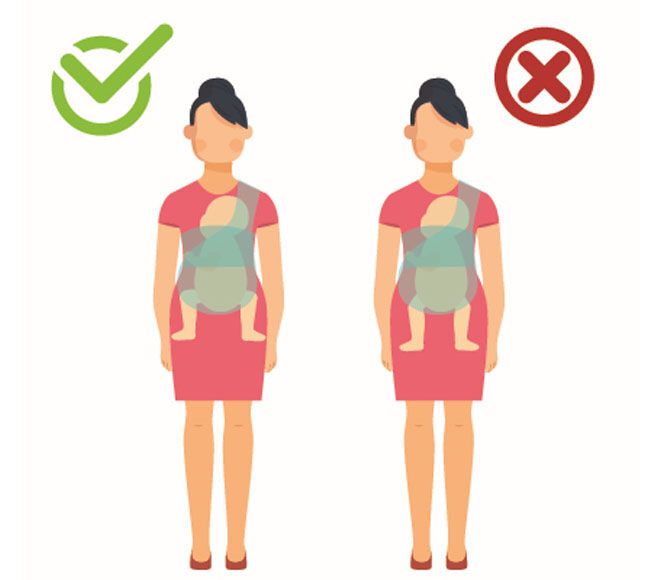 The way a baby is placed in a carrier or sling should always resemble the way a parent would naturally hold them in their arms in the upright position. This ensures they are held high on mum or dads chest in a place that allows for easy monitoring of their airways and cues.
Carried here, their spine remains gently curved in it's correct 'J' shape and their legs are raised into a squat 'M' position, supporting the 'Hip Healthy' positioning.
Support for baby's head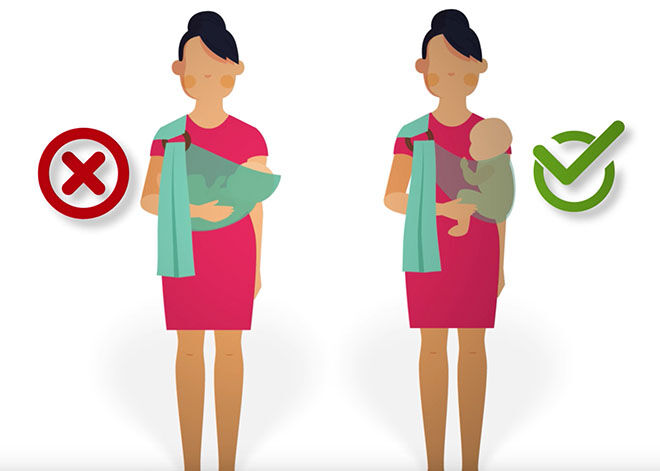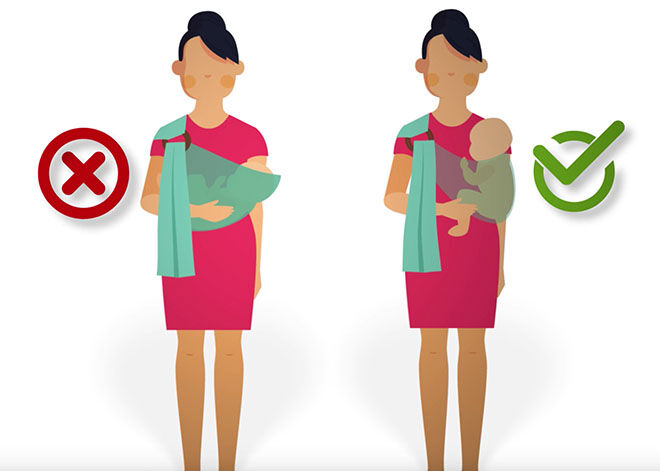 Babies under four months of age are at the highest risk of suffocation in a carrier or sling, due to their muscles still gaining enough strength to hold their heavy head up and support their own airway.
Airway compromise occurs when their chin sinks onto their chest.
Look for a carrier or sling that supports baby's chest firmly against the chest of the wearer. This ensures baby's chest cavity remains uncurled, their body is not slumped, and their chin is off their chest. If you're unsure, a good guide to follow is checking that at least two fingers are able to fit between baby's chin and chest.
Monitoring baby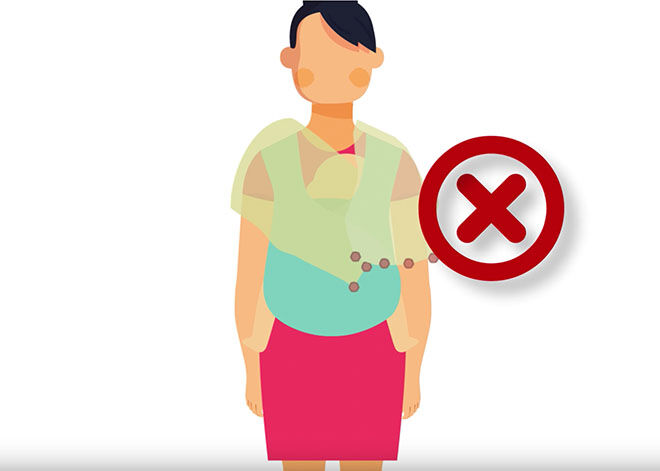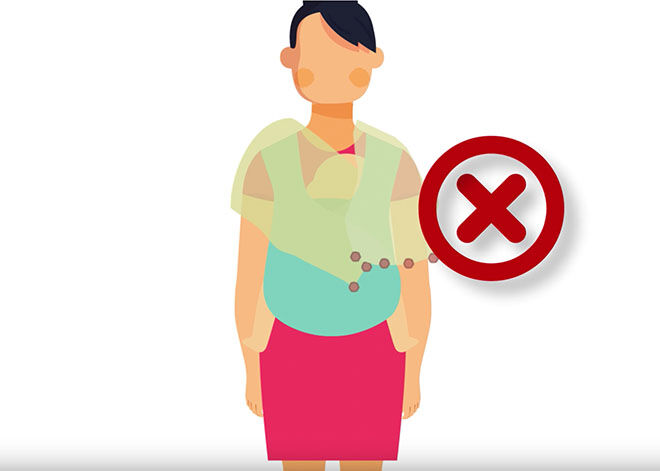 Parents are advised to constantly monitor their children when carrying them, ensuring there is always good air supply to baby and that there is no fabric directly over their face.
The lie-down position in a 'hammock-pouch' style sling makes it difficult for air to circulate freely and for a parent to keep an eye on bub. Slings that encourage a baby to be placed in the horizontal cradle position are not recommended.
This horizontal position can cause the back of baby's head to be bent forwards, which in turn compresses the windpipe and airway. And due to the fabric covering the sides of baby's head, it also hinders baby's ability to move their head freely which is very dangerous.
Follow T.I.C.K.S guidelines
If parents adhere to the standard set of guidelines for babywearing safety known as T.I.C.K.S. a baby should be safe and in an optimal position at all times.
T: TIGHT
I: IN VIEW AT ALL TIMES
C: AIRWAYS CLEAR
K: CLOSE ENOUGH TO KISS
S: SUPPORTED SPINE
Is the sling secure?
It's always good to check the buckles frequently for any wear and tear and make sure they are tightly secured when carrying bub.
To avoid purchasing a fake carrier, always buy 'brand new' carriers from an authorised stockist or retailer. Fake carriers are manufactured with buckles and fabric that are not weight tested or designed for babywearing, so there is an increased chance of injury.
And finally, make sure to dress babies appropriately so they don't get overheated.
Brooke Maree is a Babywearing Educator & mother of two based in Brisbane. She is passionate about parents finding joy and confidence in their roles by using a baby carrier or sling to make their lives easier. An expert in her field, she provides educational blogs, video tutorials, a monthly podcast, private consultations and workshops. Find out more about her services at Brooke Maree.
(Image: Tula Australia)