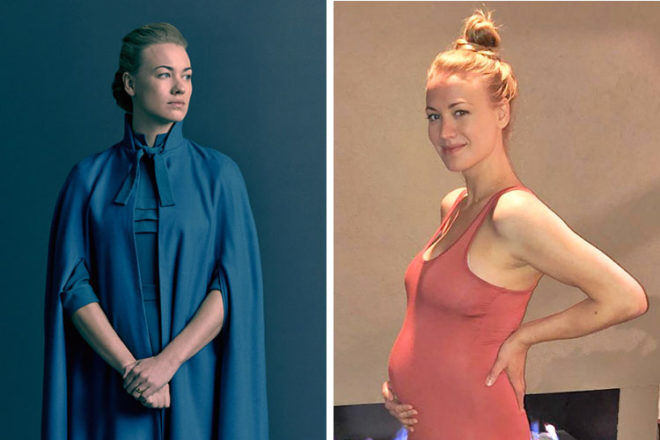 Blessed day – The Handmaid's Tale star Yvonne Strahovski is pregnant with her first child. The Lord has most certainly opened.
The Australian actor, who ironically plays a character who can't have children on the hit TV series, revealed she had to hide her pregnancy during filming.
"It was quite interesting hiding the pregnancy actually because my first trimester was episode nine through to the end of Handmaid's Tale," Yvonne said on The Project. "Of course there is a lot of blessed be the fruit jokes."
The 35-year-old, who secretly wed her husband Tim Loden last year, says she had one particularly unappetising pregnancy symptom on set – along with the usual nausea.
"There is a lot of pregnancy symptoms that nobody tells you about, which I am sure all women are familiar with, but I had no idea — this is really gross — I had excessive saliva." She says she actually had to carry a little spittoon around with her, before revealing all to the cast and crew.
"In the end I was over hiding it so I just sort of said, 'you know what I'm pregnant!'" she said.
Don't miss any celebrity baby and pregnancy announcements, make sure to subscribe to our newsletter.