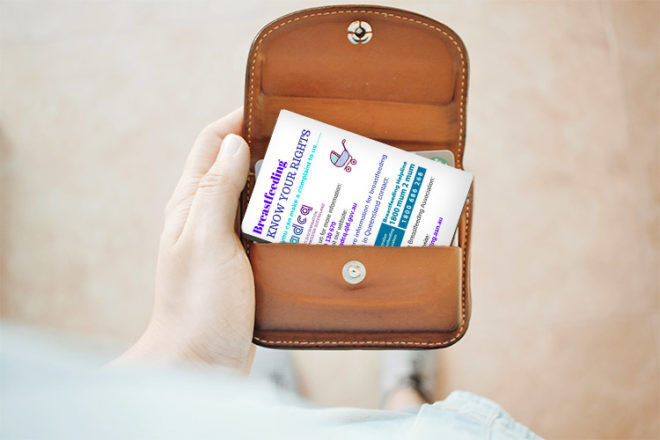 Breastfeeding mums in Queensland are able to assert their legal right to nurse by showing a new know-your-rights card.
The card, launched by Queensland MP and new mum Britanny Lauga, has a series of quotes that can be read to anyone questioning a mum's right to breastfeed in public. Under Australian law, mums can't be asked to stop breastfeeding in public.
The card is part of a range of resources to help women feel confident breastfeeding while in public, and when negotiating a return to work.
"As a new mum to my daughter Odette, I am very aware of the issues surrounding breastfeeding mums and some of the barriers we face," Mrs Lauga said. "The national breastfeeding strategy outlines that although breastfeeding in public is protected in Australia, many mothers perceive or experience a cultural environment that is unsupportive of this and this can be a deterrent to breastfeeding.
"I hope these resources empower breastfeeding women to be confident to know their rights at work and in public. My daughter Odette continues to be breastfed and I have found it difficult, like many breastfeeding mums, to juggle work, expressing and breastfeeding."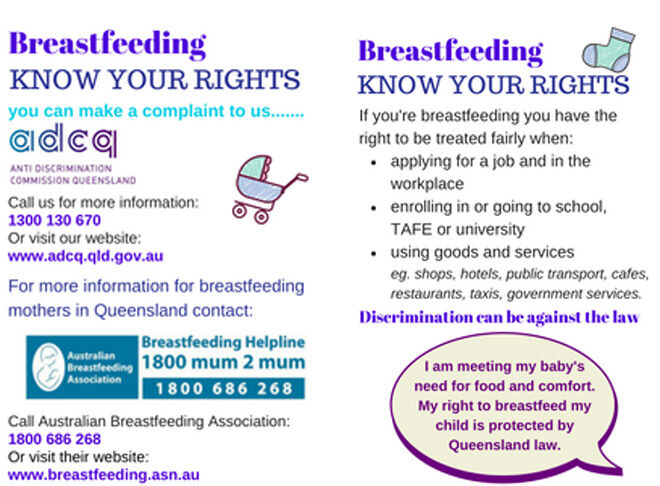 Breastfeeding rights and work
As part of the education campaign Anti Discrimination Commission Queensland has also released a fact sheet outlining a woman's rights when breastfeeding and returning to work.
It recommends:
Discussing arrangements with a manager so a mum is able to combine work and breastfeeding.
Having breaks to express milk or breastfeed a baby.
Having a place to express or feed comfortably.
The fact sheet also addresses being able to bring a baby to work to breastfeed, and if an employer has to allow breastfeeding breaks.
"We should encourage women returning to work to continue on their breastfeeding journey by making it as easy as possible to transition back into the workplace," Mrs Lauga said.
For more information on the fact sheet head to ADCQ.