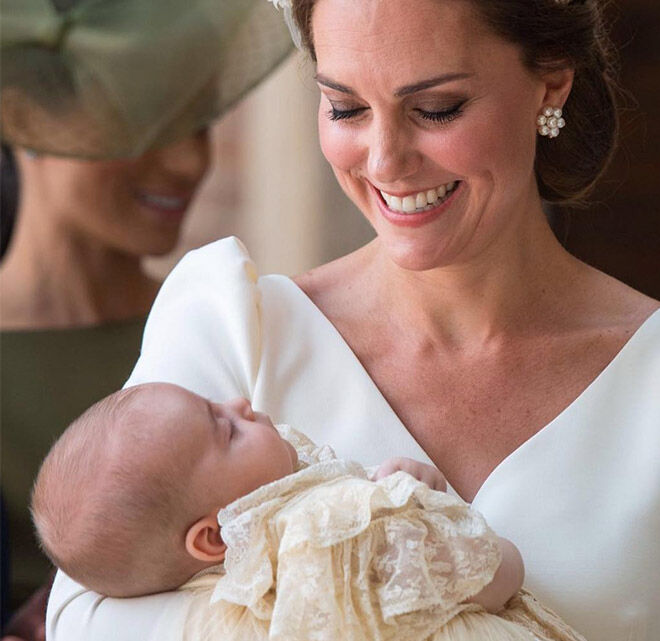 A snoozing Prince Louis has made just his second public appearance since his birth, as he was christened in London overnight.
The 11-week-old Prince was cradled in his mum Kate Middleton's arms as they approached the Archbishop of Canterbury ahead of the ceremony. The Duchess of Cambridge was heard saying her third child was relaxed and serene and she hoped he "stays like this".
Alongside the beaming mum was Prince William and proud siblings, Prince George and Princess Charlotte. They were followed by newlyweds Meghan Markle and Prince Harry. It's the first time the new family of five has been pictured together in public, in what's been a busy year for the Royal Family.
Prince Louis wore a handmade replica of the Royal Christening Robe made by dressmaker to the Queen Angela Kelly. The original Royal Christening Robe was made in 1841 for the christening of Queen Victoria's eldest daughter.
The private christening was attended by about 30 people, including Kate's pregnant sister Pippa Middleton and Prince Charles and Camilla. However the Queen and Duke of Edinburgh didn't attend – according to Buckingham Palace, it was not due to health reasons.
Six godparents took part in the ceremony, William's friends Nicholas van Cutsem, Harry Aubrey-Fletcher, Lady Laura Meade and Guy Pelly and Kate's cousin Lucy Middleton and school friend Hannah Carter.
The Duke and Duchess of Cambridge chose two hymns for the christening service along with two lessons and two anthems. One of the anthems, This is the day which the Lord hath made, was composed for The Duke and Duchess of Cambridge's Wedding on 29th April, 2011.
Stay up-to-date with the latest celebrity baby and pregnancy news, by subscribing to our newsletter. Here's what's made headlines recently:
• Jacinda Ardern, New Zealand Prime Minister is a mum
• Carrie Bickmore announces baby number three is on the way
• Eva Longoria welcomes a baby boy
• Actor James Van Der Beek welcomes his fifth baby