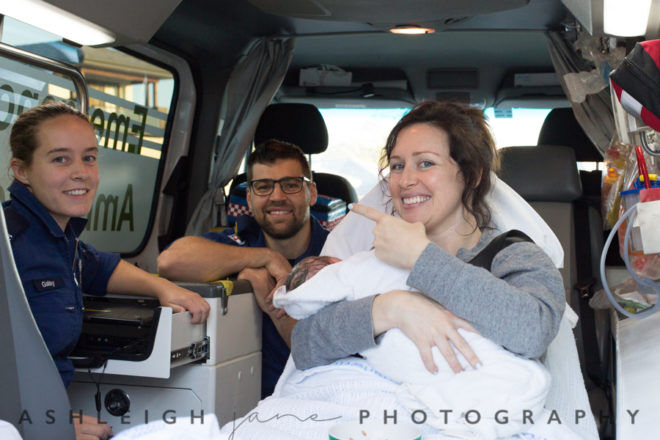 Jennifer Clanfield admits she never thought she'd be 'one of those women who homebirth'. Too many scary stories and articles advising against homebirth had her spooked.
After her first two fast labours, the NSW mum was told it would be worth considering a homebirth for her third. After much research, she birthed her third babe at home, saying it was 'the most beautiful, tender, bonding experience as a family'. So when she became pregnant with her fourth bundle of joy, Jennifer had no hesitation in planning another homebirth. But this one would play out a little differently – and it was all beautifully captured on camera.
A planned homebirth, with a few twists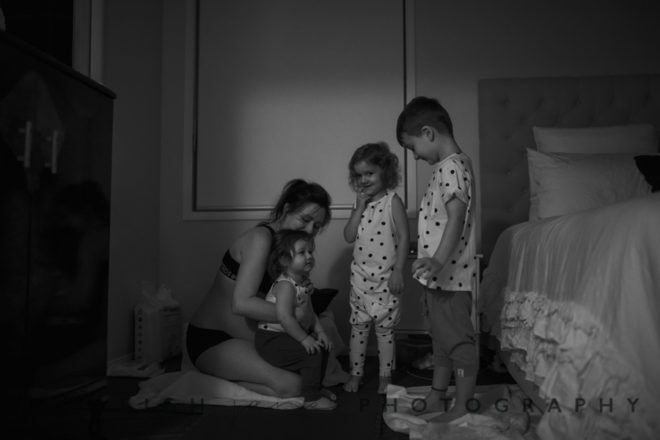 "Unbelievably, my first three births occurred on their actual due dates! Statistically, a five per cent chance! So naturally, I couldn't help but wonder if my fourth would be the same," Jennifer explained to Mum's Grapevine. "We planned for another homebirth, however, this time we were a little more prepared with setting the room
up to my liking; essential oils, candles, soft flooring and plenty of towels.
"The 1st of May was our baby's due date. It came by and went. After that date every day felt like ten days in one. On May the 7th at around 4am I was lying in bed just dozing when I felt a huge contraction. I layed there, waiting for that second contraction. Once it happened I woke my husband, James, and told him I was in labour. I had given him a list of things to do; call the photographer, the midwife, put the essential oils on, etc. I downloaded a contractions app and glued my eyes to my phone screen, waiting to hit the button.
"They began at six minutes apart, and noticed that they got quicker and quicker rapidly, just like my first three labours. As we wanted the birth to be a family experience, I went to wake each of my other children during that small pocket of rest. I'll never forget their faces when I told them 'mummy is having the baby now. Take your time to wake up and come out'. They were out within two minutes. We spent nine months talking openly about labour, what to expect, how to help mummy best and not to be anxious or afraid of anything. And it paid off!"
A bump in the road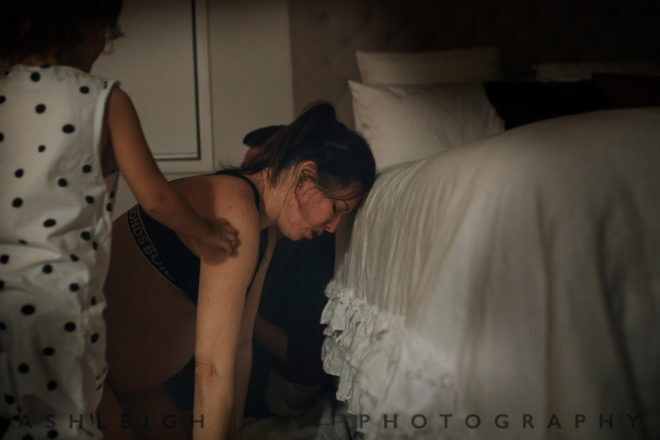 Jennifer made her way to the main bedroom, where a birthing corner had been prepared. As she waited for the next contraction, James dropped a bombshell. Jennifer's midwife couldn't make the birth – she was at the hospital which was short-staffed. Their only options were to drive to hospital or call for an ambulance to take them there.
"So my dreams of a calm quiet birth suddenly changed due to unforeseen circumstances. When I found out that my midwife was no longer able to be at my birth I became anxious, causing my contractions drastically changing from three minutes back to six minutes. I never thought about the what if's. I didn't want to be anywhere but in my home with my little family bringing my baby into the world together.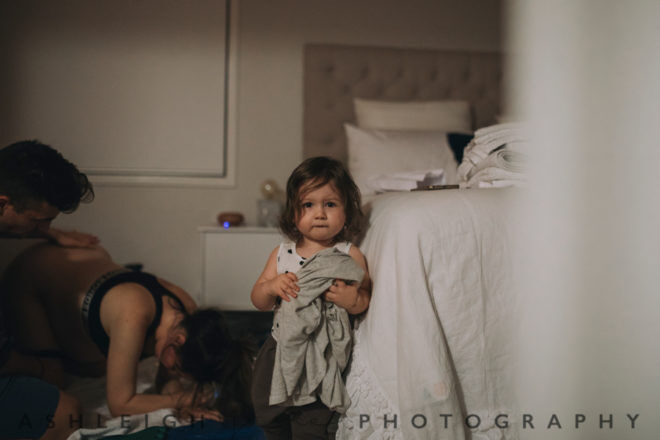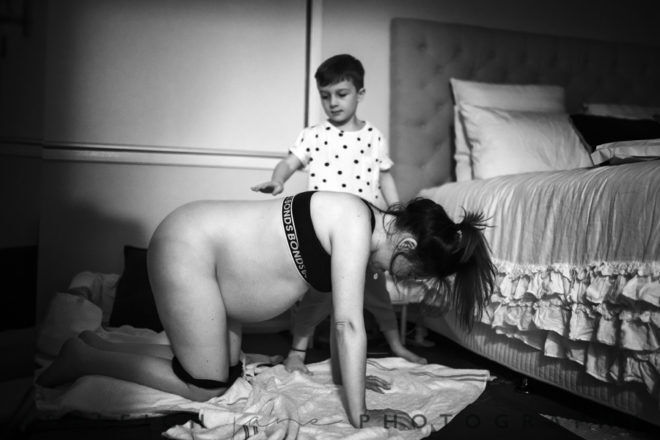 "The room was very quiet, but in my heart, I felt uneasy. The children were rubbing my back and staying close to me. I needed to see my midwife's face, I needed her to tell me it was going to be okay. When the photographer arrived, James explained the situation and together they put our children into the car to head to hospital. While they were gone I had time to pray and focus. Essentially, I was preparing myself to birth without my midwife being there.
"When James came back upstairs I explained I didn't want to sit in a car in labour. I didn't want to birth in the car. James was worried the ambulance officers would arrive and take me right to hospital but I clearly remember stating 'call them, they can't take me anywhere. They can be here as back up'. So that was it, and we were both really happy with this decision.
"James called 000 and explained I was in labour. They sent out a ambulance, but the telephone attendant isn't allowed to get off the phone until the ambos arrive. As I like to labour in complete silence, this didn't help as I tried to stay in the zone and focus on my contractions. James had to politely ask the attendant to stop talking and ask him to just stay on the line, but leave the phone in the other room. On reflection this was a really funny moment we discovered, as the conversation went on, that the attendant was one of James' mates."
Three ambulances, 11 adults and three children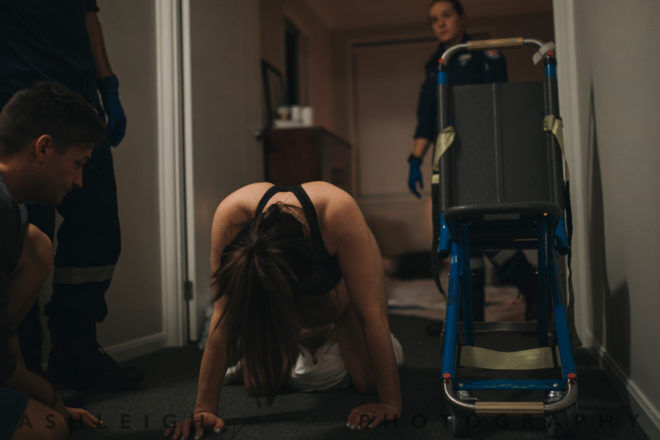 The paramedics arrived and immediately tried to get Jennifer to stand and walk down the stairs to the ambulance. With her contractions just two minutes apart, three ambulances were now at the house prepping to get Jennifer to hospital.
"When I heard the two guys outside my room calling for intensive care that's when I really needed James. I couldn't speak due to the intensity of the pain but my mind was incredibly distressed. I had a moment where I was thinking to myself is something wrong? But I know my body and I knew if I went to walk I would get no relief and judging by what happened with my firstborn, ultimately give birth away from my birthing space.
"The kids were unbelievable during this whole time. They would rub my back, ask how I was and sit quietly. Noah, 6, was enthralled by the photographer and how to take the perfect photo and the girls never left my side. Scarlet, 4, and Aquila, 20 months, sat and watched.
"So, by now I'm sitting at two minutes apart. There was so much noise happening in our home. We had 11 adults and three children all in there! Five males and one female ambulance officers, two Cell Care people (quietly waiting downstairs to collect our baby's placenta blood and cord to be stored), a photographer and my husband and I. The ambos were talking and asking each other who was going to deliver the baby and they were busy trying to coax me into the ambulance.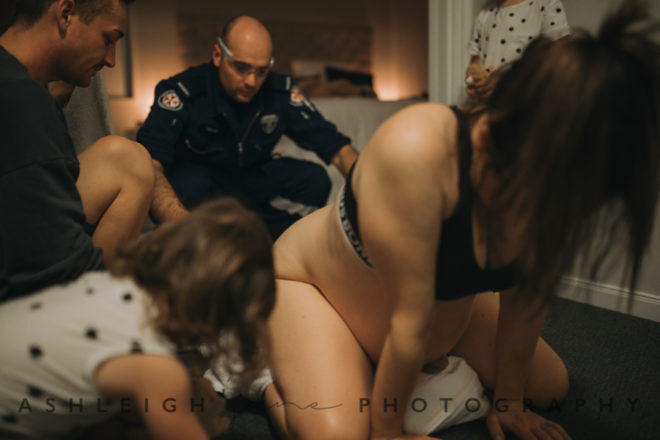 "Finally, one of them convinced me to get up and walk. He proceeded to tell me I had been sitting at two minutes apart for some time and I might be like this for a while still. Something overcame me right at that moment. I thought I had failed. I thought I must have been labouring for hours and had held up so many people. I suddenly stood up. I could see my reflection in the shower mirror and I will never forget my face. It was the face of defeat. I felt I had let everyone down.
"And so I took literally four steps out into the hallway and fell on the floor with another huge contraction and my waters broke. The paramedics proceeded to roll a chair up in front of my face and said they could take me down in it so I don't need to walk. I was thinking, 'get that out of my face.' But apparently, I was much more polite. James had put the children in the car for a second time and my photographer kept quietly telling the paramedics that it's best not to move me. My husband walked back up the stairs with the children and said to everyone
'she's birthing here. We aren't going to hospital. We are staying here.' And that was that." This incredible birth had now become an amazing training experience for each of the paramedics.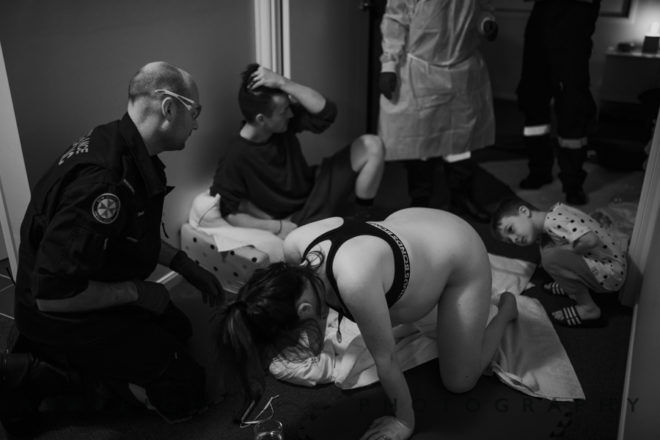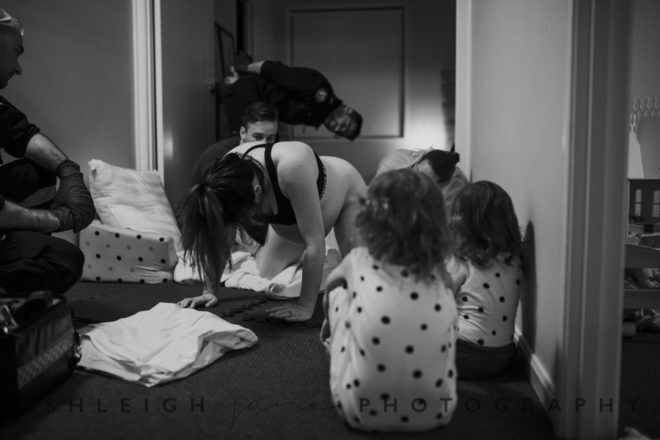 A perfect, hallway birth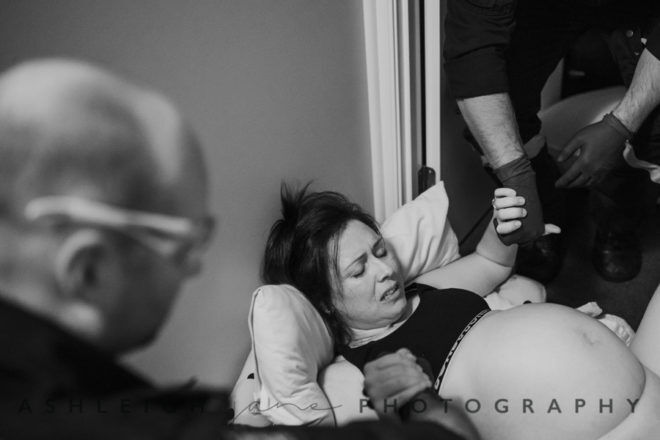 Jennifer was now labouring in the hallway, just a couple of metres from the beautiful, serene birthing corner she'd created in her bedroom. But there was no time to get back – she was pushing.
"Two of the drivers were holding each of my hands so I could push against them. The woman was down the other end to catch the baby with others gathered around to, umm, cheer me on maybe? I pushed out the baby's head. The girls were sitting by my side quietly and Noah was down with James watching the baby being born. My second push was to get the baby's shoulders out, as I was pushing I could feel the pressure.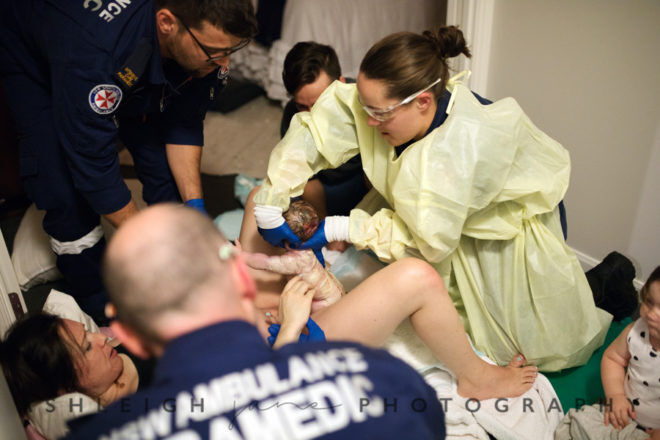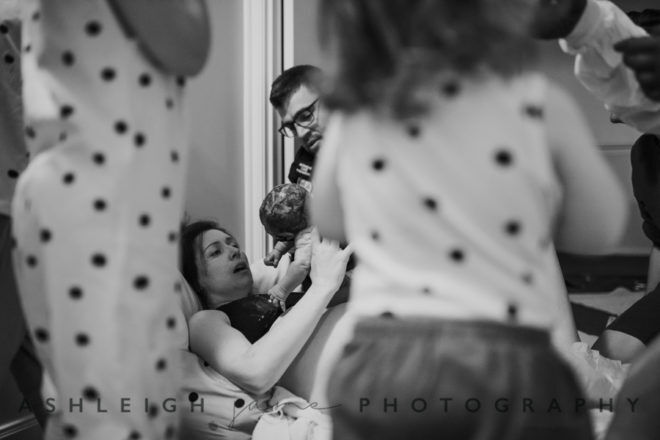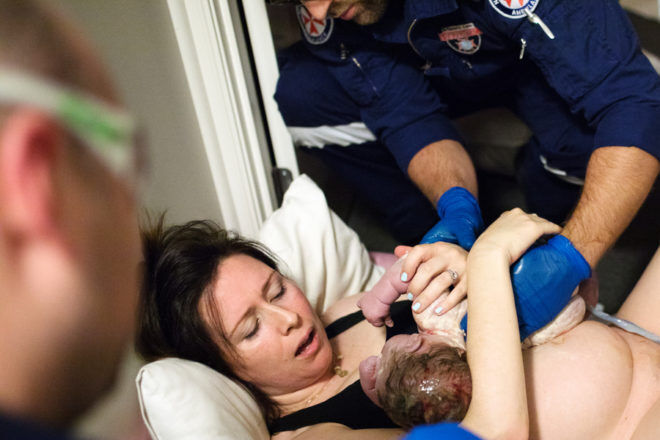 "I looked down to see the poor woman's face, a lab coat, gloves and what looked like goggles to deliver my baby. She looked slightly freaked out. (I just hope this experience hasn't put her off childbirth!) I whispered, 'turn the shoulders, turn the shoulders'. And at that moment James came in and turned our baby and delivered her onto my chest. I cried out, 'my baby, my baby' and the children gushed over Selāh Jennifer. Aquila called out 'yay, baby, baby, yay.' and then proceeded to kiss her and ended up with a mouthful of mucus.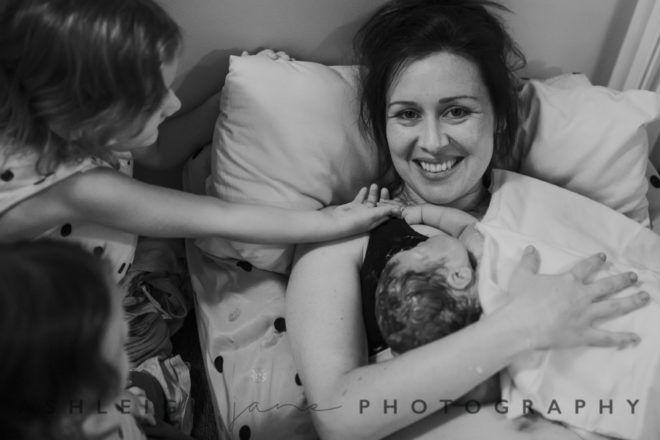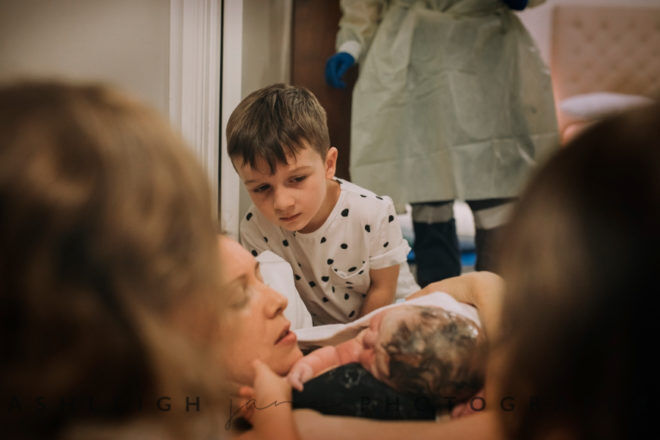 "James and Noah cut the umbilical cord together. We all had turns in holding our sweet baby girl. The girls kept sneaking moments to touch her skin while Noah took the initiative of bringing me a glass of water. My children displayed a maturity and boldness beyond their years. Our homebirth was remarkable and truly a moment that brought our family unit closer with a lasting memory, only for our hearts to cherish."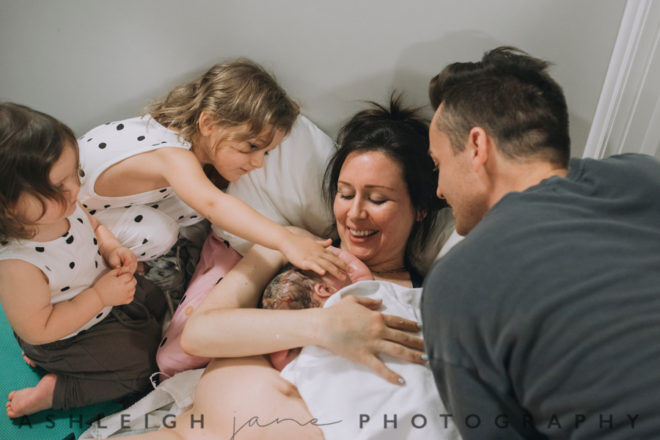 What a spectacular birth! Like most births, it wasn't exactly according to plan, but somehow it's perfect all the same. If you want to see more of the gorgeous Clanfield tribe, you can find them on Instagram or at their brand new blog My Dear Quiver. Got a birth story you'd like to share? Submit your story online here.
(Images and video: Ashleigh Jane Birth Photography)