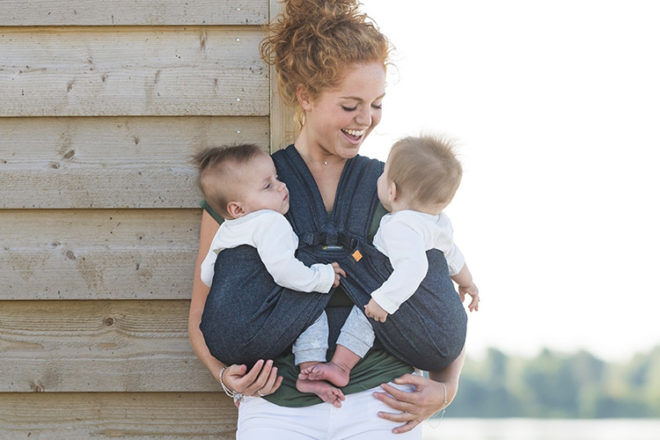 Twice the fun, twice as nice and a babe in each arm – welcome to the beautiful world of twins. Having two little ones on the way may mean you're going to have your hands full, but it doesn't mean you need to ditch the idea of using a baby carrier.
Mum's Grapevine expert, babywearing consultant Brooke Maree explains how it's still possible to carry your two little ones and get all the benefits of keeping them close in a carrier.
If you've recently had twins, or are expecting, congratulations! You might already be receiving helpful comments like, 'you've got your hands full!'. Previously you may have thought about using a baby carrier but now might be wondering if it's still possible. Well, there's good news! It's totally possible to carry both your babies at the same time with the help of a wrap, ring sling, or specially designed twin carrier.
After all, if one's having cuddles, you don't want the other to miss out.
Benefits of babywearing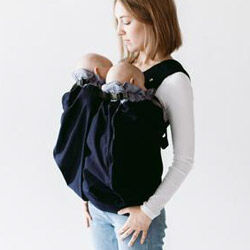 Babywearing offers phenomenal benefits. For your baby, it's an extension of the womb. It's cosy and warm, your baby can hear your heartbeat and they are soothed by your gentle movements. It's also where they naturally want to be; held close to you knowing they are safe in your arms.
For you, it gives you your hands back and supports your ergonomics so you're not popping your hip out all day or getting a sore back carrying your baby in your arms. A carrier or wrap also offers great flexibility and ease, allowing your baby to be settled and peacefully held upright on your chest.
How to babywear twins
So twin mummas, what can you do to get the same positive babywearing experience but with an additional child? You have a few options.
Twin baby carrier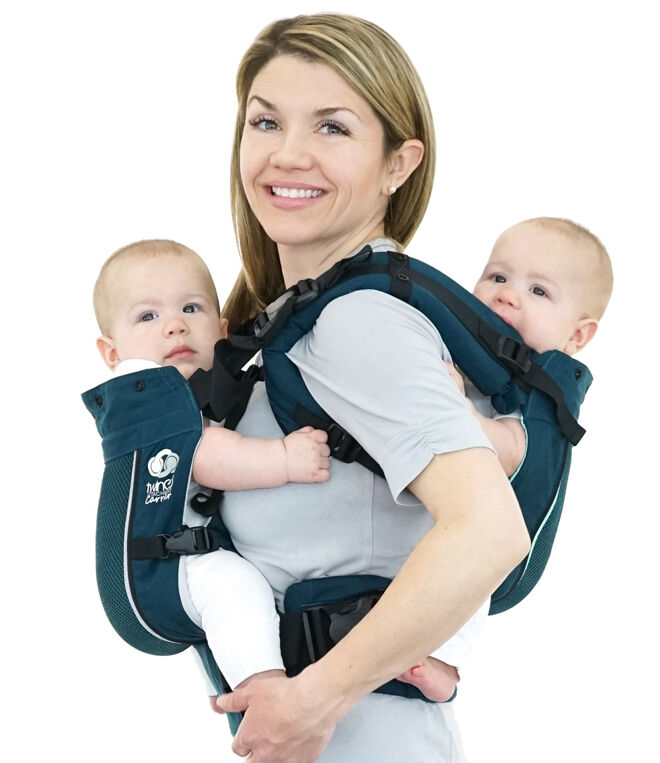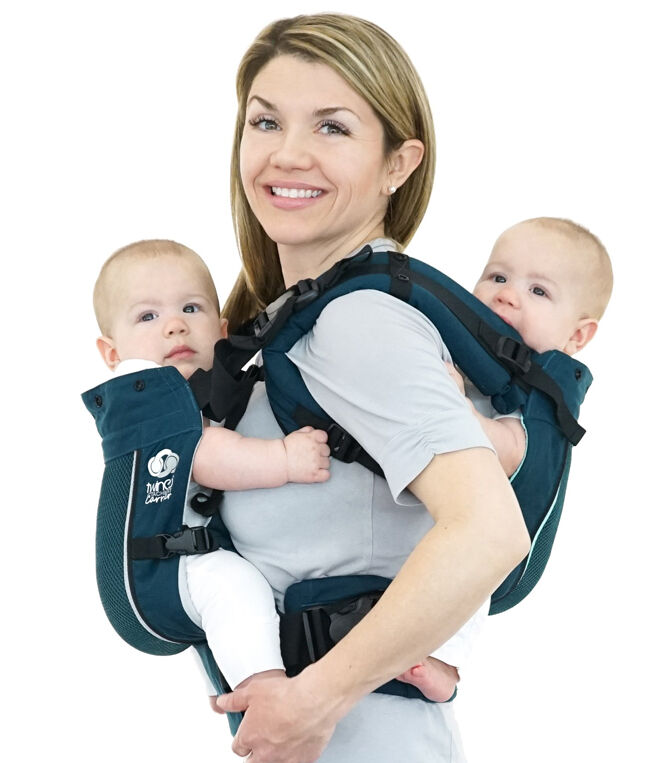 A specially designed twin carrier, such as the TwinGo, makes carrying two babies as easy as clipping a few buckles together. This soft structured carrier provides a great option for parents of twins or two children of different ages. You have the ability to carry two children simultaneously with one child on the front and one on the back, or divide the TwinGo so caregivers can carry one child each. It's an ergonomic carrier that is healthy for your baby's hip development and enables you to comfortably carry the added weight of two.
Ring sling twinning
Another way to carry your child, that is slightly more advanced, is the use of two ring slings. A ring sling allows you to carry your baby slightly off-centre, or completely on your hip. With twins, you would use two ring slings and place them over your body with one set up over your left shoulder and one over your right shoulder.
You'd then pick up one baby and carefully place them into the pocket of the sling on the bottom, tighten and secure them here before picking up your other baby. Place your other baby into the other ring sling on the opposite hip, tighten and secure again. Here, you have both your babies carried on your front next to each other but in separate slings. This option is only enjoyable for the first six months or so until your children get bigger.
Stretchy wraps and twins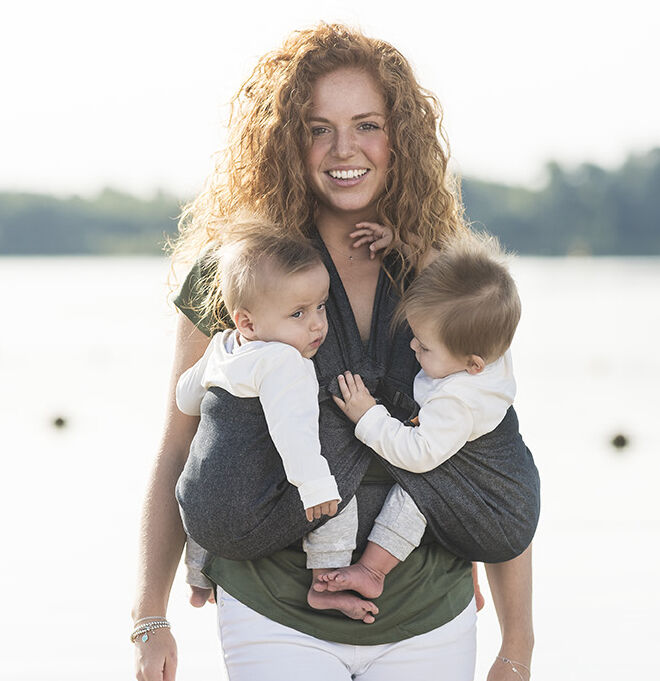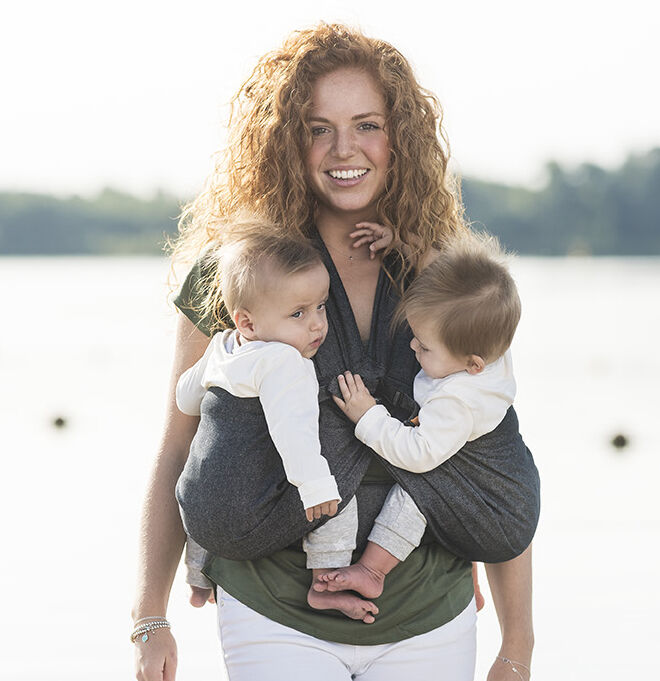 Stretchy wraps and woven wraps are also great options for carrying two babies. You can carry your bubs next to each other on your chest in a stretchy wrap and set up an array of tandem carries in a single woven wrap or two individual wraps. It's recommended you get assistance from a babywearing consultant or experienced peer-support educator with this. It can be tricky to navigate safely on your own when first learning.
Finally, it's imperative that you monitor your child at all times when carrying them. Keep a hand on them when placing them in and out of the carrier. Get hands-on help the first few times you give it a go. In no time you'll have your two gorgeous babies sandwiched up next to you while you enjoy snuggles completely hands-free!
Brooke Maree is a Babywearing Educator & mother of two based in Brisbane. She is passionate about parents finding joy and confidence in their roles by using a baby carrier or sling to make their lives easier. An expert in her field, she provides educational blogs, video tutorials, a monthly podcast, private consultations and workshops. Find out more about her services at Brooke Maree.
(Images: TwinGo Carrier, Minimonkey Twin, Twin Weego)