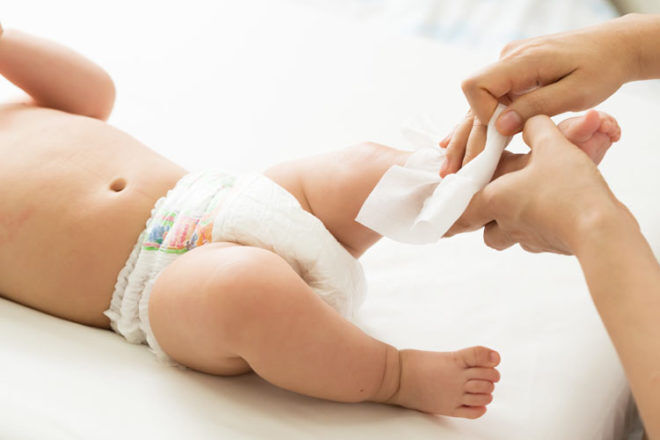 Having children means an introduction to the wonders of baby wipes – whether it's for cleaning up bubba after a blowout or wiping up wet spills, they're going to be a mainstay in your shopping trolley even when your kids head off to school.
But gone are the days when wipes were just wipes. Modern brands take into account thickness, ingredients, absorbency, and of course, the environmental impact of the product – especially given how many of them are used every day in Australia.
To help you get your hands on the best baby wipes faster, we've done the research for you and put together a complete list of the top brands in the land as recommended by real mums.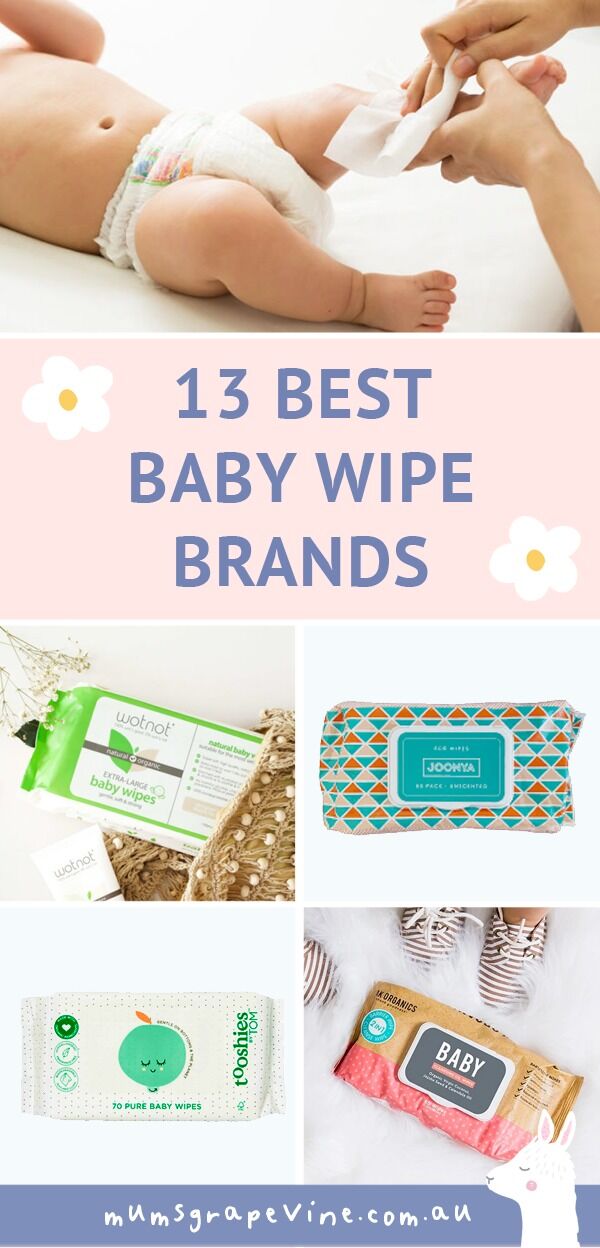 13 Best Baby Wipes Brands
We asked our Pregnancy and Baby Facebook group members to recommend the best wipes they've used and these are the brands they recommended.
Wotnot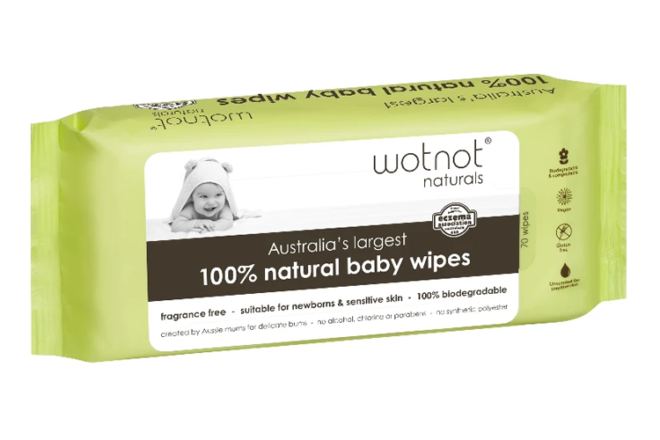 Award-winning wet wipes that are chemical-free and compostable. Gently cleansing with Australian organic aloe vera, and just as effective on faces and hands as they are on bottoms.
"These baby wipes really are the best that are in the market right now, they are a lesser-known brand but they smell beautiful and they are completely biodegradable and don't contain nasty ingredients. They are large and very durable and leave a subtle soft scent on the skin (but they are fragrance-free – it's just the essential oils)." – Holly D.

---
Eco by Naty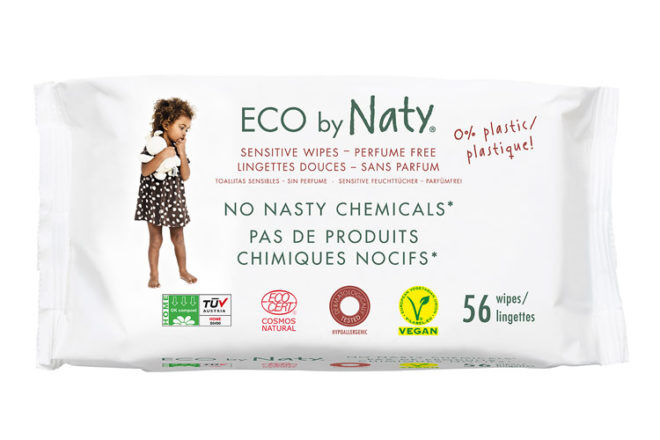 Made from natural and renewable plant-based materials, these hypoallergenic wipes keep baby's bot clear from harmful chemicals and irritation. Featuring 98.5% water and organic chamomile extract, they make soothing baby's sensitive skin easy as can be.

---
Gaia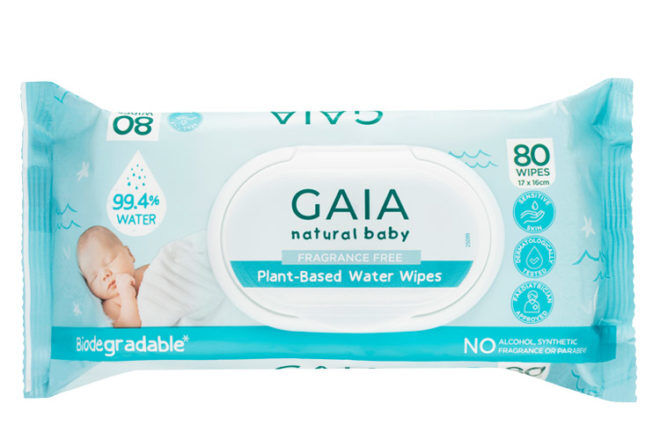 Made from a biodegradable, compostable cloth, these wipes are gentle on Mother Earth as well as baby's delicate skin. Formulated with 99.4% pure water, they're a match made in heaven for mini bots and cleaning little one's mess.

---
Wonder Eco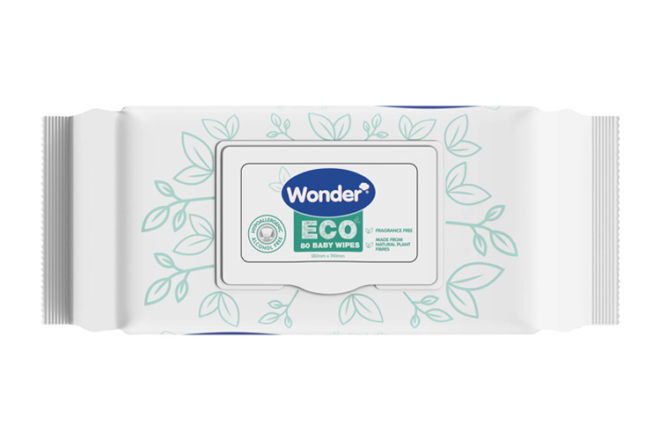 Made from natural plant fibres, the wipes from Wonder Eco are hypoallergenic and have been designed specifically for little one's sensitive skin. Free from harmful chemicals and harsh fragrances, they're a gentle solution for baby's most delicate areas.

---
Jak Organics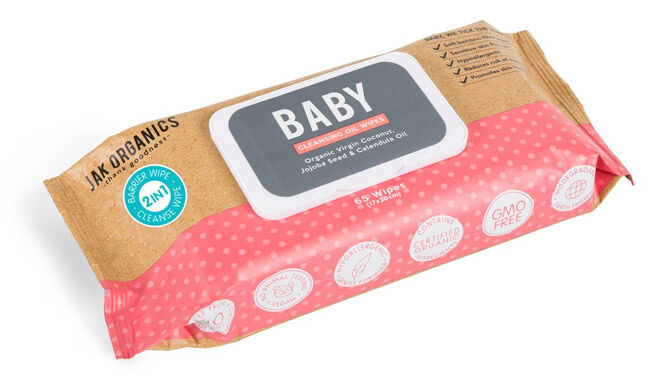 Clever wipes that not only take care of messy bottoms but leave the skin with a layer of natural oil that works as a barrier to protect from irritation. Enriched with coconut, jojoba and calendula oils.
"I use Jak Organics. I got a free pack at the baby show and I loved using them when I had my baby in the hospital. It has a barrier cream on the wipes and it was so good getting all that sticky meconium off." – Hayley S.

---
WaterWipes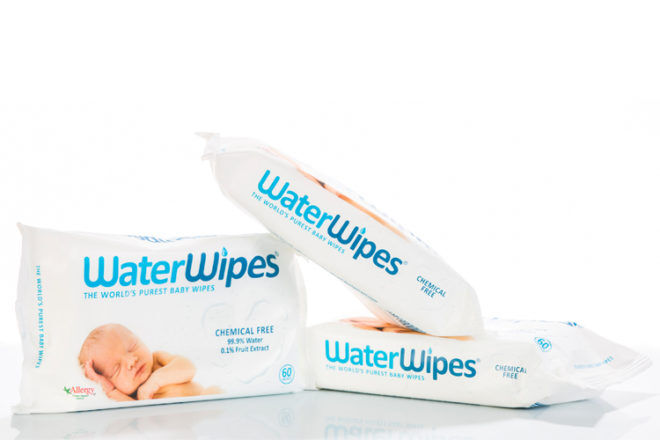 The world's purest baby wipes made almost entirely of purified water and a dash of fruit extract. Just like using cotton wool and cooled, boiled water with the convenience of packaged wipes.
"I love them have only ever used WaterWipes with my three-year-old and now with my newborn. Never had a nappy rash. They are really wet which means you don't have to keep wiping over the area and they are very natural basically all water and .1% grapefruit extract." – Lisa B.

---
Ecoriginals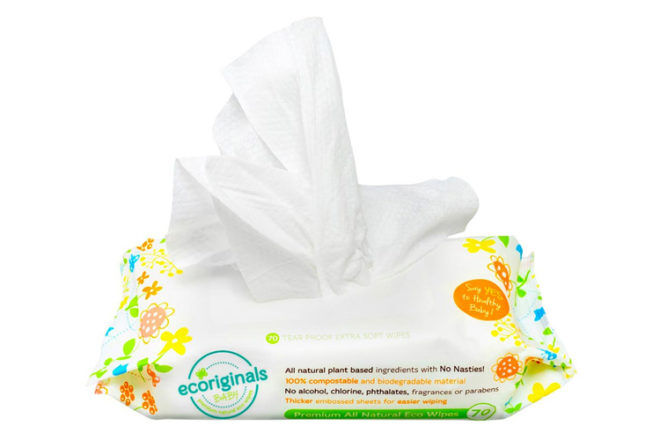 Made completely from natural, plant-based ingredients, these wipes are also compostable and great for bubs with sensitive skin. Also includes soothing ingredients like chamomile and cucumber.
"Ecoriginals are the best! Gentle on bub, no harsh chemicals, plant-based so biodegradable and they have little bumps that help grab the mess. They pull out one at a time and you get them delivered to your door on a subscription." – Natasha R.

---
Joonya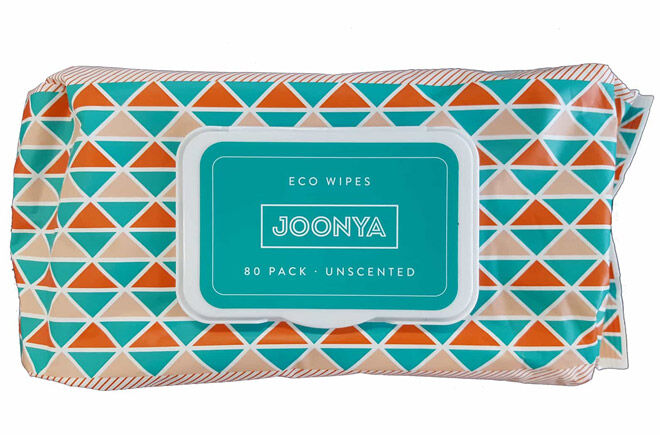 Suitable for any skin type these wipes are non-toxic and biodegradable. They are completely made from viscose material derived from plant fibres and even the packaging is recyclable.
"I'm very happy with the quality and thickness of these wipes. It's very important to me that I'm not using products with harsh chemicals on my baby's skin. I have the comfort of knowing that these wipes use natural and non-toxic ingredients. As an added plus, they are biodegradable and safer for the environment." – Victoria

---
Tooshies by Tom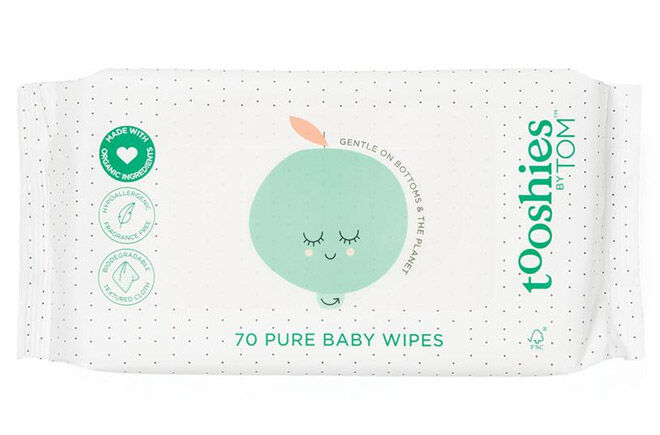 Textured wipes made from plant-based, organic ingredients that nourish and soothe as they clean baby's bottom. Made from FSC cellulose fibre, they are also biodegradable.
"We have been using these wipes for a number of months now, and have been left impressed with the reduction in our son's nappy rash. Love the organic goodness in these wipes and the fact they are biodegradable. Highly recommended to new parents who are seeking wipes that are devoid of nasties." – Tarryn A.

---
Mamia by Aldi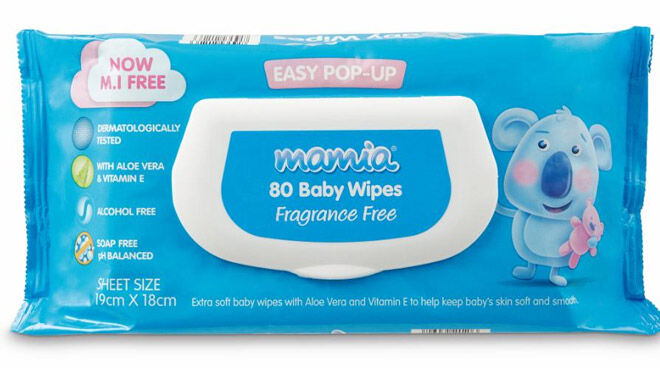 Aloe vera and vitamin E enriched, extra soft wipes that are alcohol and soap-free.
"I use these wipes for both my kids. I find them soft and easy on the skin. These wipes clean the skin perfectly. They are soft and damp so the skin is not irritated. I use them for cleaning the nappy area, hand and feet and sometimes face as they are easy on the skin. I haven't had any problem with these wipes on my children's skin. Good value for money." – Sam

---
Thank You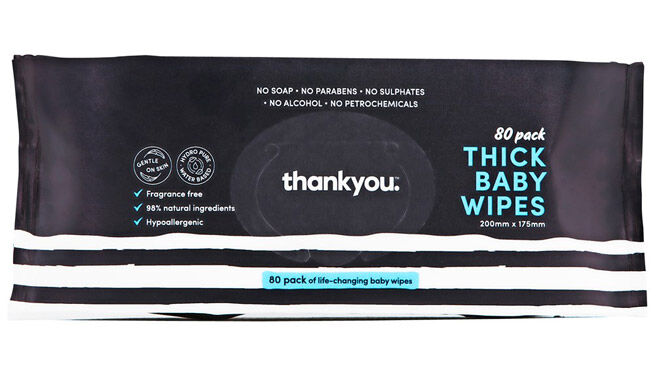 Fragrance-free these artesian water-based wipes are made using 98 per cent natural ingredients. Each pack of wipes also helps fund safe births or health care for mums and babies in need.
"Thankyou brand wipes are thick and don't hold any nasty chemicals. I used both nappies and wipes in the Thankyou brand I won't use anything else. If I've been gifted other brands I PIF to a Mum in need because I personally don't like using anything other than Thankyou." – Melanie V.

---
BabyLove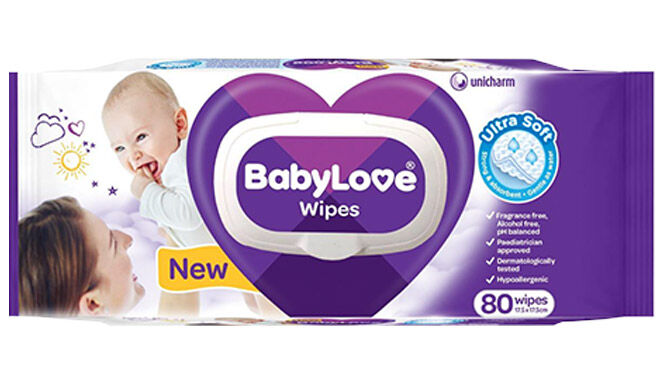 A gentle clean thanks to aloe vera, these wipes are fragrance, alcohol and paraben-free and pH balanced.
"I'm loving BabyLove. I like thicker wipes that come out the packet easily and don't tear." – Nicole S.

---
Baby U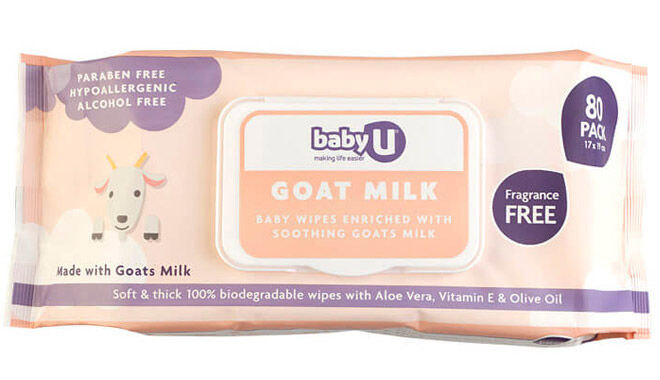 Biodegradable wipes that are enriched with goats' milk. Also includes olive oil and vitamin E to soothe skin.
"I used this wipe on my daughter when she was in a hip brace. It was so nice to clean her skin with as she couldn't bathe for 12 weeks." – Kara B.

---
Curash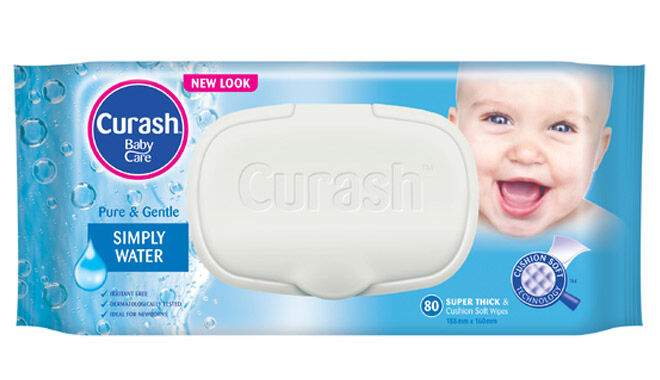 Irritant-free wipes that are made from 99 per cent water. Thick, soft and soap-free.
"Curash Water Wipes are the best! They are the only ones my daughter doesn't react to." – Joedy W.

---
Huggies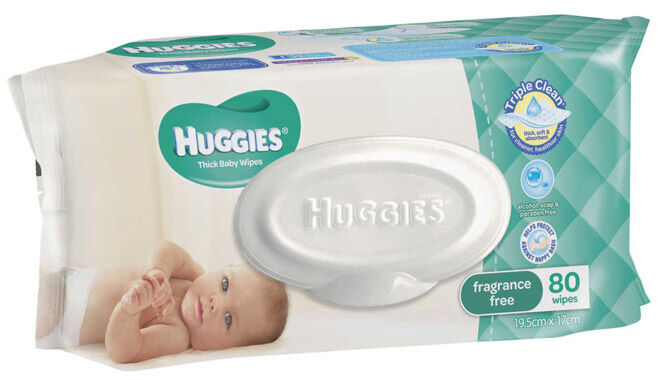 The Swiss army knife of baby wipes, these heavy-duty wipes can be used for cleaning baby's bottom and dusting the house. Thick and easy to get out of the packet they are revered for their ability to clean big messes with minimal wipes.
"While Huggies are more expensive I found they are saving me money.I use a lot fewer wipes and my child is happier because the change takes less time. I have actually managed to use one wipe for those huge poop explosions that used to take up to seven wipes. It's definitely a keeper." – Niles

---
Little Miss M Designs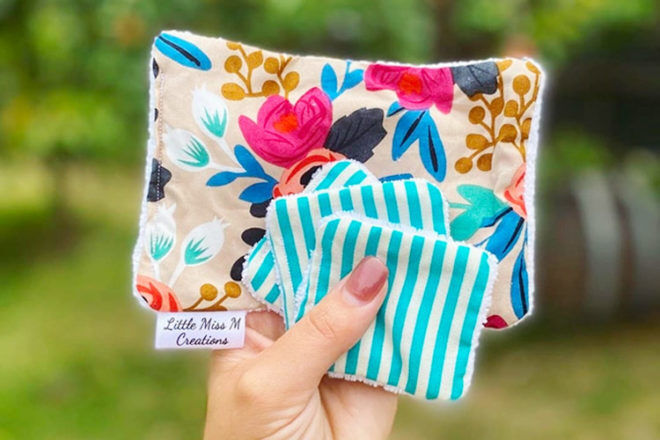 Featuring a soft microfibre on one side and a playful printed fabric on the other, simply use these reusable wipes as you would any other wipe or washcloth. Then, instead of putting them in the bin pop the wipes in the wash ready for next time. Easy!

---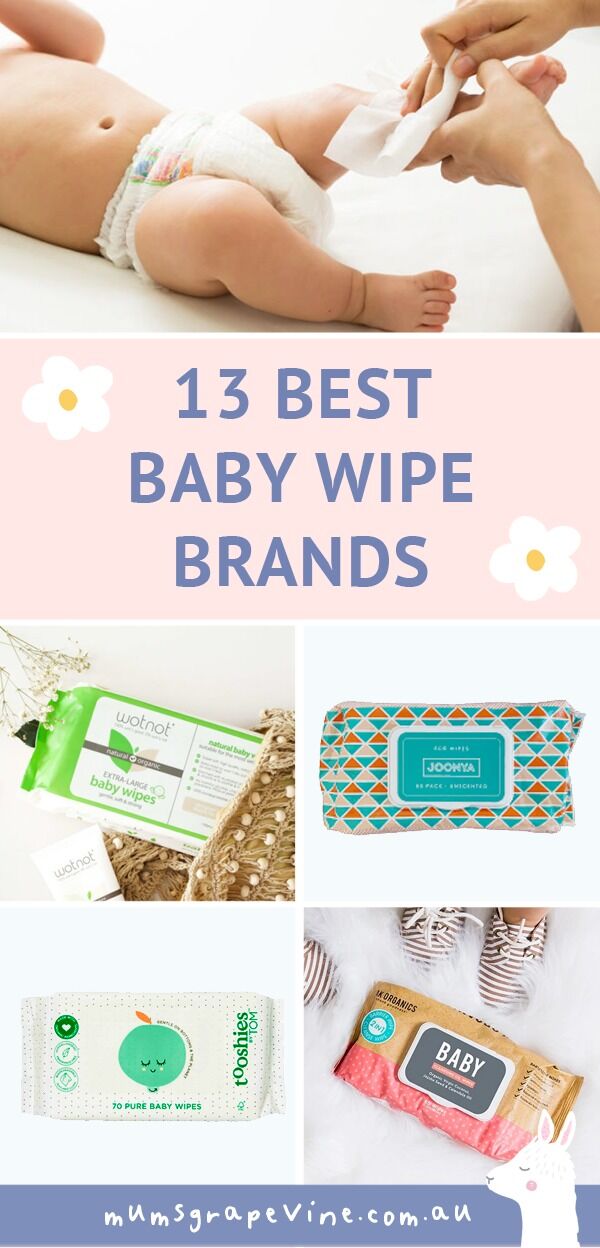 Know a brand of baby wipes we should add to our list? Contact us and let us know.
Read these roundups next …
Looking for more baby-care products? We have Australia's largest suite of product roundups for babies, kids and new mums. Here are a few that you might like to read next:
Read this: 50 ways to soothe baby's sensitive skin
Continue your search for the best wet wipes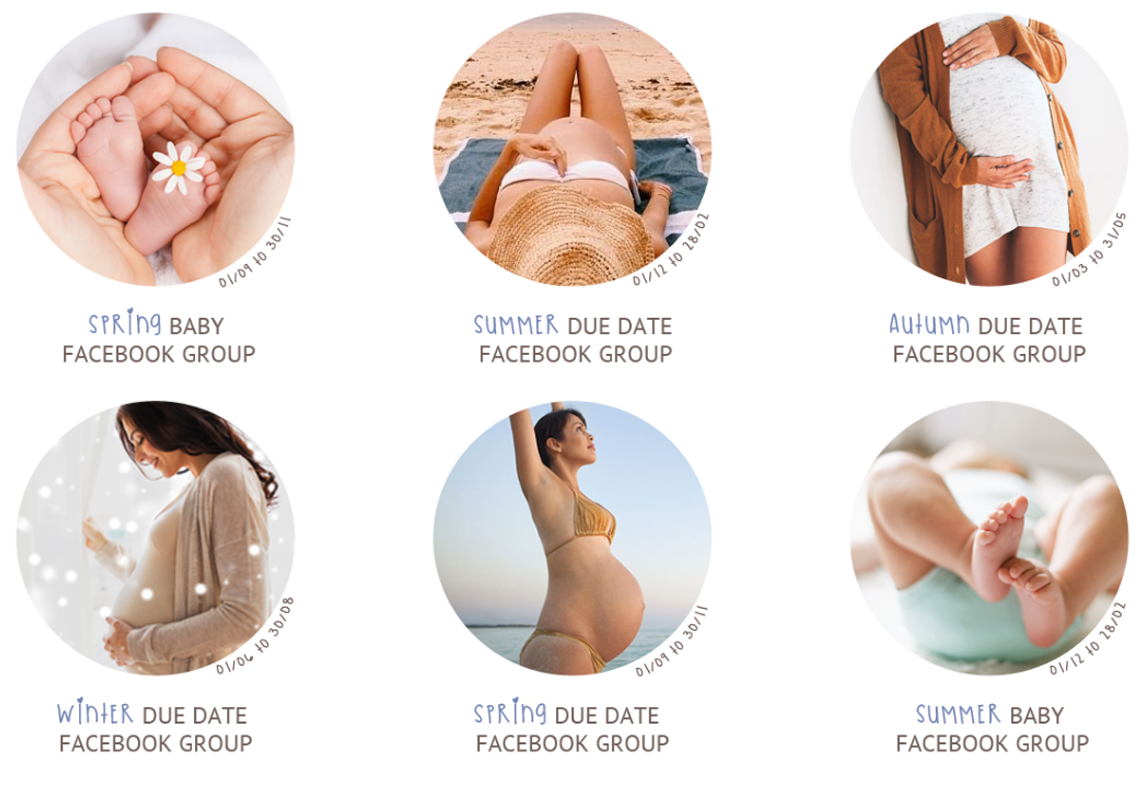 If you're searching for wet wipes and still not sure if any of these are right for you, continue your search online by jumping into one of our closed Pregnancy or Baby groups and ask thousands of other Australian mums what they recommend.
Click here >> Mum's Grapevine Facebook Groups  << and find your group today!