Modibodi Review: Leak-Proof Underwear
4.9
High quality product that's comfy to wear all day and night
Modibodi Review
4.9/5 average from 8 reviews
100% would recommend this to a friend
For mums with bumps and new bubs, Modibodi's confidence-boosting underwear protects when women need it most – periods, sweaty summers, leaky boobs and pee-zing.
Modibodi Leak-Proof Maternity Briefs are comfy, quality undies that keep mums feeling fresh day and night. Made super-slim and highly adsorbent, Modibodi underwear can hold up to 20ml, or two tampons' worth. The top layer wicks away moisture and fights pongy smells and the middle layer absorbs the fluid and locks it away. The bottom layer is an extra, waterproof insurance policy. Just as absorbent, Modibodi Leak-Proof Breastfeeding Singlets give milk makers support and stops leakage.
Available online from Modibodi.
Modibodi Reviewers: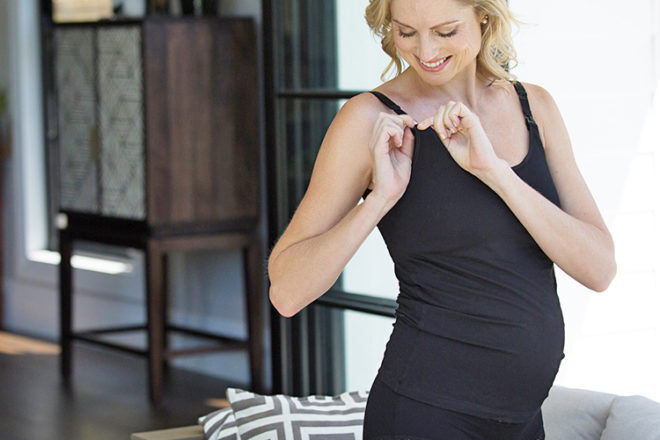 Alison Donnellan, mum of three-week-old
"Made me feel comfortable and confident."
I was nervous about using the underwear and thought there's no way after a 3b tear and episiotomy that it would make me feel confident! But it did.
I loved reviewing Modibodi. After being sceptical, I really had no need to be. The feeding top was so comfortable and didn't have to worry about wearing uncomfortable nursing pads! And maternity pads/super pads are so huge and bulky that wearing the heavy flow underwear made me feel like I didn't have my period!
---
Paula Durrant, mum of 10-week-old
"Gamechanger."
The maternity briefs are much more comfortable than a pad and still felt fresh and dry.
The leakproof singlet is a game changer! I would normally have to wear a bra or crop with breast pads which was never overly comfortable. The bamboo singlet felt so lovely next to my very sensitive skin.
A must-have for new and breastfeeding mums and definitely something I am going to invest in long-term. Definitely worth the money! Soft, supportive and really comfortable. But if you're a DD go the smaller size, not the DD and up.
---
Victoria Flood, nine months pregnant
"Super comfortable and keep me feeling fresh."
Cutting back on waste, keeping a dry and fresh feeling all day long and comfort were my main criteria for the product being a hit and they definitely didn't disappoint.
I found the underwear super comfortable. I was worried they would be bulky, but they are thinner than a liner and honestly, I forgot I was even wearing them most of the time!
Undies: I have been super hot and sweaty down below the last few months of pregnancy so they have definitely helped keep me feeling fresh, I haven't had to worry about any lingering smells, or remembering to pack liners (baby brain!!). I will be buying one of the handy starter packs as soon as I work out my post-baby size, as I am very active and really liked how fresh and dry they kept me!
I really think they are a wonderful product and I liked that I was doing my bit to cut down on waste! I also couldn't help but think how much my little sister would love these! She is 16 and rides horses daily. They would be so good for her, not only for that time of the month but also for keeping sweat away!  And oh my gosh don't you just wish you had these when you were just starting to get visits from aunt flow in school and it was way to embarrassing to carry pads! These would have been life savers! I will be recommending them to all my mumma friends who have daughters around that age!
Wonderful product for pregnancy, can't wait to see what they are like once baby is out too!
Breastfeeding singlet: As I am still pregnant and not leaking I haven't had much need for the breastfeeding singlet. I have worn it to bed a few times and it's very comfy! It's now packed in my hospital bag ready to go, so I can't wait to put it to use hopefully very very soon!
---
Pippa Silvestri, nine months pregnant
"Very comfy to wear."
The knickers were great, especially for the additional discharge that has been plaguing me all pregnancy.
The breastfeeding singlet was a little bulky in the breast pads, but this may be that my breasts haven't grown much throughout pregnancy, and I'm hoping once my milk comes in, it will be a better fit and more useful.
Very comfy to wear, however as mentioned above, the breast pads in the singlet are a little bulky, though not uncomfortable. I think it will be brilliant post-partum for recovery from birth and breastfeeding. You can tell that the fabrics are high quality and therefore comfortable.
---
Cherrie Craike, mum of a one-week-old
"Genius product."
I was really surprised by how clean and fresh the underwear kept me feeling all day. I felt fresh and clean for the entire day! Amazing, you do not get that with standard pads/liners.
Undies: I loved reviewing Modibodi undies. They are super comfortable to wear, the fabric is extremely soft and breathable while still giving you the highest level of protection. The best thing about them is how fresh you feel all day and they do not smell, unlike liners/pads where you have to change then every hour or so to maintain the same feeling.
Breastfeeding single: The length of the singlet is great. A lot of the time I find singlets too short for my long torso, but this singlet's length is generous. I absolutely love how soft and breathable the material is. It's a genius product, particularly for overnight and not having to bother with annoying breast pads that do not stay in place or get scrunched up during the day.
---
Emma Elias, mum of a four-week-old
"Exceeded expectations."
I went in with no expectations, and it definitely exceeded them. The quality and the feel of the material was lovely!
The feeding top, really lovely feel, great thickness and absorbency and really comfortable for day or night.
The underpants, felt lovely, material was lovely, the cut of the underpants where nice however I feel they are at an awkward height for me they felt too high cut in the back the sat very high on my back and the front sat to low that it was awkward to wear, especially after just having a baby and still having a little belly, it didn't support it enough. Had the front been slightly higher cut they would have been perfect!
Quality and feel of the products where lovely. Nice practical designs.
---
Caroline Daley, mum of six-week-old
"Supportive, comfy and made me feel great."
It exceeded my expectations. I did not know what to expect and was pleasantly surprised. It was so comfy.
I especially appreciated this after my c-section as most underwear would either cut in or rub where my scar is. But I felt like these were barely there. I was so thrilled to try out ModiBodi and I will absolutely be buying more. Not only was it supportive and comfy it made me feel great. I was super surprised with the absorbency and how easy I could wear them after my c-section.
I also love that they are contributing to saving the environment and giving back.
---
Stefanie Meilak, mum of six-week-old
"Very comfortable and easy to use."
I found the underwear very comfortable and soft, not bulky at all. I really enjoyed using the nursing top, it was very comfortable and easy to use for late night feeding. The clasps could be used one handed and I did not soak through even with a good milk supply.
The underwear was great for light bleeding, and I was not worried about leaking through (and I didn't notice any smell or any wetness) although I would probably not use them for heavier days without a pad or tampon.
I was really surprised with how soft the material was and how non-bulky the absorbancy pad was. I will continue to use the breastfeeding singlet overnight while I'm breastfeeding, and have even gone out and bought another in the meantime so that I have one whilst the other is being washed.
---