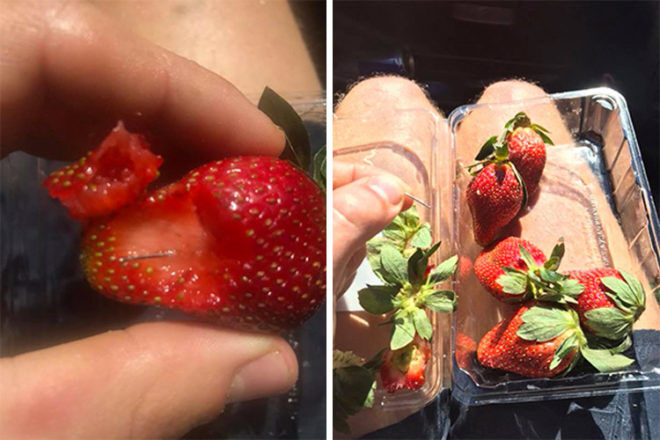 Updated 20/9/18: The sabotage of Australian fruit is spreading, with police investigating reports a needle was found in a mango purchased at Coles in NSW.
It follows more than 100 reports of tampered fruit currently being investigated by police across Australia, including needles being found in strawberries, apples and bananas. Some of the reports have been revealed as concerning copycat pranks by children putting needles into fruit.
The ongoing fruit tampering saga has seen farmers dumping fruit in heartbreaking scenes and an outpouring of support from shoppers seeking out fruit from the farm gate.
---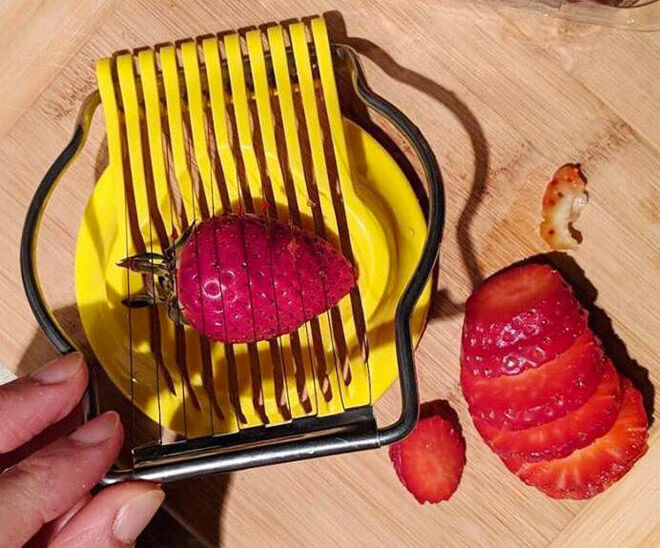 ---
Shoppers across three states are being urged to throw out punnets of strawberries from Woolworths after needles were found hidden inside.
Queensland Chief Health Officer Jeanette Young said anyone who purchased strawberries in Queensland, New South Wales or Victoria since early last week should toss them. The needles were allegedly found in strawberries from Berry Liscious and Berry Obsession.
"Definitely those two are the only brands of concern but if people don't know, and they want to be ultra cautious, then it would be best if they just throw out any strawberries," Ms Young said. Those who may have frozen strawberries and thrown out the packaging should also consider throwing them out.
Authorities say one producer from Queensland supplied the strawberries to three Woolworths supermarkets in Queensland and Victoria, and it also supplies stores in NSW. Ms Young explained it's not clear what other stores have been supplied by the producer, so a general warning has been issued. Stores are throwing out strawberries that are in stock, and putting out fresh produce tomorrow.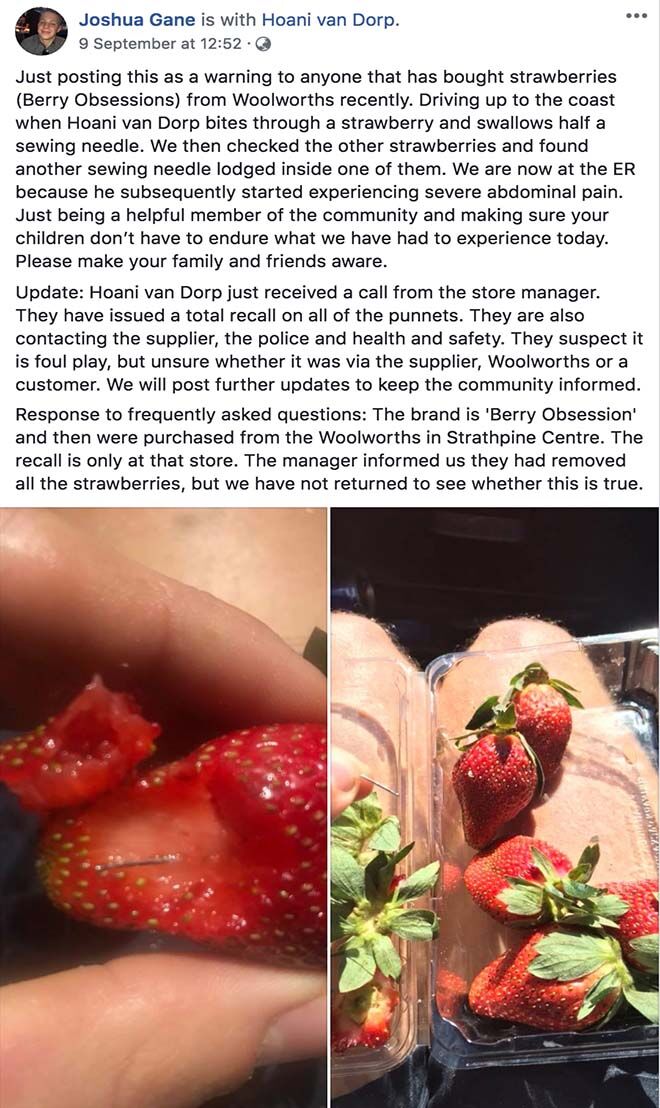 A Facebook post on Sunday first flagged concerned about the possibility of hidden needles in strawberries in Queensland. Authorities say two further cases in Victoria have now prompted an investigation.
"We're fairly confident if people do come forward with a needle in a strawberry, particularly with the packaging, that will provide us with some information," Acting Detective Chief Superintendent Lawrence said.
Anyone who finds a needle in a strawberry should call police on 131 444.
---
Be first with important safety news
Stay one step ahead of everyone else and be first with breaking news by joining one of our closed pregnancy or baby Facebook groups – nothing gets past these mums!
Click below and join your group today!