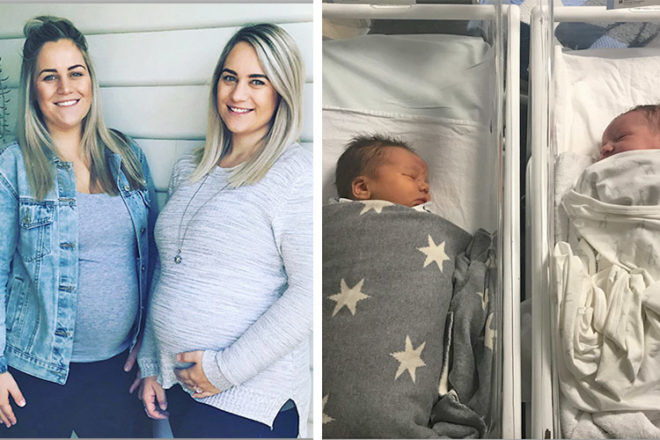 Identical twins Katie Colling and Nicki Stephens have proven twins really do have a magical connection, giving birth within just hours of each other.
The Melbourne sisters, who are both members of Mum's Grapevine Spring Due Date Facebook group, say they weren't surprised they gave birth within 48 hours of each other last month
"It honestly doesn't surprise us in the slightest that they are born so close together!" Katie explained. "As Nicki had to be induced we thought they might end up being born further apart but being born within 48 hours of each is pretty special. I had a feeling like something would happen though with Nicki being induced so made sure she was definitely ready to go into hospital!"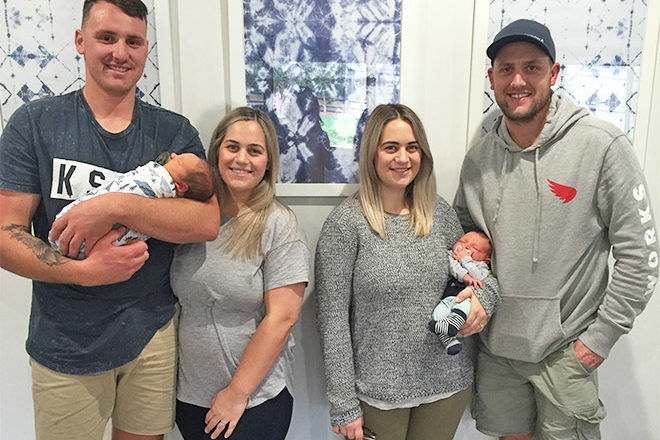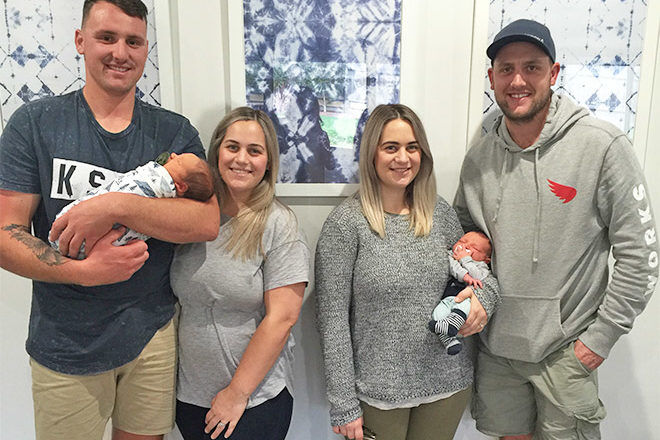 The couple told Mum's Grapevine in August that after both getting married last year, they knew each of them wanted to start a family straight away.
"Funnily enough, once we both went off the contraceptive pill our periods actually synced up to within a day of each other so we knew if we were to both try at the same time our due dates would be close. We were both just really lucky we fell pregnant on the first try. We always talked about having our kids around the same time, because we always liked the idea of them growing up close in age, we just never thought that they would be this close!"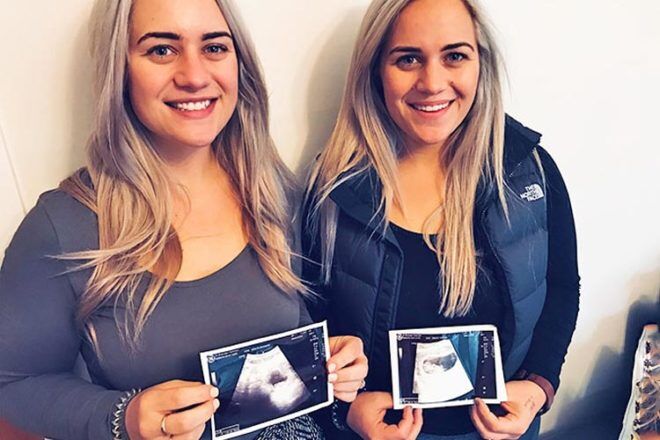 Nikki was the first to give birth on September 27, after being induced due to her bub's large gestational size.
"She ended up having quite a longer labour after having her waters broken and started on the drip Thursday morning. Baby Finn was born at 11:47pm with the help of forceps and almost two hours of pushing. Due to the difficulty of the birth, our obstetrician, Dr Bronwyn Hamilton, decided I would need inducing so I was booked in for Monday.
"Funnily enough, my waters broke naturally after I had returned home after visiting Finn in the hospital on the Friday. I returned to the hospital for monitoring and was told to return the following morning to be induced as I hadn't had any contractions. With similar birth story to Nicki, baby Riley was born at 10:06pm, assisted with forceps. Our amazing obstetrician was very surprised at the similarities of both of the births and both boys had very similar bruising from the forceps."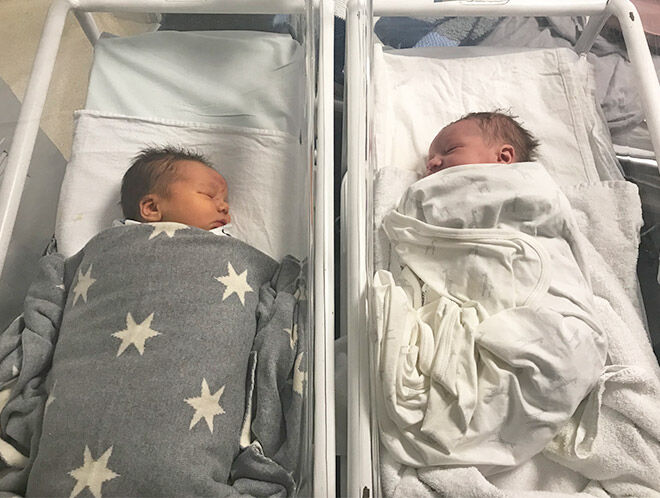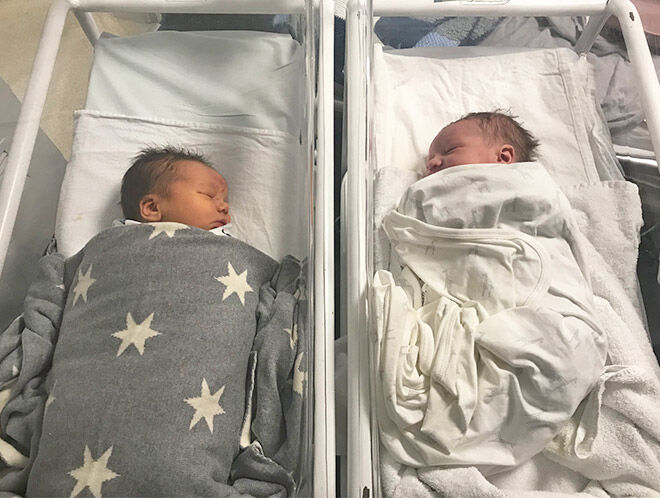 Katie says both sisters being in hospital worked out well for visitors, with their parents able to drop in on both of their new grandsons. "They are both so in love with our boys, its like they've had twins all over again."
Katie and Nicki say they've settled into the swing of motherhood, and having each other to lean on is a huge help
"We have both settled really nicely into life as first-time mums. Both our husbands have been able to have some time off work to help everyone settle into a good routine. Both the boys are eating and sleeping really well and we are all loving this new chapter in our lives."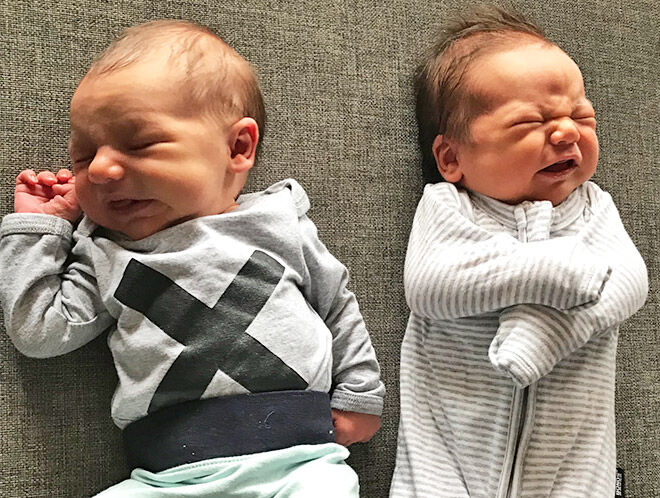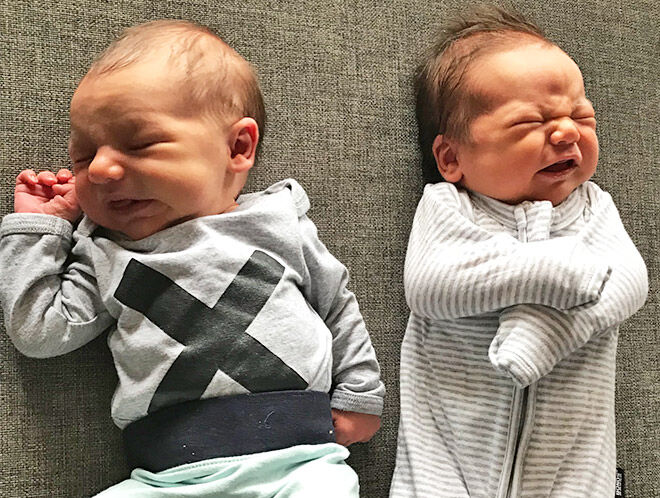 And as for the one thing everyone wants to know – do the little cousins look alike?
"Finn was born weighing 3.94kg, with a length of 51cm and a head circumference of 37cm and Riley was born weighing 3.58kg, 48cm in length and a 33.5cm head circumference, so their sizing is quite different. They do have some similarities but overall look quite different. They definitely take after their dads more than their mums! Both boys do have a full head of dark hair though!"
Read next …
Want to read more fascinating twin articles? Step right this way:
Join an online pregnancy group
Due with your own set of twins? Come and meet other pregnant women expecting multiples in our Facebook groups. The Mum's Grapevine closed pregnancy groups are safe and supportive online groups based on the season you're due so everyone is at the same stage of their pregnancies.
Click below and join your group today.