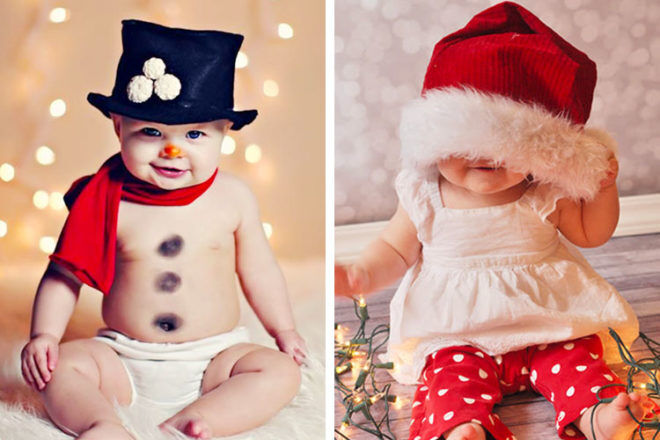 Baby's first Christmas is a magical occasion for all and there are many ways for you to cherish the festive season with a bub in tow. There's the adorable first Christmas decoration, the matchy-matchy family Christmas outfits and of course, baby's first Christmas photo.
To help give you a little festive flair, here are 13 ways for you to make baby's first Christmas photo shine.
Cookie monster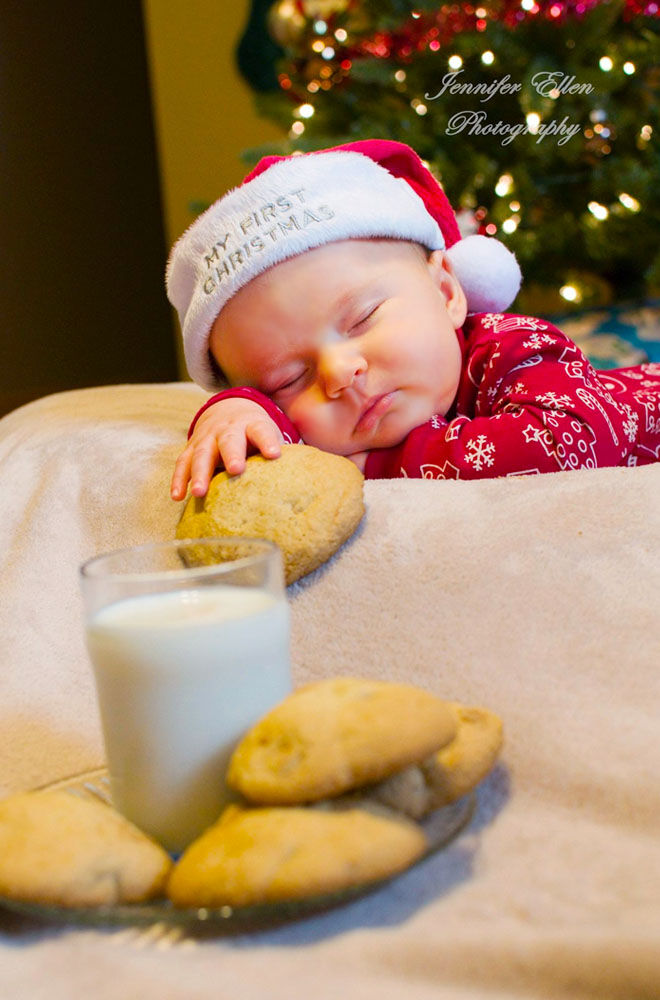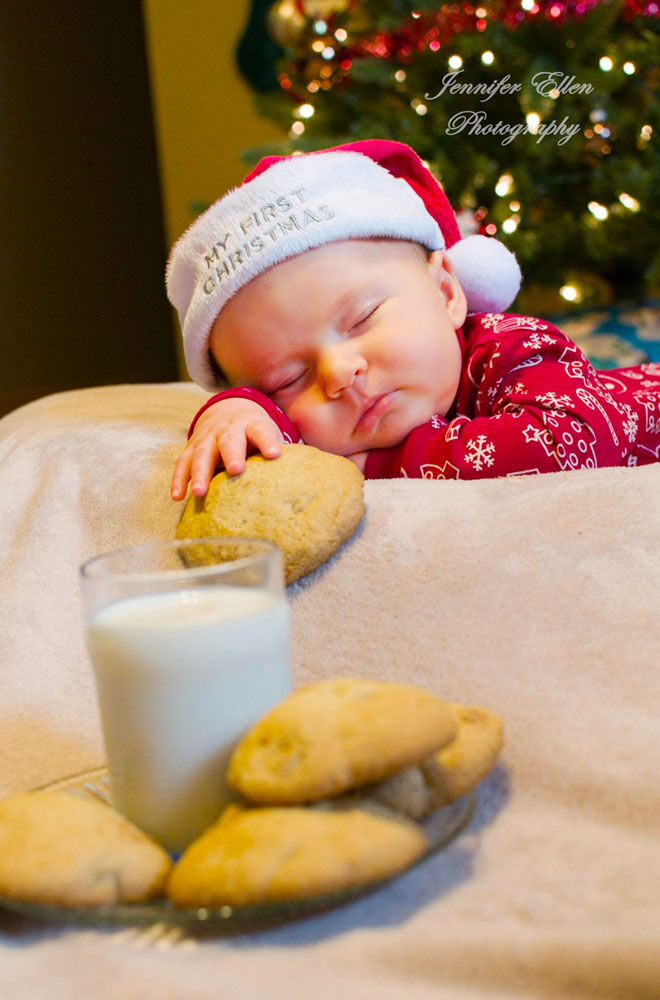 Someone's been into Santa's cookie stash! But when the cookie monster is this cute we can't stay angry for long. (via Jennifer Ellen Photography)
Dressed for the occasion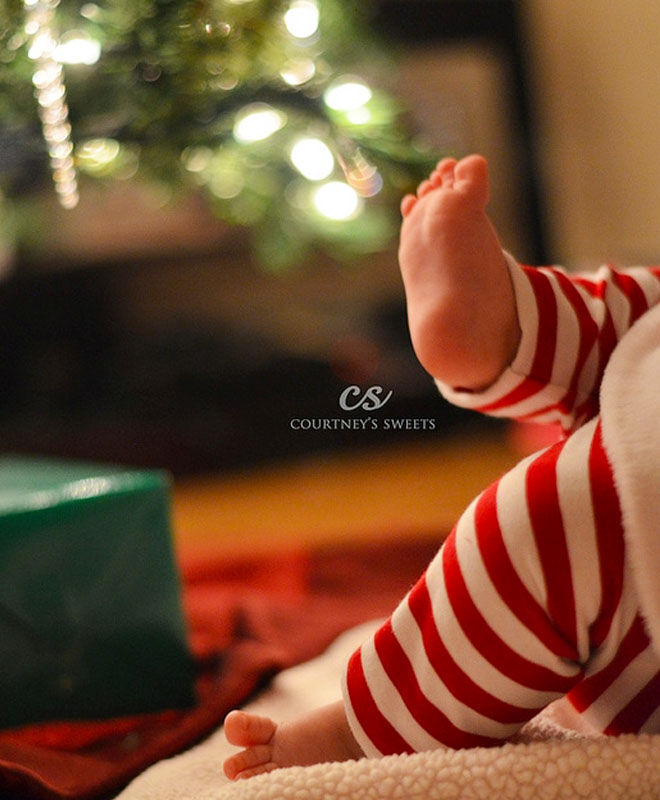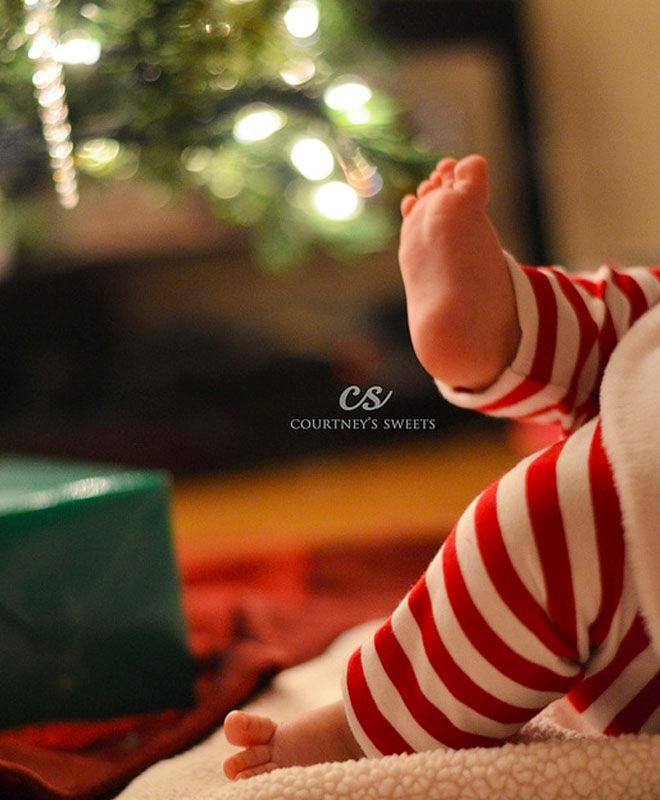 There's nothing more adorable than a baby's tiny feet. Take a close up of bub dressed in a pair of festive stockings and make the most of those teeny toes. (via Courtney's Sweets)
Santa's Little Helper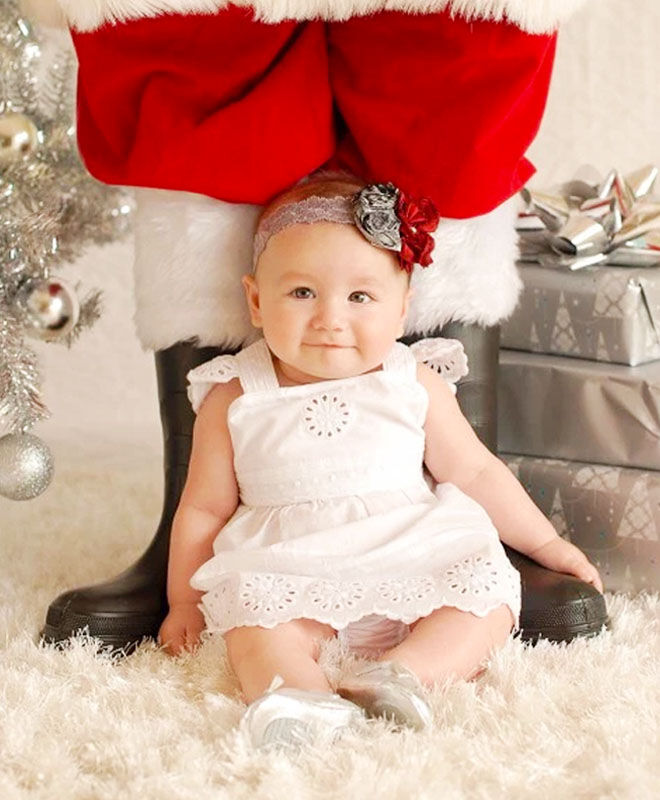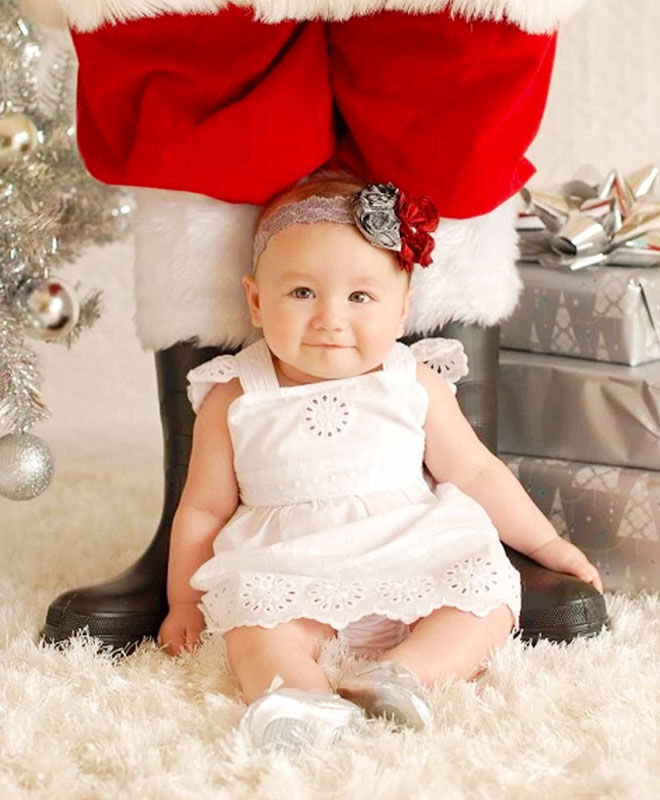 The big guy gets a little help from his newest elf this Christmas. (via Precious Moments Photography)
Aussie Christmas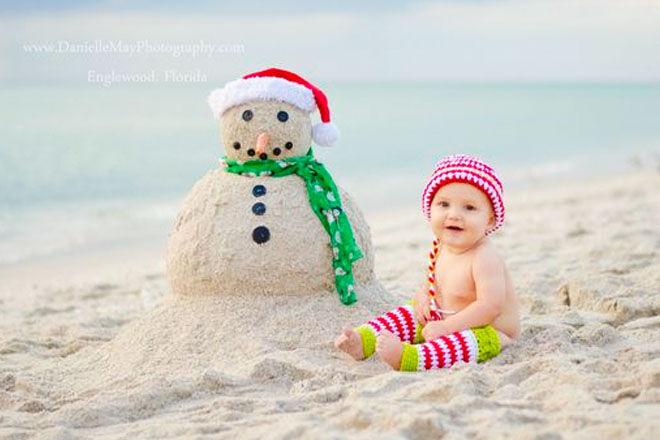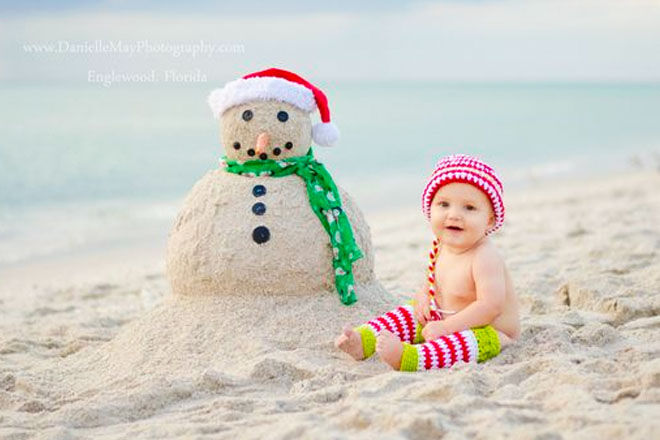 The scorching heat doesn't have to dampen your festive spirit. Add an Aussie twist to your baby's first Christmas photo – simply head to the beach and build a Sandman! (Daniel May Photography via Pinterest)
Light up Christmas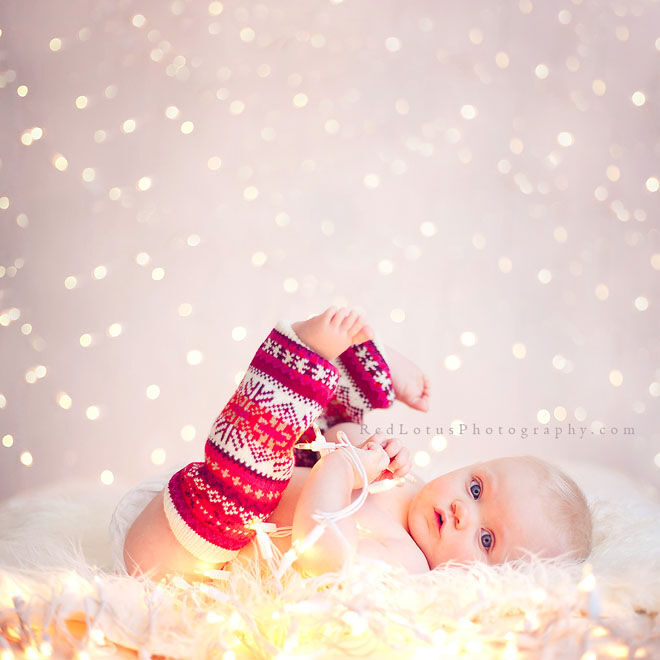 They'll be the shining light of your Christmas this year. Cover those chubby legs in a festive pair of leg warmers and add fairy lights for a sparkling finish. (via Red Lotus Photography)
Sleeping Beauty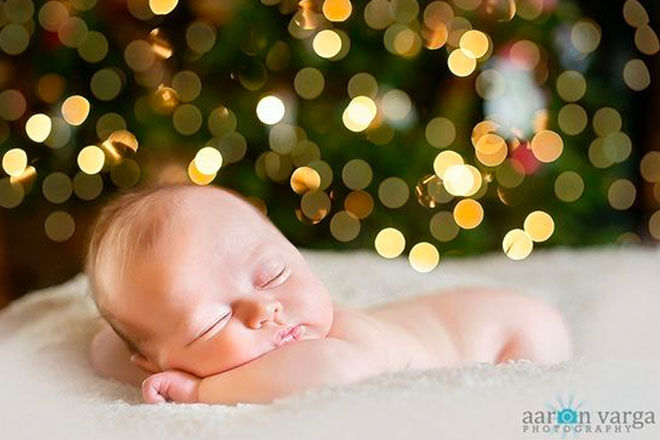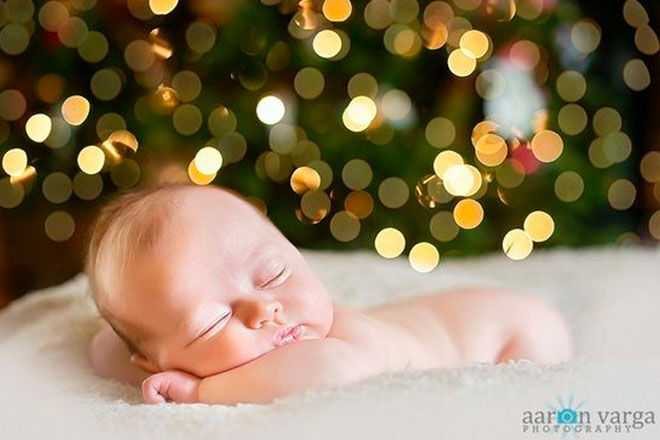 For some, all the excitement of Christmas is just too much. If only we could look this dreamy during our Christmas nap! (Aaron Varga Photography via Pinterest)
A gift worth waiting for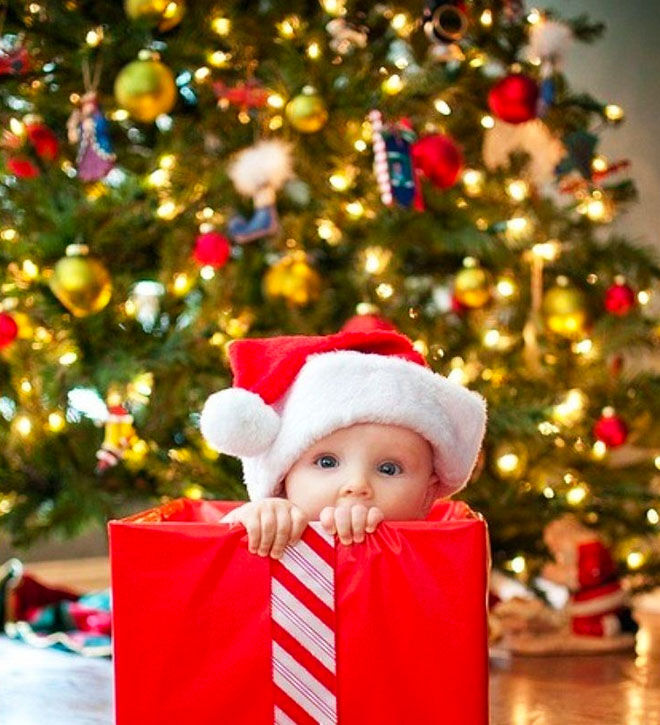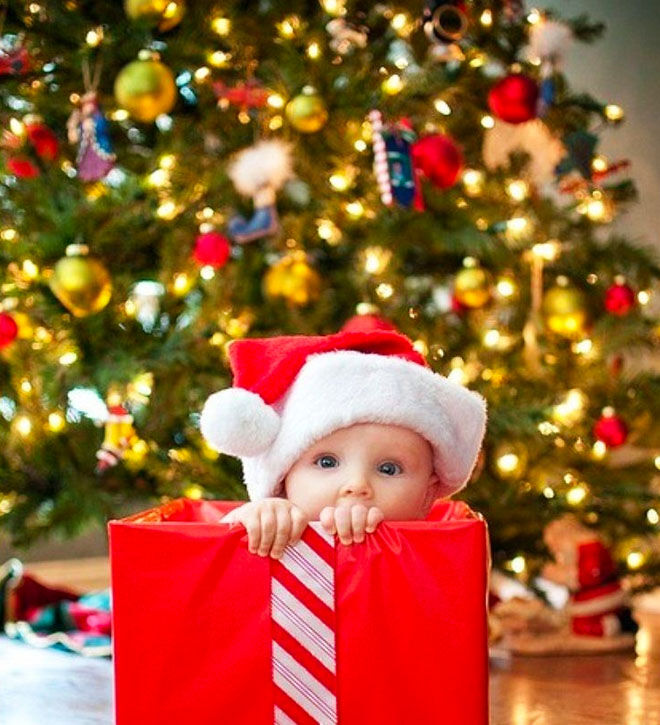 Get baby's first Christmas all wrapped up. They'll need a Santa hat, of course, and a half wrapped box to pop out of – easy! (via Pinterest)
Naughty nudie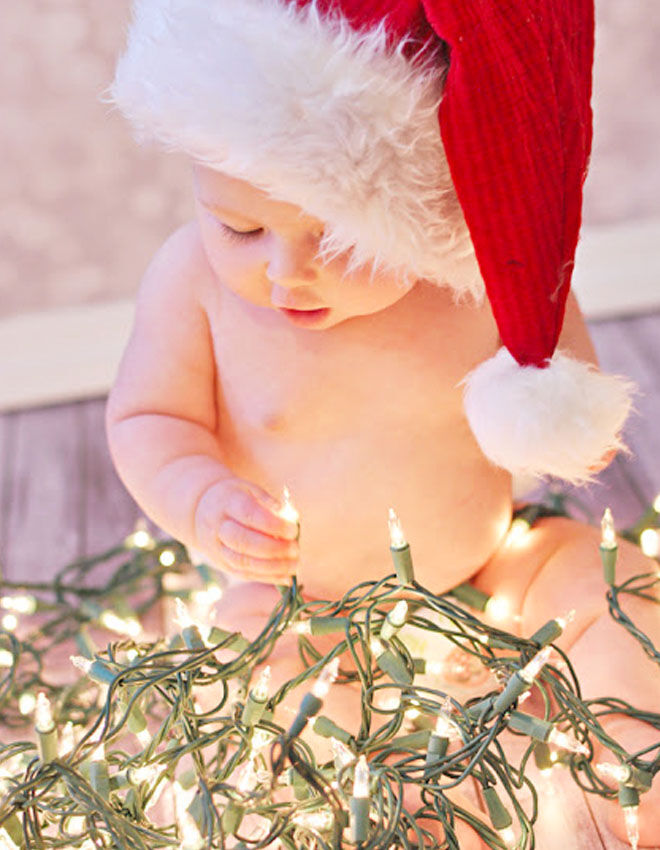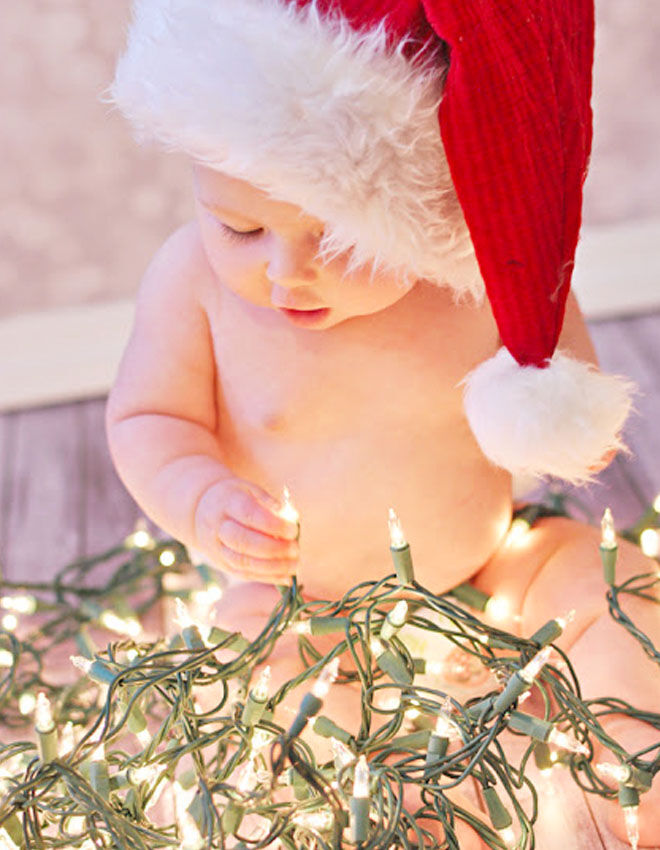 It's no secret that babies like to pull, push and play with everything in sight. Luckily for them, they look seriously sweet while doing it. (via Housewife Electic)
The gift that keeps on giving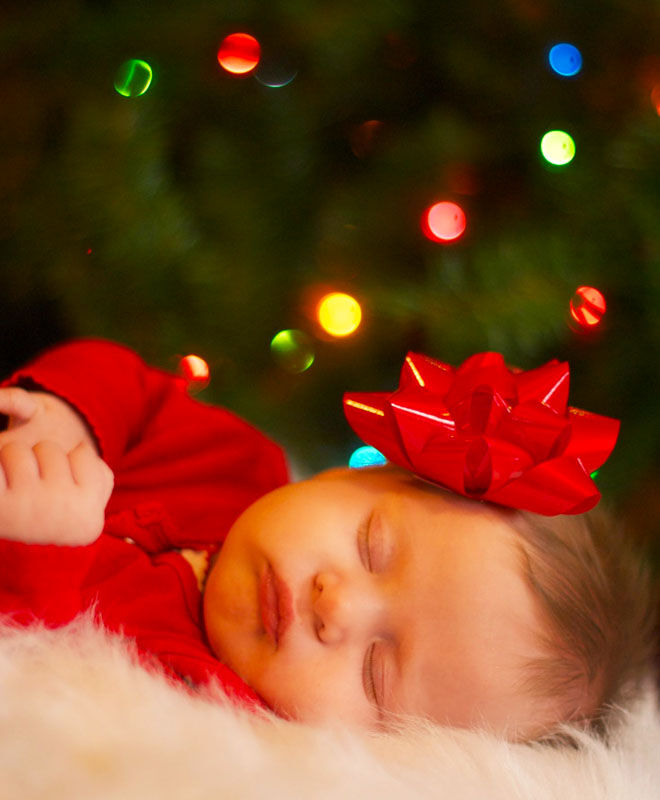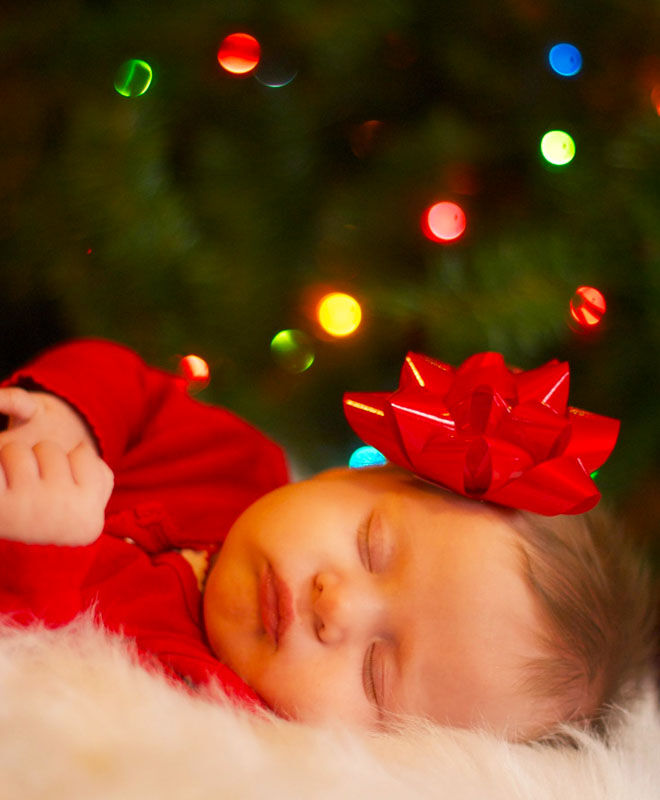 A bow in her hair and not a care in the world. An easy peasy photo idea that can be done in a jiffy. (via Pinterest)
A Christmas Tale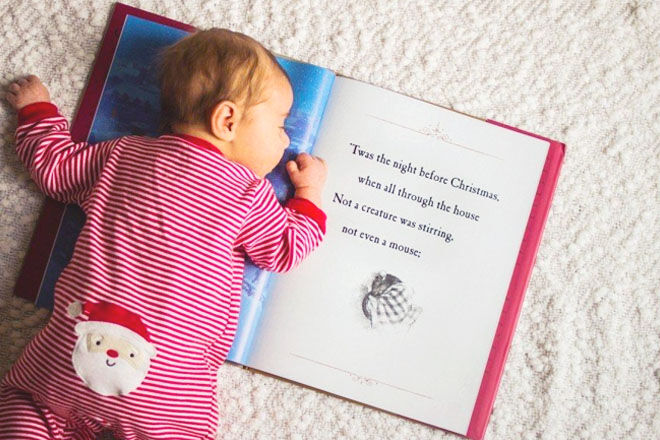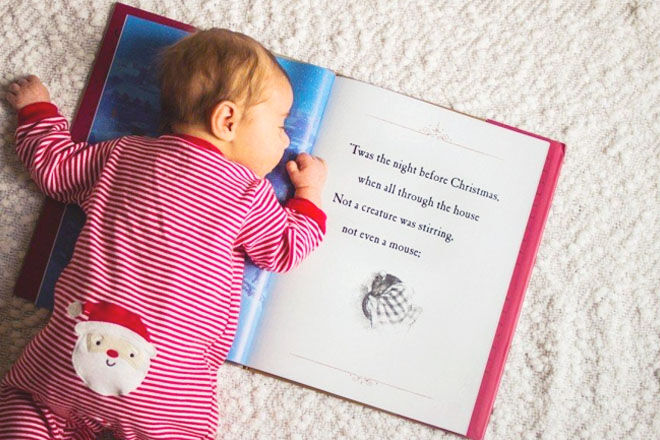 "Twas the night before Christmas, when all through the house…". Create new memories using a classic Christmas tale. (Erin Joyce Photography via Pinterest)
Four-legged friends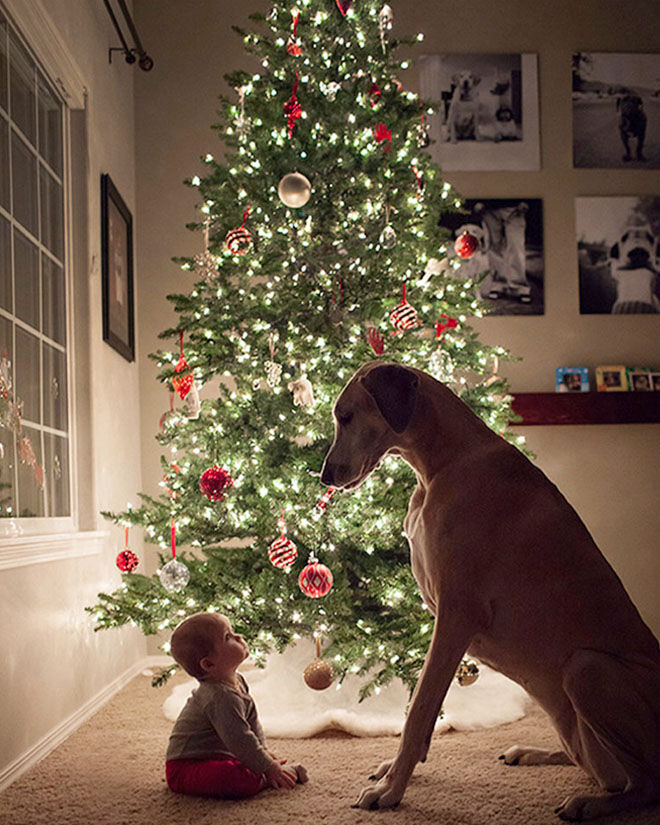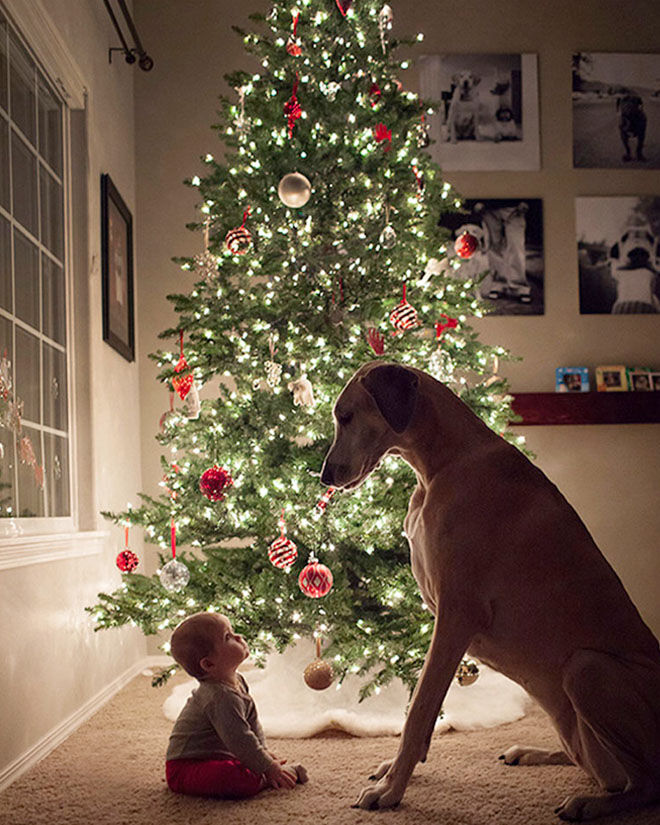 Together, they rule the roost. If you have a pet at home, make baby's first Christmas photo even more special by including your furry friend in it too. (via Brit + Co)
Christmas came early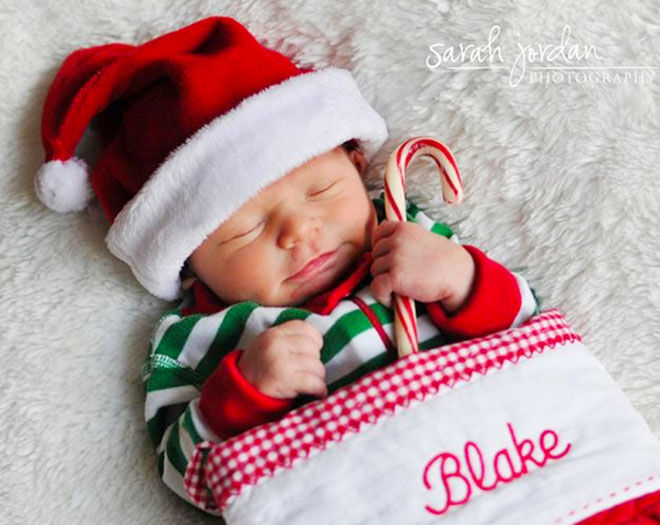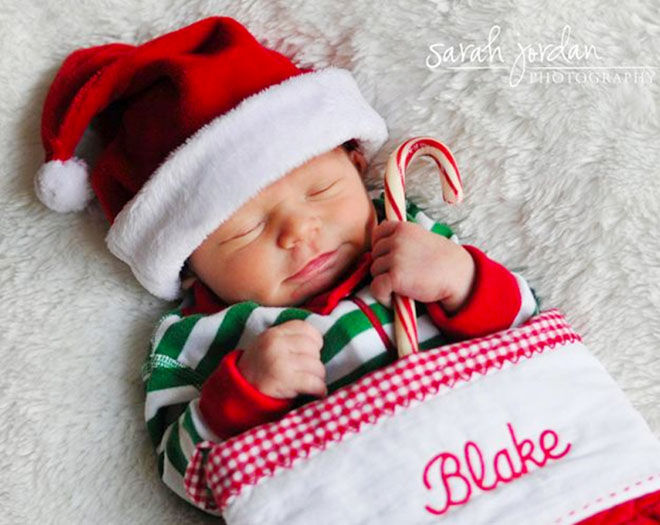 Traditionally stockings hang over the fireplace at Christmas, but they come in pretty handy as a baby holder too. Pick up a stocking personalised with baby's name for this photo and you're ready to go. (via Sarah Jordan Photography)
Frosty the snowman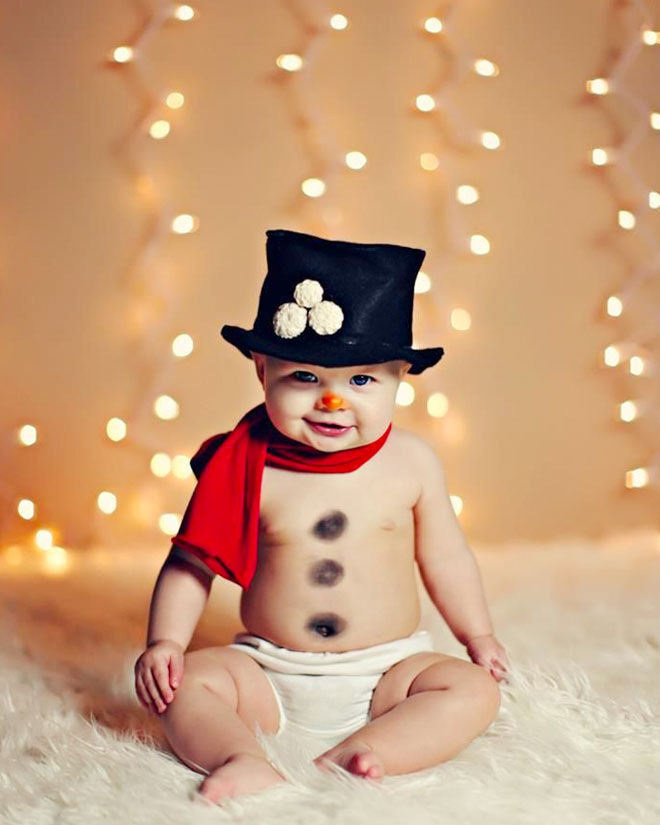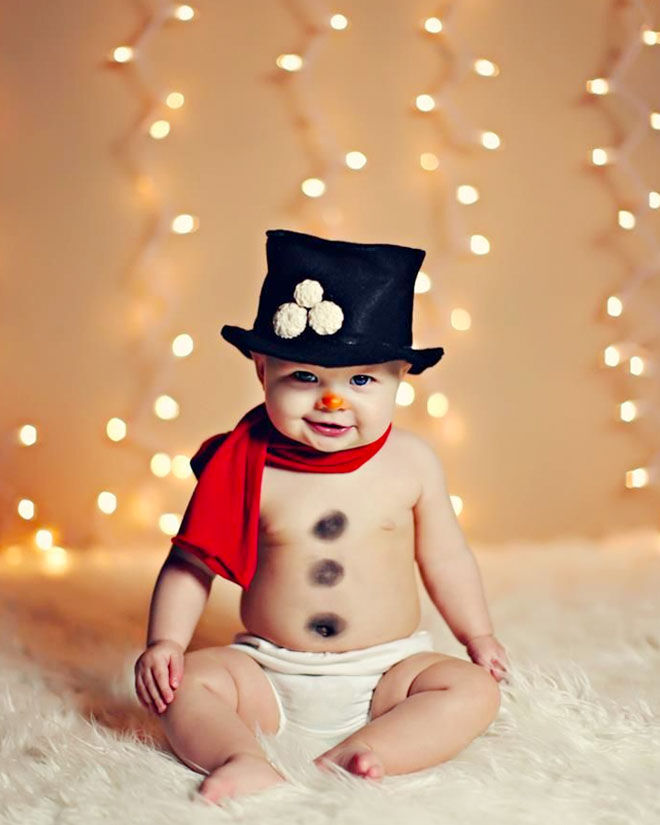 Dress your darling boy or girl as Frosty the Snowman and we guarantee hearts will melt over your Christmas photo this year. (Danielle Brasher Photography via Pinterest)
Read next…
If it's bub's first Christmas this year, you have so many exciting times ahead. From creating Christmas traditions to making your own homemade decorations, here are a couple of Christmas articles you might like to read next.