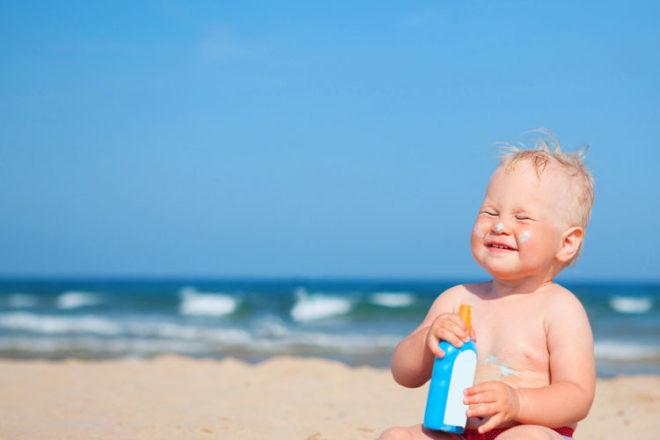 We all know to slip, slop, slap our kiddies before heading out in the Australian sun. But it can be tricky to know what's ok to use on your wee one's delicate skin. Sunscreen is recommended to be used from any age to protect the parts, like their tiny hands and faces, that you can't cover up.
To help you look after your little one's skin we asked our Pregnancy and Baby group members to recommend the best sunscreen for babies and kids and these are the brands they recommend.
Wotnot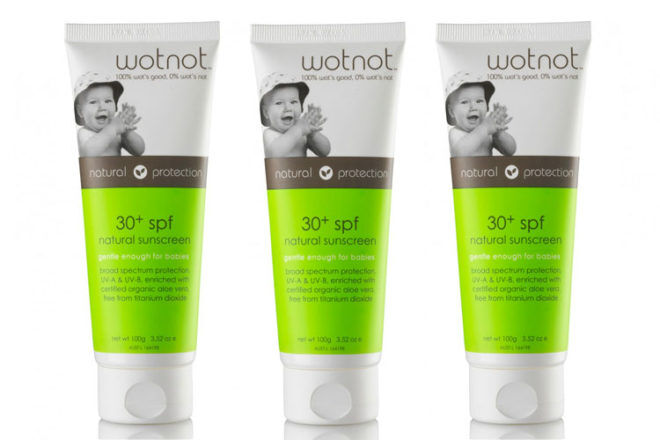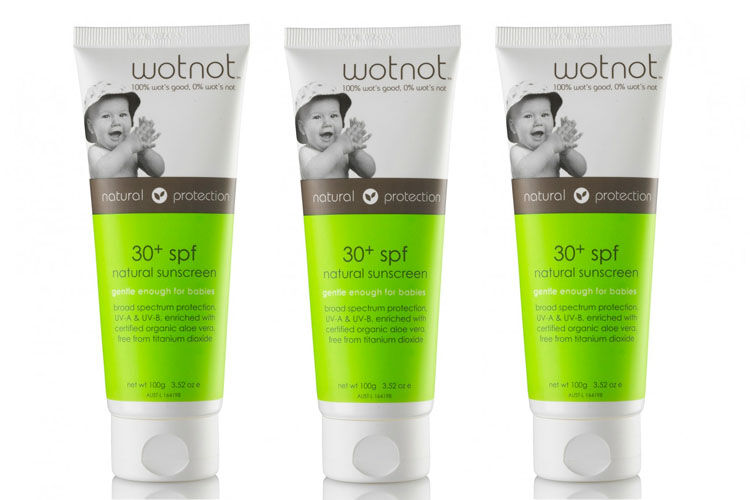 Wotnot Natural Baby Sunscreen SPF 30+ ($19.99): Wotnot know what not to put in sunscreen, so their sunscreen for babies is free of sulphates, petrochemicals, parabens, artificial preservatives and fragrances. P-h-e-w.
I've been using Wotnot since about 10wks old. It's all-natural and designed for sensitive skin. Smells amazing… leaves her skin super soft. – Laurisse

---
Jack N' Jill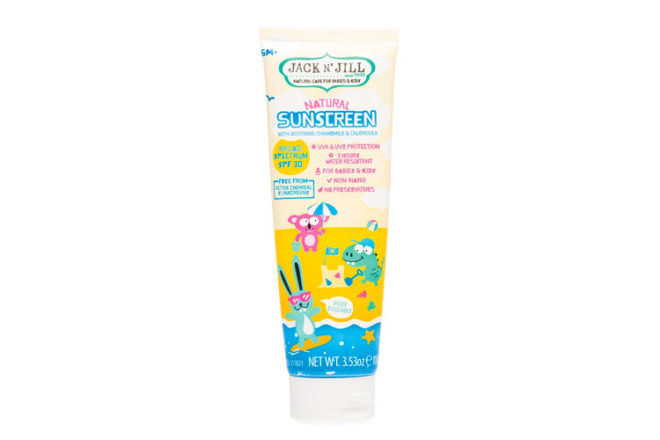 Jack N' Jill Natural Sunscreen SPF30 ($19.99): This reef-friendly sunscreen provides pint-sized poppets with UVA and UVB protection for sun-safe play. Suitable for babies six months and up, the cruelty-free formula contains chamomile and calendula to soothe and care for young skin.

---
Hamilton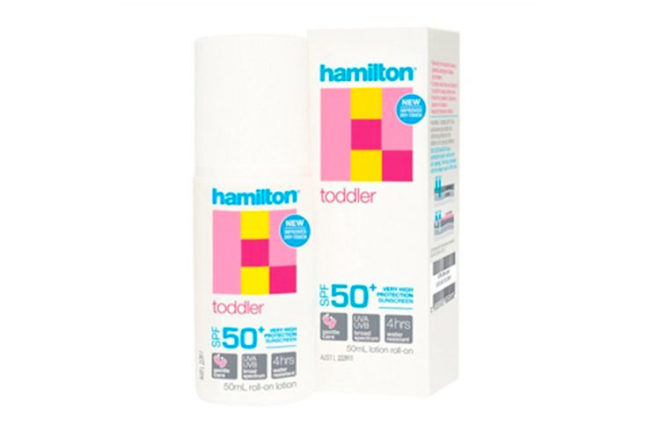 Hamilton Toddler Sunscreen SPF 50+ ($7.50): Specially formulated to reduce potential allergies in babies and kids, Hamilton is water-resistant for four fun hours.
My daughter has eczema and the specialist recommended Hamilton baby sunscreen. I bought the roll on one, it's great! Not greasy and best of all no flare-ups! – Georgia

---
UVNatural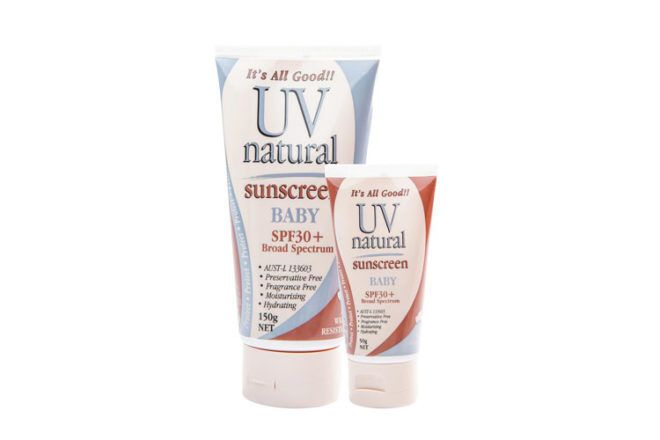 UV Natural Baby Sunscreen SPF 30+ ($18.95): With natural ingredients like zinc, macadamia oil, grapeseed extract and vitamin E, UV Natural Baby SPF30+ sunscreen is made especially for little Australians.
We use this one it's all natural and is really nice. I buy it from my local health food store. – Ashleigh

---
Invisible Zinc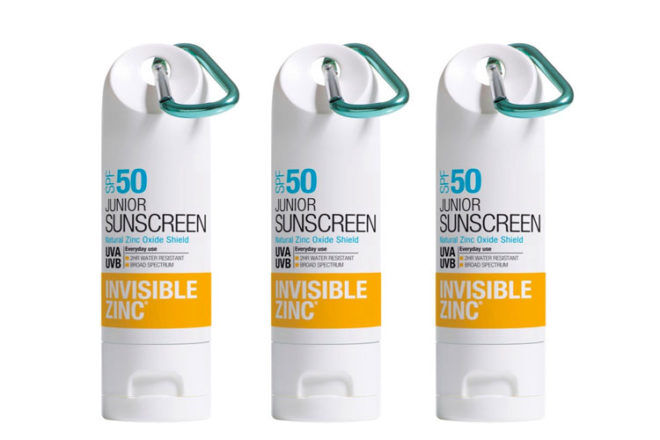 Invisible Zinc Junior Sunscreen SPF 50+ ($17.99): Plenty of parents use Invisible Zinc to keep the rays at bay. It dries clear and attaches to your pram and nappy bag thanks to the handy clip.
My obstetrician said that… invisible zinc is best, as it doesn't have nanoparticles that are absorbed like mainstream sunscreens. – Kirsty

---
Baby Bum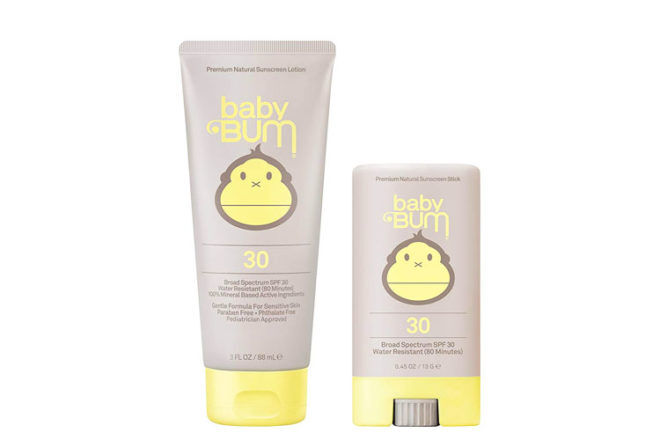 Sun Bum Baby Bum Natural Sunscreen (from $15.99): Approved by pediatricians, the Baby Bum sunscreen is more than a super cute name. It's gluten-free too!
I've used the SunBum for babies. I've used it on my boy since he was 4-5 months old. – Gemma

---
Gilly Goat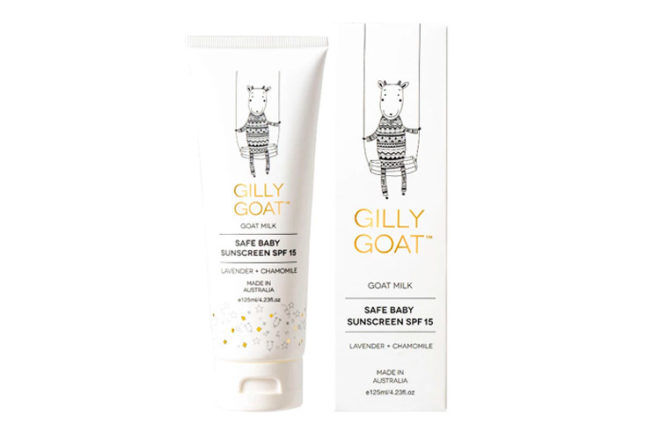 Gilly Goat Baby Safe Sunscreen ($22.95): Enriched with goat's milk, aloe vera, Vitamin E, lavender and chamomile oil, this dreamy sunscreen is non-greasy and easy to rub into the skin.
Gilly Goat exceeded my expectations. The Gilly Goat Safe Baby Sunscreen wasn't oily or greasy, it was light and went on easy. – Kylie M

---
Ego Sunsense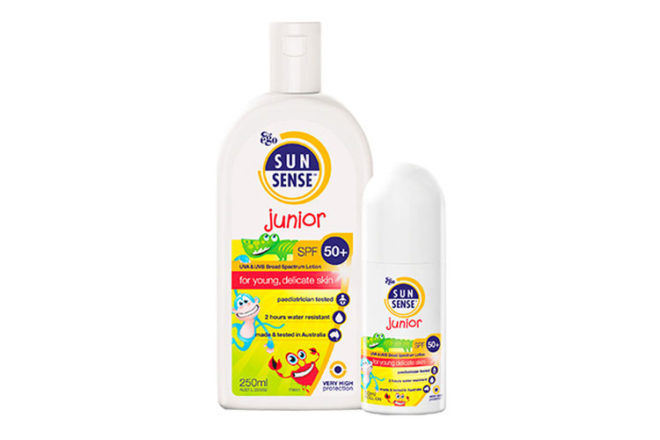 Ego SunSense Junior SPF 50+ (from $9.96): Sunsense is made in Australia, is two hours water-resistant and paediatrician tested. It's available in a roll-on and lotion.
I highly recommend Sun Sense Junior as is it sensitive on the skin and has one of the highest SPF ratings of 50+. My son has sensitive skin and it the only one that doesn't reach with his skin. – Monique

---
Little Innoscents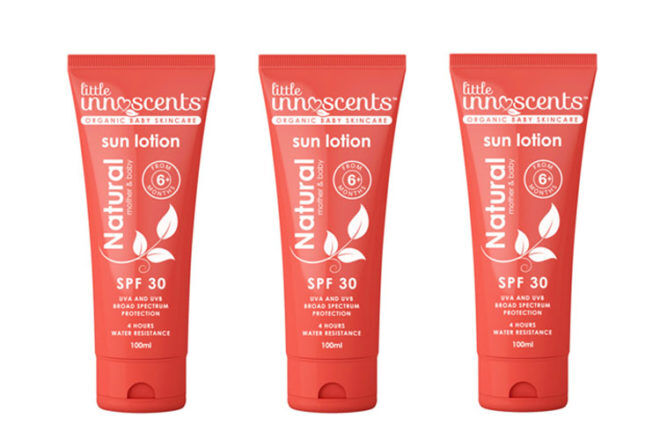 Little Innoscents Natural Sunscreen SPF 30 ($19.95): Little Innoscents is free of nasties, so it's perfect for sensitive skin and protected fun in the sun.
Their products are super underrated…they are amazing and no nasties. – Tahlia

---
Natural Instinct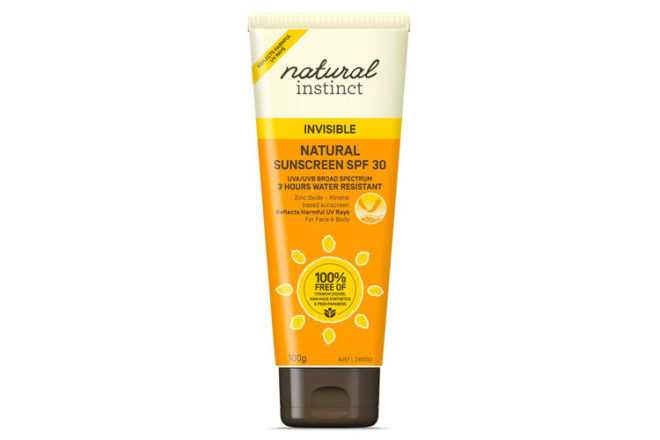 Natural Instinct Invisible Sunscreen ($15.95): A great sunscreen for babies with eczema or sensitivity to other sunscreens.
Available at my local health food store. No stickiness and is great for the beach. – Lisa

---
Simple As That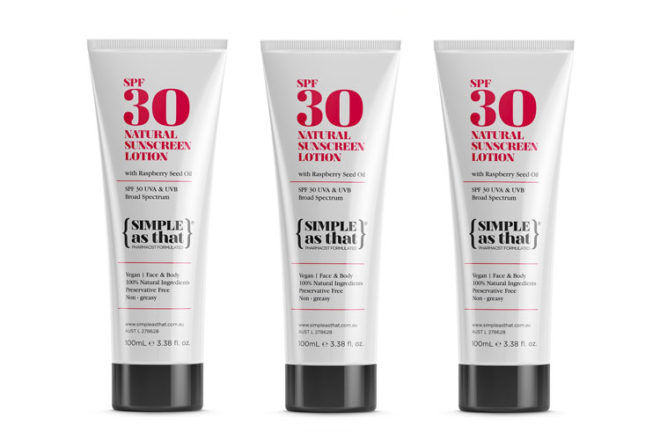 Simple As That SPF 30+ ($29.95): A lightweight, non-greasy sunscreen with 100% natural ingredients. It's perfect for the whole family too – what more could you ask for?
Simple as that organic sunscreen. It is beautiful as it absorbs well and isn't sticky! – Susanna

---
MooGoo
MooGoo Natural Sunscreen SPF 40 ($19.90): One of the most popular sunscreens in our polls, MooGoo relies on the power of zinc and rubs onto the skin clear for instant outdoor adventures.
It worked well with my bub's sensitive skin and didn't have any nasties in it. – Samantha

---
Hello Sunshine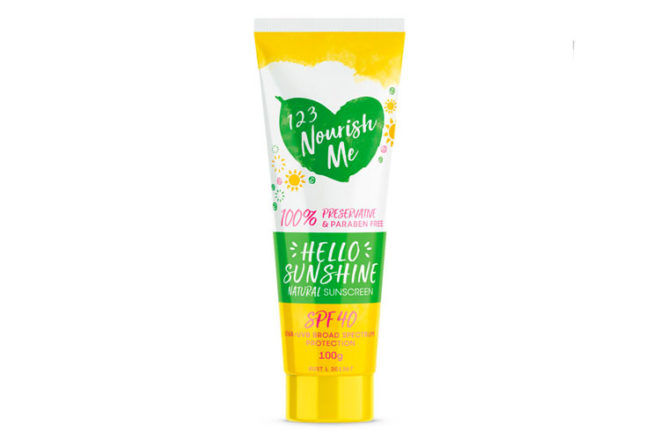 123 Nourish Me Hello Sunshine Sunscreen SPF 30 ($29.95): Made from all natural ingredients the Hello Sunshine sunscreen glides onto the skin and gives two hours water resistance while little ones dip and dive.
I love Hello Sunshine from 123 Nourish Me… it is so easy to rub in and smells amazing – Ellen

---
Continue your search for the best sunscreen for babies and kids
If you're searching for the best sunscreen for babies and you're not sure if any of these are right for you, continue your search online. Simply jump into one of our closed Pregnancy or Baby groups and ask thousands of other Australian mums what they recommend – 'What to buy' is the most talked about topics, followed by MIL vents!
Click below and join your group today!