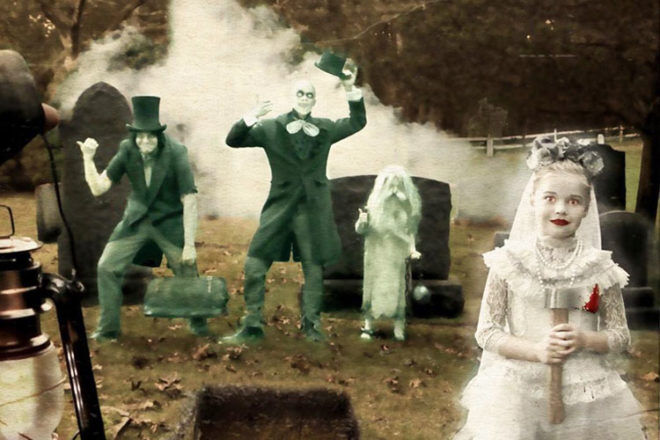 Our favourite celebrities pulled out all the stops this Halloween with fabulous family outfits and creepy costume ideas we'll definitely be stealing for next year.
Here are the best celebrity Halloween costumes of 2018.
Pink – The Greatest Showman
View this post on Instagram
Who needs Hugh Jackman? Pink and her gorgeous family take on the hit musical for a fun Halloween.
Hamish Blake Zoe Foster Blake – Seinfield
One of our favourite Aussie families gets the gang back together for a mini-reunion – CUTE!
Jessica Alba – unicorns and giraffes
Skipping scary for something sweet, Jessica Alba and her tribe of five dress head to toe in animal magic.
Kristen Bell – Elsa
It wouldn't be as funny if there weren't thousands of other mums in the same boat. Just one more reason why we love Frozen.
Justin Timberlake, Jessica Biel – LEGO
View this post on Instagram
Looks like little Silas swayed mum and dad again this year. Go LEGO!
Neil Patrick Harris – The Haunted Mansion
Harris and his fam go all out yet again, but it's his daughter Harper who steals the show with that spooktacular stare.
Sarah Michelle Gellar and Freddie Prinze – The Royal Tenenbaums
Buffy may have gone into retirement but Sarah and Freddie know how to rock Halloween, hipster style.
Kim Kardashian – Kanye West & Lil Pump
View this post on Instagram
Now here's a hip-hop duo we'd like to see more of.
Kylie Jenner – Stormi weather
View this post on Instagram
Mini Jenner has the perfect name. Thunderbolts and lightning very very frightening,
Lauren Conrad – The Birds
Conrad and her cute-as-a-button daughter transform the classic thriller into a precious photo op for Halloween.
John Legend and Chrissy Teigen – The Royals
View this post on Instagram
Ok, time to take a bow to the King and Queen of celebrity couples.
#Nailedit.
Read next…