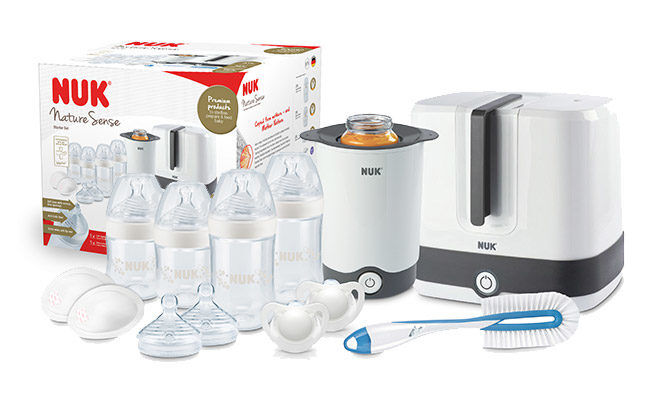 Whether it's guzzling expressed breastmilk, sipping formula or a combination of both, most bubbas will need to drink from a bottle at some stage. While no one can do what Mother Nature does best, NUK has created its closest to nature baby bottle ever.
The new NUK Nature Sense Baby Bottle is modelled on mothers breast. The clever teats work beautifully with breastmilk or formula and NUK's innovative Anti-Colic Vent, in combination with a new softer teat and ingenious drinking holes make this the most advanced baby bottle yet.
Developed by NUK's experts and based on scientific research, the new Nature Sense Baby Bottle is the cornerstone of NUK's Nature Sense Starter Set.
The NUK Nature Sense range is available online and instore at Baby Bunting (from $11.95).
Watch the video below and see the advanced scientific innovation in action.
This competition is now closed. 
Drum roll, will L. Callahan (VIC), J. Collins (VIC), A. Carter (VIC), S. Crisci (QLD) and M. Ivanecky (VIC) all stand up. You're our lucky winners. Enjoy xoxox
Five lucky Mum's Grapevine subscribers will each win a NUK Nature Sense Starter Set valued at $249; each starter set includes:
1 x NUK Thermo Express Bottle Warmer
1 x NUK Vario Steam Steriliser
1 x Nature Sense bottle (150ml) 0-6m M
1 x Nature Sense (260ml) 0-6m M
1 x NUK Genius Soother SIL 0-2m 2pk
1 x NUK Ultra-Dry Comfort Pads 2pk
1 x Nature Sense Teats 0-6m small
1 x NUK Deluxe Brush
HOW TO ENTER
Step One: Enter your details in the entry form below.
Step Two: Watch the video above and tell us what makes the NUK Nature Sense bottle teat so advanced.
BONUS: Click 'Share' below and get your friends to enter too for bonus entries.
Entry is open to all Australian Mum's Grapevine newsletter subscribers.
Ends November 30 2018 11:59pm AEDT.