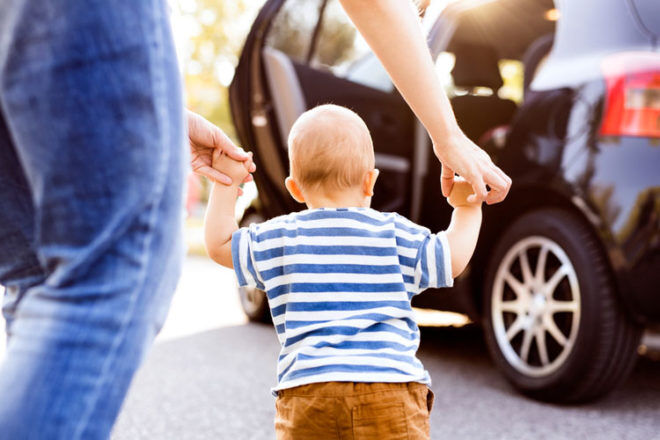 There's a baby bump on the road ahead which means it's time to put your vehicle through the car family friendly test to see if it stands up to the twists and turns of new family life.
Driving into parenthood doesn't necessarily mean you have to get a new set of wheels, it's just a case of checking that your car is going to slot into everyday life as a family. Is there enough headroom for you to lift bub's car capsule into the middle of the rear seats? How's the boot – will a pram, portacot and the family dog all fit happily? What about when more kids come along?
Here's our handy checklist to work out if your car is family friendly.
Car Size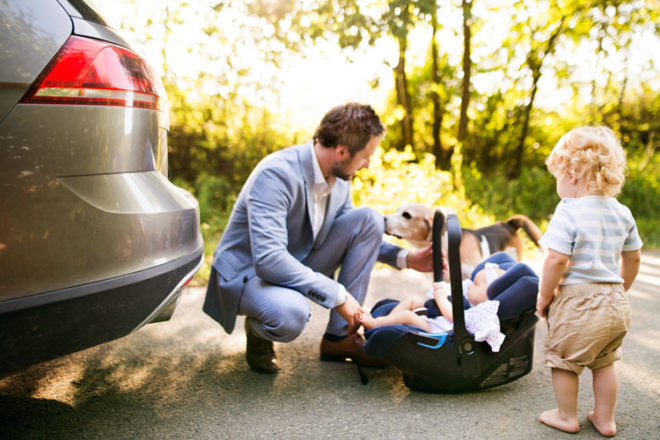 Size matters when it comes to family cars, and there's a bunch of things to think about when deciding if your current car fits the family bill or to consider if you are looking for a new family mobile.
Passengers
How long are you planning on keeping the car? It may be big enough for a family of three, but will you still have it as your family expands. Do you also have a dog that often comes along on car trips? Will you still be able to comfortably (and safely) bring them along for the ride?
Back seat
Can it fit one, two or three car seats? Are you investing in a travel system for bub? Think about if you'll be able to comfortably lift the capsule in and out of the car, and into the middle seat.
Doors
Five doors is pretty much essential for a family car. Inserting or removing a capsule or clipping in a wriggly toddler in a two-door car is a new level of challenge. Quick, easy access in and out is the main aim of the game.
Boot room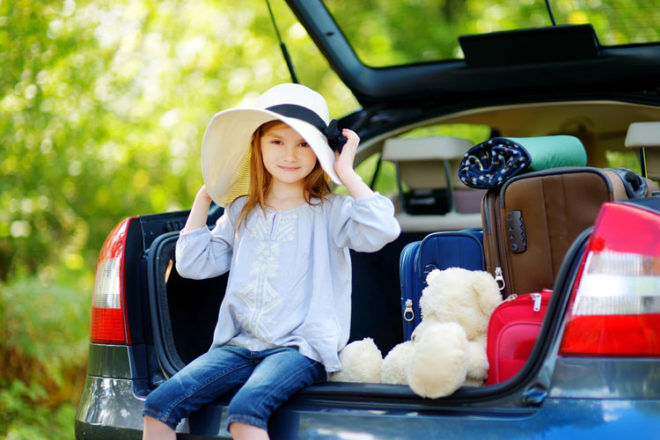 What will you need to fit into the boot? At a minimum, you'll be popping in a pram, but think about the groceries, other kids school bags and if you go away you'll have luggage. And if you're having kids close together, check if the boot can stow two prams, or a double comfortably.
Safety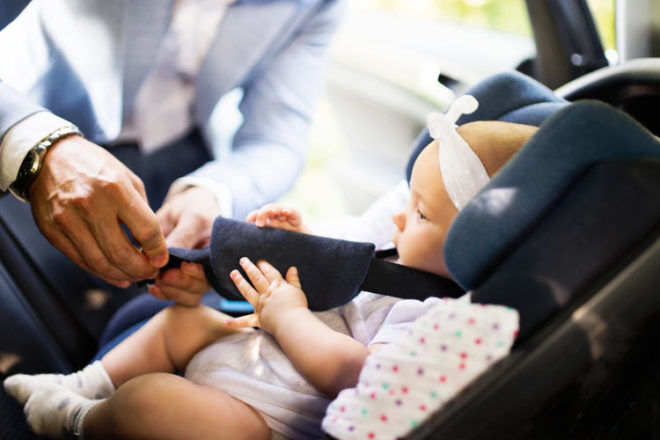 In Australia cars are rated for safety using a five-star system – five stars being the safest under the Australasian New Car Assessment Program (ANCAP). Cars are crash tested in ways that echo what happens out on the road, using crash test dummies.
Safety Rating
Head to ANCAP to check your car's safety rating. Make sure to have a look at the Child Protection Rating – this will be handy is judging how safe the car will continue to be for your growing family.
Reversing cameras
Reversing sensors or a camera are a great idea. Toddlers have a way of sneaking into places they shouldn't be, so a reversing camera is a must-have for many parents.
Child lock
Before you know it, your little ones won't be so little anymore so being able to control when they can get out of the car is a must. Many new cars these days have self-locking features so the doors automatically lock when the car is in motion. Bravo.
Running costs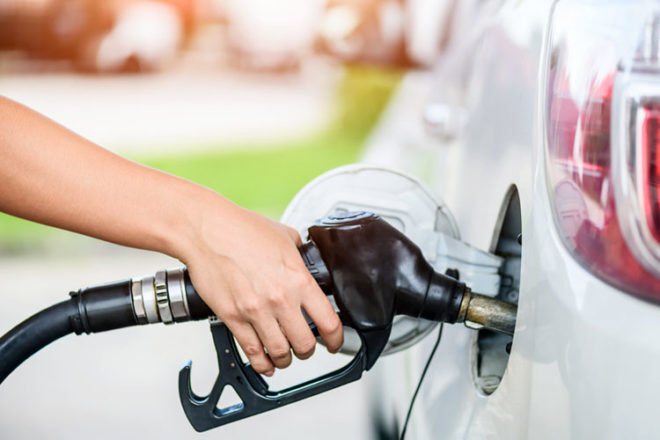 Family budgets are a balancing act so it's important to consider the ongoing costs of your family car. How efficient is your current car? A bigger car uses more petrol, will this fit into the family budget?
Take into account the following when buying a new vehicle:
Check the sticker on the windscreen to see how efficient the fuel usage of the vehicle is.
SUV's need bigger tyres which are more expensive to buy.
How much are replacement parts? More expensive vehicles have higher cost replacement parts
Interior design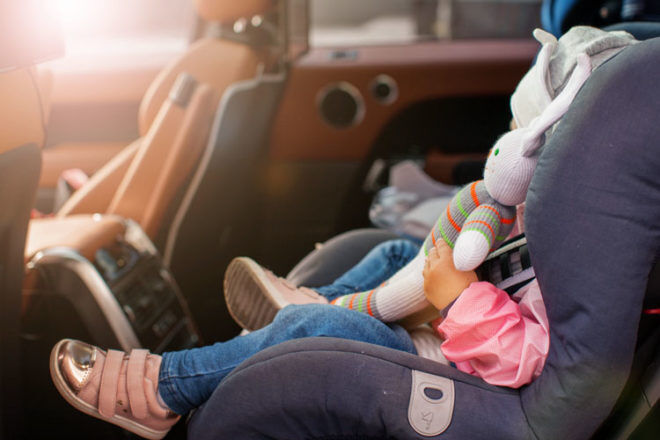 Sure, fancy leather-wrapped steering wheels and heated seats are awesome, but that's not what we're talking about here. Take the time to sit in your car and see how it's going to function as a family transporter.
Space
Yes, we have mentioned size but you can have a fairly big car and it still feels a little squeezy inside. So it's a great idea to jump in that back seat and see how roomy it is back there. Trust us, there will be times when bub will need consoling on a drive.
Also, consider if there is there enough shoulder room and head height to get a baby capsule in and out of the car comfortably? And once the car seat is turned around and bub is kicking their legs frontward, is there still enough room?
Functionality
ISOFIX and anchor points are things to consider, based on what car seat you're getting. Which has your car got?
Keep it clean
Kids make a mess, and sometimes the back seat of your car will look like the aftermath of a rave. So make sure all the surfaces are easy to spruce up. Is the interior easy to wipe clean? What material are the seats covered in? Leather is much easier to clean than fabric.
Comfort
Are there rear air vents? While it might seem like a luxury, in a land of weather extremes like Australia it's so handy to be able to set bub's heating and cooling to their own setting. Does the car have built-in sunshades? There are ones you can purchase, but integrated shades are very handy.
All eyes on them
A 'conversation mirror' is a brilliant way to pretend you have eyes on the back of your head. They're a handy mirror next to the rear-view mirror that let you see what's going on in the back seat.
Exterior design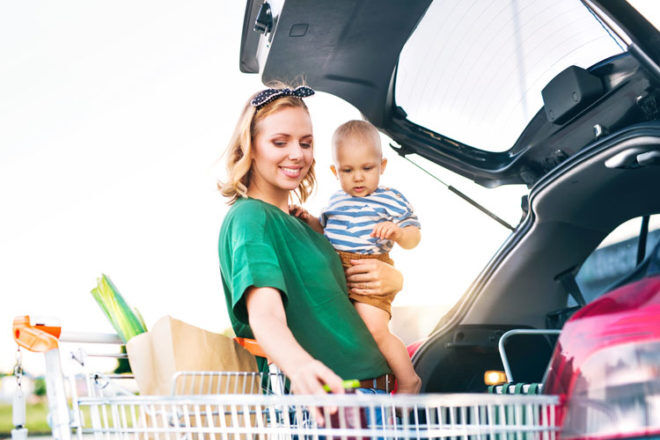 There are a couple of really clever features that will make holding a bub and navigating the car so much easier.
Power up
Some boots can be opened using the remote, or by simply waving your leg under the sensor. So handy when you're juggling a bub who needs their afternoon nap. And if you have a single-hand fold stroller as well, you're going to feel like superwoman. Power sliding doors are also a brilliant people-mover feature that saves you having to lug open big sliding doors.
Hatchbacks
This nifty car design makes it so much easier to lift a pram and other baby paraphernalia into the boot. Rather than a super deep boot, you have to reach in for, or a super high boot you need a step ladder for, a hatchback can be just right.
---
Read next …
On the road to starting or growing your family? Here are some articles to help you on your journey.
Join our Facebook pregnancy groups
Expecting a baby? Join one of the closed Mum's Grapevine pregnancy Facebook groups for non-judgemental support from other mums all due at the same time as you.
Click below and join your group today.