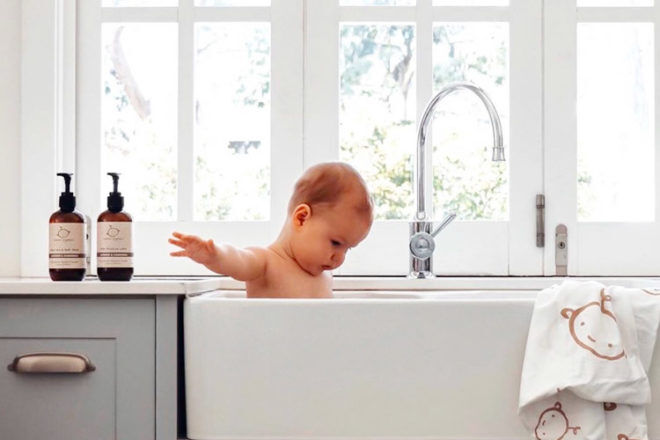 There's nothing more delicate than a newborn baby's skin. And like the food that we put into their bodies, taking care over what we put onto their skin is just as important. The best way to protect them is to use organic or natural baby products, free from harmful chemicals, toxins and nasties.
We asked the Mum's Grapevine Facebook Baby group members to recommend the natural baby products they use and these are the natural skincare brands they recommend.
Ecostore Baby Skincare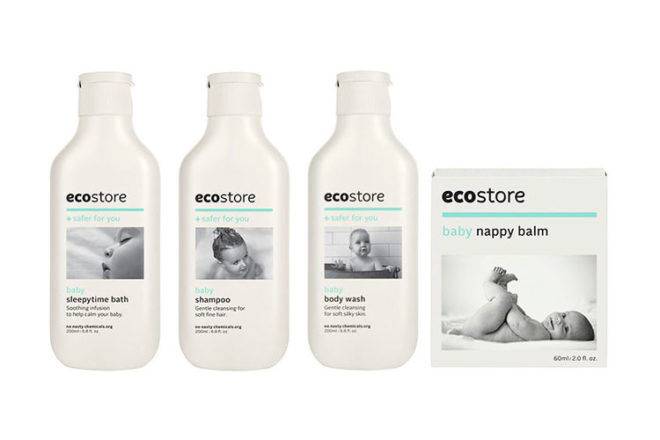 Ecostore (from $12.95): Adding to their successful range of eco-friendly home and body products, Ecostore gets a big thumbs up for their products for baby. They've got everything from soap to shampoo covered, plus an award-winning sleepytime bath to help ease into the nighttime routine.
"Love Ecostore for bubs, especially the nappy balm." – Shireen

---
Dr Bronner's Baby Skincare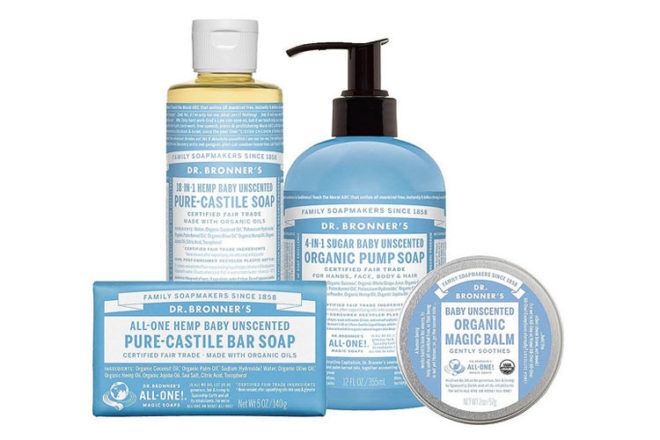 Dr Bronner's (from $7.95): Known worldwide for their 18-in-1 Magic Soaps the Dr Bronners range has extended into baby skincare with Fair Trade baby products that are all fragrance-free – ideal for baby's sensitive skin.
"I'm using Dr Bronner's Magic Balm and it's AWESOME as a barrier cream. He got a little red so I just applied and thicker layer and within a day it was gone". – Antje

---
Weleda Baby Skincare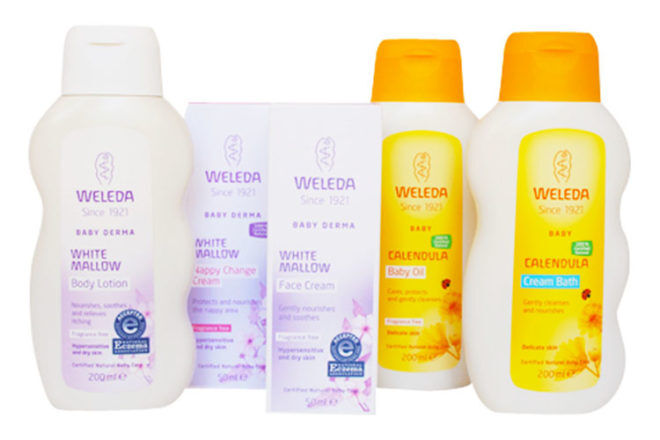 Weleda (from $15.95): Certified Natural and Organic, the baby range from Weleda gives daily care and protection to our little people. Calendula soothes and softens while white mallow helps maintain the skin's moisture – A great buy for babies with eczema.
"The Weleda nappy rash cream is seriously the best! I use it on all skin irritations for kids and heals overnight! Natural too." – Cassandra

---
Little Innoscents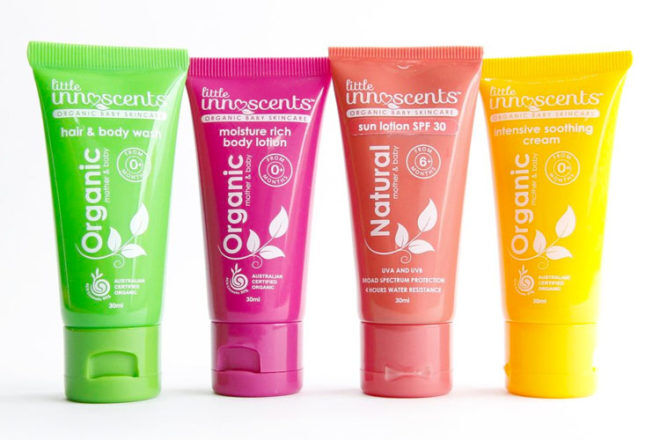 Little Innoscents (from $10.95): Suitable to use from birth, the range from Little Innoscents is as gentle on baby's skin as it is on the planet. Using only ingredients sourced in nature, the award-winning organic baby products have tots covered day and night.
"We use Little Innoscents here. The products are organic and smell lovely." – Hanna

---
Wotnot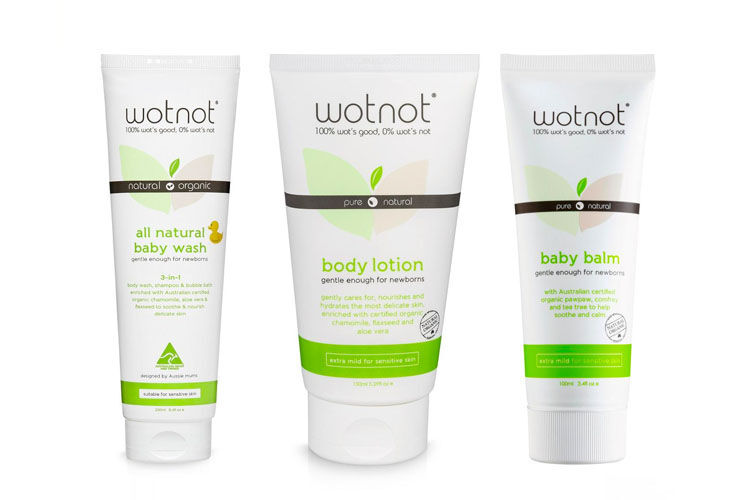 Wotnot (from $14.99): Approved for use on skin prone to eczema, rosacea and psoriasis, the baby products from Wotnot nourish bubba's skin with the help of omega-3 rich ingredients like flaxseed oil, plus soothing properties of Certified Organic aloe vera and chamomile.
"Wotnot is our favourite. My girls suffer from eczema and allergies and this one has always been great for us!" – Jessica

---
MooGoo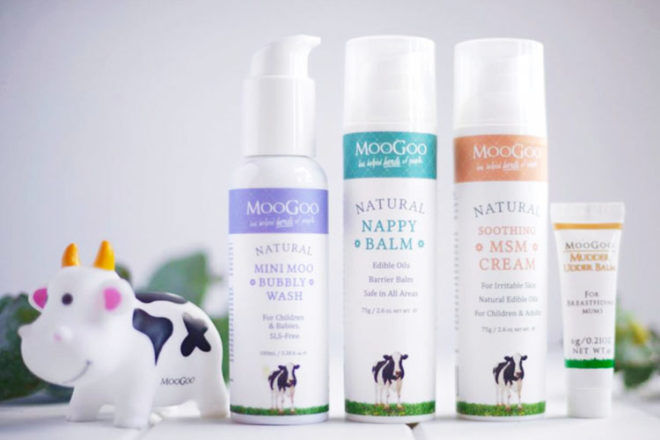 MooGoo (from $13.50): Loved by breastfeeding mums all over Australia for their Mudder Udder Balm, MooGoo is helping herds of families with their mild range for baby too. Made from natural and edible ingredients the Nappy Balm, Mini Moo Bubbly Wash and MSM Cream are full of soothing properties for baby's new and delicate skin.
"Moogoo is brill! My babe had dry skin behind the ears and around the eyebrows, it cleared it right up and the milk pimples too. Her skin looks flawless after a bath. We use the bath wash too." – Amanda

---
Jack N' Jill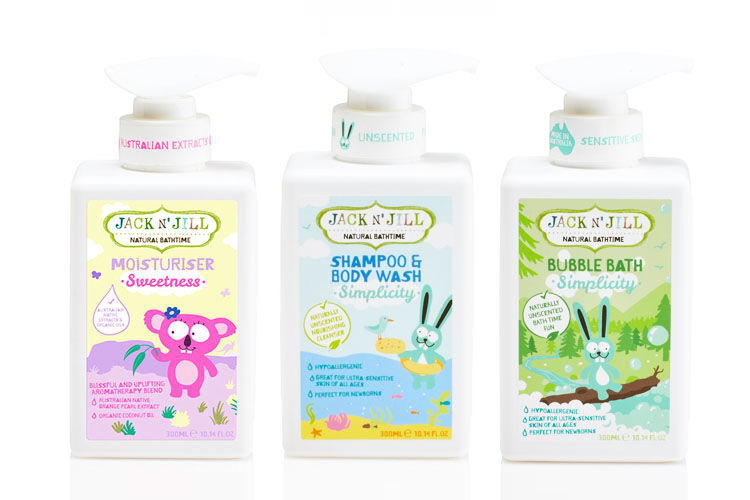 Jack N' Jill (from $12.95): It's the natural skincare brand with the gnarly characters. Infused with native ingredients such as White Cypress and Orange Pearl extracts, the smell is as good as the feel. The bottles are 100% recyclable too!
"Smell so nice and I love that they also have a natural teething gel" – Louise

---
Nature's Child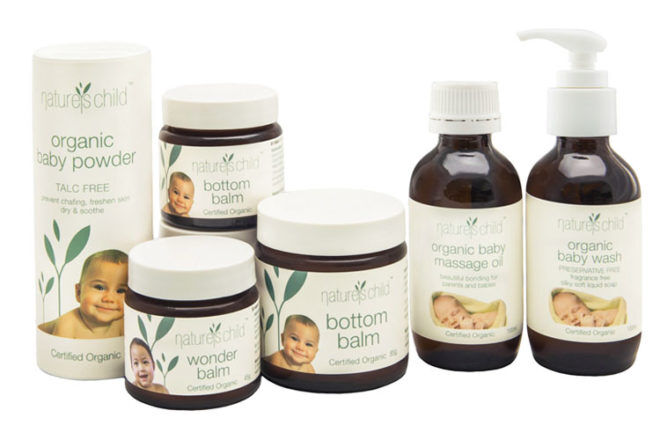 Nature's Child (from $14.95): Eco-friendly families love the Certified Organic range from Nature's Child. Featuring a body wash, massage oil, baby powder, bottom balm and multi-purpose wonder balm – it's your one-stop-shop for organic skincare.
"Highly recommend Nature's Child bottom balm…I use this on my son and absolutely love it! And it's organic. Love there wonder balm as well,  I use it in his face." – Taije

---
Milk & Co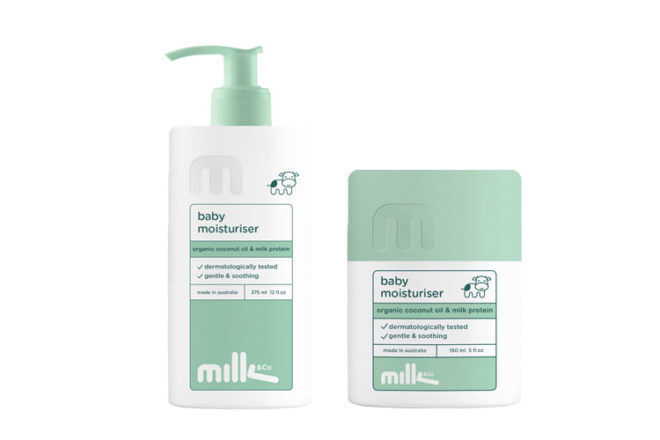 Milk & Co (from $6.95): Back with a brand new look, Milk & Co (and Millie the cow, of course!) bring us an adorable range of baby products packed with organic and natural ingredients. They've covered the everyday essentials like moisturiser and bath wash and gone one step further with their calming room spray made from lavender and grapefruit oil – divine.

---
Grahams Natural Kids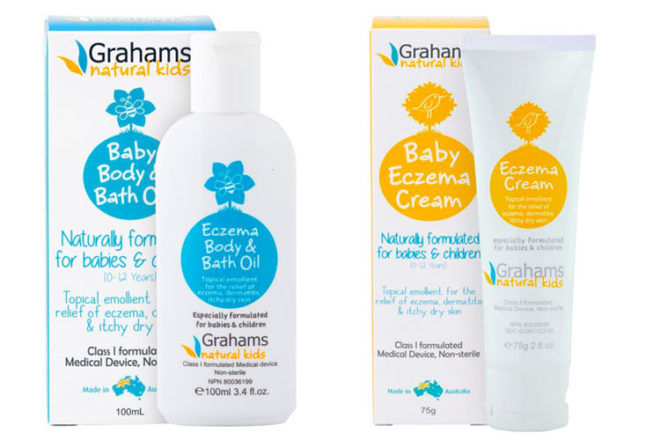 Grahams Natural Kids (from $13.95): Gentle enough for newborns, the Natural Kids range from Grahams is full of the good stuff – think Shea Butter, Almond Oil, Zinc and Vitamin E. The powerful combination helps keep skin soft and supple while reducing irritation and inflammation.
"I bought Grahams Cradle Cap Oil from the health shop and it started clearing after one use. It's a blend of organic oils like sunflower, olive, sweet almond, jojoba and calendula." – Renaye

---
Lullaby Skincare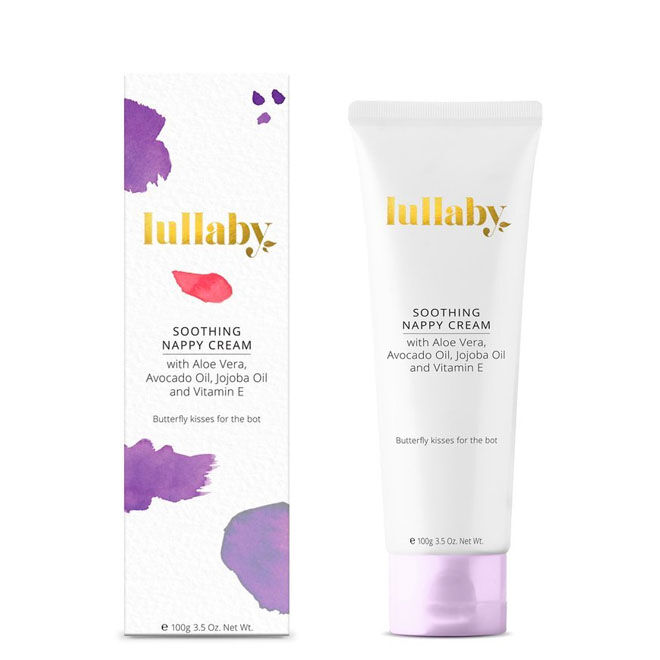 Lullaby Skincare (from $28): Created with baby's sensitive skin in mind, the beautiful collection from Lullaby Skincare use over 80% organic Aloe Vera as a base ingredient to help soothe and nurture baby's skin. The range includes a nappy cream, calming body wash, soft body lotion and SPF 30 sunscreen.

---
Gilly Goat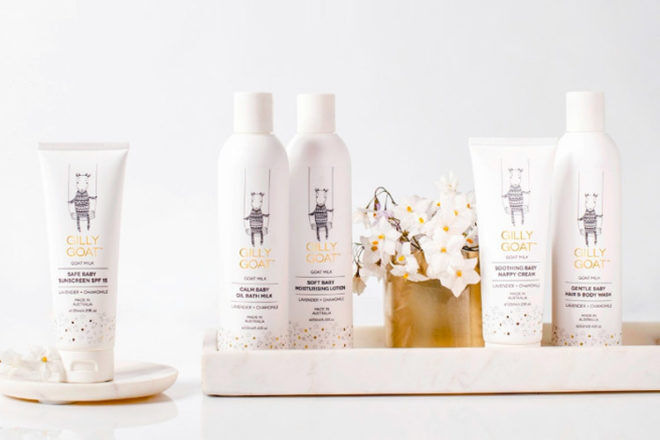 Gilly Goat (from $22.95): Created from a base of goat milk and aloe vera leaf juice, Gilly Goat works wonders when it comes to soothing skin by targetings dryness, irritation and redness with naturally moisturising ingredients. With no nasties in sight, the premium baby skincare range is packed with calming botanical extracts to keep bubba's skin soft and supple.
"Gilly Goat is now a part of our daily routine, we love it. I was really impressed with the products. The quality was amazing, they were extra gentle on Ella's skin and the chamomile and lavender scents were so relaxing for us all!" – Kylie M

---
Little Bairn
Little Bairn (from $19): A touch of luxury for the little one in your life, Little Bairns baby products are 100% organic, Australian made and oh-so indulgent. Created for mums and bubs alike, the award-winning baby range is about making bath time fun (and fabulous) for all.
"No soaps, I have a lovely massage oil from Little Bairn… that's all we use." – Shalini

---
Bubba Organics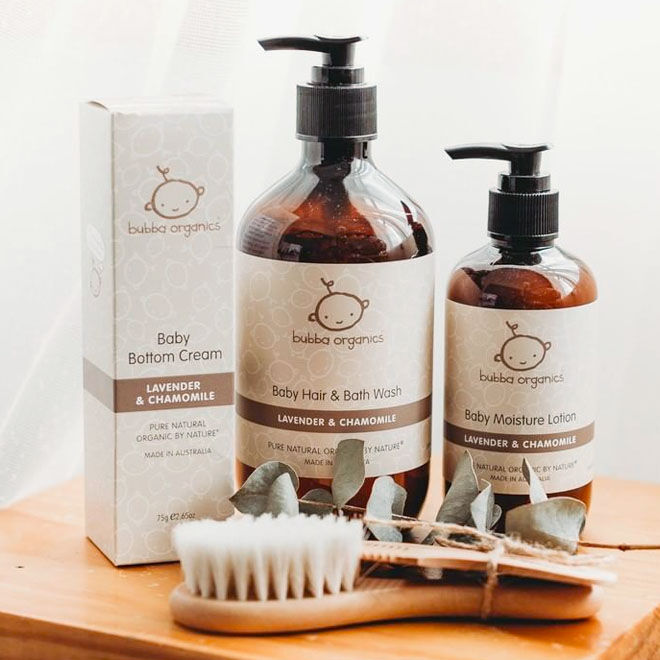 Bubba Organics (from $23.95): Lovingly made in Melbourne the 100% natural range from Bubba Organics features a baby bath wash, bottom cream and moisture lotion, plus many more. There's no hidden nasties and no added water to weaken the pure ingredients used. The cute-as-a-button bottles are recyclable too!
"Bubba Organics is the only one I'll use. It's so beautiful. Australian made and all natural products." – Tab

---
Gaia Natural Baby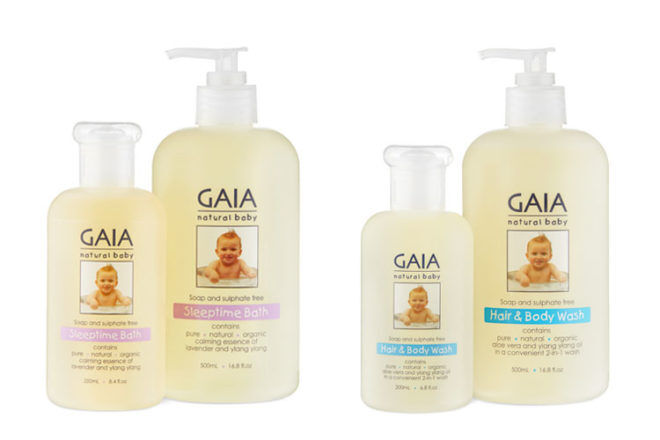 Gaia Natural Baby (from $7.95): Their award-winning Sleepytime Bath and Soothing Cream are just two of our faves from the extensive Gaia Natural Baby range. With skin-softening ingredients such as Organic Avocado Oil, Organic Calendula and Organic Rosehip Oil, they're the perfect accompaniment to your babes evening bath. 

---
Venessa Megan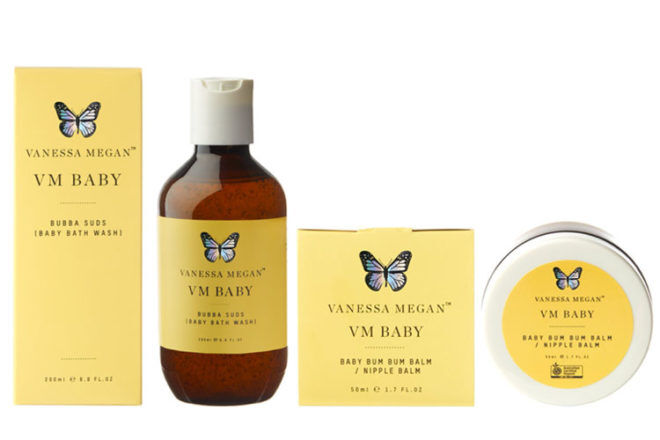 Vanessa Megan Mum & Baby (from $39.99): We've loved their mum and baby range for years. Using only the very best natural and organic quality ingredients, there are no hidden chemicals, parabens or fragrances to irritate baby's skin.
"I use Vanessa Megan's Mumma Bump Oil – it's 100% organic and natural and beautiful, loads of vitamins and all the good oils." – Chloe

---
Lovekins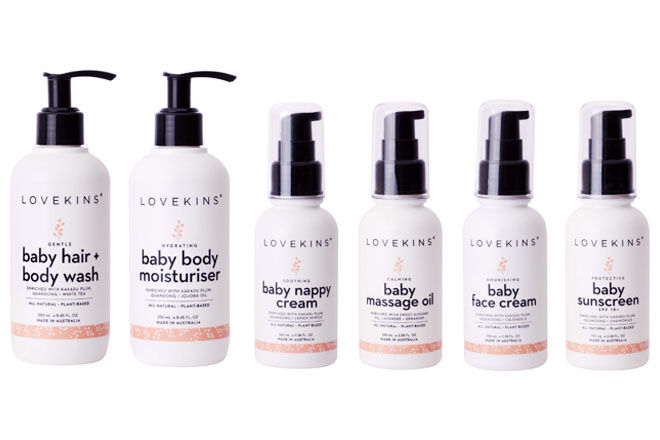 Lovekins (from $24): Australian made and owned, Lovekins is a natural baby skincare range enriched with Australian superfoods to pamper and protect baby's skin. With ingredients ranging from Kakadu Plum and Quandong to Lemon Myrtle and Ylang Ylang, no-nasties range smells and feels amazing.

---
Continue your search for the best natural baby skincare
Searching for the best natural baby skincare and still not sure if any of these are right for you? Continue your search online by jumping into one of our closed Pregnancy or Baby groups and ask thousands of other Australian mums what they recommend – 'What to buy' is the most talked about topic, followed by MIL vents!
Click below and join your group today!