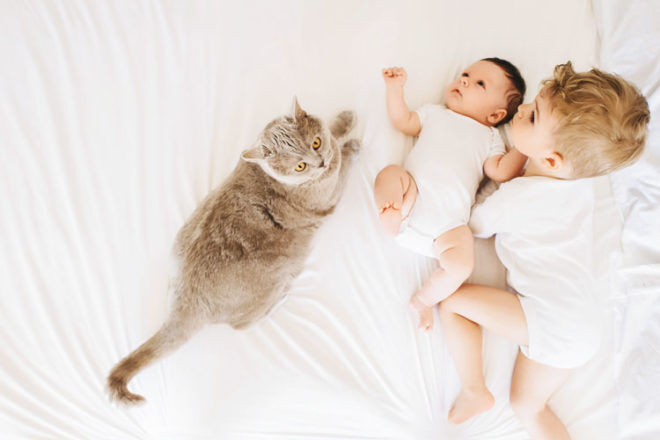 Cats pretty much rule the roost, so once a tiny baby comes along there's bound to be a reshuffling of royalty. With a new prince or princess about to take the throne, king kitty may need a little adjusting.
We've chatted to pet experts and put together a few tips on getting your pet cat ready for the arrival of a new baby, so everyone can feel safe and happy at home.
What the experts say about cats and babies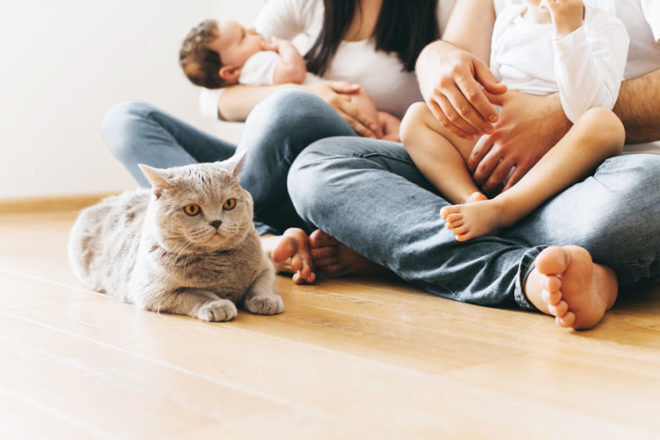 Vet Dr Sam Sorensen told Mum's Grapevine that prepping your moggy for the mayhem of a newborn starts well before the little one comes home. "It is important to think ahead and prepare your feline friend for the arrival of the new member of the household."
According to animal behaviourist Dr Jo Righetti, cats are pretty adaptable creatures and cope well with the addition of a bub to the family. "While there may be less attention for the cat, more noise and strange odours in their vicinity, cats tend to be either (i) quite curious or (ii) keep well out of the way. The goal is for your cat to be happy in the baby's presence, so ensure you reward your cat for calm behaviour and do not allow them to 'pack their bags' and leave."
Dr Righetti says it's really common to be worried that your cat will somehow smother your baby. "This is such a rarity that there really is nothing to worry about. But it may be sensible to keep your cat out of the cradle. Cats are generally repelled by baby's crying and their tiny, grabbing hands. Cats do, however, love a warm place to snuggle, so it may be best to keep the door to your baby's room closed.
"As your baby gets older, consider your cat when your child starts to move about. Teach them to stroke a cat gently, modelling the behaviour yourself. Chances are their first word will be 'cat'!"
Expert tips on preparing a cat for a baby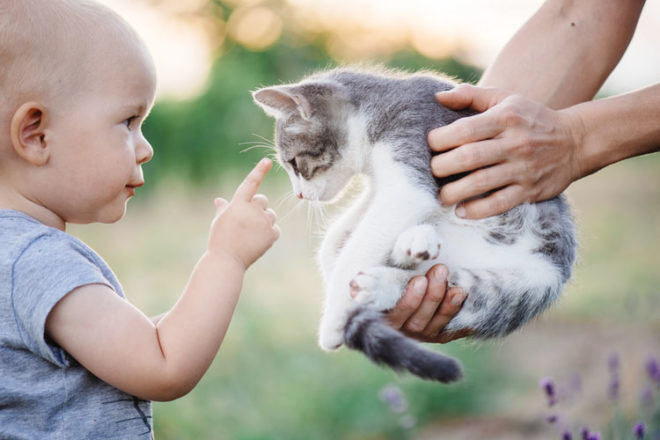 Step one: Set up the nursery ahead of time and let your cat investigate the new furniture and room layout for a few weeks.
Step two: If there are areas you do not want your cat to touch, such as the changing table, cot or bassinet, place a sheet of cardboard with double sided tape on the cardboard over the furniture. Sticky surfaces are not appealing to cats.
Step three: Most households have the litter tray in the laundry but this will be upsetting for your cat when the added laundry duties will have you in that area a lot more than before. Cats like their privacy. Move the litter box to another room at least a couple of months prior to your baby's homecoming.
Step four: Start applying baby lotion to your hands daily so your cat becomes familiar with the new smell for a few weeks before your due date.
Step five: Play sounds of babies on speakers, so your cat gets used to these.
Step six: Invite friends with babies over to your home and let your cat watch from a safe place.
Step seven: Carry a baby doll around with you to get your cat used to sharing your attention.
Expert tips on introducing a cat and newborn
Step one: Get dad to bring items home from the hospital that have the baby's scent.
Step two: Don't push the introduction, just let your cat slowly get used to the new domestic situation. Let your cat get used to the baby by letting your cat sit around your room watching activities.
Step three: Give your cat attention when you get home, doing all the things you would normally do. When your baby is asleep, give your cat some extra attention, games and pats.
Step four: Reward your cat for calm behaviour when your baby is near.
Step five: Do your best to keep to your old routine once baby is home. This includes dinner time and time for cuddles.
Step six: A cat's hearing is quite acute. Baby noises and crying will be upsetting so try to keep your crying baby away from your cat.
Step seven: Consider investing in a cat house or fur pod to provide your cat with an area to escape it all.
Please remember when it comes to cats and babies that every pet is different, and may behave unexpectedly in new situations. 
Read next …
Join our Facebook pregnancy groups
Expecting a baby? Join one of the closed Mum's Grapevine pregnancy Facebook groups for non-judgemental support from other mums due at the same time as you.
Click below and join your group today.