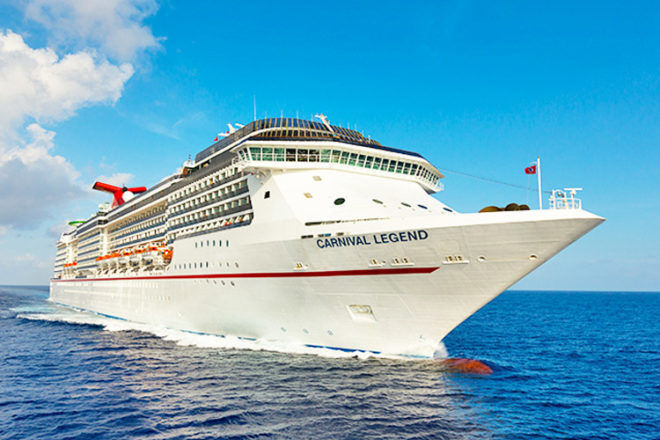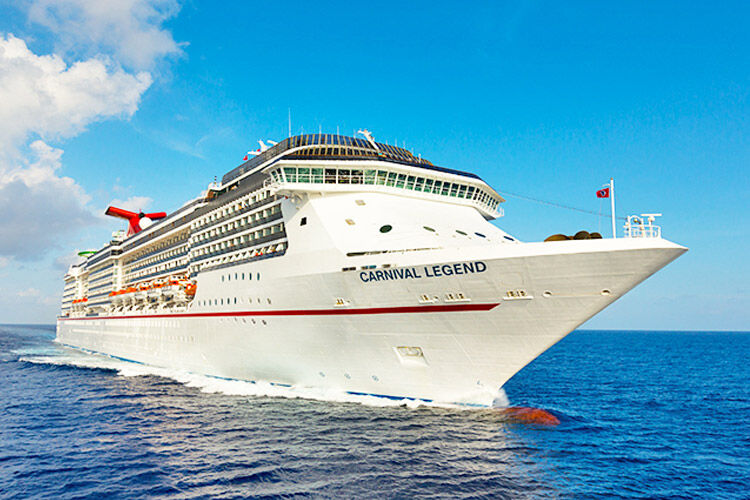 It's a bit of a mum in-joke that a holiday isn't actually a holiday, it's just doing the same stuff in a different place. The kids still want to eat (why is that?!), they still make a mess and they want to do all the things, all the time.
Well, we've just been on the unicorn of family holidays. A rare break that included no cooking, no cleaning, family fun time, kid-free time while literally floating away into the sunset.
We've always said that we'll either love family cruising or loathe it; there's no in-between. The fact that I'm prone to motion sickness meant a cruise hadn't been at the top of our family holiday list. But after a little four-day taste of life on the sea, I'm ready to turn sailor.
Cruise ship:      Carnival Legend
Duration:          Four nights
Destination:     Melbourne > Hobart > Sydney
Reviewers:        Family of four, children aged seven and nine
.                              Single-family of two, child 11 years old
About the Carnival Legend
When we first boarded the Legend and stepped into the vast atrium we were all a little awe-struck. She's a magnificent ship, and coming in from the muted port at Melbourne it's like venturing from a dimly-lit basement into the glitz and glam of the Las Vegas Strip.
At three footy fields long and 12 decks high it's a lot to take in, and the sheer enormity of the Legend is something to behold. It can hold 2,680 guests and has 930 crew – on most sailings, it's one crew member to every two guests. Surprisingly, despite having so many people onboard, the Legend doesn't feel crowded – remember she's three footy fields long!
Our trip would take us from Melbourne to Hobart and Sydney over four action-packed days.
Rooms on Carnival Legend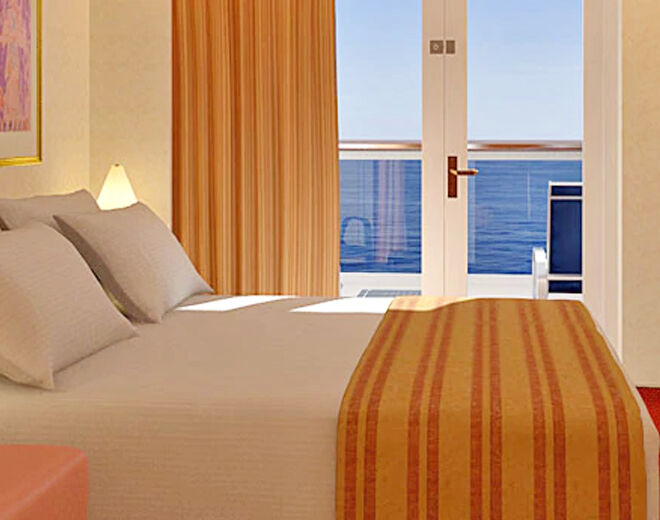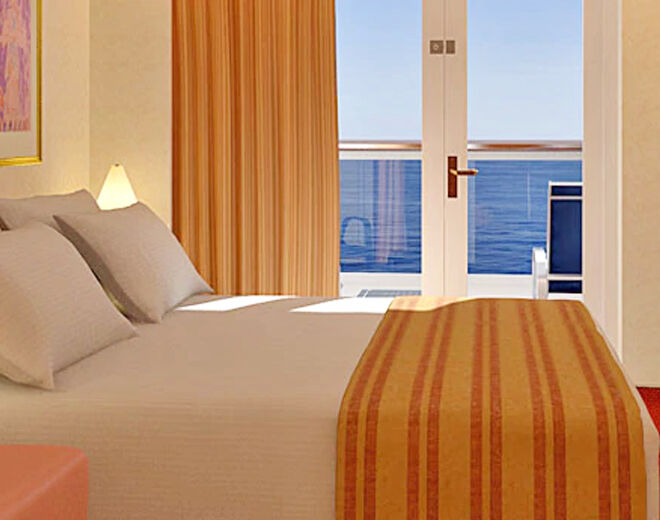 After boarding, we headed straight for the lifts and up to our room, an ocean view balcony on level five. The bunks were already set up for the boys, and our king-sized bed was perfectly positioned to take in the view from the balcony. The four of us and our ample luggage fit perfectly, with room for the suitcases under the bed once our clothing was put away into the wardrobes. The ensuite bathroom is squeezy but perfectly proportioned, once we got used to moving around each other to open and close doors.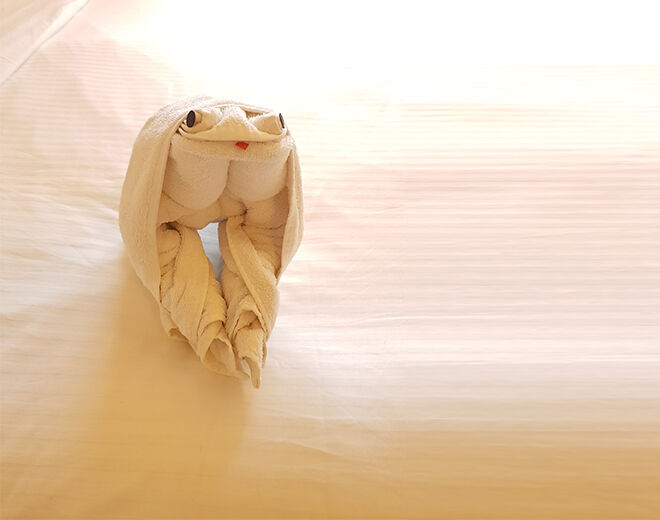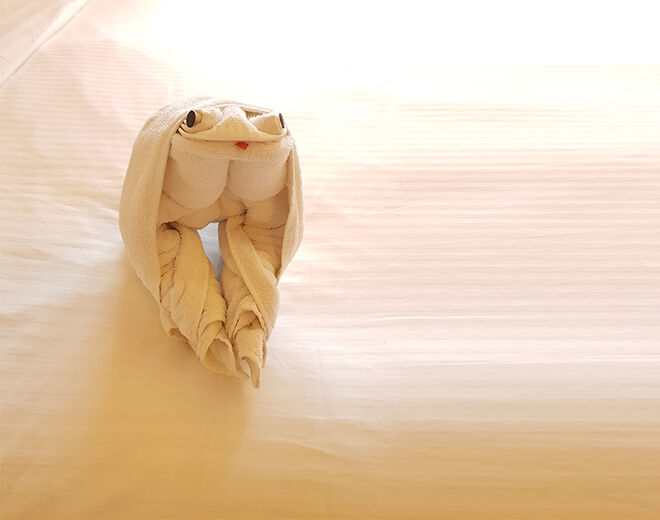 Our luggage arrived, along with our cabin steward for the trip – Sujendra. He made time to get to know us, despite having lots of other rooms to get to, and he would fast become one of our favourite things about the Legend (who doesn't have a soft spot for someone who makes your beds and leave you towel animals every day?!).
Food on Carnival Legend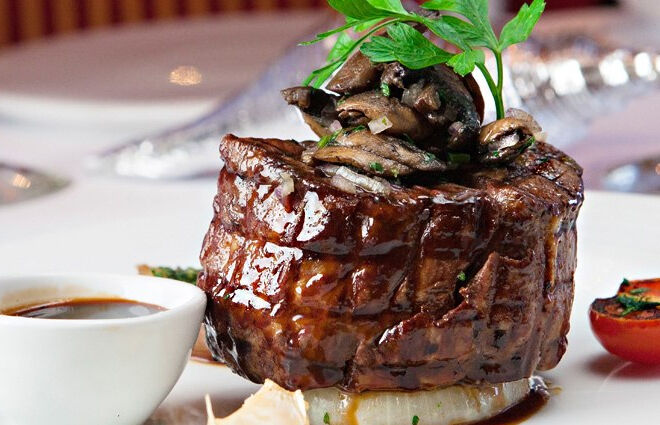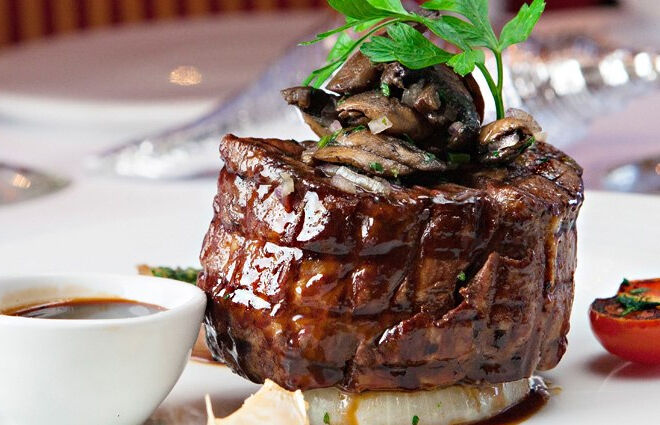 For a mum, stepping onboard the Carnival Legend is like being taken to a parallel universe. A place where all the cooking (and cleaning!) is done for you – every meal, every snack. It's pure bliss.
As first-time cruisers, while I was thrilled at the chance to hang up the apron, I was still a little iffy about whether the kids (and hubby!) would like what was on offer. But we were really surprised by the vast variety and quality of food on offer. In all honesty, it's been a huge readjustment coming back to my humble home-cooked meals! There are a few choices when it comes to dining, so let's take a little walk through the Carnival Legend's gastronomic wonderland.
Breakfast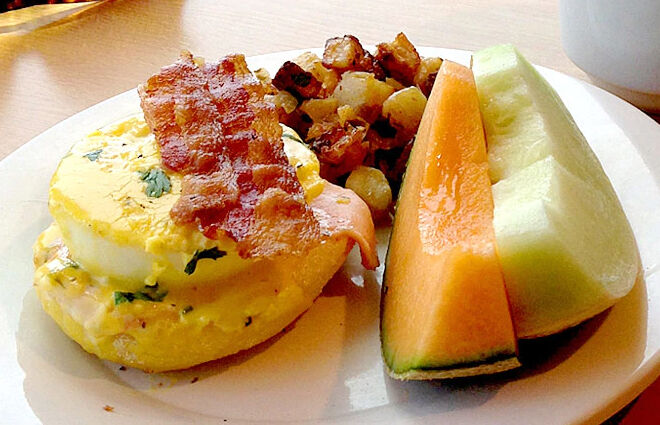 As with everything on the cruise, there are choices when it comes to brekkie onboard. If you like your eggs, bacon, waffles, pancakes, smashed avo on toast or cereal served up a la carte, the main dining room, Truffles Restaurant is where it's at. Turning up hungry and ready for a day of adventure, we were shown to our water-view table and taken care of by two brilliant waiters who first offered us something tasty from a selection of pastries.
The kids love croissants so they were in their element before we'd opened the menu. As I mentioned, there's everything from Coco Pops to poached eggs and pancakes, and we indulged in most of them during our four breakfasts onboard.
If you're more of a casual breakfast nibbler, you can head to the Lido deck where it's more of a buffet-style service. It's basically the same delicious food, but you can grab and go and find a beautiful place to sit and start the day.
What I did love is that there was always fresh fruit on offer. We either asked for a plate of fruit at the end of breakfast or tripped over to the Lido deck and made up our own plate of fruit.
More adventurous eaters can sneak over to the BlueIguana Cantina and snaffle a freshly-made breakfast burrito and sit by the pool. Heaven.
Lunch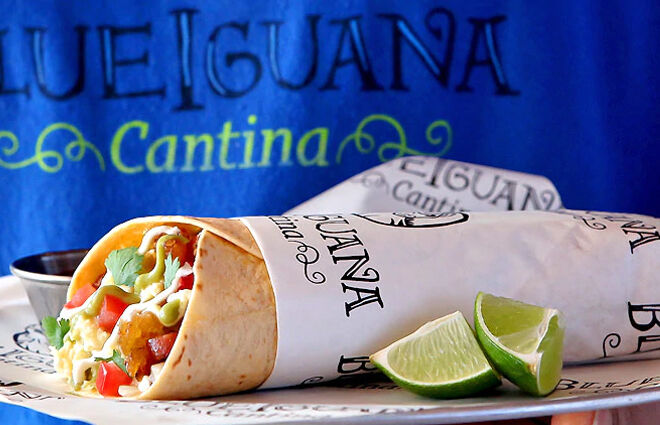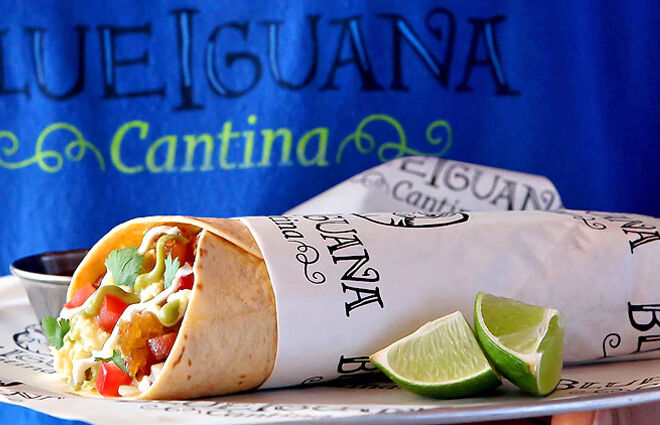 As much as I love a good breakfast, lunch on the Legend is all sorts of awesome. There's a lovely casual atmosphere and the kids can help themselves to as much of their favourite foods as they like.
Around the pool there's the choice of grabbing a whopping great hunk-of-deliciousness burger from Guy's Burger Joint or freshly prepped tacos and burritos at the BlueIguana Cantina.
Our kids loved building their own burgers and tacos – the staff will load up your plate with a plain burger or taco of your choosing, then it's your choice of additions from the sides bars. I was quite partial to a burger with crispy bacon, fried onion, lettuce and lashings of ranch dressing. While my youngest kept the staff busy with his ridiculous taco and burrito combinations (prawn and cheese anyone?!).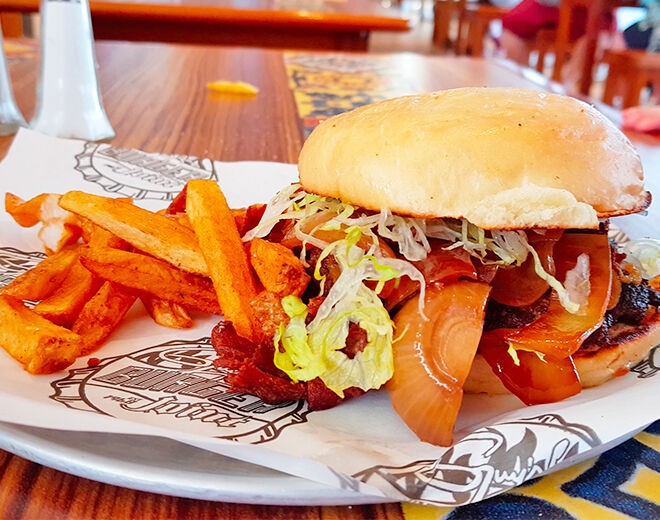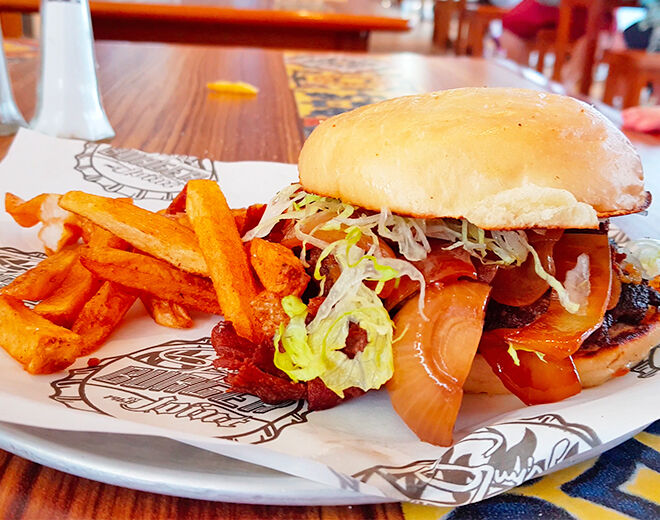 Once we loaded up on food, we'd wander over to a table with either a pool or sea view (usually both), and relax. Lunch was always finished with a big plate of watermelon, which was always abundant at the BlueIguana Cantina side bar.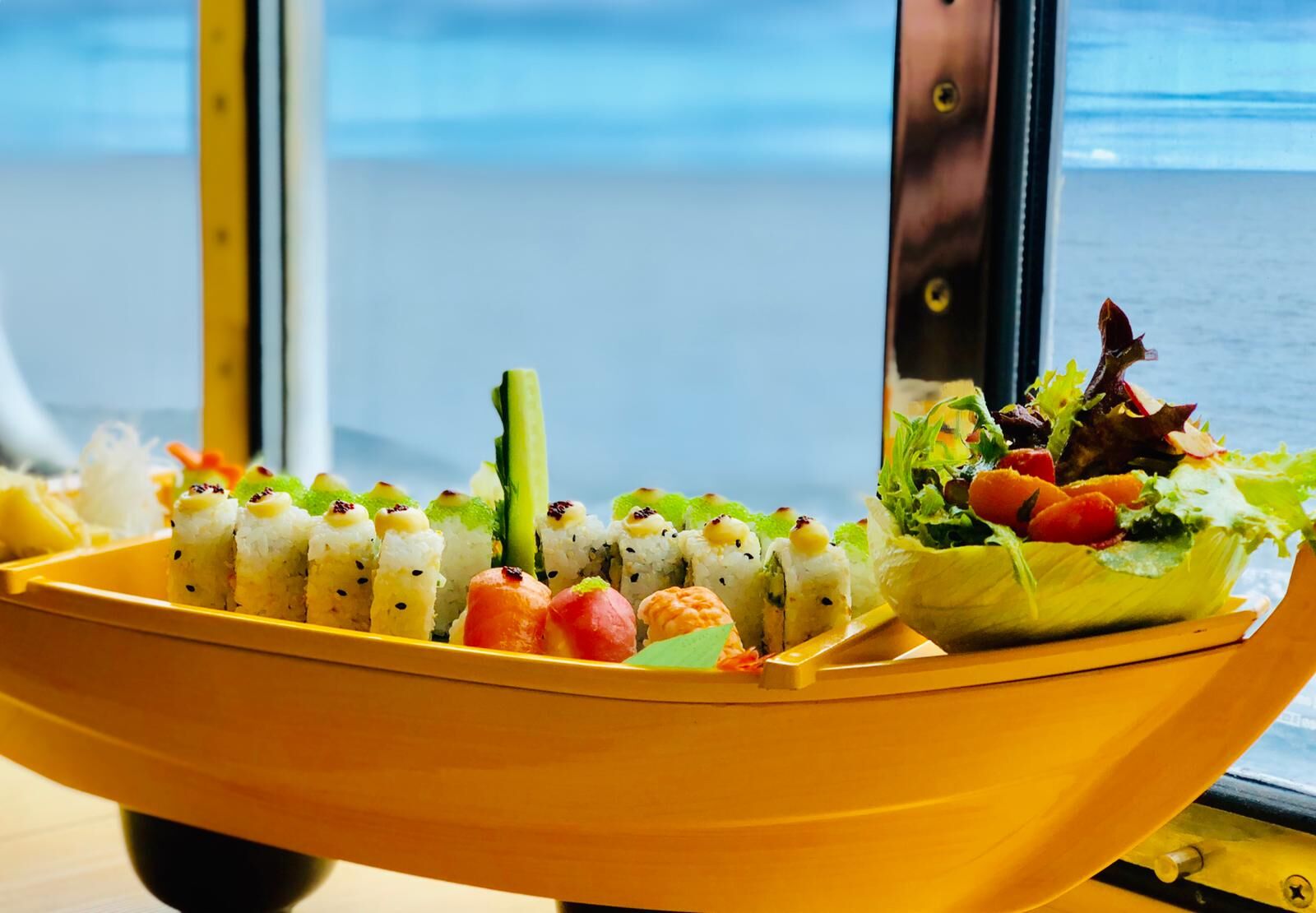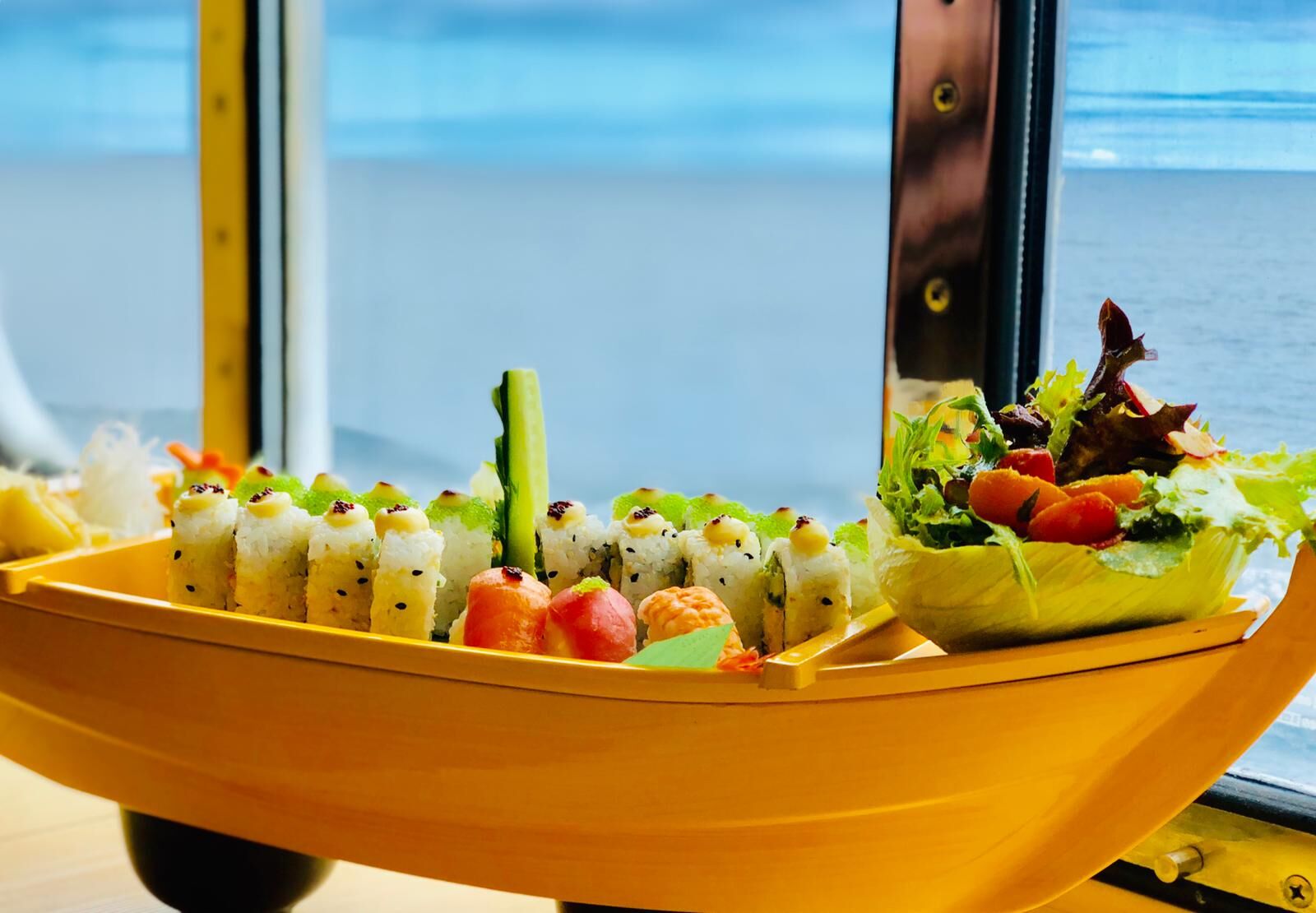 I did indulge in lunch at the incredibly reasonably-priced Bonsai Sushi, which was ridiculously good. Sushi rolls start at $6, desserts are just $2 and our group shared an impressive Sushi Boat ($19) and couldn't finish it!
Dinner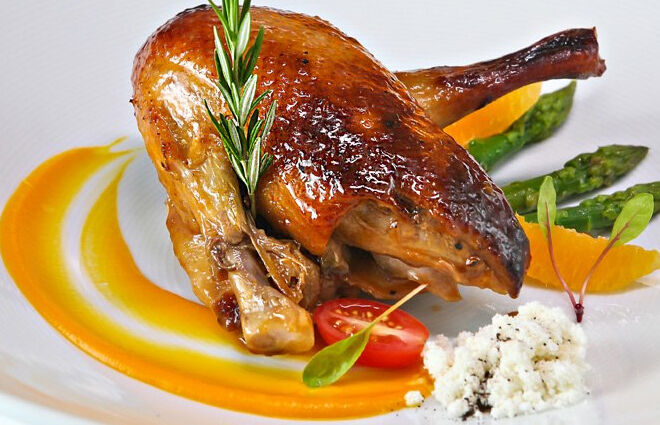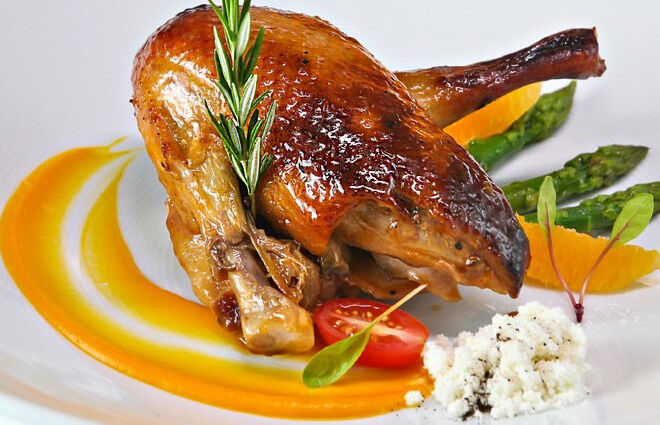 Much like breakfast, lunch is a choice between dining in the restaurant or helping yourself at Lido. We were really surprised to see the menu at Truffles changed vastly every night – not an easy feat with more than 2000 mouths to feed. While some firm favourites like chicken schnitzel and steak stayed put, other mains would change each night.
Here's a hot tip – if you can leave plenty of room for dinner; every night there is entree, main and dessert and they are all top notch.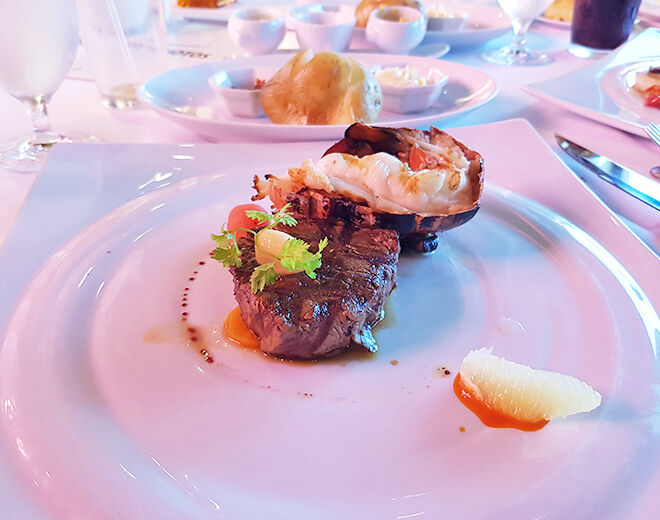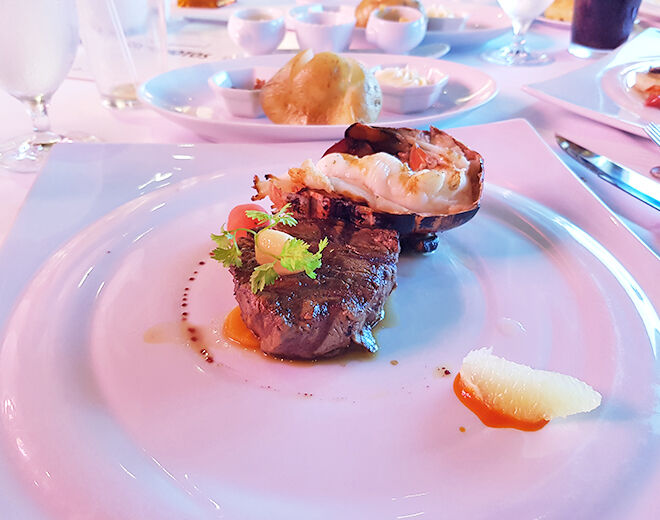 We were treated to a beautiful final night dinner at Nouveau, which was fine dining at its best. For an incredibly reasonable $30 per head you can tuck into filet mignon, New York Strip, lobster or surf and turf. We absolutely loved the meal at Nouveau – the surf and turf was delicate and full of flavour, and the huge cheesecake dessert was a stick-to-the-roof-of-your-mouth delight. The service was impeccable, the view of the sun setting over the sea spectacular and the entire experience topped off our cruise perfectly.
Snacks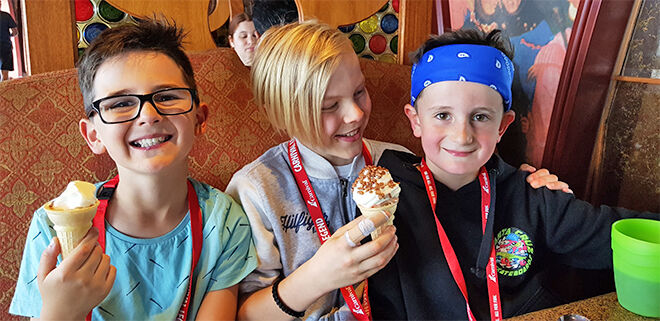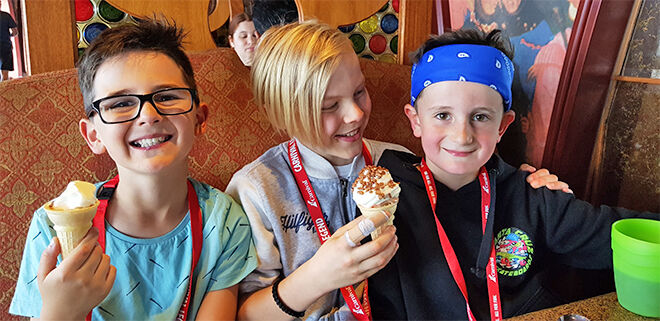 If there's one thing the kids are still talking about, it's the Swirls icecreams. This crafty corner is where the kids can make their own icecreams or frozen yoghurt, any time day or night. On a side-note, Oscar broke some sort of record by smashing down eight icecreams in the space of two hours.
Oh, and if you're feeling peckish at any time of the day or night, there's 24-hour pizza available. And trust me when I say it's fresh and delicious no matter what time of the day or night you have it (we may have had a little pizza party with the kids in our cabin late one night).
Fast Facts
The eateries included in your fare are: Pizza Pirate, Truffles Restaurant, Guy's Burger Joint, BlueIguana Cantina, RedFrog Pub, Breakfast Grill, The Carnival Deli, Lido Restaurant and Swirls. You can eat as much as you like, as often as you like from these eateries and you won't need to pay an extra thing.
The eateries that cost extra are: Seafood Corner, Green Eggs and Ham Breakfast, Bonsai Sushi, Nouveau Restaurant and Steakhouse.
You can purchase a Bottomless Bubbles package for unlimited soft drink and juice. For adults it's $7.25 a, kids are $5.50 a day. However, water and ice is readily available for free.
You can choose an early sitting time of 5.30pm for dinner in Truffles so the kids are fed and ready to take in the early evening shows.
Entertainment on Carnival Legend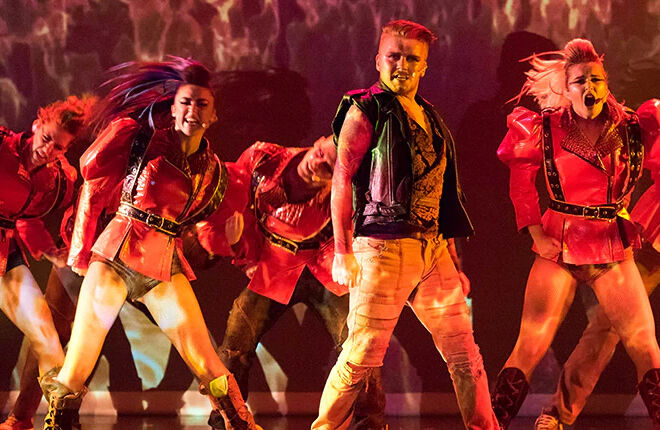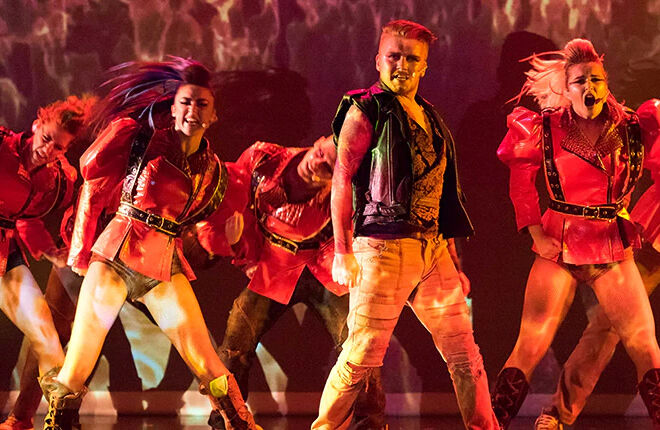 We quickly learnt that there's always something going on in every corner of the ship, usually several things –  there are 45 activities every day! Each day a copy of the Fun Times is delivered to your room, listing what was happening over the next 24 hours, from shows, shore excursions, shopping, kids' club and food.
During the day there's everything from dance parties and games to bingo, parades and storytime. Then when the sun goes down the theatre and comedy lounge come to life. We took the kids to an early, family-friendly comedy show at the Firebird Lounge and they loved it! They'd never been to live comedy so it was a real treat.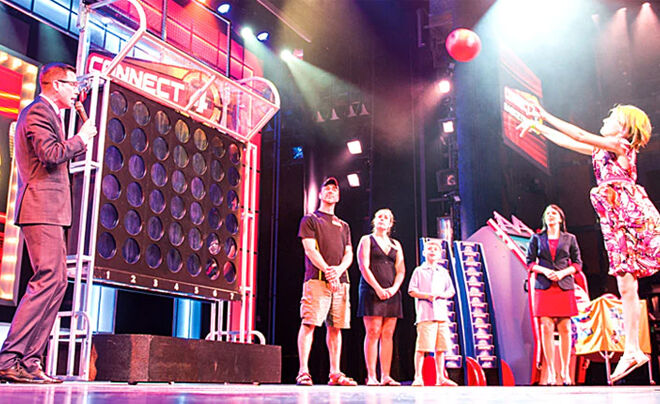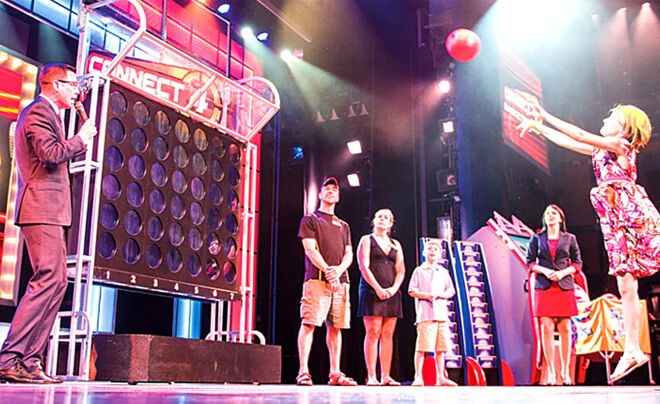 We also went to the fabulous Follies Lounge Palace to watch Hasbro the Game Show. While my kiddos didn't get chosen to hop up on stage they loved watching their favourite board games come to life (think Connect Four played with basketballs), and cheer on their team.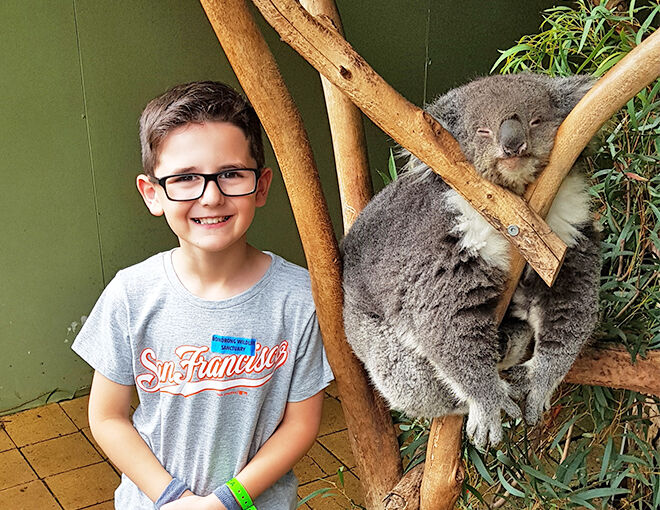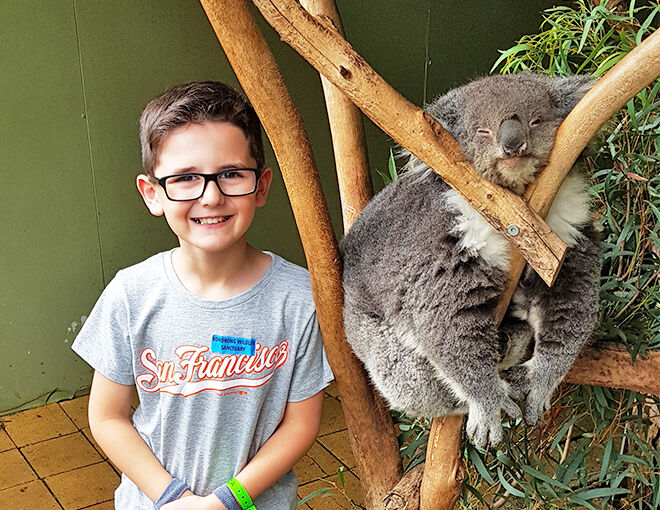 Once in Hobart for the day we were treated to a shore excursion to Bonorong Wildlife Sanctuary, which the kids adored. On every sailing, there's a whole menu of shore activities to choose from, which can be booked (for an extra cost) while you're on the ship – but do it early as they tend to book out. It was a great way to get a little taster of Tassie, and after our excursion, we hopped back onboard for lunch, then hopped off again to explore Hobart a little.
Theme nights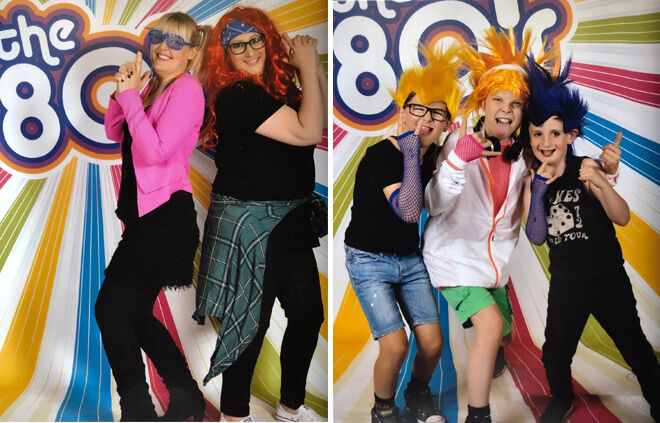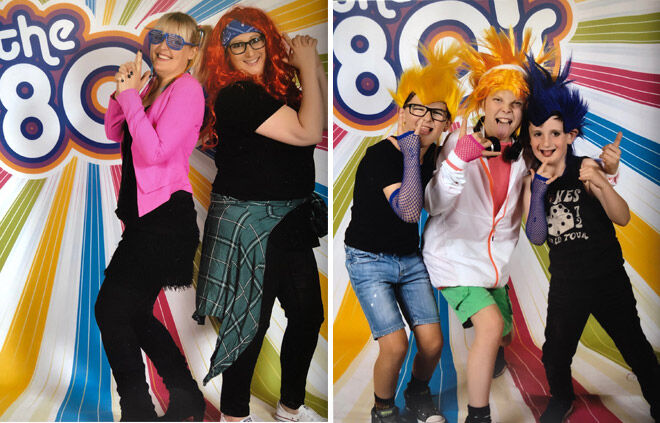 Our four-day cruise squeezed in two theme nights – an elegant evening and an 80s night. FYI, kids not born anywhere near the 80s LOVE dressing up like 'the olden days'. Our kiddos loved getting their fancy shirts out for a dinner dressed in finery, and we went all out of 80s night, which included a glow party on the deck for the ragers on the ship.
Staff on Carnival Legend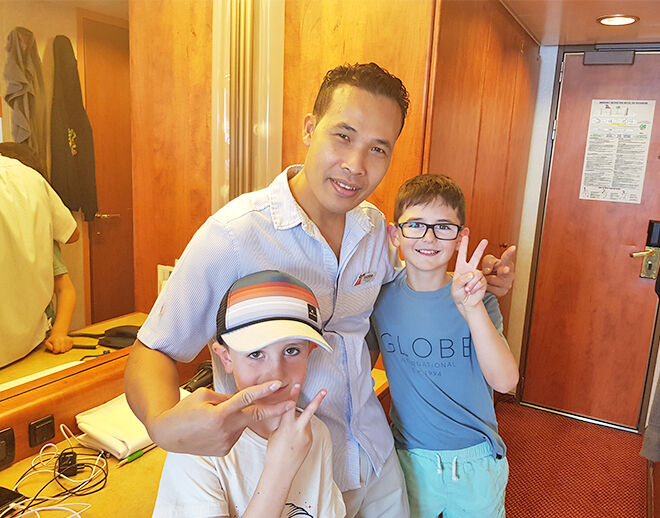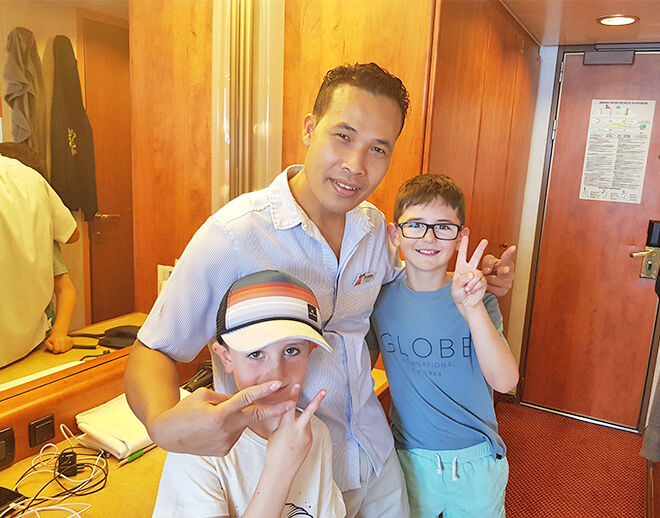 Without a doubt, the Carnival Legend is an amazing ship. It's beautiful, the food is worthy of seconds and the entertainment is non-stop-fun. But the absolute highlight for our family was more low-key than what we did and ate. It's the people who work onboard that make this cruise so much more than a holiday – it's a genuine experience. From our super attentive Balinese cabin steward Sujendra (who the boys are still talking about) to our knowledgeable waiter Ida, we felt like we were family.
Little touches like remembering our names and the little chats whenever we ran into each other made our day, every day, even on such a short cruise. The 900 plus staff that keep the Carnival Legend shipshape but they're also what really make it the fun ship.
Facilities on Carnival Legend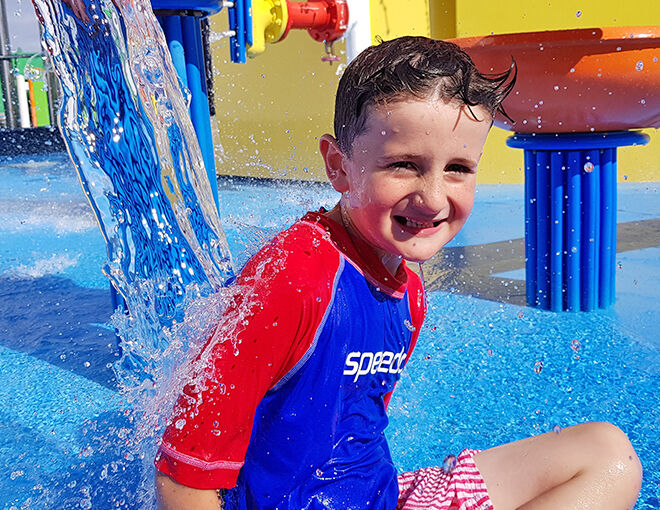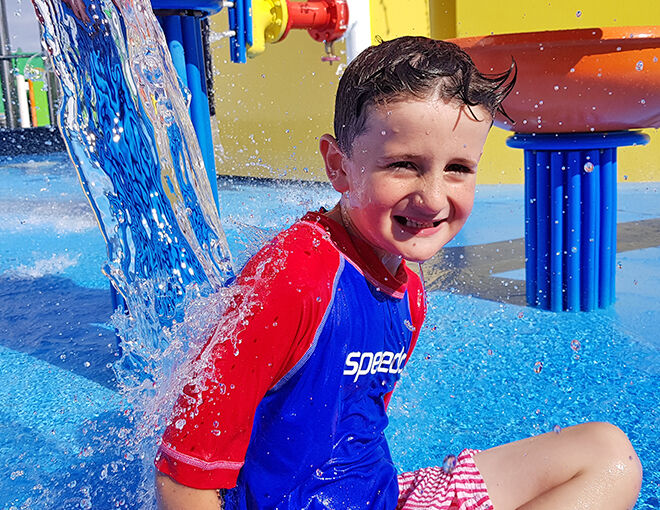 Carnival knows how to do fun, and in each corner of the Legend there's something that got the kids' heart racing (or ours!). Let's start with the kids.
Mini Golf and Waterworks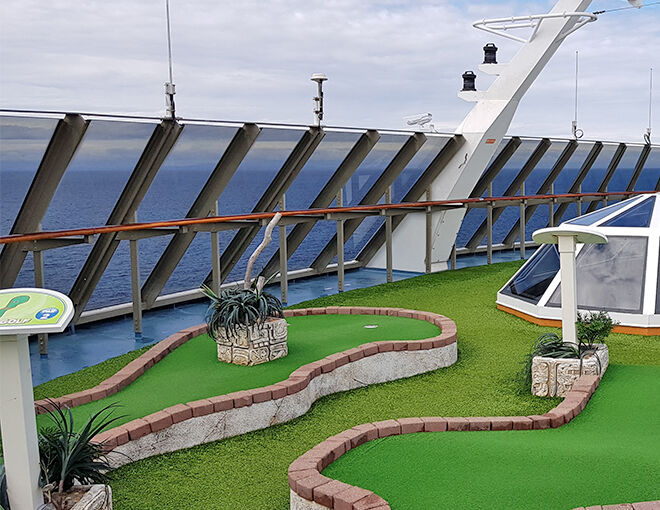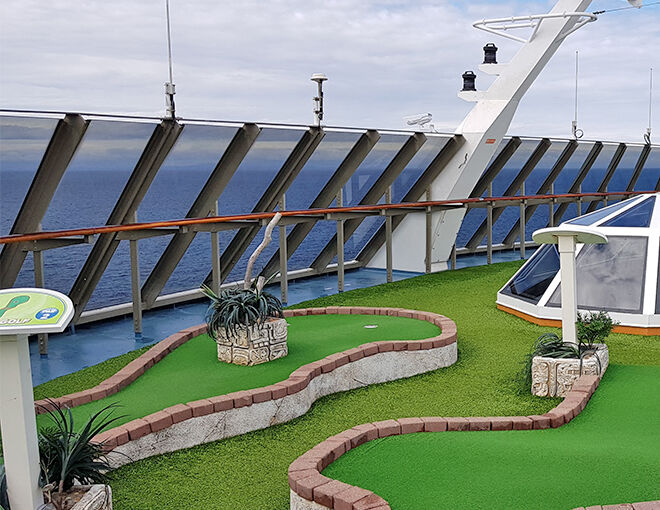 Our boys would have happily stayed at the very top of the ship for the entire trip. Being able to play mini golf, soccer and basketball while sailing high above Bass Strait was a kid-bucket-list tick.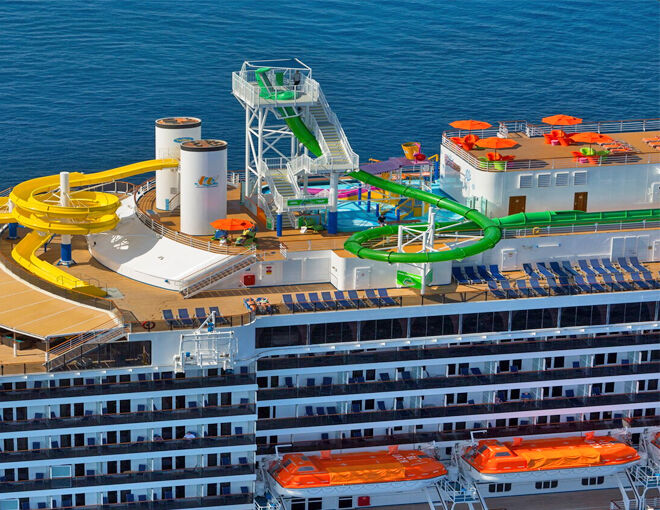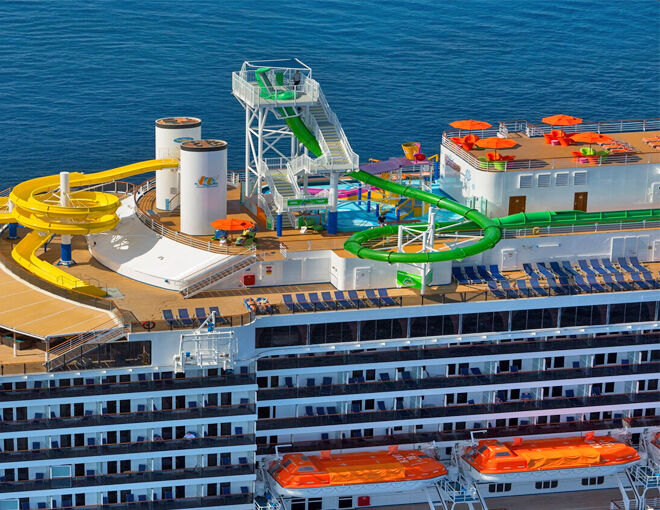 The twisting yellow and green slide of the Carnival Waterworks also sit atop the towering ship, jutting over the edge, enticing little thrillseekers to conquer the Green Thunder and Twister. Our kids also found their inner child and had a good old play in the Splash Zone, which is perfect for younger kiddos.
Camp Carnival
Ah, kids' club – are there two sweeter words spoken on holiday? The Legend has the fab Camp Carnival which has three different groupings – for teeny tots (ages 2-5); juniors (ages 6-8) and kiddos (ages 9-11). There's always a bunch of stuff organised for the groups each day, with an activity schedule available for the entire cruise for each age group. There are craft, movies, toys, games, a computer lab and a fully stocked playroom. Our boys headed to Camp Carnival while we had our final night dinner at Nouveau, and they had their meal with all the other kids then headed to the nightclub for activities. They were completely tuckered out when we picked them up!
While the little ones need to be signed in and out by an adult, kids nine and over can be allowed to sign themselves in and out, which is a great option.
Serenity and Spa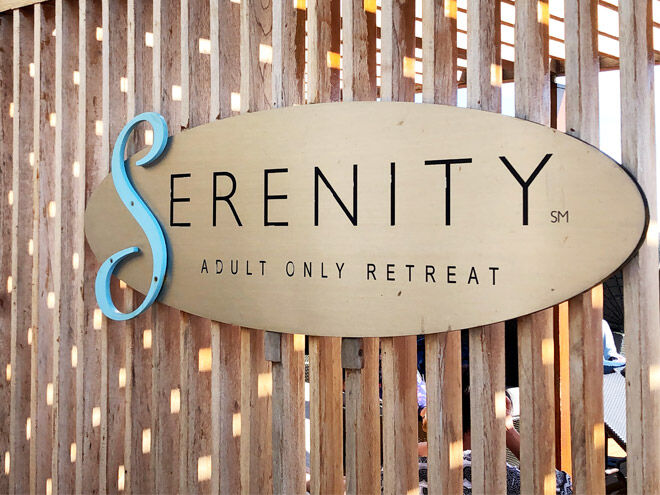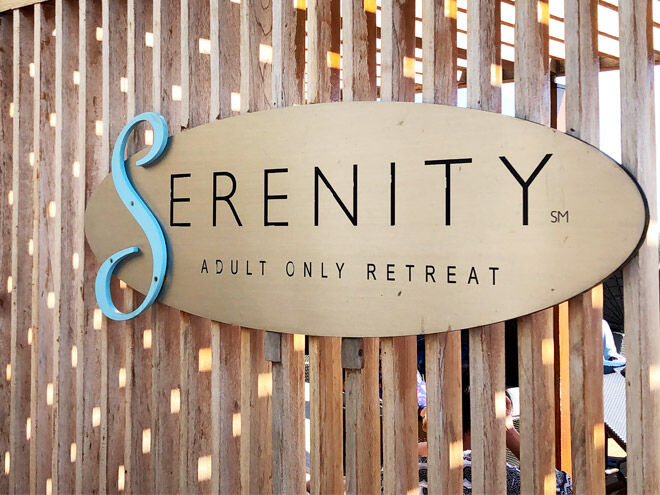 Ok, enough about the kids, it's mum-time. There's a sweet little hideaway tucked away at the back of the ship called Serenity Retreat and it's exactly what it sounds like. An adults-only area with a bar, pool, swaying hammocks and the gentle sounds of the sea. It's the perfect spot to chill while the kiddos are at Camp Carnival.
There's also a heavenly spa aboard the Legend, which is like an oasis away from the hustle. I indulged in a hot stone massage and I'm pretty sure I had an out-of-body experience.
Pools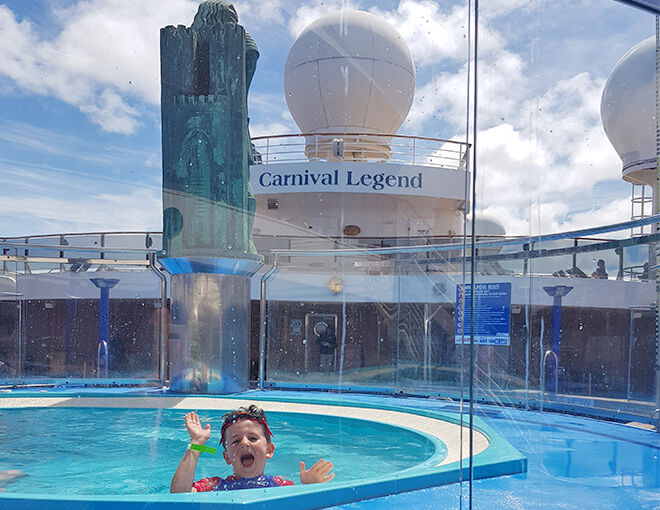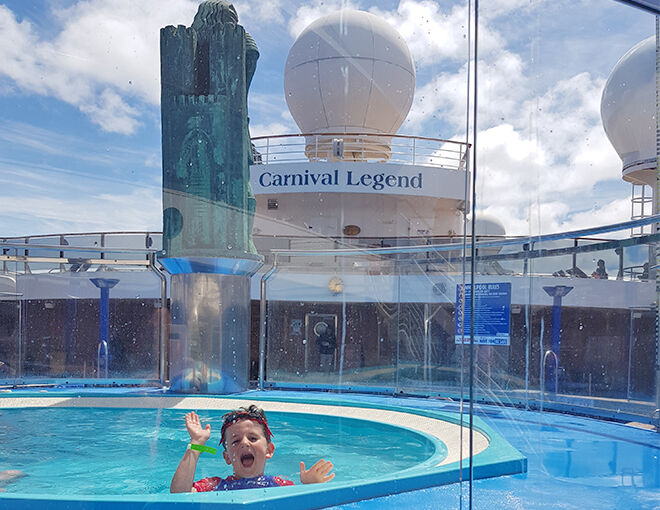 Besides the Serenity pool, there are another two family pools towards the centre of the ship, with large spas. They're only a couple of steps from delish food, there are plenty of lounges and we spent a couple of beautiful hours enjoying the sun and swimming as we bobbed along the sea.
Carnival Legend Costs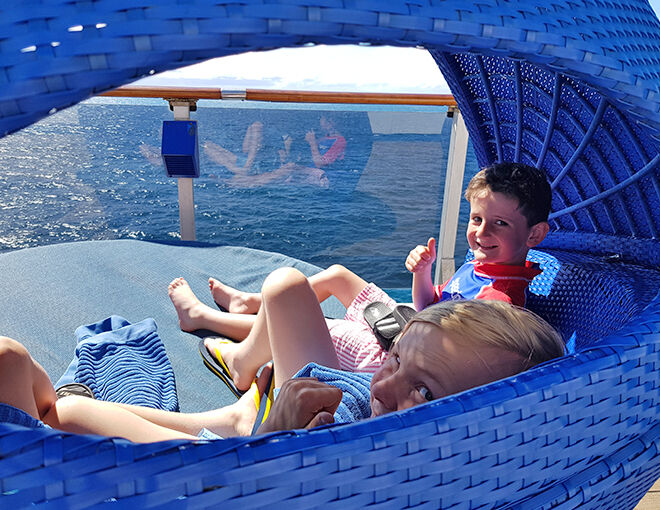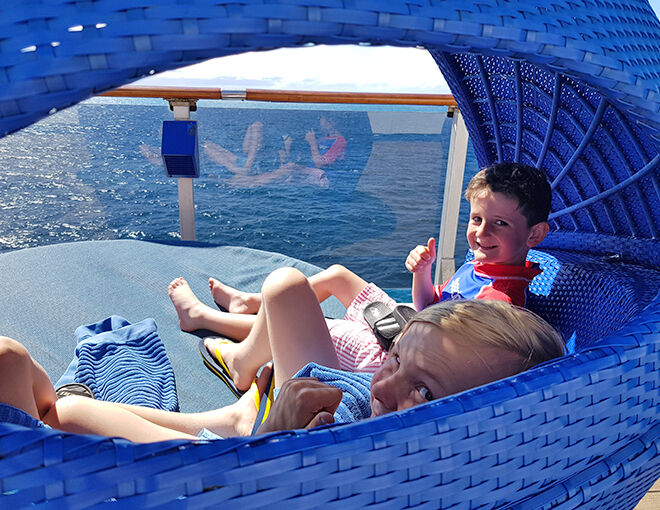 The absolute best thing about being on the Legend is that it's pretty much cashless (other than the casino). On checking in everyone is issued with a Sign and Sail card, which is worn on a lanyard around your neck. It works as your room key, but also the way to pay for any extras you want to purchase onboard. Link it with your credit card or load it with cash and you're away.
It really is brilliant to have the cost of meals included in the fare (especially with our boys who eat non-stop).  We linked our cards to our credit card and used it for any extra drinks or activities we did.
If you want to stay connected there are internet packages available from $31, but we decided to give the kids a tech-free week, which was fabulous (no Fortnite talk for an entire week!).
Top family cruising tips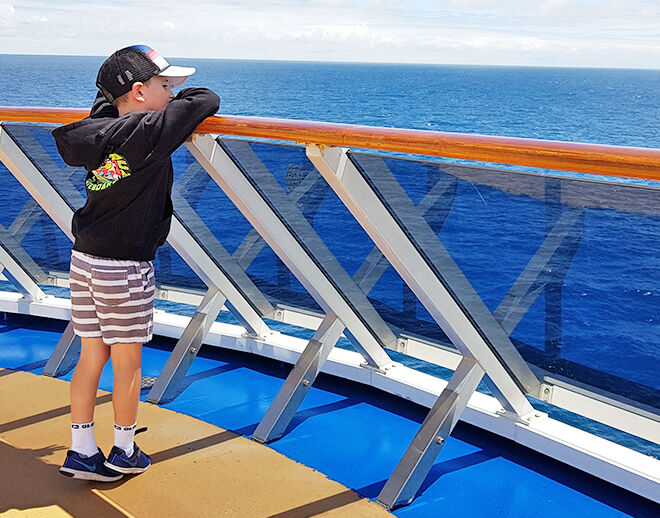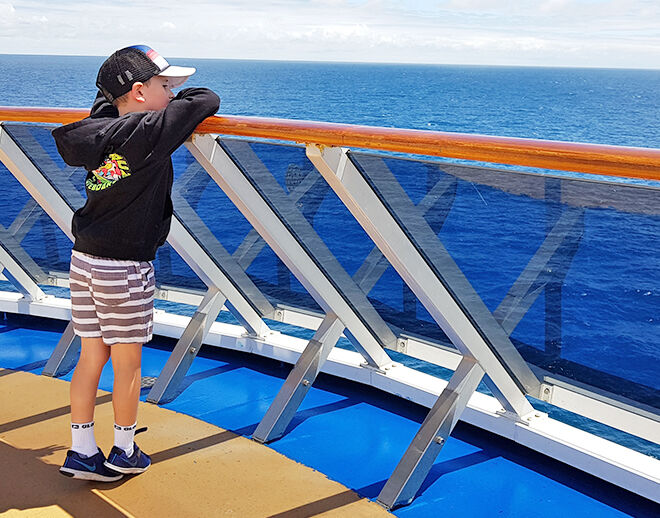 After a short but memorable cruise, we're hardly experts, but what we did learn, we're happy to share.
Green apples help with seasickness – really! We wore Sea Bands ($14.95) and had no issue with seasickness.
If you can, book a balcony room – it's beautiful to be able to step out of your room and take in the sea breeze, and we loved watching the dolphins play in the early mornings.
Download the Carnival Hub App – it will keep you in the loop with what activities are happening and what food is available.
Bring magnets and a highlighter. The walls of the cabins are magnetised so you can keep papers (like the daily rundown of activities) handy. Use the highlighter to go through and highlight the activities you want to do each day.
Early dining session is great for the kids to be fed and happy before the shows start.
If you are getting connecting flights keep airline weight restrictions in mind when packing.
You need special cruise insurance, even if you are travelling only within Australia.
Be aware if you do get the internet package you can only have one device attached at a time.
The Mum's Grapevine team were guests of Carnival Legend, but this review is our genuine opinion. If we adore something, we'll wax lyrical about it. If something is a little 'meh', we'll let you know as well.