There's something to be said for old-school fun – puzzles, drawing and word games all have a certain charm. And when they collide with modern tech they become the brilliantly addictive Osmo Genius Kit.
Designed for kiddos between the ages of five and 12, the Osmo Genius Kit is like opening the door between our world, and the virtual reality universe that exists on the kids' iPad screen. The intelligent games blur the line between real and virtual and create a whole new way to play with iPads, and our young reviewers adore it.
We were gifted the Osmo Genius Kit to review and put through its paces.
What is the Osmo Genius Kit?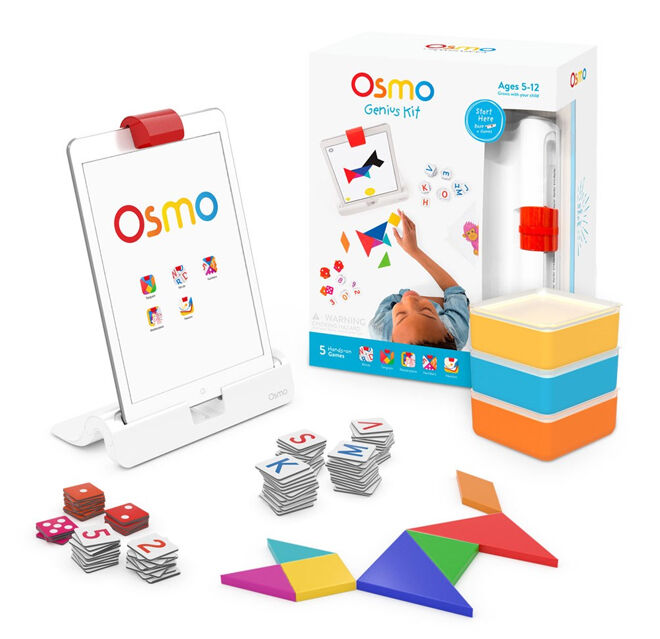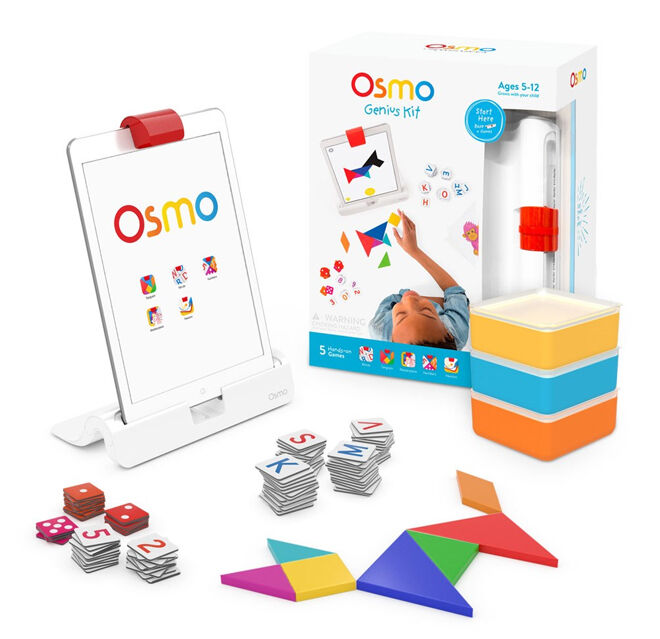 Plenty of fancy gadgets and toys magically appear at Mum's Grapevine HQ each week, so for something to take our fancy, it's gotta be a little edgy and has to get our kids excited – and Osmo has won over our reviewers with ease.
At its very basic the Osmo Genius Kit is a special iPad base and reflective camera, that turn your child's iPad into an other-worldly plaything. It's virtual reality mixed with STEM learning, coding, real-world interaction and tech. It creates a bridge between the real world and the world on the iPad. Yep, it's pretty amazing. Your tot's iPad sits in the base, and the reflective camera sits over the camera at the top of the iPad. That's how it can 'see' what's going on right in front of it.
The Osmo Genius Kit also comes with five hands-on games. All the games use apps which are free to download, and some games use real-world things like letter tiles and shapes. Here's a closer look at the games that come with the kit.
Words
Inside the stackable cube are 52 letter tiles, two sets of the alphabet in blue and red. One person keeps the red letter tile pile in front of them, the other has the blue. The Words game will then show a picture on the iPad screen, along with circles that represent the letter of the word you need to spell.
I wish I could play Osmo all day. My favourite games are Words because I beat mum all the time and Masterpiece because I feel like an artist
The picture is the clue – and the word can be something really obvious in the picture, or something a little more hidden. When you think you know what it is, throw your letter tiles in front of the iPad, and the reflective mirror will recognise them – popping them into the circles if they're correct, or at the top of the image if they're wrong.
What we love: It's a really fast-paced game that the kids have loved playing together, and against their grandparents in teams. They have no idea they're actually brushing up on their spelling skills. Winning!
Tangram
This is a great little game for kiddos to play quietly on their own. The stackable cube has seven coloured wooden puzzle pieces that can be used to make more than 500 spatial puzzles. The puzzle picture comes up on the iPad screen and the kids have to recreate it using the real pieces in front of the iPad. The puzzles gradually get harder and more challenging.
What we love: It's a lovely tactile game that completely engages the kids.
Numbers
This brilliant game is a ripper for tots who like doing maths their own way – in fact, they won't even realise they're doing maths. They'll be more worried about the cute little underwater world they're creating by adding numbers together.
What we love: We're impressed at how it helps kids recognise the different ways to add up numbers, both numerically and in dot form.
Masterpiece
This clever game will blow the kids' minds! Choose a picture from the gallery and grab a piece of paper and pencil. Then watch as their hand appears on the screen, tracing the virtual image, all while drawing the real image on the paper. And when they're finished they can watch a sped-up video of their hand creating a masterpiece.
What we love: Kids often get frustrated with their own artistic abilities, so this game has been a real confidence-booster.
Newton
Got a little engineer on your hands? Newton will have them all aflutter as they guide virtual balls with real-life objects.
What we love: Such a clever marriage between the real and virtual worlds, it's a super clever way to help kids learn about cause and effect and spatial awareness. They totally just think they're having fun.
Coding Aventures with Awbie
Once you have the Genius Kit, there are three other Game Add-ons that the kids can collect, including the cutest darn way to learn how to code – Awbie. This cute critter has lots to eat and do, and it's the kids that help him do it by using the directional tiles that come in the set. They can do one step at a time or program a whole sequence of steps for Awbie.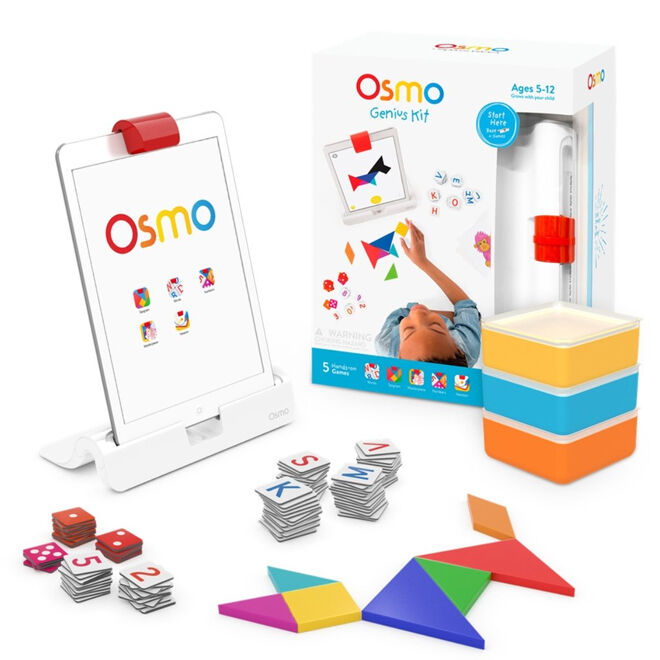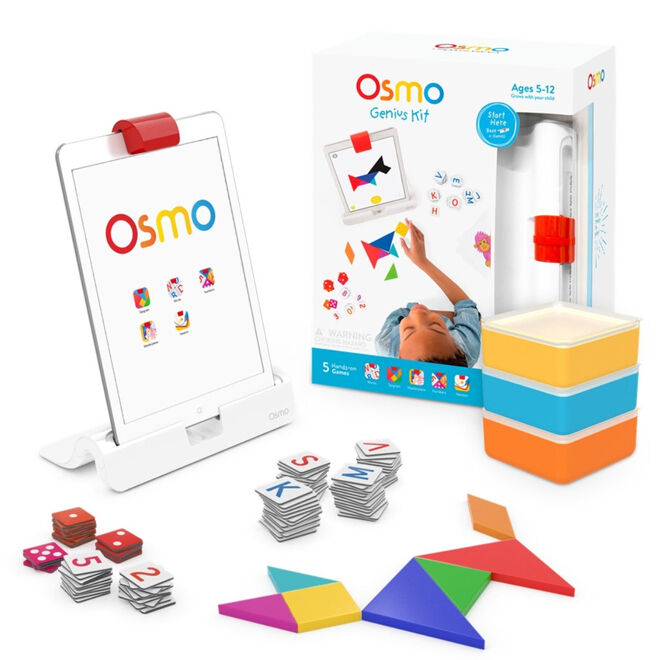 The Osmo Genius Kit ($159.99): The kit comes with three games, each in its own stackable cube, a base and reflective camera. (iPad not included)
---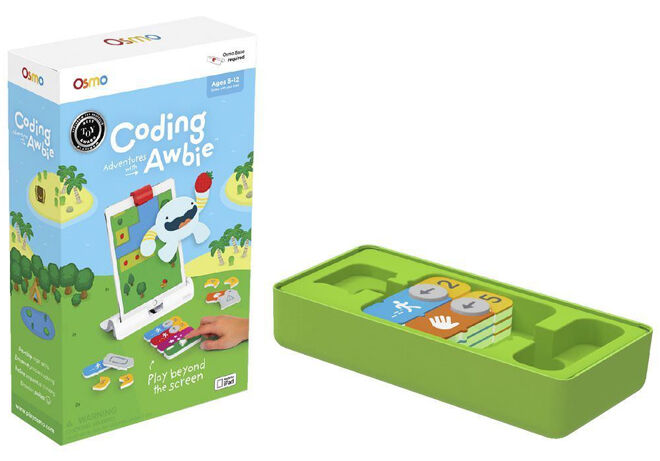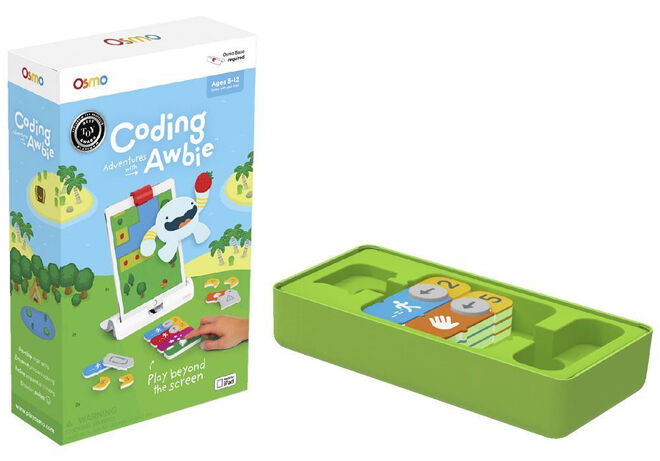 Coding Adventures with Awbie ($84.99): This smart-as-a-whip add-on game comes with blocks in their own stackable container.