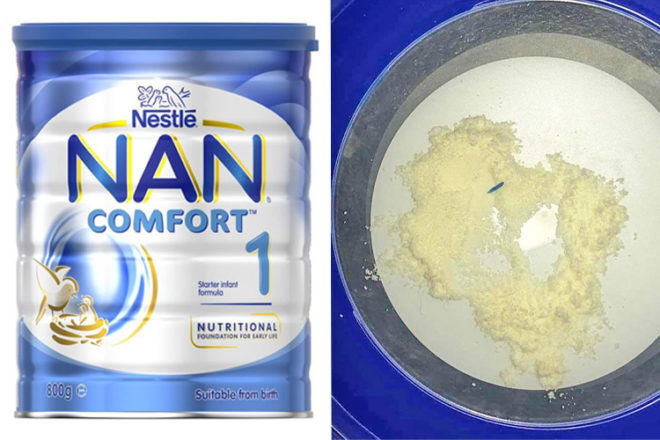 Mums are desperately searching for NAN Comfort 1 baby formula after two batches were taken off shelves, amid the discovery of plastic pieces inside the tins.
Members of Mum's Grapevine Facebook Baby Groups say they've scoured supermarkets, pharmacies and department stores for the formula, but are finding empty shelves following the precautionary withdrawal of two NAN Comfort 1 batches on January 12.
The withdrawal followed reports from parents who were finding plastic pieces in their formula, which Nestle says detached from the formula lid during opening.
When will NAN Comfort 1 be back on shelves
Nestle today told Mum's Grapevine that parents can expect to see the formula back on shelves this week.
"We appreciate that shortages of an infant formula product can be difficult and distressing for parents, and apologise for the inconvenience that we know the precautionary withdrawal of NAN Comfort 1 has caused," A Nestle spokesperson said. "We are working with supermarkets and pharmacies to prioritise restoring supply on shelf. We can confirm that NAN Comfort 1 is now moving back on to grocery shelves.
"While it's not yet in all stores, we advise parents looking for NAN Comfort 1 that generally, supermarkets are more likely to have stock on the shelf. Parents looking for NAN Comfort 1 in pharmacy should speak to the pharmacist for advice on stock. Parents can also contact the Nestlé Careline on 1800 468 8736. We anticipate normal supply will be restored in supermarkets by Friday, and in pharmacies early next week."
Read next …
Searching for a fabulous baby bottle, or need to know what new bottle feeding gadgets will make your life easier? Have a browse through these articles:
Join your baby group
Want to chat to other mums about where they're buying their formula from, or stay in the loop with the latest baby news? Come and join your baby group – nothing gets past these mums!
Click below and join your group today!