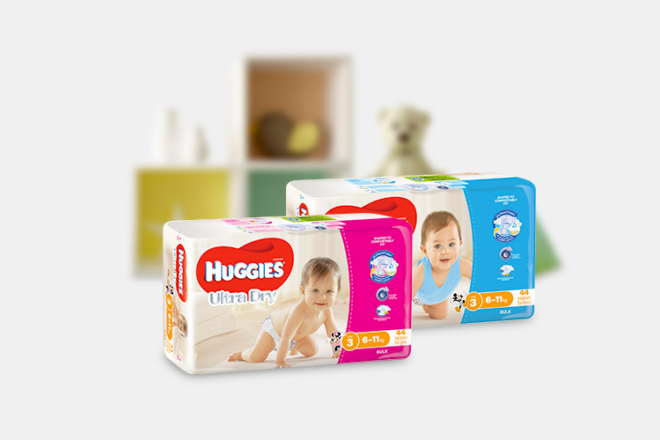 Hundreds of angry mums are demanding a recall of Huggies Ultra Dry nappies, claiming their babies have been left with chemical burns and severe reactions after using the popular nappies.
Concerned mums are blaming the new Mickey and Minnie print nappies, with some parents claiming their babies are now scarred.
Mum's Grapevine Facebook Group member Kaleigh says her baby Arie suffered chemical burns from the nappies. "This is serious," Kaleigh explains. "Anyone who has the slightest rash please stop using Huggies right away and apply cornflour. He's now scarred."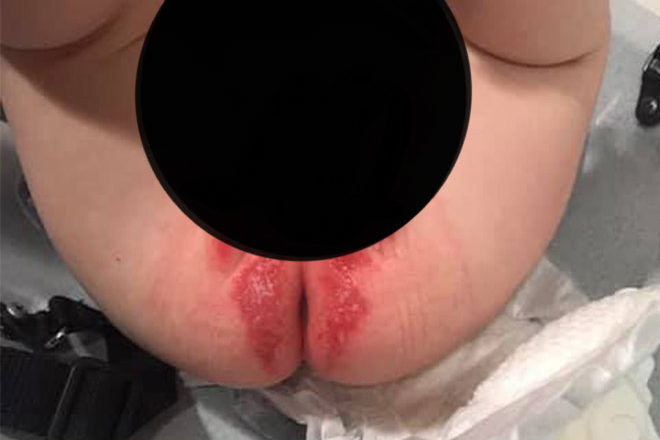 Kaleigh told Mum's Grapevine that she noticed a rash on her son in November. "We brought Sudocrem tried it for about two weeks that did nothing so we tried Desitin and it got so bad we were at the shops and I could hear my baby screaming from the change rooms. So I ran in and that's when I took the photo (pictured below), so I could show a chemist. I went straight to the chemist and they gave us an antifungal cortisone cream which they told us it could cause an infection in a baby that age so just be careful."
After two days without improvement, Kaleigh took her baby to her GP, who suggested nappy-free time and washing after each bowel movement. Kaleigh's maternal health nurse advise using cornflour, and the concerned mum says that's when she finally saw improvement.
"This weekend I saw that people were having issues with Huggies so I ran out and changed brand and within a day, the rash was gone. He's so scarred though."
Social media flooded with complaints
While other mums have assured they've had no issues with the Ultra Dry nappies, hundreds have taken to social media with their concerns.
Mum Naomi shared images of her baby's reaction to the nappies on Huggie's Facebook page.
"This is my son, with chemical burns!" she wrote. "We have used Huggies since birth with our 2 youngest kids since bringing out the Ultimate my son started having the odd rash so we changed back to the Ultra Dry and soon after the new nappies were released and this is becoming a common issue my son has scars from the burns! His in the size 5 Mickey pattern.
"My daughter is in the size 3 Minnie Mouse and has been having the odd rash on areas I can't show photos off due to the nappies I have to change my kids every hour or the rashes get to the point they start screaming. The nappies themselves fill up and also split now!! when they spilt the crystals leave marks on the skin like a pimple/blister. Bring back the original nappies!"
Libbi wrote that her toddler experienced "severe chemical burn like nappy rash" from the Mickey design Huggies Ultra Dry nappies. She said she'd never previously had this issue with Huggies, after using the brand for eight years.
"I was changing as soon as it was wet or dirty, and the burn didn't go away until I realised it may be the nappies causing it, and I changed to a new brand. As soon as I changed brand, the burn like rash cleared up and has not come back. The burn like patches were so raw, even with very regular changing and using Curash zinc powder and Sudocrem to try to soothe and protect, that it was bleeding. My poor son was crying and begging me to stop changing his nappy because it was so painful.
Mum Loretta Barnes has now created a Facebook group, Aussie Parents Demand A Recall Of New Huggies Nappies, dedicated to getting the nappies taken off the shelves. Almost 500 mums have already joined.
"They are not admitting that they have changed the nappies, they are not accepting that they are defective and harmful, and they have not recalled the product," Loretta said. "They are allowing people to continue buying this defective and harmful product because they don't want to lose money or reputation. They obviously don't care about the children and babies wearing their nappies, or the parents buying their nappies.
"I, personally, am appalled that their product has harmed my child, and has been a big waste of money. I am also appalled at how they have handled their customer feedback. If they will not do the right thing of their own accord and recall the product and admit their mistake, then I have a duty to my children, and other children, who do not have the ability to protect themselves, and who did not consent to having harmful nappies causing blisters, chemical burns and rashes to their little bodies. I will do my best to have this product removed from the shelves and destroyed."
Huggies respond
Huggies has posted a response on its Facebook page, acknowledging the feedback from parents.

"We've been talking with parents directly and been collecting and testing samples with our local quality control team. So far, we haven't identified any quality or manufacturing issues with the current range," said Kylie Bridger from the company's Product Development Team.
"We want to reassure you we're doing everything we can to understand why some of you are experiencing some issues. We are working with parents directly to address their concerns. If you are experiencing issues, please contact our local Customer Care Team."
Anyone having issues with their Huggies nappies should contact the Customer Care team on 1800 028 334.
Read next …
If you're looking for the best nappy for your bub, help with nappy rash or how to wrangle a nappy-avoiding tot, step right this way:
Join your baby group
If you're searching for the best nappy for your bub, want advice on getting babies to sleep at 2am, or just need a friendly ear, join one of our closed baby groups and chat with thousands of other Australian mums whose babies are the same age as yours.
Click below and find your age group today!