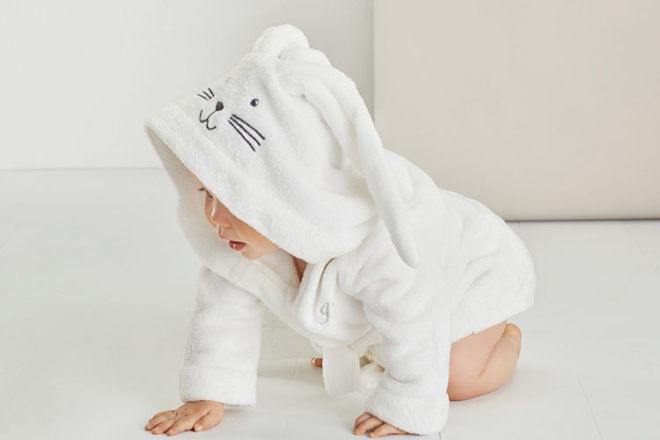 Easter can be just as sweet without the need for chocolate. To help you celebrate baby's first Easter, we've hopped from shop to shop and gathered our favourite Easter finds.
From personalised Easter baskets and adorable plush bunnies to classic Easter books and super cute keepsakes, these gifts are sure to make baby's first Easter memorable for all.
Here are 50 choc free Easter gifts little bunnies will love.
Cute cuddles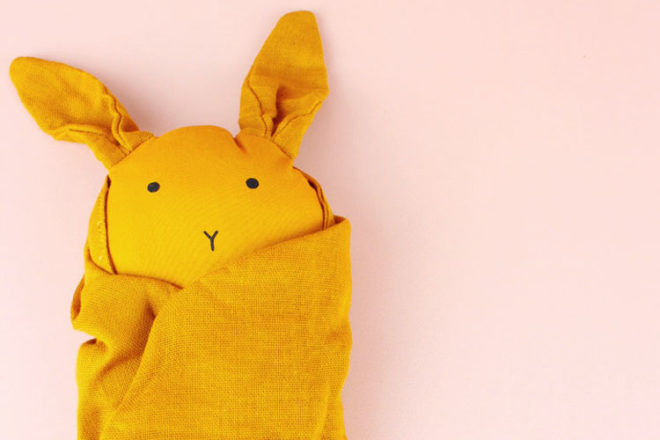 Rabbit Cuddle Cloth ($37.95): Baby's new best friend for comfort, cuddles and playtime. 100% organic cotton and 100% cute.

---
Wooden it be nice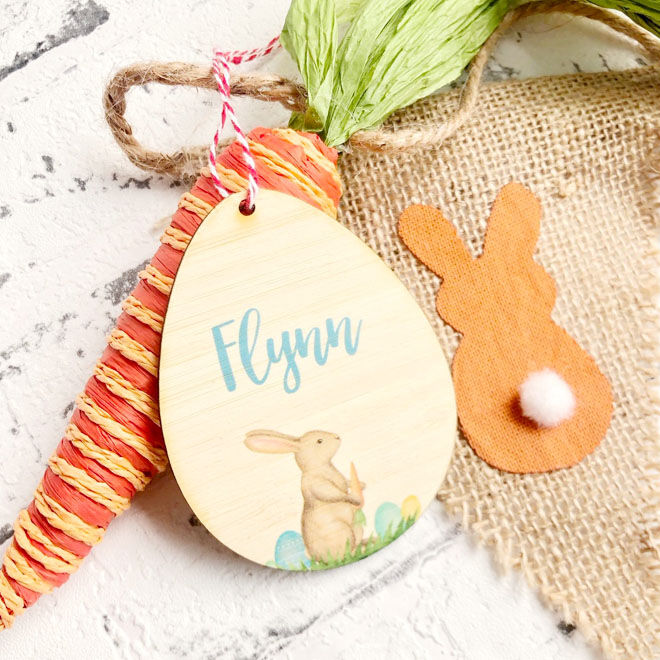 Personalised Easter Tag ($10): Something sweet to let them know some bunny loves them come Easter morning.

---
All eyes on you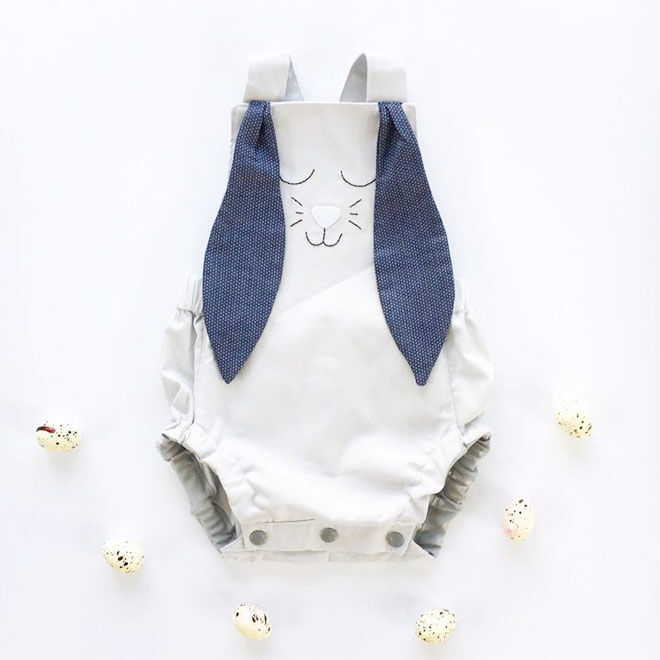 Bunny Easter Romper ($45): Handmade and hand-embroidered, this gorgeous romper is the only thing you need to totally nail the Easter photos this year.

---
A little rattle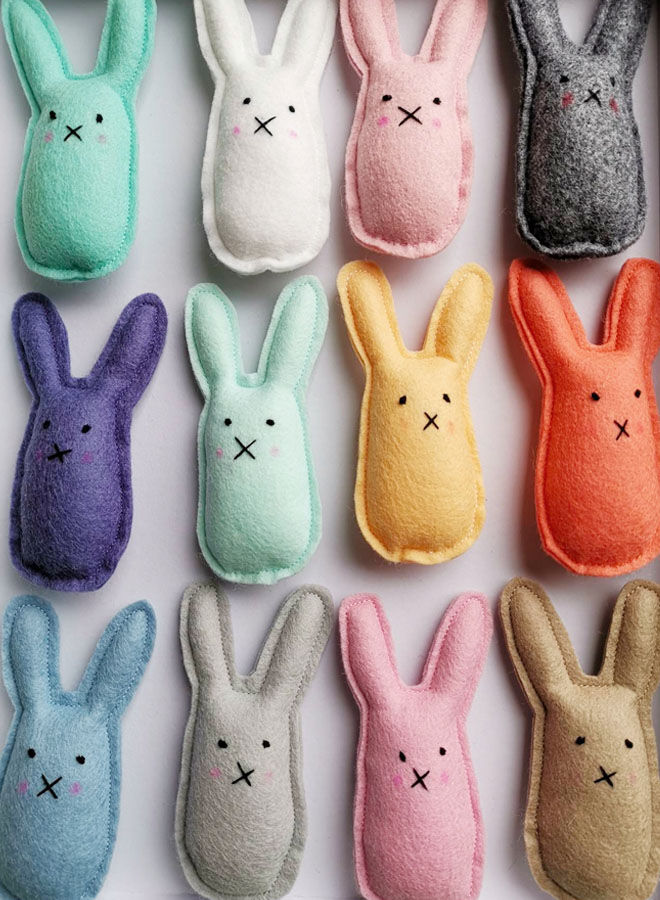 Mini Felt Bunny Rattles ($8): Super soft and ridiculously adorable, these little guys make a perfect Easter gift for your little loves.

---
Hop through the night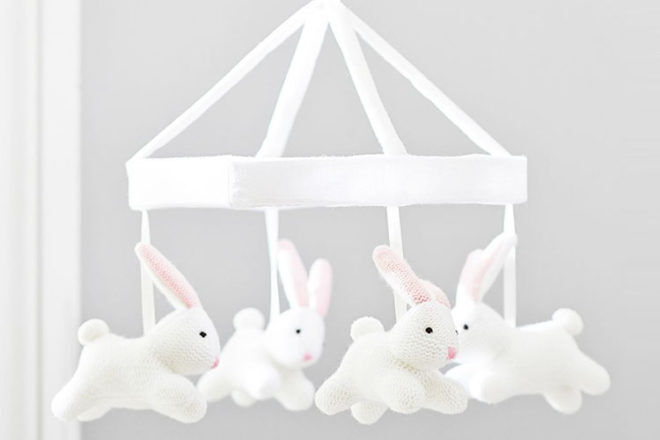 Bunny Knit Cot Mobile ($): Rather than counting sheep, these knitted bunnies circling overhead will soothe baby into the Land of Nod.

Snug as a bug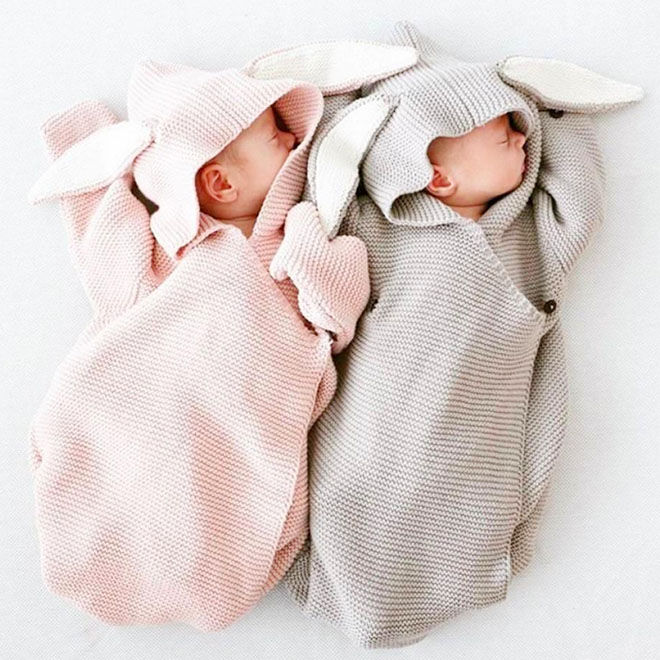 Bunny Sleeping Bag ($36.33): Designed to keep baby cozy and photo op ready. Nawww!

---
Egg-cellent for engaging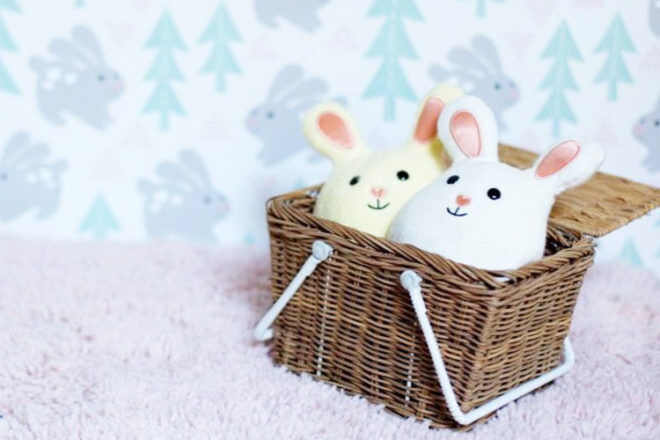 Mini Bunny Rattle ($11.95): Just the right size for baby to grab and hold and with soft crinkly ears for teething these tiny pastel rattles get a big thumbs up from us.

---
Snuggle bunny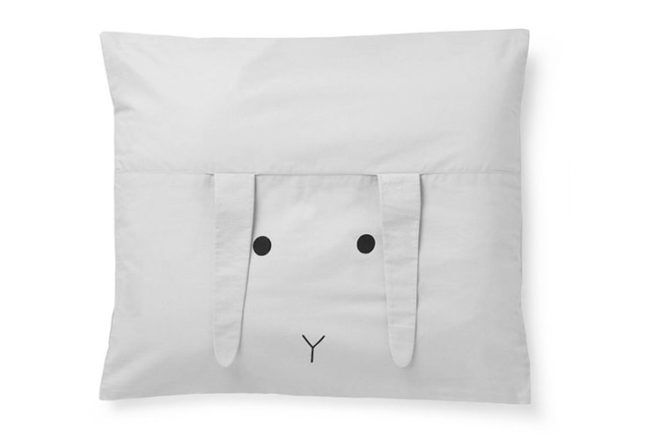 Bunny Pillowcase ($34.95): A new snuggle bunny for your sleepy tot with long floppy ears they can grab for comfort.

---
Customised keepsake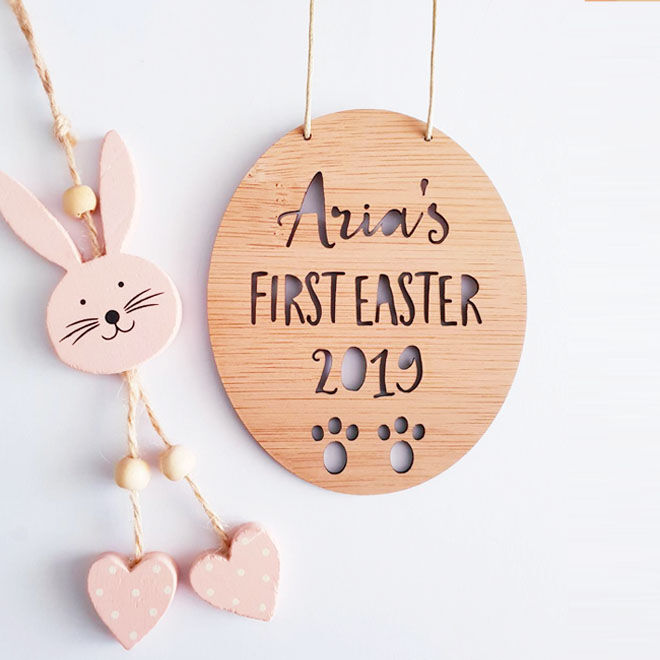 Personalised First Easter Wall Hanging ($18): Their very first Easter is pretty special and calls for a beautiful keepsake to celebrate it. Made from sustainable bamboo.

---
Easter lights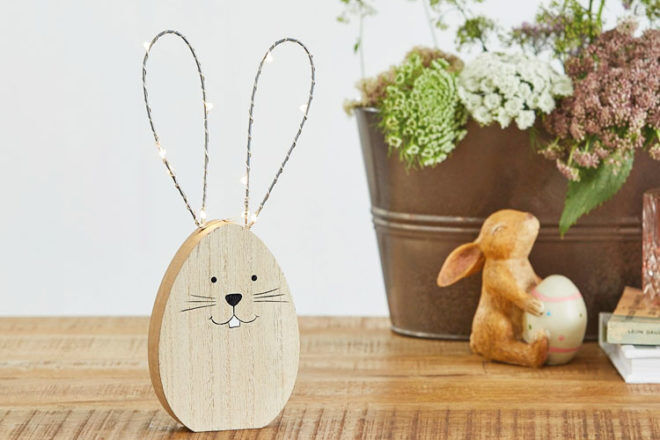 Wooden Rabbit with LED Ears ($14.95): Forget hello bright eyes, its all about bright ears this Easter!

---
Scandi surprise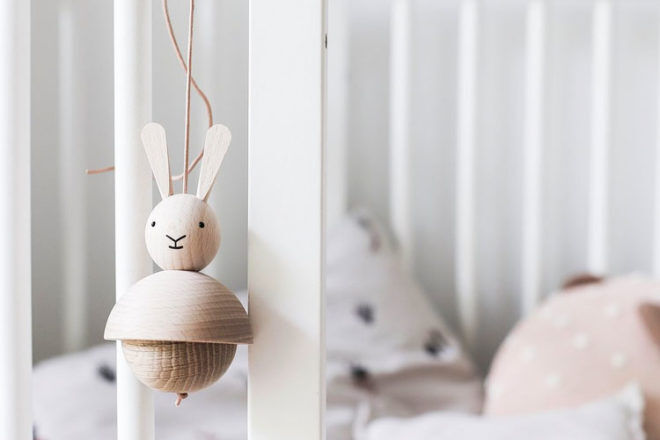 Rabbit in Wood ($59): Made in Denmark from beach and oak wood, hang this darling in your bubba's nursery for an Easter morning surprise.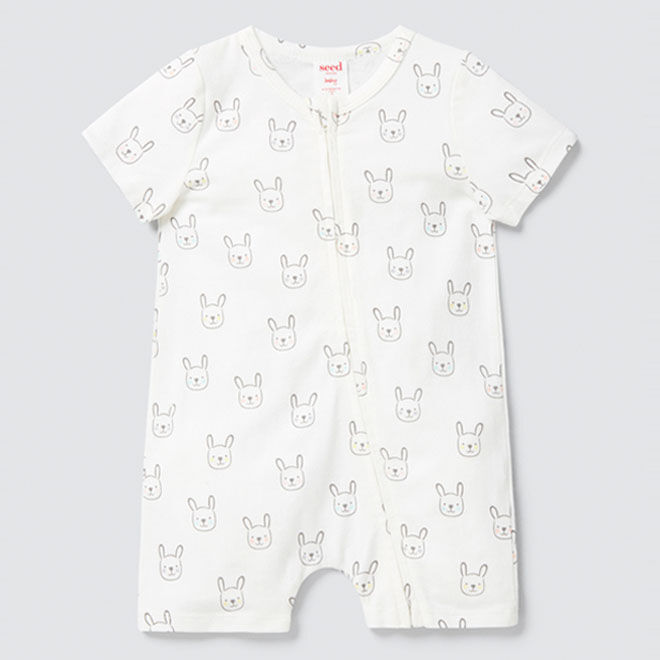 Bunny Zipsuit ($34.95): The first step to an adorable Easter outfit. Pair with bunny ears and a whimsy bib for a squeal-worthy shot.

---
Best bud, bunny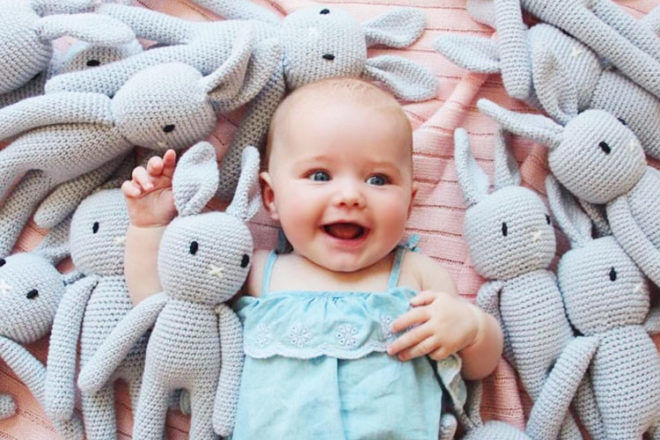 Crochet Bunny ($50): Made from 100% Australian cotton yarn, these dear bunnies make the best buds for baby's nap time.

---
Bunny, stop here!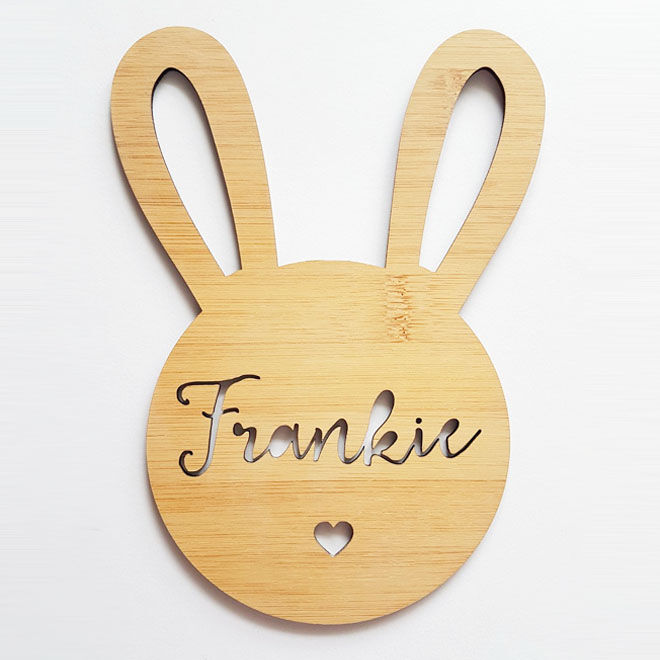 Personalised Bunny Door Hanging ($25): Start your Easter traditions early and hang a sign on their door ready for the Easter bunny. Personalise with their name, of course.

---
Play pal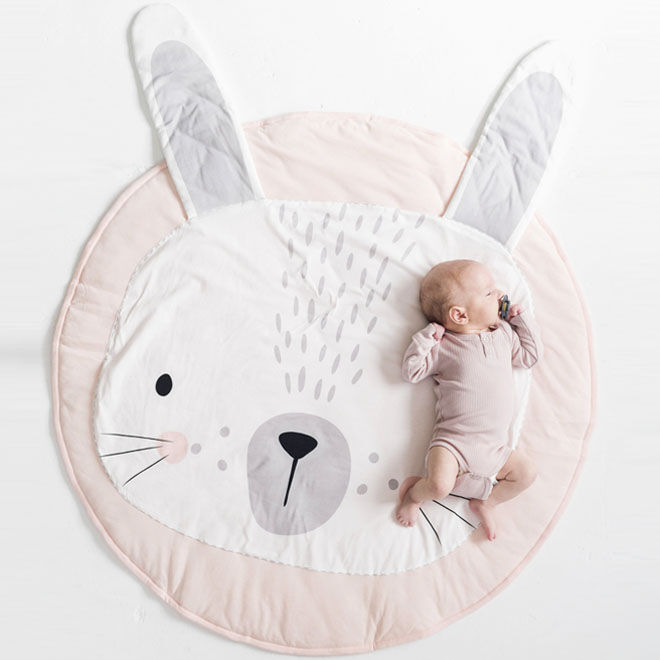 Bunny Play Mat ($99.95): A whiskered play pall for rolling, shuffling, tummy time and more.

---
Adventure awaits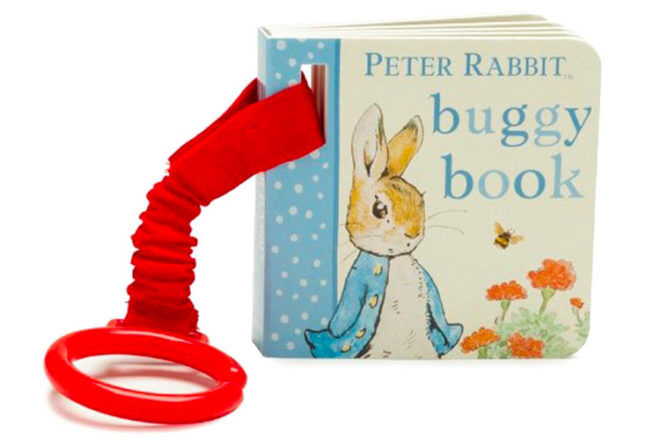 Peter Rabbit Buggy Book ($11.47): Let's face it, an outing with a baby is an adventure in itself. Clip this buggy book to your pram or stroller for some extra entertainment along the way.

---
Special soles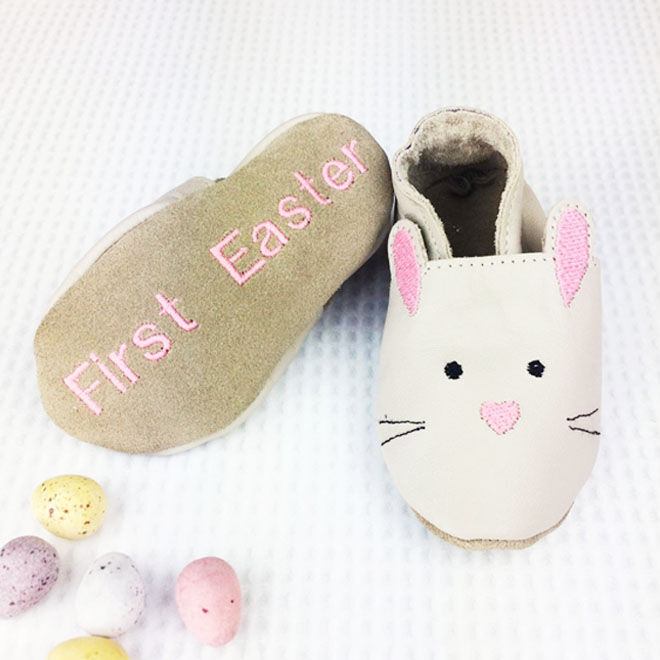 Personalised Easter Rabbit Baby Shoes ($43.39): Baby brain can get the better of us. Thanks to these stunning shoes you'll never forget the shoes they wore for their first easter.

---
Roll into Easter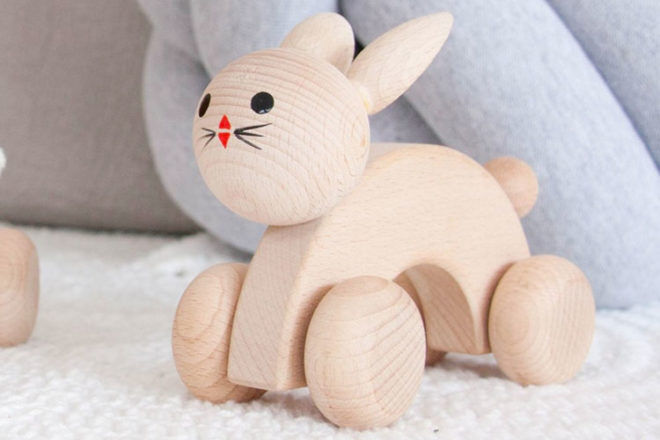 Wooden Push Along Rabbit ($25): Let the Easter celebrations roll in with a classic wooden toy, perfect for Easter and play all year round.

---
Playful print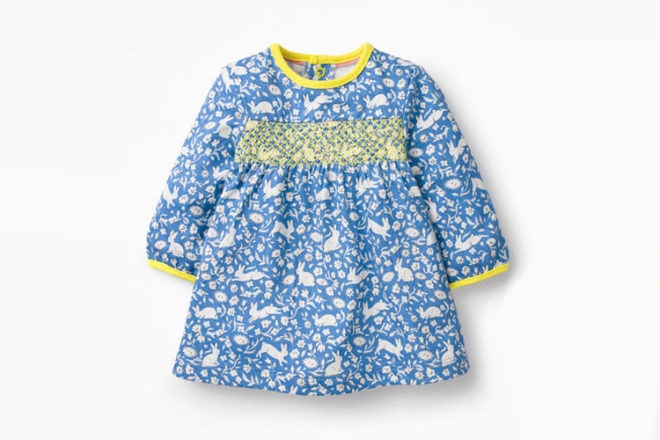 Smock Jersey Dress ($46): A charming, soft jersey dress adorned with fluffy, white-tailed friends.

---
Personalised prints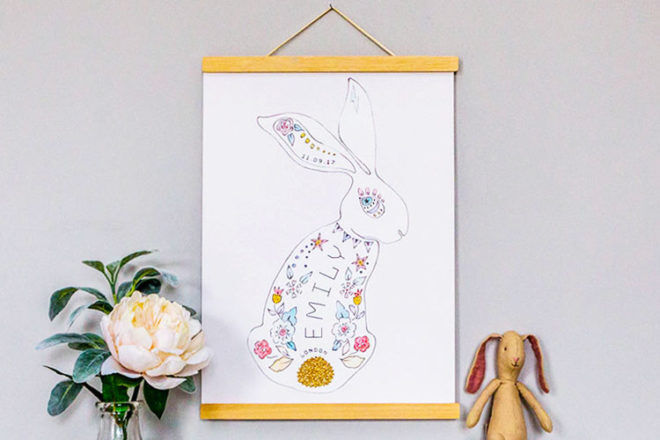 Personalised Rabbit Print ($59.40): A whimsy print for the bedroom or nursery walls. Pops of colour and baby's name giving it an extra special touch,

---
Tails for days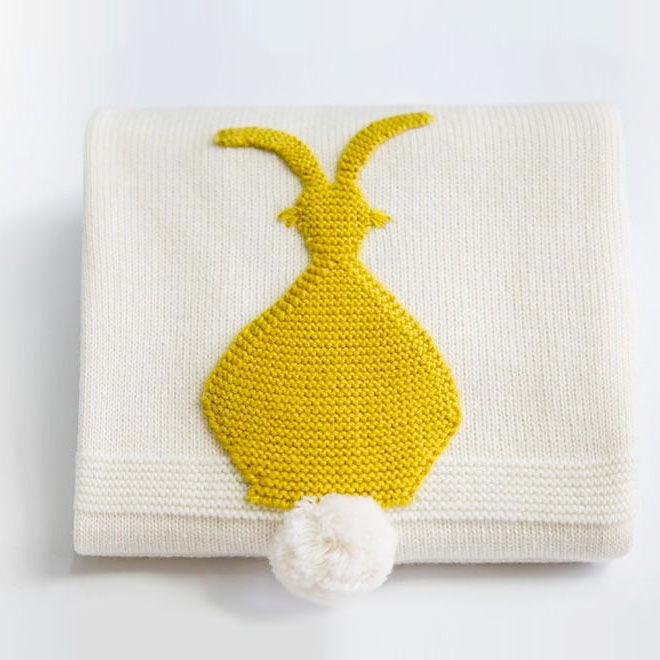 Bunny Tail Blanket ($52): Taking pom poms to the next level by turning them into bountiful bunny tails. Love!

---
Teething time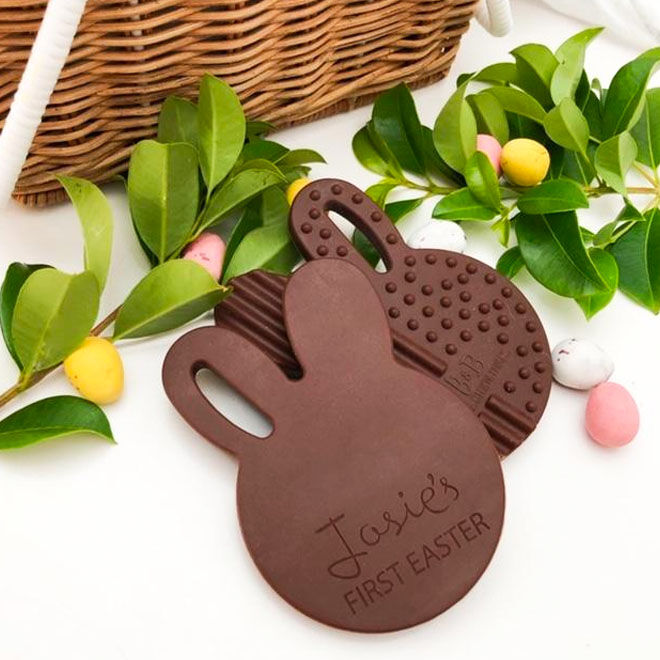 Bunny Baby Teether ($18.95) A chocolate bunny, just not how you know it. The best-selling bunny teething discs are back, and this year you can personalise them with baby's name for a real first Easter treat!

---
Easter is 'ere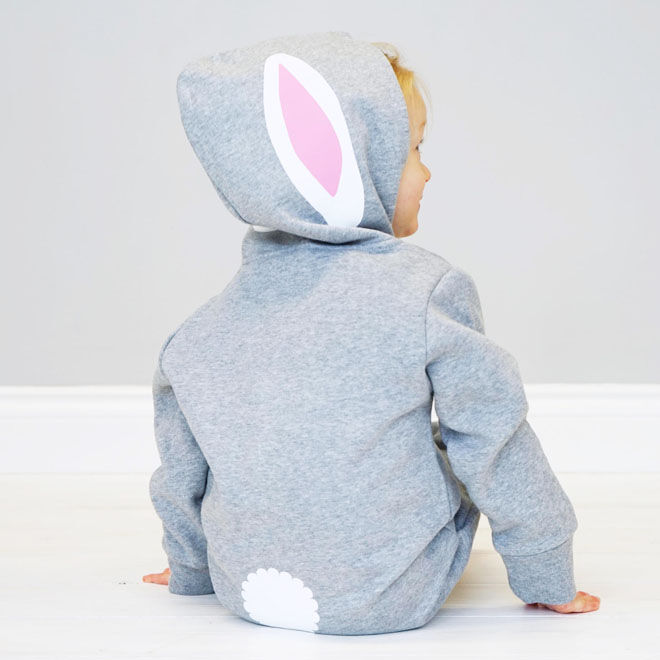 Rabbit Ears Onesie ($56.50): The dress-up box just got a new addition! Complete with bunny tail and big, bold ears this Easter onesie is a real winner.

---
Farmyard friends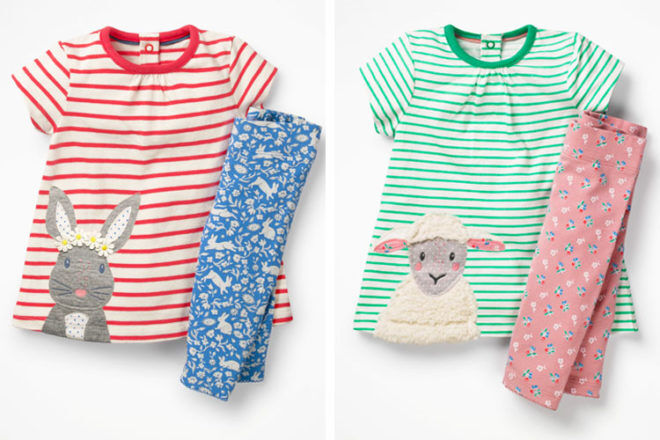 Farmyard Dress Set ($54): Dress tots to impress in these matching top and leggings sets. Featuring a sweet applique bunny and fleecy lamb, they both scream of Easter time fun.

---
Did some bunny say storage?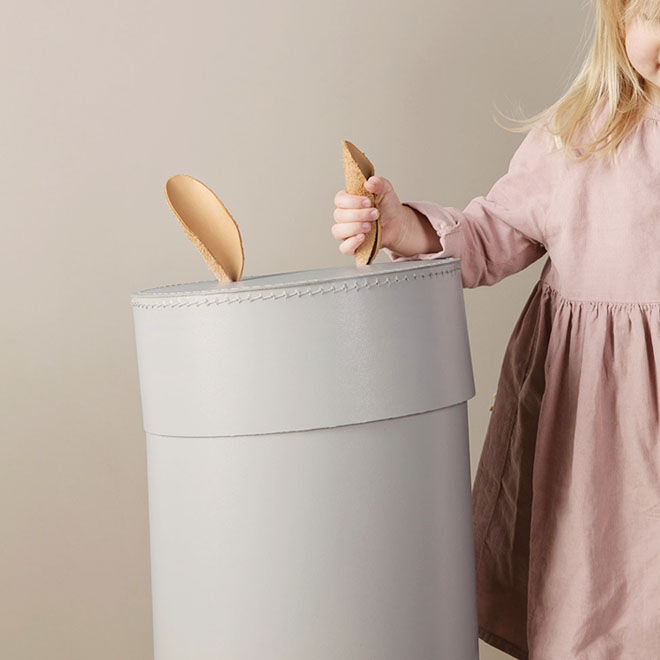 Rabbit Storage Box ($149): As little ones get older, they love to 'help' with chores. Having a fun place to store their toys, shoes and books could get them one step closer to lending a helping hand (we hope!).

---
Hop to it!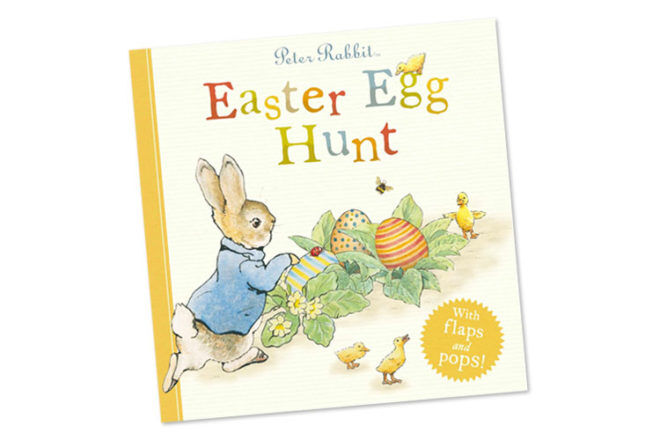 Peter Rabbit: Easter Egg Hunt ($16.82): Hop to it and help Peter Rabbit find all the hidden Easter eggs! With flaps to lift and pops to discover, kidlets will love this playful Easter read.

---
Rattle rabbit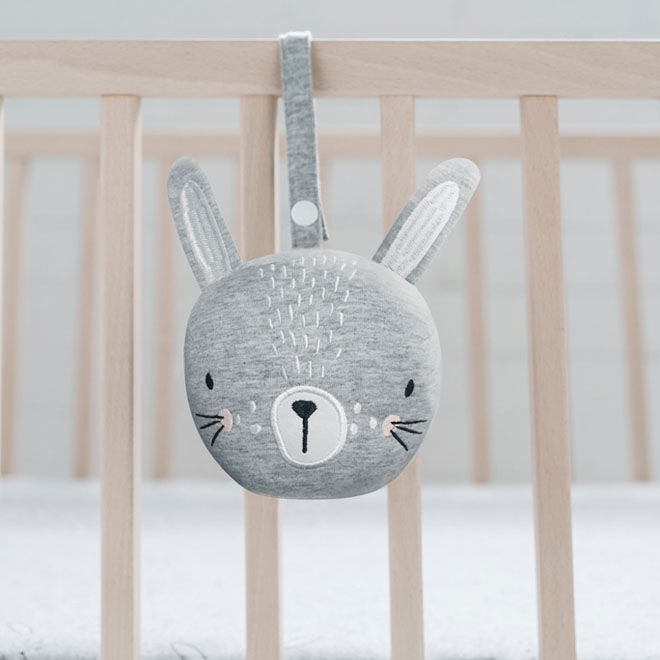 Bunny Pram Rattle ($34.95): A mini mate to pop onto the pram or playbar. Made from a super soft jersey, babes can rattle and grab the rabbit all day long.

---
Playful placemat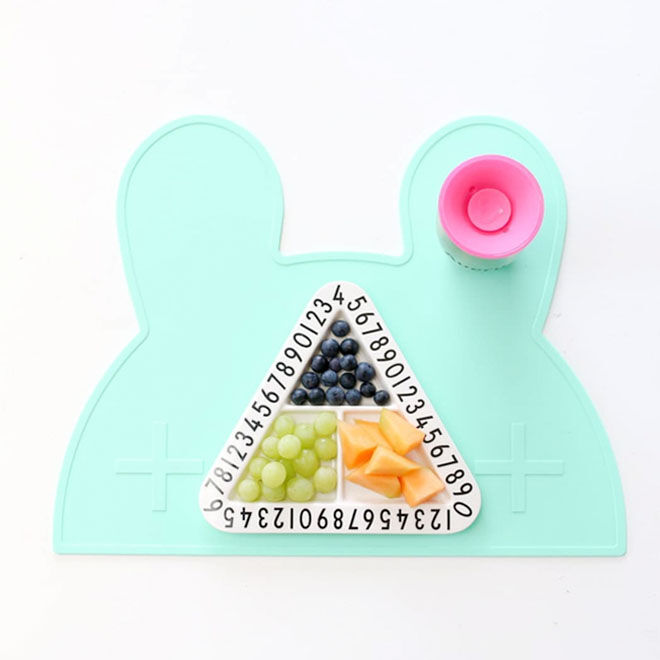 We Might Be Tiny Bunny Placie ($28.95): Rest bubba's cup on bunny's ears and help keep the dinnertime mess to a minimum with the non-slip, dishwasher safe placemats from We Might Be Tiny. Available in four colourways.

---
Tootsies too cute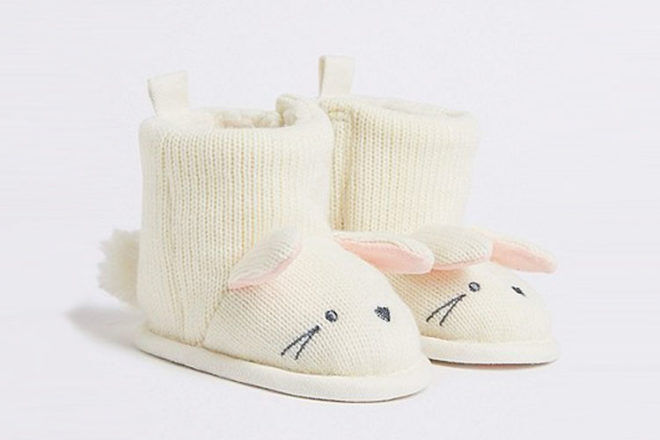 Baby Bunny Knitted Pram Boots ($21): For winter walks and keeping those tootsies covered, it doesn't get much cuter than these bunny pram boots.

---
Snack saver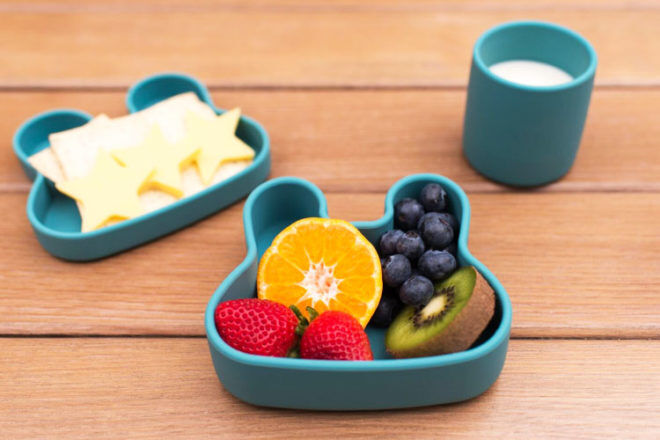 We Might Be Tiny Bunny Snackie ($34.95): There's no denying it. Even the tiniest of kiddos eat a LOT. Keep all their snacks handy in a quirky container they'll never want to lose.

---
Snuggle bunny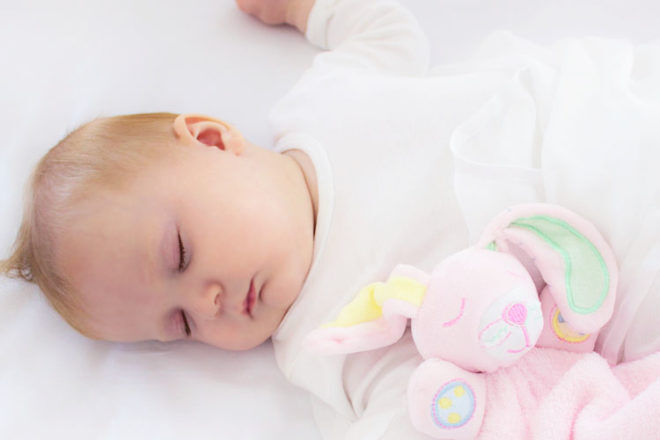 Bunny Security Blanket ($19.95): Soft and snuggly, here's a loveable blanket to take over from mum and dad when it's time for nigh-nigh.

---
A gorgeous gift set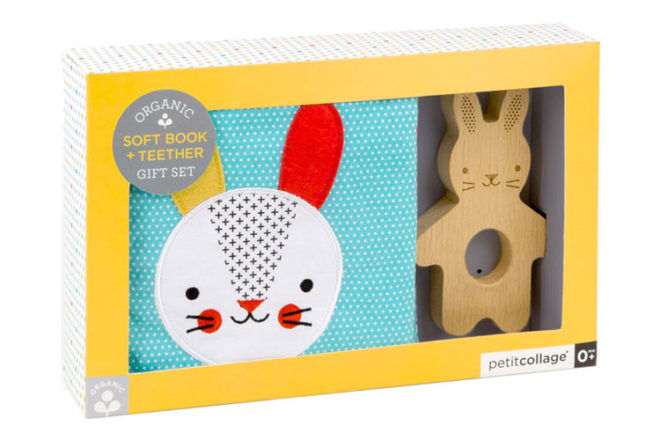 Soft book & Teether Set ($39.95): Babies hands like to keep busy. This soft book is packed with bright colours and patterns to stimulate their senses while the bunny teether's lumps and bumps help soothe those sore gums.

---
Bedtime bunny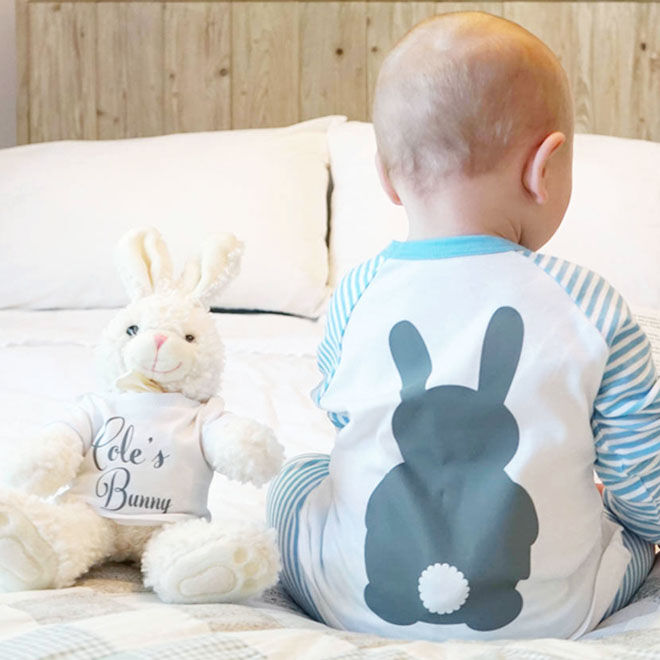 Personalised Pyjamas ($47.16): Take bunny to bed with an adorable set of personalised pyjamas. Available in a pink polka dot or blue stripe design, the PJ's feature a rabbit on the back and bubba's name on the front. Sweet!

---
Stacks of fun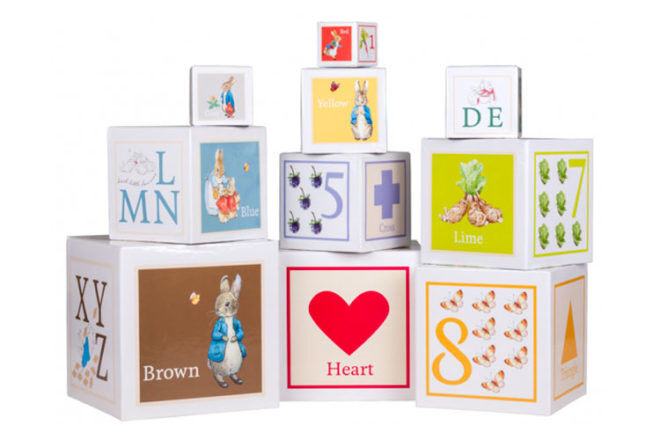 Peter Rabbit Building Blocks ($24.95): Play and learn with your dear friend Peter. The stackable building blocks showcase letters, numbers and illustrations on every side.

---
Flopsy feet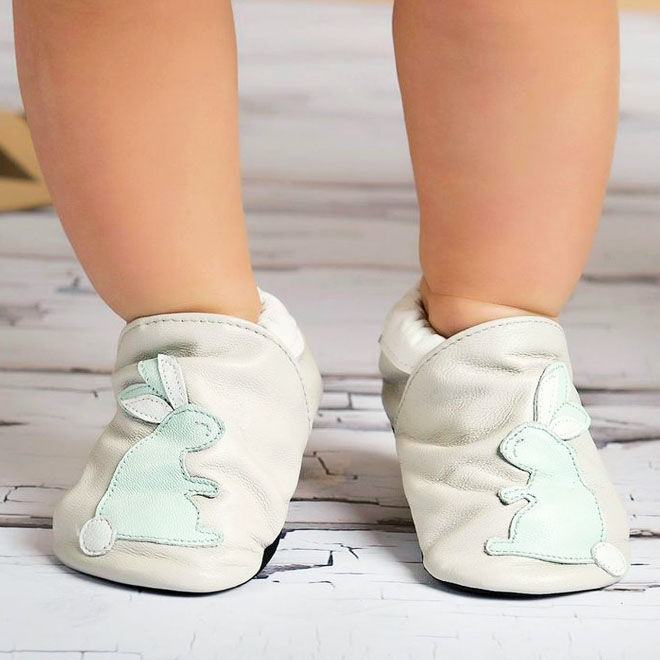 Flopsy Bunny Baby Shoes ($39.95): With long, floppy ears and a cute tail to boot, these soft leather baby shoes are a perfect gift for bubs come Easter time.

---
A bright delight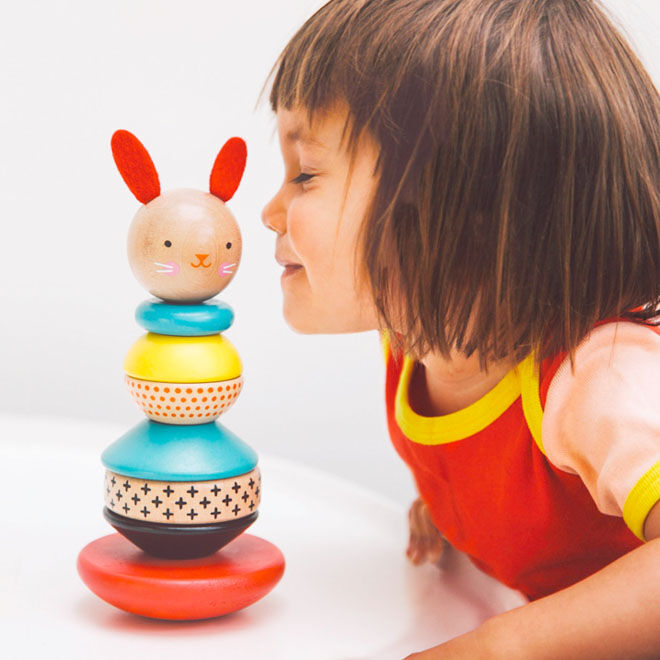 Wooden Stacking Bunny ($39.95): A classic stacking toy with a cheeky twist. The bright rings can be stacked in any order to create a slightly different bunny every time.

---
Dribble bunnies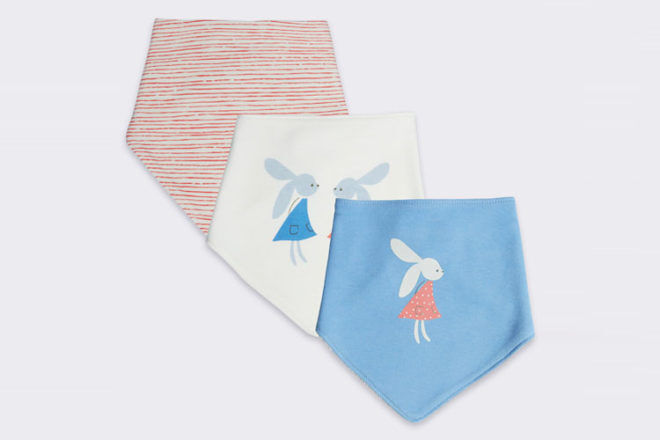 Bunny Dribble Bibs ($13): If you've got a serious dribble bunny at home, these charming bibs with sweet bunny characters are a lovely (and practical) gift idea.

---
Keepsake box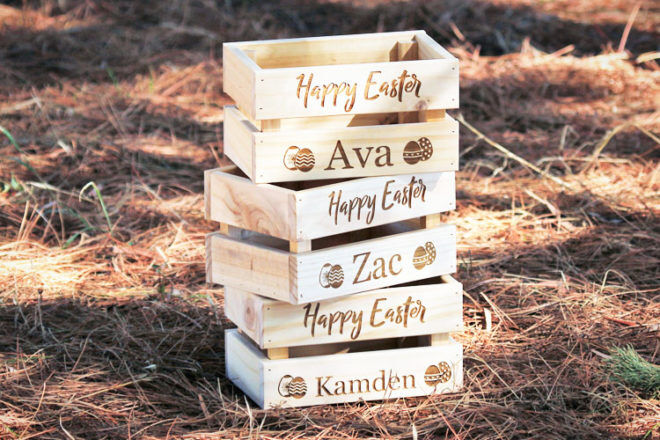 Personalised Keepsake Easter Box ($35): They may not have many goodies this time around, but as the years go by the Easters will become more egg-stravagant. Here's a special box for them to stash their loot.

---
Peekaboo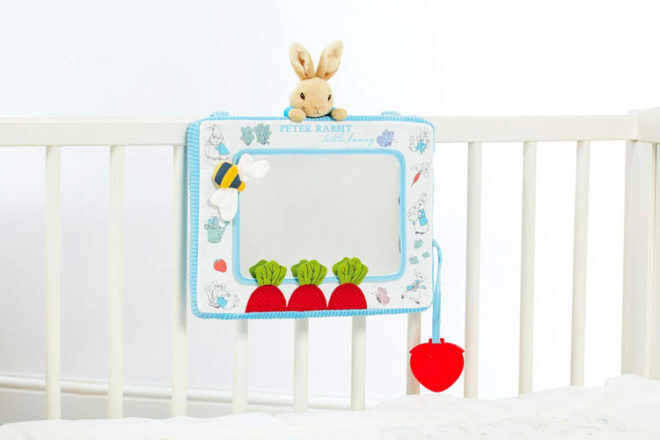 Peter Rabbit Activity Mirror ($32.40): Boo! I see you! Babies love nothing more than looking at their own reflection so this Peter Rabbit activity mirror is a perfect choice for Easter.

---
Bathtime bunny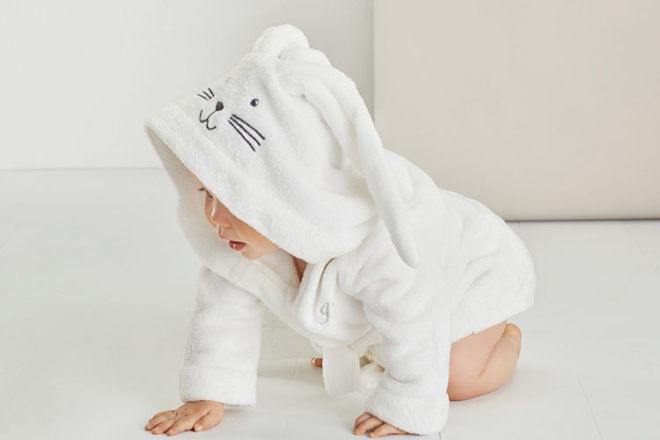 Bunny Hooded Bath Robe ($69.95): Dashing from the bath to the bedroom never looked so cute! Those ears!

---
Easter magic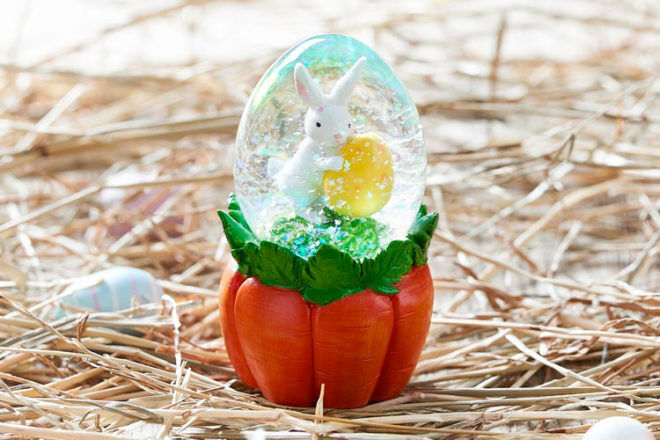 Bunny Carrot Snow Dome ($4.95): Looking for something small and sweet for their first Easter? Look no further. An Easter-themed snow dome will bring the magic.

---
Toasty toes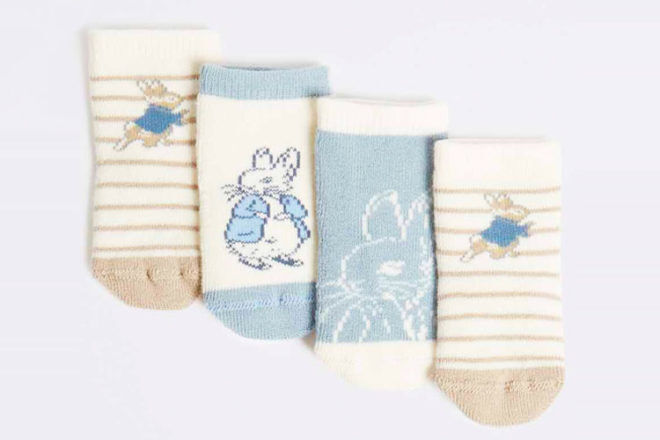 Peter Rabbit Baby Socks ($13): An Easter-themed treat for their ten little toes.

---
Get counting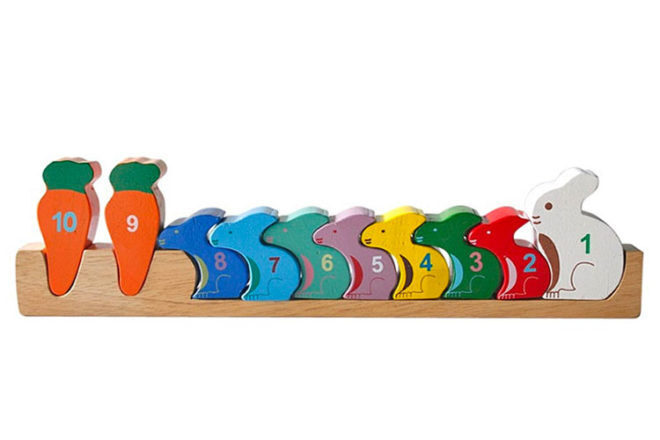 Counting Rabbits Wooden Toy ($24.95): Can you help the rabbits count their way to the tasty carrots? Take the game up a notch as your little one gets older and use each rabbit as part of your Easter hunt!

---
Spring into saving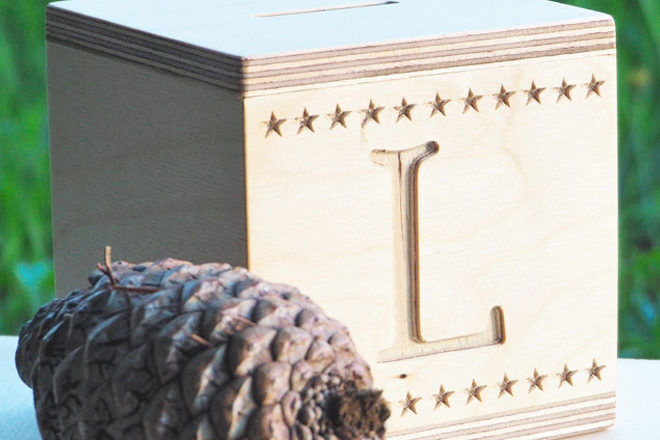 Personalised Baby Money Box ($45): Handmade right here in Victoria a personalised money box is a beautiful way for bub to start saving those pennies.

---
Warm and fuzzy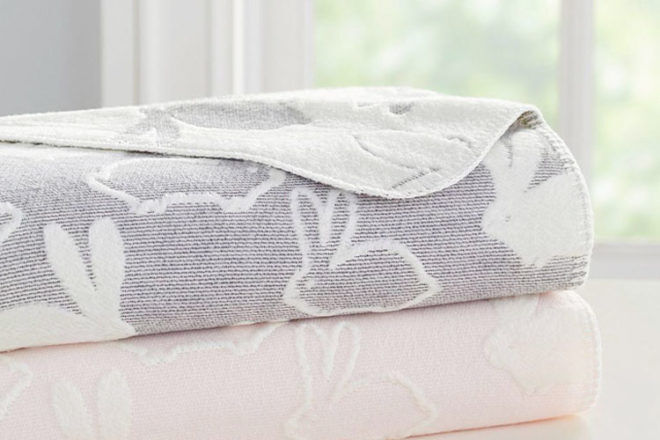 Fuzzy Bunny Baby Blanket ($49): A dreamy blanket to give bubba those warm and fuzzy feels. Perfect for the playroom or out and about in the pram.

---
A hoppy hairdo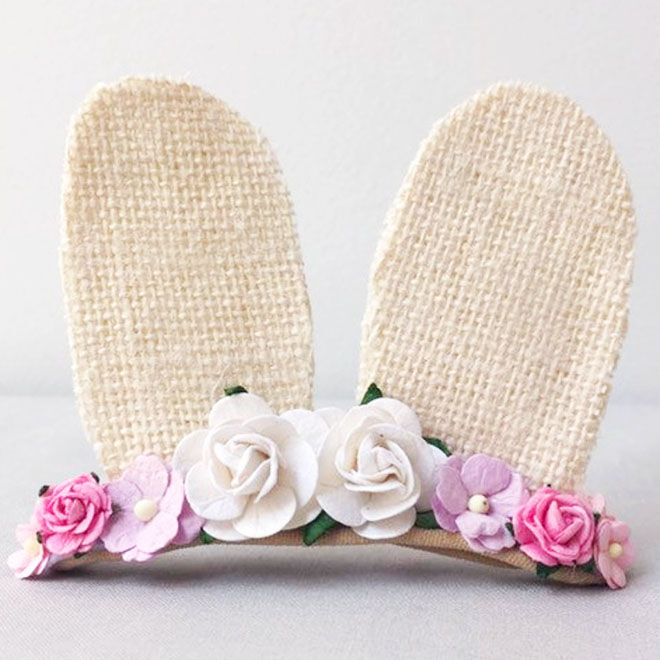 Little Sherbet Bunny Ear Headband ($23): Bunny ears, burlap and tiny pink flowers come together in this sunning headband for baby girls. If only they came in adult sizes too!

---
Dreamy decorations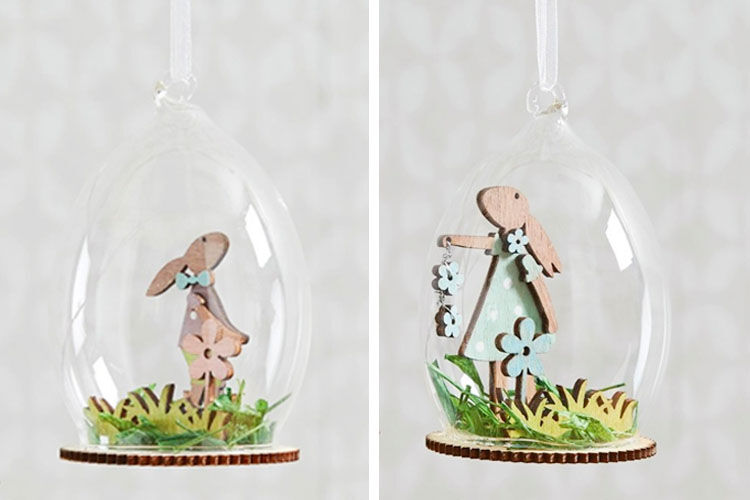 Easter Tree Decorations ($5.95): Just like Christmas, Easter decorations come out every year and can be part of your family's tradition. Start your collection early with these darling Boy Bunny and Girl Bunny tree decorations.

---
A bunny for breakfast

Personalised Easter Egg Cup 4pack ($49.95): Kids big and small can't go past a dippy egg. Take Easter breakfast up a notch with a special egg cup that's just for them.

---
Build 1,2,3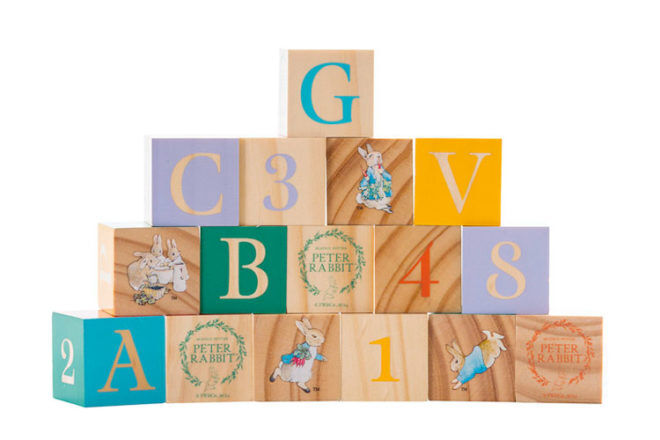 Peter Rabbit Wooden Learning Blocks ($43.49): Stack them up and knock them down. Babies love watching things fall to the ground. Another classic to add to the collection.

---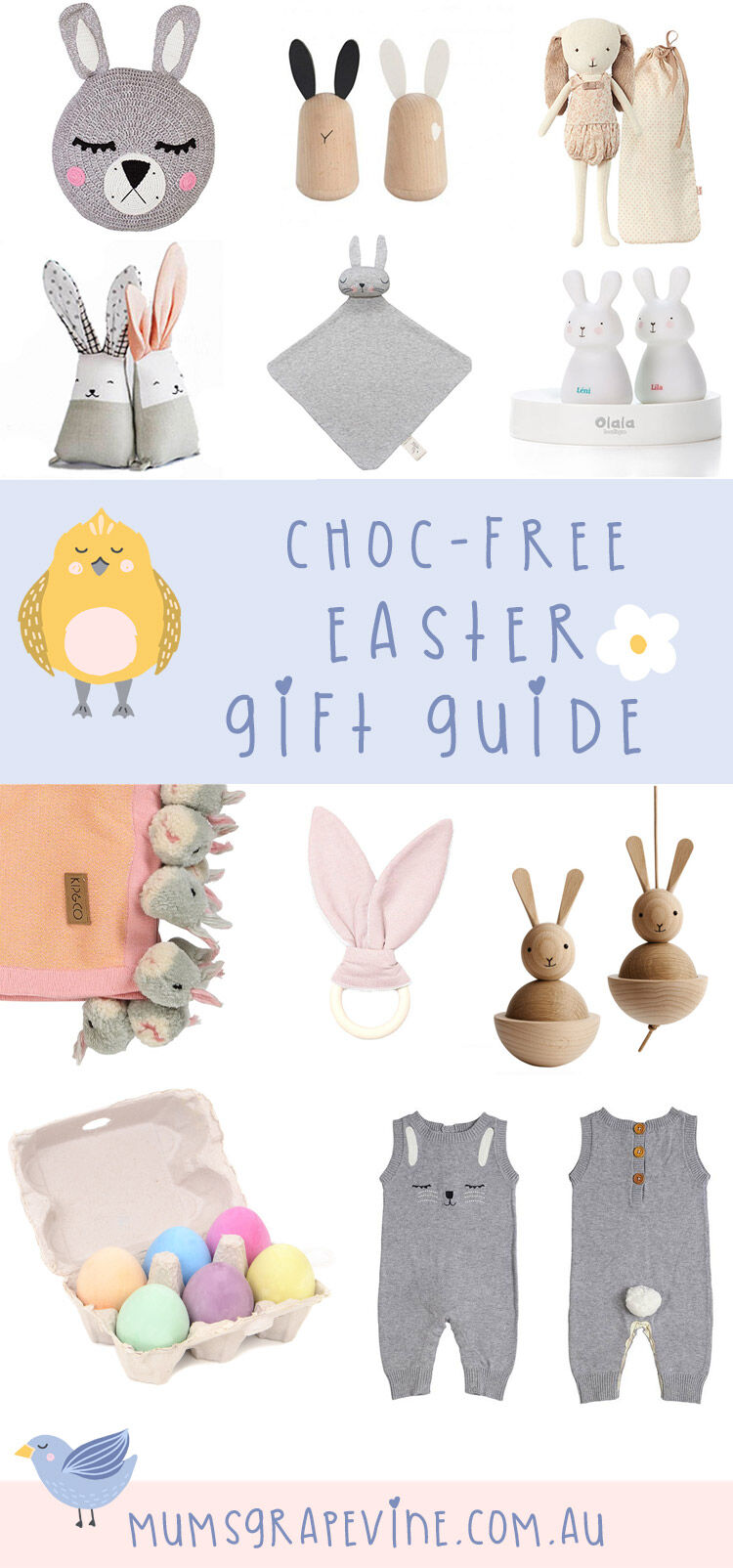 Read next …
Looking for more ways to celebrate Easter with the family? From fun Easter crafts to delicious Easter bakes, here are a few articles you might like to hop to next:
Ask other mums …
Still not sure what to buy baby for Easter? Hop into one of our closed Facebook baby groups and ask other mums how they'll be celebrating baby's first Easter.
Click below and find your group today!