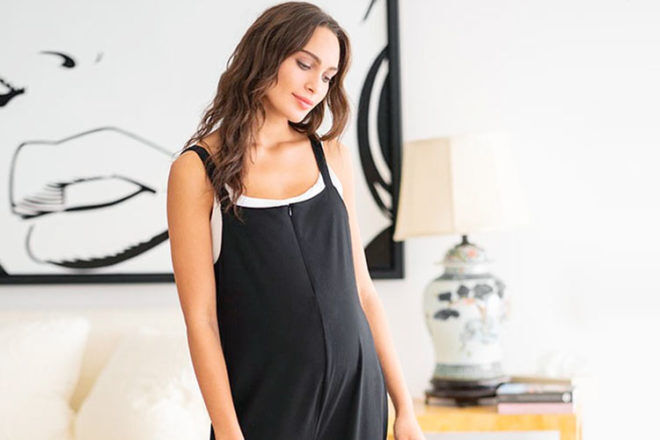 Every baby bump (and body) is different. So if you're wondering if there's the perfect day to purchase your first official piece for your maternity wardrobe, in reality, it's all about how you're feeling in your clothes.
Rather than focusing on a particular week in your pregnancy, think about how your clothes are fitting. It might not be until you're 20 weeks+ pregnant that things feel a little tight, or it could be at 10 weeks. Not comfy? Then it's time to go shopping.
Maternity wardrobe essentials
Cheat and make do…
Oversized tops – have a look through hubby's wardrobe for tees and shirts
Oversized trackie pants – again your partner's wardrobe is a treasure trove!
Babydoll style tops and dresses have plenty of room for growing bellies
Regular jeans – use the clever hair tie hack or an extender kit to keep wearing your regular jeans
Cardigans – leave them open to accommodate your bump
Wraparound dresses and skirts – grow with your bump
What should I look for in maternity clothing?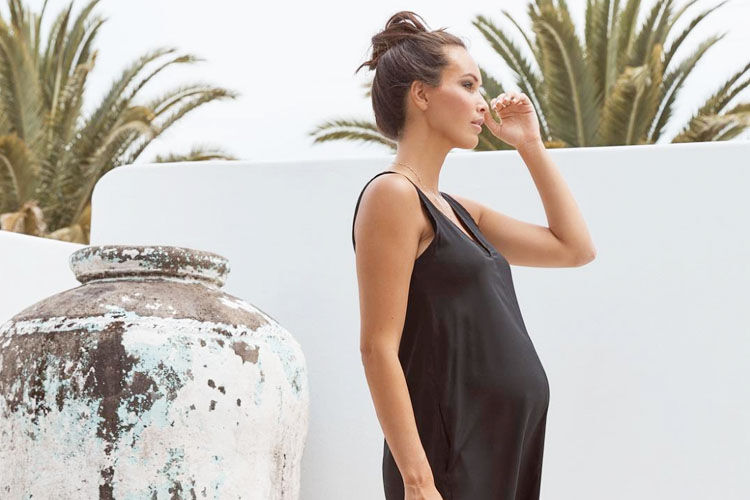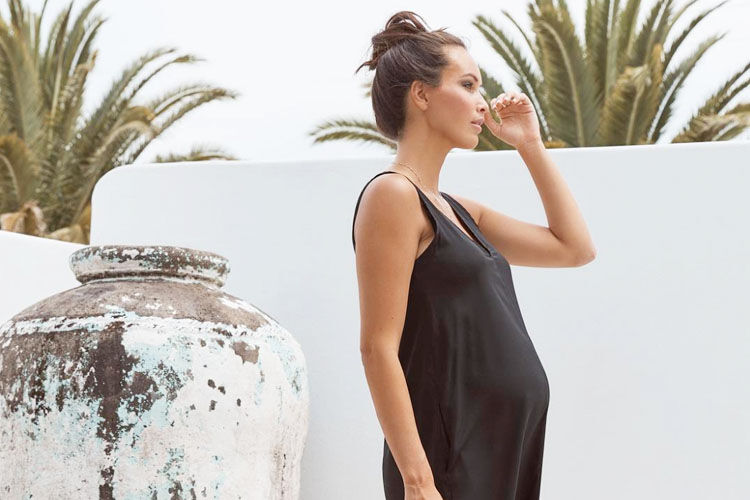 Have these questions in mind when shopping for maternity clothing:
1. Does it stretch?
Pretty obvious but it's super important. See how far it can stretch – will a nine-month pregnant belly be just as comfy in it as a six-month belly? If it's leggings or tighter pants, just check how sheer the material is when stretched. We do tend to pop on some weight around the thighs and hips in pregnancy, so make sure there's a bit of give. Also, remember that your boobs are also likely to change size, so make sure there's a little extra room up top too.
2. Is it adjustable?
Most maternity jeans and pants have some sort of adjustable band at the side that keep increasing as your bump gets bigger.
3. Can you breastfeed in it?
Some pieces might be a little more exxy, but you'll find they do double duty as nursing tops or bras beyond pregnancy. So look at it as a cost-per-use item if it costs a little more than you expected or wanted to pay.
4. Is the length right?
Most maternity tops have a little more material at the front to accommodate that gorgeous little bundles you're growing. Just check to make sure you think it's enough to keep you comfortable
Maternity leggings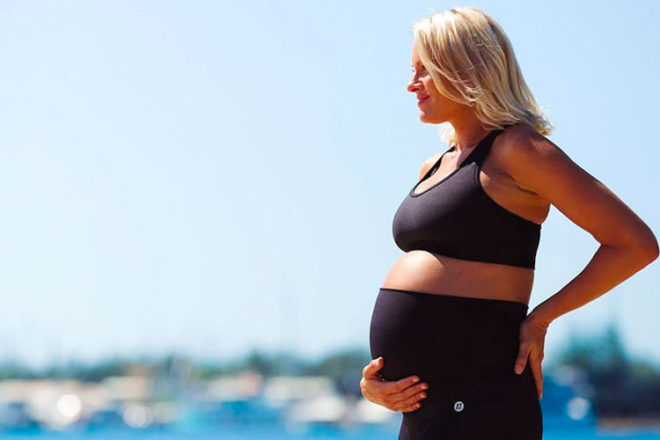 Comfy, stretchy and supportive, maternity leggings are very different from normal leggings – the waistband is crafted to sit perfectly for preggy bellies and many pregnant mumma's recommend having a couple of pairs of maternity leggings at the top of your list.
Types of maternity leggings:
Low rise – for under bump wearing
High rise – for over-the-bump
Compression – help relieve pregnancy swelling and varicose veins
Leather – if you're a little bit rock n' roll
Capri – shorter style, great for exercise
What's to love about maternity leggings:
Can be worn above or below the bump – whatever's comfy for you
Supportive for growing bellies and sore legs
Can be worn after pregnancy, great for supporting bellies after birth
Can be dressed up or down – flowy top and heels for heading out, sneakers and an oversized tee for every day
Easy to put on
Check out our list of the best maternity activewear.
Maternity jeans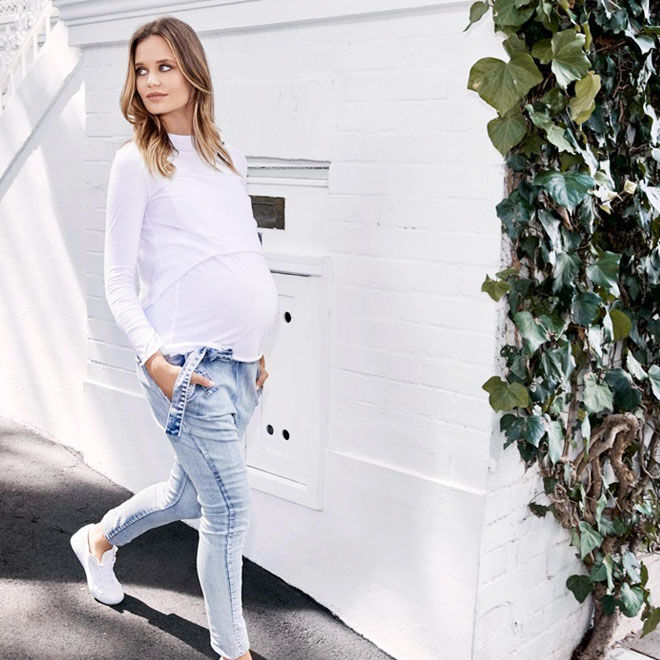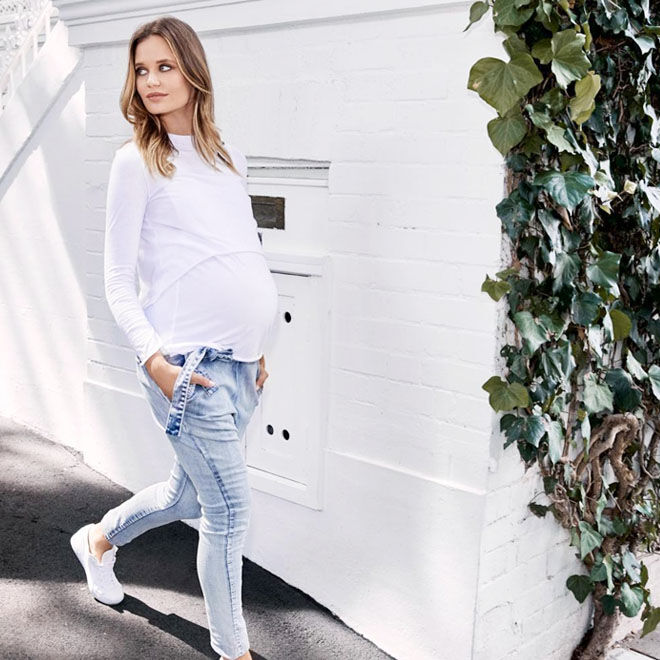 If jeans are your go-to pre-pregnancy, keep the comfort factor high by grabbing a pair of great maternity jeans. Dress them up with heels, down with sneakers and you may just find yourself still wearing them long after bub arrives.
Types of maternity jeans:
Under-belly waistband – a stretchy, elastic waistband that sits below the belly. Perfect if you prefer wearing tight tops and want a smoother finish to your outfit.
Over-belly waistband – a soft, elastic waistband that fits over the bump.
Side stretch panels – pretty close to regular jeans, but with stretchy panels at the side, letting the jeans sit low on the hips.
Besides choosing which type of maternity jean best suits you, there's also the choice of style: skinny, regular, boyfriend, bootcut, capri, distressed.
What's to love about maternity jeans:
Comfort – just like regular jeans, maternity jeans are supremely comfortable.
You won't feel like you're wearing maternity clothing – dress them up or down, it's just like before you had a bump!
Check out our list of the best maternity jeans.
Maternity bra/nursing bra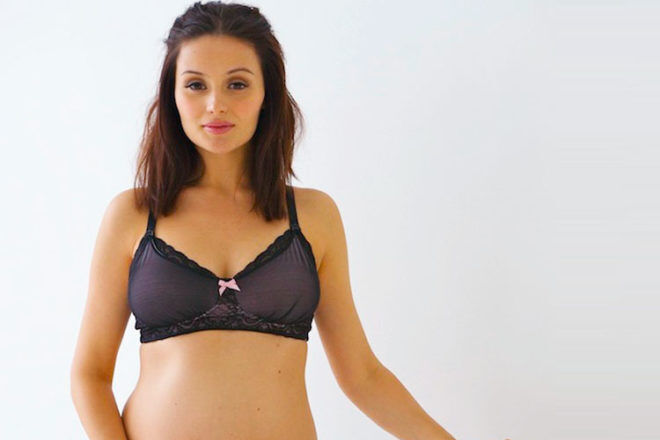 Give your boobs a rest from underwire and switch to a comfy maternity or nursing bra. Feel free to go a little nuts and grab a few as most are also nursing bras, so you'll be using them for a while.
Types of maternity bras:
Seamless – soft and comfortable, great for everyday wear during pregnancy and after birth
Sports nursing bra – offer support while exercising with the comfort and convenience of a nursing bra
Nursing singlet bra – singlet and bra in one offering max support and handy for wearing at night for more support and if you need wear breast pads if you're leaking during pregnancy
Crop-top style – a full cup supported by the extra material of crop top – a great option if you already have a bigger bust
Pumping bra – perfect for pregnancy and even more perfect for hands-free pumping when bub arrives
Towelling bra – a clever little creation for leaking boobs at night – which does happen in pregnancy
What's to love about maternity/nursing bras:
Comfort – ditching the underwire yet still having support means the comfort factor is dialled all the way up.
Double duty – great for helping your changing breasts stay supported during pregnancy, and then, of course, coming into their own once baby is born and starts breastfeeding.
Check out our list of the best maternity bras.
Maternity underwear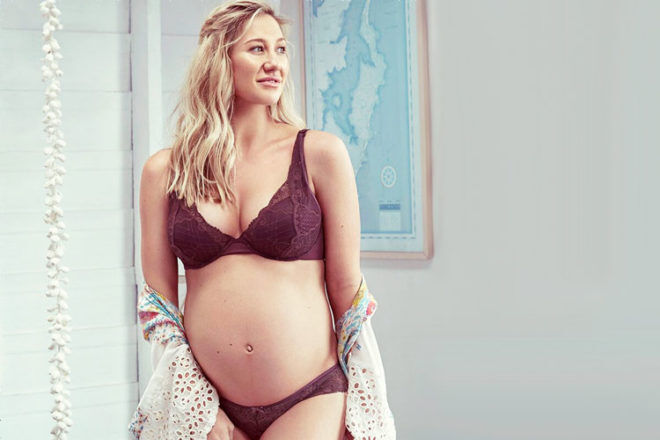 You may need to experiment with over-the-bump versus under-the-bump maternity knickers to see which you prefer, but stretchy, comfy and breathable undies are a real asset.
Types of maternity underwear:
Over-the-bump – affectionately known as 'granny undies' these are ultra-comfortable and great for after a c-section too
Under-the-bump – similar to traditional knickers, but crafted to sit comfortably under growing bumps
Maternity shorts – more like fitted boxers
Leak-proof – with built-in absorption for those pee-zing accidents
What to love about maternity underwear:
Built for bumps so they're stretchy and super comfortable
Will save your regular undies from getting stretched out of shape
Maternity sleepwear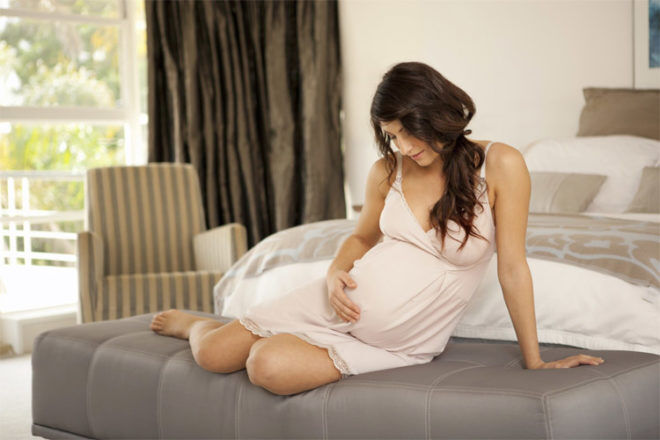 Getting comfy at night with a baby bump is sometimes tricky, so make it as easy as possible to get relaxed in sleepwear made specifically for preggies.
Types of maternity sleepwear:
Hospital style nursing gown – do double duty in a super comfy nightie-style gown that also has a hidden talent – it's breastfeeding friendly.
Separates – maternity sleep pants or shorts teamed with a maternity pj tee (short or long-sleeved) make for the ultimate lounge-wear combo.
Nightie – long-sleeved, short-sleeved, breastfeeding-friendly – there are a heap of combos but the style is essentially a short dress.
What's to love about maternity sleepwear?
Comfort – created specifically to be less restrictive to growing bellies
Longevity – perfect for popping on your hospital bag checklist for labour and then in the first few weeks post-partum as your body recovers
Check out our list of the best maternity sleepwear.
Maternity swimwear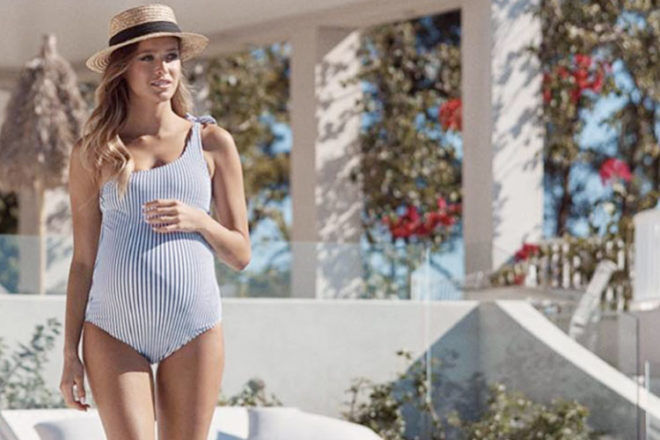 Whether your pregnant through summer and want to hit the beach, or bumpin' in winter swimming at your local indoor pool, maternity swimwear means there's no need to stay out of the water!
Types of maternity swimwear:
One-piece – covers the bump
Bikini – why not let that bump breathe!
Two-piece – a little more coverage than a bikini
Tankini – babydoll-style skirting flowing over your bump
Nursing swimsuit – for easy-access breastfeeding once bub comes along
What's to love about maternity swimwear?
Built for a bump, maternity swimwear will hug and support in all the right places.
Adjustable straps for changing breasts throughout each trimester.
Ruching at the sides of one-piece suits means bump has plenty of room to grow.
Check out our list of the best maternity swimwear.
Nice to have but not necessary…
Maxi dress: A long dress that glides over your bump oozes effortless chic and is uber comfortable.
A cocktail dress: Think ahead to any weddings or events you have over the next few months and invest in a form-fitting little black (maternity) dress that can be changed up with accessories.
Coat/jacket: Think ahead to how far along you'll be when the weather cools, you'll soon work out whether you'll need to buy a maternity coat depending on how big your bump will be. Otherwise, you may be able to get away with wearing your existing coats, albeit with the buttons undone!
Shoes: Remember that you may go up a shoe size while pregnant, so look for shoes like slip ons that will cope with swelling tootsies. Wedges also tend to be comfier than stilettos if you still want some height when expecting.
Stretchy t-shirts: A couple of maternity tees, with ruching down the sides are a great idea – check for ones that are also nursing friendly so you get plenty of mileage out of them.
Our favourite places to shop maternity…
Ask other mums
Searching for maternity clothing and still not sure what to buy? Continue your search online by jumping into one of our closed Pregnancy groups and ask thousands of other Australian mums what they recommend – 'What to buy' is the most talked-about topic.
Click below and find your group today.