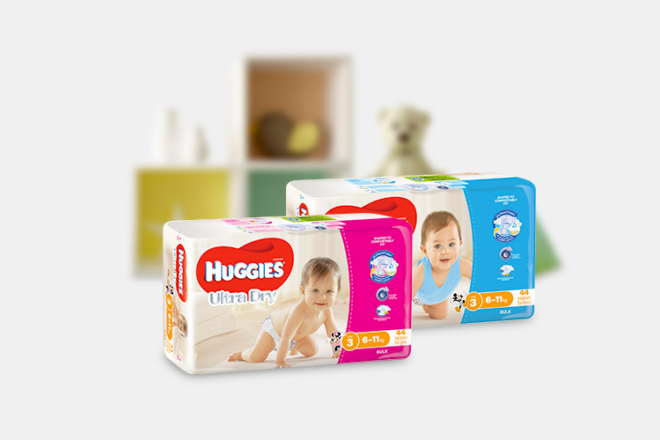 Furious mums who claim Huggies Ultra Dry Nappies are causing severe nappy rash and 'chemical burns' have hit out at the company's latest update assuring that the company's products are safe.
A statement was released this week on the Huggies website, saying the nappy issue has been 'thoroughly investigated'.
"First and foremost, we want to assure you that our updated Huggies Ultra Dry nappies, like all of our Huggies products, are safe for use. Every raw material used in Huggies Ultra Dry nappies has been assessed to confirm that it doesn't cause skin irritation and is not made with chemicals or other properties that are harmful to skin health," the statement says.
Parents demand nappy recall
However, a Facebook group with more than 2000 members continues to demand a recall of the nappies, with mums claiming Huggies Ultra Dry are leaving their babies with nappy rash and chemical burns. The Huggies Facebook page is also flooded with parents demanding action.
Cheryl writes, "You claim there is nothing wrong with the nappies when that is not true they are causing big problems for innocent little babies. Stop trying to sweep this under the rug and tell the truth, nothing is going to fix this problem until you face up to the fact that there is one."
While Loretta Barnes is calling for the full nappy ingredient list to be revealed. "In response to your recent claim that all your products are safe for use, and that the Ultra Dry Nappies are '… not made with chemicals or other properties that are harmful to skin health…' could you please release the full product chemical and ingredients lists for all your nappies so that parents may be informed as to what is in your current nappies with the new Disney designs."
The company says it's aware that many baby's experience nappy rash, which is one of the, 'most common dermatological conditions seen in infants'.
"Common causes include skin wetness or over hydration, increased skin ph levels, exposure to irritants in faeces and urine, and infection. Huggies Ultra Dry nappies incorporate features designed to minimise the frequency and severity of nappy rash. These include the use of Super Absorbent Material (or "SAM") which helps to keep baby's skin dry, a breathable outer cover which allows air to circulate around baby's bottom and gently stretched elastics which are designed to minimise the occurrence of red marks.
"The term 'nappy rash' is sometimes used interchangeably with other terms such as 'chemical burns'. Huggies Ultra Dry nappies are not made with known allergens (such as natural rubber latex) or other materials (such as acidic, alkaline, or detergent chemicals) that could cause a burn, nor will they react with stool or urine."
The response has raised the ire of parents: "So after using Huggies exclusively with all three kids with no problems until you changed the 'design' you're blaming us parents for not changing our babies regularly. Are you for real?" Emma wrote to Huggies on its Facebook page.
Huggies tested nappies returned by parents
Huggies says its testing has included a review of the manufacturing process, assessing nappies that have been returned by parents and in-home trials by parents.
"Results have confirmed that returned and newly manufactured Huggies Ultra Dry nappies featuring Mickey and Minnie meet all key performance measures (including absorbency, breathability and pad thickness), in line with the previous Huggies Ultra Dry product featuring Winnie the Pooh."
The company says despite the favourable results, it will be rolling out 'modification' to enhance the appearance and performance of Huggies Ultra Dry.
Read next …
If you're looking for the best nappy for your bub, help with nappy rash or how to wrangle a nappy-avoiding tot, step right this way:
If you're searching for the best nappy for your bub, want advice on getting babies to sleep at 2am, or just need a friendly ear, join one of our closed baby groups and chat with thousands of other Australian mums whose babies are the same age as yours.
Click below and join your group today!