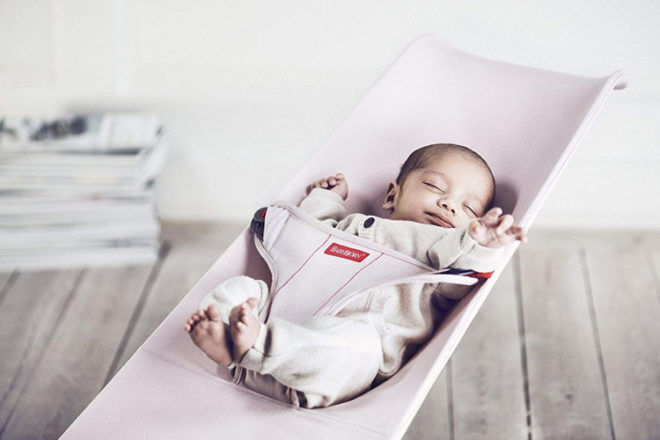 Baby bouncers can be so soothing that bub often bounce themselves to sleep. But is it safe to leave a sleeping baby in a bouncer? The emphatic answer is no. There have been instances of babies dying after being left to sleep in a bouncer or swing – and these aren't just stories to frighten parents, it's a reality.
Red Nose explains that there's no Australian Standard for bouncers, so it's worth continually checking that your bouncer hasn't been involved in any incidents of children being harmed. The most common injuries associated with bouncers are falls and entrapment, but also deaths from babies sleeping in bouncers.
Why can't my baby sleep in a bouncer?
It's long been recommended by Red Nose that babies are put down to sleep on their backs, on a firm and flat surface. If a baby falls asleep while propped up, their head can fall forward which pushes their chin to their chest, and their little airway is blocked.
Other safety concerns with bouncers
It's recommended that you always check the weight, height and age restrictions that come with any bouncer or swing – and they usually differ between brands and types. Most of them will recommend that the device isn't used once bub can sit, roll or crawl. That's because once baby is on the move, they're more likely to topple their bouncer.
Also, always make sure it's used on a flat, safe surface that's not elevated. Just make that any pets (and inquisitive siblings!) are also supervised while bub is in the bouncer and that you're always close by keeping an eye on your little one to see that they haven't drifted off to sleep. Also, always do up the harness that's attached to the bouncer, so bub is secure. You may assume your little one isn't on the move – but they tend to start when we least expect it!
Baby bouncer safety tips:
Stick to the age, weight and milestone restrictions of each bouncer.
Make sure straps are done up and snug.
Always watch baby while in the bouncer.
Never let bub sleep in the bouncer or swing.
Keep the bouncer on the floor, never on an elevated surface.
---
6 baby bouncers other mums recommend
Here are six great bouncers that will keep your tot happily giggling along while you go hands-free for a little while, as voted by the mums in our closed Facebook baby groups.
---
Read next …
We have a huge archive of baby safety articles, including why you shouldn't let bub sleep in their car seat:
---
Join our Pregnancy & Baby Groups
Join one of our closed Facebook pregnancy or baby groups and talk babies 24/7 with thousands of other mums all due, or who had babies, around the same time as you.
Click below and join your group today – don't miss out!