A mum has live streamed the super quick, unassisted home birth of her fourth child in her bathtub.
Kara Baker from Missouri in the US had her baby daughter Molly just 35 minutes after starting the live stream. She says she opted for a natural, home birth after a traumatic birth with her first child. She says along with her knowledge from her first three births, she watched YouTube videos to educate herself ahead of the homebirth.
"Because my first birth was traumatic and felt so wrong, I educated myself this time," Kara explained to the Daily Mail UK.
Mum educated herself watching YouTube videos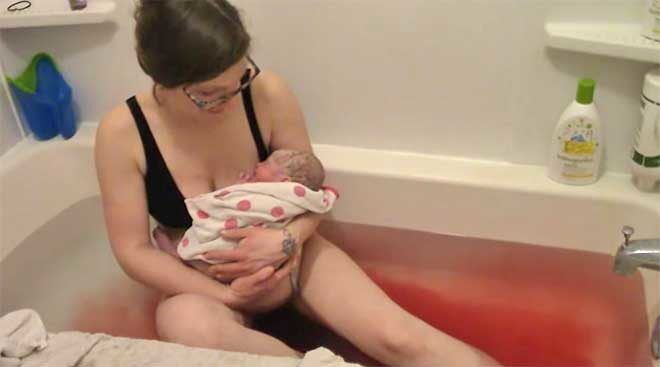 Kara's second and third children were born at a birth centre, and she says she learnt more with each experience.
"I had an amazing natural water birth, but I was afraid as I didn't know what to expect because I had an epidural with my first.
"During my third pregnancy, I became obsessed with watching YouTube videos of women giving birth. I watched them daily, and began to see patterns. You could see the moment women let go of their fear, and then they deliver their child."
"My third child was born at the same birth centre and I had another water birth, but this time I had no fear at all so I had no pain. The midwife and nurse said it was the most graceful birth they had seen. I did most of my labouring while shopping at Goodwill with my husband about an hour before I gave birth."
Kara says watching other births on YouTube helped her overcome the horror stories she'd heard and shake the stigma around homebirths.
"My husband is supportive of my decision, he's all for it. After my last birth, he kept saying how we should've had a homebirth on our own mainly because we missed our kids while we were away for two days and the birth was so easy."
---


Here is Kara's live stream birth:
---
Kara says she shared her birth live online to help other mums overcome their fears about birth.
"I want to change people's perspective of birth. Birth is not a medical event, should not be feared, and does not have to be painful. We are told what to do and what to think by businesses instead of listening to our bodies and birthing the way people have for thousands of years."
Got your own birth story you're itching to tell? We're always on the lookout for new stories to feature. Submit your birth story.
---
Join our Facebook pregnancy groups
Expecting a baby? Join one of the closed Mum's Grapevine pregnancy Facebook groups for non-judgemental support from other mums due at the same time as you.
Click below and join your group today.