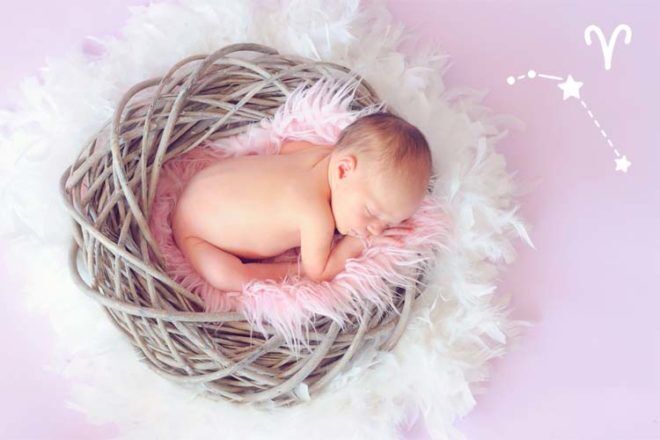 Aries babies – March 21 – April 19
A sweet, little ram this way comes – but don't be fooled, Aries babies are strong-willed firecrackers. Affectionate and outgoing, your little Aries isn't one to be ignored.
What to expect with an Aries baby
An Aries baby will usually come out crying, and keep using that little voice to get the attention they deserve. Born with excessive energy, Aries babies are busy little beings, usually walking and talking early. Getting the house childproofed early is a given, these little starbursts are also accident-prone. While they're strong, like to be heard and adore being the centre of attention, Aries babies are also powerfully honest, creative and passionate.
Aries also tend to be picky little eaters, and are restless – always wanting to move onto the next thing. They are brave, impulsive and fearless and can find it hard to keep their emotions in check.
Hold onto your hats mumma, this is going to be one wild ride!
Aries traits:
impulsive
honest
creative
strong-willed
self-motivated
fearless
passionate
great leaders
Famous Aries
Your little Aries is in great company – there are some remarkable Aries who have blessed the world with their talent, vision and leadership:
Elton John
Vincent van Gogh
Lady Gaga
Leonardo da Vinci
Charlie Chaplin
Pope Benedict XVI
Marlon Brando
Celine Dion
Russell Crowe
Vincent van Gogh
Harry Houdini
Johann Sebastian Bach
Keira Knightley
Mariah Carey
Alec Baldwin
27 names perfect for Aries babies
Fiery yet friendly, here are 27 names that will suit your little head-strong ram.
Andromeda: A strong, mythological name with a constellation named in her honour with meaning that speaks to persistence and strength.
April:  Named after the month of April.
Aries: Aries: The son of Zeus and Hera, Aries represents the untamed aspect of war. Untamed – that sounds like an Aries through and through!
Blaze: A fiery name for a fiery, strong-willing little one.
Chase:  With its meaning rooted in being a fearless huntsman, this little go-getting name is a fitting one for a non-stop Aries.
Cole:  A strong name that means 'peaceful', so strikes a beautiful balance for a head-strong Aries.
Crimson:  A bright, burning shade of red – a fiery, passionate name.
Daisy:  The April birth flower makes for a fitting Aries name.
Elton:  One of the most famous Aries in history, with musical talent and passion to stand out from the crowd.
Emmy: Loosely translated to 'industrious rival', ain't nobody gonna put this baby in the corner!
Enya: With its Irish origins and meaning fire, this moniker is a prized pick for a head-strong Aries.
Fox: Nature-based, short and sharp, inspired by a quick and curious creature.
Genesis: A biblical baby name for a child of biblical proportions.
Gloria:  A song-like baby name that sings the praises of a beautifully affectionate child.
Griffin: Meaning 'strong lord' this name is suited to a head-strong Aries.
Hadley:  Derived from heath or heath-covered meadow for a little explorer.
Ignatius:  A super strong name that can be toned down to Iggy, it has fiery origins.
Jasper:  An adventurous name for an adventerous child.
Leo:  Like the king of the jungle, an Aries baby will rule with a strong hand and passionate heart.
Loli:  With a meaning that roughly means 'charming', just like dynamic yet passionate Aries babies.
Lou: Quick with a hint of sweetness – just like any Aries.
Mars:  The Roman god of war, and fitting for a little ram to be named after their zodiac.
Nova:  A type of star that shines much more brightly for a few months – or in this case, an entire lifetime.
Primrose:  Meaning 'first flower' – a beautiful bloom that's just emerged and is ready to show its beauty to the world.
Ruby:  A true gem, shiny, bright and sparkles from every angle.
Scarlett:  Taking inspiration from Vivian Leigh's depiction of Scarlett O'Hara in Gone with the Wind, this headstrong name is fiery and passionate.
Wyatt: Meaning 'brave and strong', how could this not be the perfect name for an Aries child? It's so awesome that Mila Kunis and Ashton Kutcher gave this name to their daughter.
---
Read next …
Searching for more baby name inspo? We have thousands of unique baby names sorted into handy lists:
Ask other mums …
Need more help coming up with a baby name? Head over our closed pregnancy Facebook groups and ask thousands of other mums which baby names they like and talk and all things pregnancy and baby.
Click below and find your group today.