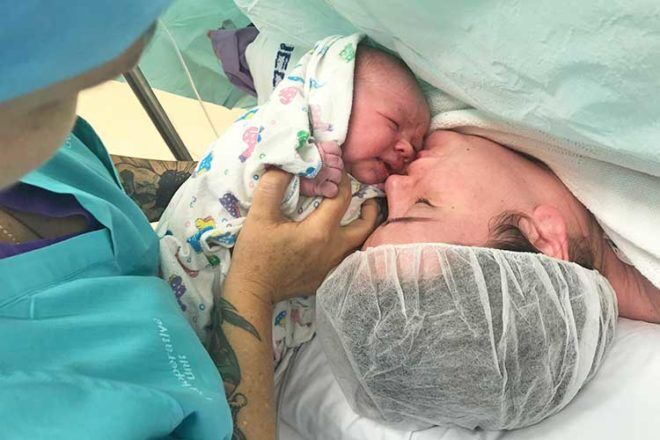 Petrea and Jackson married in November 2015, and they wasted little time trying to start a family.
"We immediately began trying to conceive a child as it was our biggest dream to be parents and myself being 20 and my husband being 25, we assumed (wrongly) that this would be simple," Petrea tells Mum's Grapevine. "I have my fair share of siblings and could never have imagined anything other than hyper-fertility from my bloodline.
"As the months flew by, we cried together over the repeated negatives and sat and dreamed together of the day we would finally see a line."
After a year of trying to conceive they knew it was time to investigate why they weren't holding a baby in their arms. Petrea was diagnosed with PCOS and an inability to naturally ovulate.
"(Our doctor) assisted us with fertility treatments and in July of 2017, we got it … our 'longed for 'second line'. I indulged in the sickness, a constant reminder of my miracle growing, I had no complications and we discovered at 12-ish weeks that our baby was a boy, we were so overjoyed!"
A big, little boy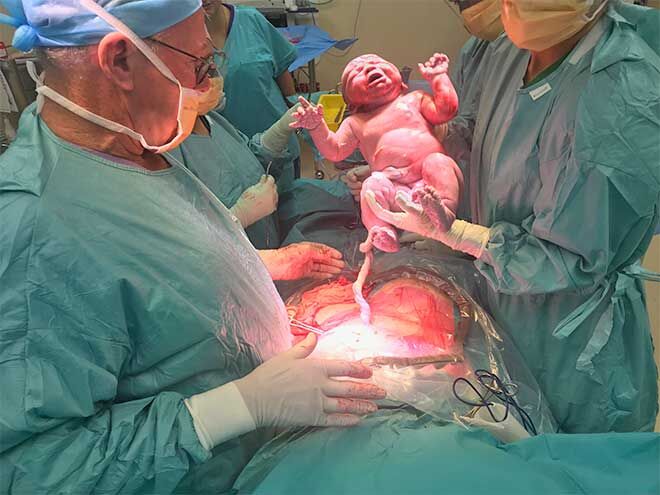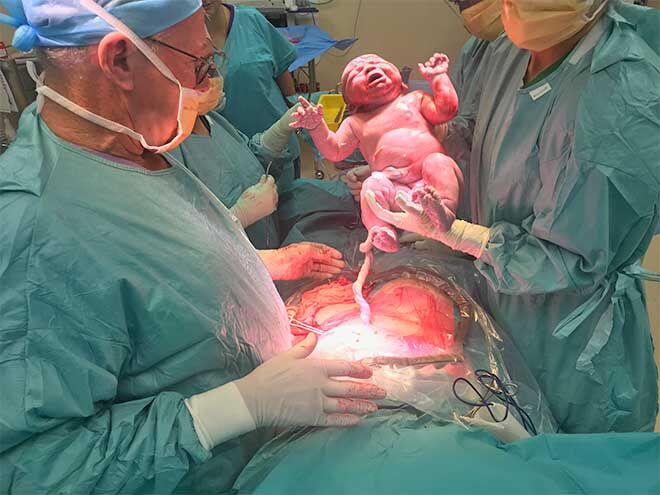 As the pregnancy progressed, the couple were told that their baby appeared on the large side.
" This didn't shock us, my husband is 6'4″ and so we had always expected an 8 or 9 pounder, however, this was hard for others to accept. I was tested for GD, which I did not have, and was monitored fortnightly for growth. Being my first baby, I listened to their concern about the percentiles and then asked to see his fingers one more time. They spoke about my low chance of naturally delivering this baby and I laughed at his cute neck rolls and marvelled that we could see his hair.
At 38 weeks, Petrea was induced early as her baby had continued to get bigger. But her little prince wasn't ready to make his grand entrance.
"After two days in the hospital, we (midwives, doctors, my husband and I) came to the conclusion that our baby just wasn't ready and we should give him some time.
"I went home and tried to enjoy my last days with my bump, expressing colostrum and watching Gossip Girl through again. I walked (waddled) around my block, up and down gutters, drank teas recommended by midwives, lived 12 hours a day on a yoga ball and held onto every kick, even the big ones straight to the ribs."
Petrea finally made it to the 40-week mark and headed to the hospital for another induction attempt.
"The prostaglandins and cook's catheter fought against my stubborn cervix and I remained calm as they explain over and over that I was not progressing … at all. Then I met a new character in my story, confusion.  My mother was strong, she had had five natural pain-relief free births, that was meant to be my story too! I felt weak and sad, and despite the encouragement from my husband and medical team, I felt my body was failing me. I refused to give up, I have always been stubborn, so I begged that we try more. They agreed, they would do one last scan to ensure everything was safe to go and then they would break my waters and I felt that I would take care of the rest, I knew it.
"When they drizzled the gel on my belly one last time, I saw my little boy, comfy and warm and so oblivious to the chaos, so peaceful. He was curled up, head down and looked prepared, but my pesky old cord just HAD to be in the way. How unfair."
Petrea was told the only way forward was a c-section, as the risk of breaking her water was too high.
"I asked to go home for the night and they obliged. I was scared, really scared. A cesarean?
The following day…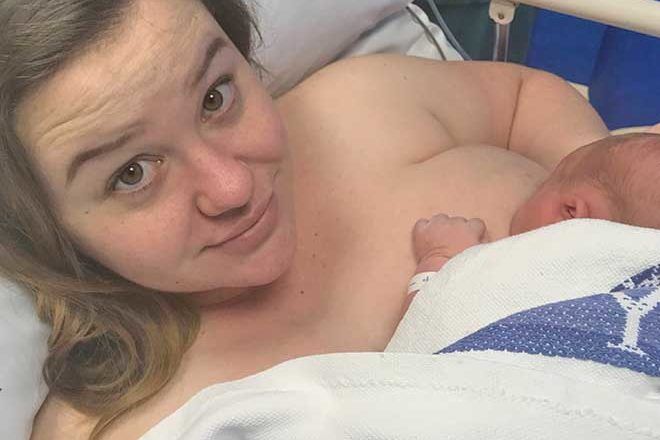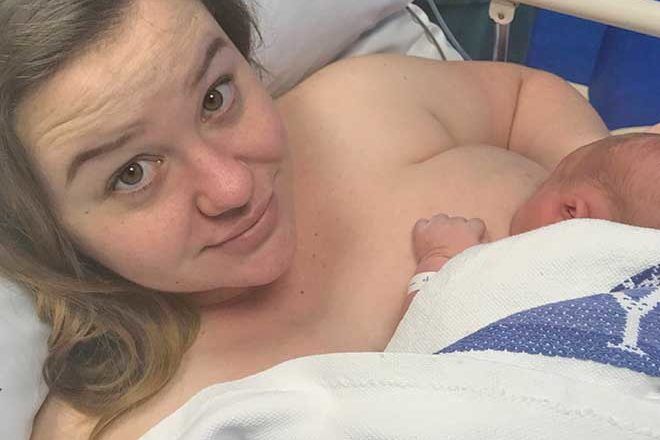 "I woke and showered and dressed and made my way up to the hospital, no longer feeling brave and prepared, instead feeling uncertain and vulnerable and weak. I changed into my robe and asked one last time if they would give me gas while I had my spinal block. They would not. So rude.
"The nurse applied my compression socks and another nurse distracted me while they washed my back repeatedly through my begging for them to just operate without the spinal block. They would not. Probably a good decision. Ice was carried along my body as they classified my numbness, and asked me if I was going to vomit, I said no … I was wrong.
"A bag of urine was held up and I stared in confusion, what does someone's urine have to do with my cesarean? Wrong again. 'What is that?' I asked. 'That's your wee,' replied my amazing midwife. I could do nothing but laugh as they explained the catheter was already in and I had no idea. It was such a surreal experience, so happy and calm and beautiful.
"Then they let in my husband and almost just like that it was done. We heard the cry, once just a thought in our dreams, now the soundtrack of my happiness. The doctors gasped and yelled, 'Weigh him, weigh him!' 5.35kg. 11pounds and 12 ounces … WOW."
Finding peace with the birth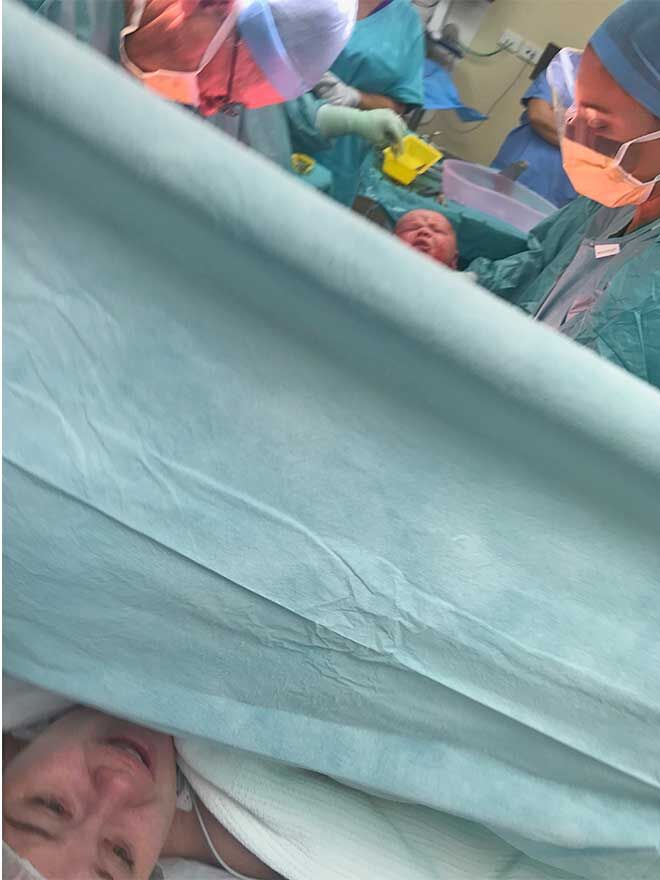 Learning just how big her baby boy was, Petrea was able to find peace with her beautiful birth.
"I immediately forgave my body, I felt so justified, so proud, so in awe. We had our cuddles and my husband left with our son while they finished on me. I was out in another five minutes and held my baby while he began to learn to latch, so incredible, he was no longer confined to my belly and we stroked and kissed him for what seemed like an eternity.
"After a few hours we were comfortable to name our baby, one of the three we took in as our final options. Dashiell Ian Barnes –  Dash.
"I feel so lucky to have been able to experience a cesarean because it was so incredible. We often speak in our family now about the wonders of modern medicine. If I did not have access to this cesarean (say, this was before they were thought of) I would have died and most likely my son also. I feel that even If my baby had been five pounds, my story was just meant to be written this way. No one has ever implied that my body failed me, ever, that was an insecurity of my own. I find that there is always just awe of what a woman can create, A whole person that she can grow, not how that person transitions from water to air.
"So here's to mothers, the strongest, most amazing and irreplaceable creators of life!"
Read next …
Want to read more inspirational birth stories? Step right this way …
---
Join our Pregnancy & Baby Groups
If you're expecting your own little miracle, you can join one of our closed Facebook pregnancy or baby groups and talk babies 24/7 with thousands of other mums all due, or who had babies, around the same time as you.
Click below and join your group today – don't miss out!