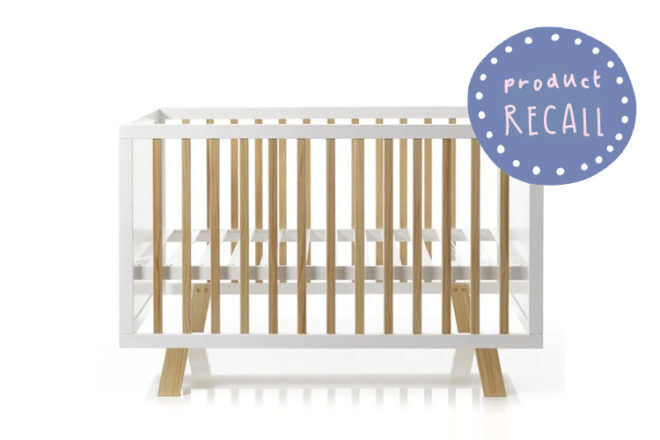 Retailer Adairs is recalling its popular Cooper Timber Cots, after testing revealed they don't meet mandatory safety standards.
The cots have been for sale for three years, and have now been withdrawn for sale and recalled.
In a statement, Adairs said, "We know the safety of your family is your highest priority. We take product safety very seriously and undertake rigorous testing of all children's furniture. These tests are conducted by an independent party in line with mandatory safety standards and we continue to re-test these products at regular intervals. The Cooper Timber Cot was designed to meet mandatory standards and had passed all previous testing. However, the most recent testing identified that the Cooper Timber Cot was manufactured in a way that varied from the approved design and so does not meet mandatory standards.
"The cot was immediately withdrawn from sale and we have made the decision to recall the product. The recall relates to Cooper Timber Cots sold between March 2016 and March 2019. We are extremely sorry for the inconvenience. We are committed to providing our customers with the highest quality of products, and nothing is more important to us than the safety of our customers and their families."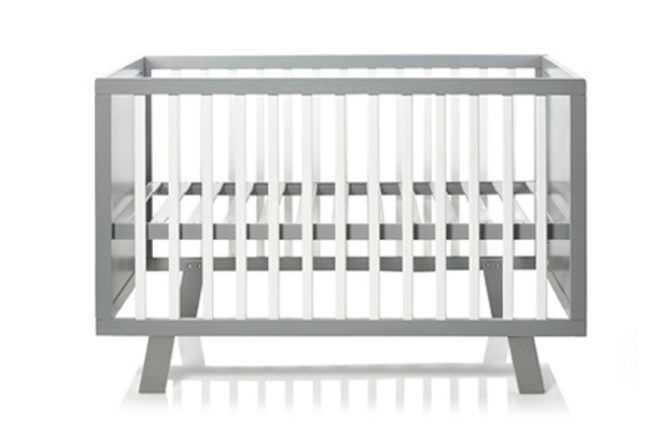 Product description: The recall relates to Cooper Timber Cots sold between March 2016 and March 2019, marked with one of the following batch numbers: 1606025; 1607030; 1608031; 1612041; 1703046; 1706056; 1706058; 1709067; 18016606; 18016607; 18046620; 18066622-2; 18066622-3; 18066622-4
Defects: As part of Adairs' quality assurance program, the Cooper Timber Cot was re-tested against mandatory safety standards. Two design variations were identified from the previously approved design, resulting in the cot no longer meeting mandatory standards. The two faults identified were:
1. Distance between mattress and top of guard rail.
Mandatory standard: There must be a minimum distance of 30cm between the top of the mattress (when in the upper position) and top of the guard rail.
Defect: The attached safety label recommends use of a mattress between 10-15cm in thickness, however the required minimum distance between the mattress and top guard rail is not met when the base is used in the upper position with a mattress thicker than 10cm.
Hazard: If the base is used in the upper position with a mattress greater than 10cm in thickness, a child could fall out of the cot, causing injury.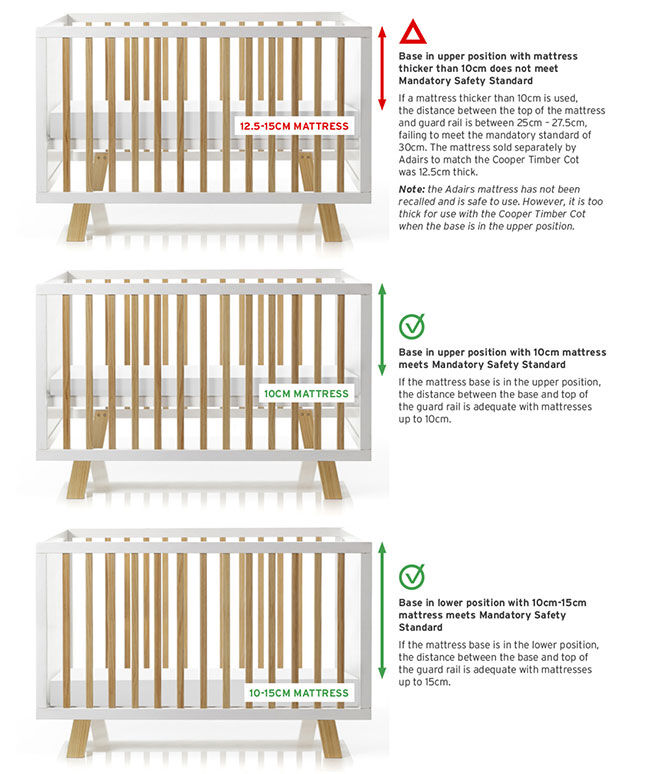 2. Edges must be rounded
Mandatory standard: All accessible cot edges must be rounded to a radius of at least 2mm.
Defect: Some edges on the top guard rail were found to have a radius of less than 2mm, i.e. Edges were not sufficiently rounded or smoothed. No issues have been identified with vertical railings.
Hazard: A child could bump against the top guard rail, resulting in an injury.

Where was the product sold: Nationally at Adairs stores.
What should you do: As the cot does not meet mandatory safety standards, it's recommended customers immediately stop using the cot.
For more information, please visit Adairs or contact the Recall Customer Service Team on ‪1300 907 504‬, ‪Monday to Friday‬ between ‪9am to 5.30pm AEST‬.
Other options: Adairs has offered modification options for those with the cots.
1. Modification of your cot to address the defects identified, including replacement of the mattress (if your mattress is thicker than 10cm) and safety label, and provision of a clear teething cot rail guard to ensure edges are sufficiently rounded
To ensure your cot meets mandatory safety standards, Adairs will:
Provide a replacement mattress of 10cm thickness.
Provide a replacement product safety label to specify cot may only be used with a 10cm thick mattress.
Provide a clear Munch® flexi Cot Teething Rail, providing soft edges for the top rail of the cot, whilst also protecting the cot guard rail from teething.
2. Return the cot for a full refund (with or without receipt)
You may return the cot to your nearest store, with or without a receipt, for a full refund or you can contact the Customer Service Team to arrange collection of your cot, with or without a receipt, for a full refund;
Our team will schedule a collection with a delivery partner who will pack your cot for transportation and return to a central location for destruction.Be first with important safety news
---
Be first with important safety news
Be the first to know about recalls, alerts and baby related news – nothing gets past the mums and mums-to-be in our Facebook groups! Join one of the closed Mum's Grapevine due date or baby Facebook groups for non-judgemental support from other mums with babies born around the same time as you.
Click below and join your group today – don't miss out!