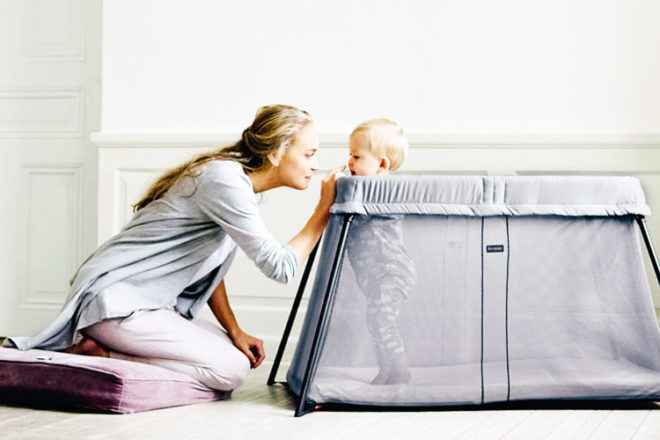 Family holidays are a time for exploring, playing and creating sun-soaked memories. And while there's no doubt that travel changes once a baby arrives, a portable sleep solution such as a travel cot or portacot makes moving as a tribe easier for everybody.
A portacot is a foldable and convenient sleeping space for babies when you're away from home. Equipped with a mattress base and airy mesh sides, they ensure that little ones get the rest they need and parents catch their breath before the next round begins.
The best portable cots are lightweight, easy to assemble, safe for baby to sleep and durable enough to last future family holidays to come – and we've put the best of them in one handy spot for you.
What to look for when buying a portacot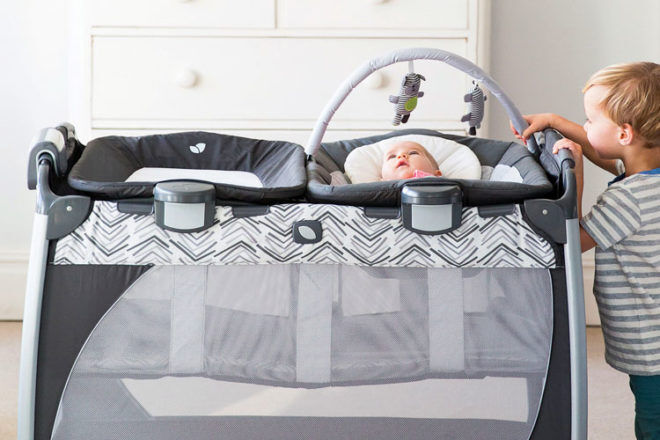 Here are some of the key features to look for when choosing a portable cot:
Size: The travel cot will need to fit in the boot of your car along with lots of other luggage. Keep size and storage at home in mind.
Lightweight: Again, you're likely to be carrying your portable cot alongside lots of other luggage. Be realistic when considering how much weight you can physically carry.
Quick assembly: The quicker the cot goes up, the sooner baby goes down. Too many fiddly bits could lead to added frustration at the other end.
Longevity: How many family holidays and weekend trips are you likely to take each year? A travel cot needs to be able to withstand a few knocks and bumps along the way.
Safety: Babies safety is paramount. Look for a model with breathable fabrics and made to correct safety standards.
Accessories: Extra accessories are always a bonus, especially when you're away from the comforts of home. Your travel cot may come with a bassinet insert, a carry bag or a mosquito net.
---
10 baby portacots for napping anywhere
Whether it's for a weekend away or an extended family holiday, tiny travellers need somewhere safe and secure to snuggle up in.
Here are nine of the best portacots for babies and toddlers as recommended by our Pregnancy and Baby group members.
AeroMoov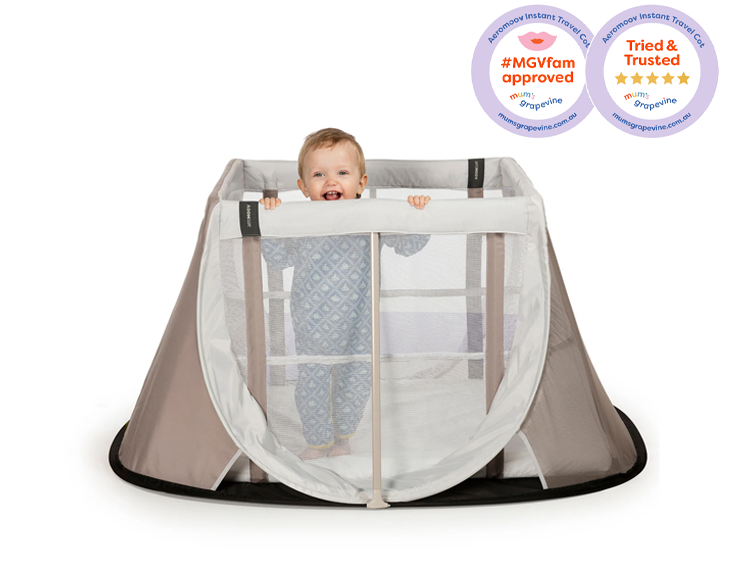 With set up and store away taking only two seconds (literally), the AeroMoov travel cot is perfect for on the go. Meeting the highest safety standards, it's super light yet solid with a sturdy PU foam mattress. There's an extra mattress layer for babies up to 2 months and everything packs away in a compact carry bag.
Folded Dimensions: 72cm x 671cm x 12 cm
Weight: 5kg
"We have some travel adventures booked in and it won't be a hassle to take on the plane." – Rachel
---
BabyBjorn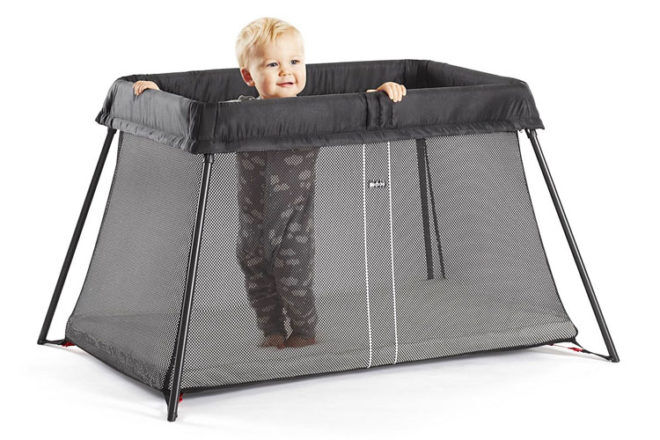 Travelling with kids is a lot to juggle, without the extra weight of bulky items. The super lightweight cot from BabyBjorn makes all the difference. A simple frame and soft comfortable mattress are a breeze to set up and fold away, giving you more time for snuggles and stories. Suitable for children up to three years of age.
Folded Dimensions: 49cm x 60cm x 14 cm
Weight: 6kg
"It's very light, extremely easy to put up and the mattress is heaps more comfortable than other portacots I've had." – Kirsty H
---
Star Kidz Australia
Wave bye-bye to the manic morning pack up. The savvy Vivo 3-in-1 is lightweight and assembles in just seconds. It comes with a soft mattress, ventilated mesh sides to help with visibility and ventilation and a convenient carry bag for easy transportation.
Folded Dimensions: 60cm x 15cm x 49cm
Weight:6kg
"The side zip is great so you don't have to bend down as much getting bub in/out or patting." – Stephanie H
---
Steelcraft
Complete with a bassinet, musical mobile, change table and a large side storage pocket, this handy portacot gives baby a safe place to sleep while covering multiple other uses to save on space. The addition of wheels is a real bonus – perfect for shared hotel rooms.
Folded Dimensions: 79cm x 27cm x 27cm
Weight: 13.5kg
"I have this one it is great for smaller bub but now he is 6 months we just use the cot and mobile but definitely recommend one with wheels as when we are away we use as playpen also it isn't too heavy and is easy to put up if u do what the instructions say." – Hannah J
---
Joie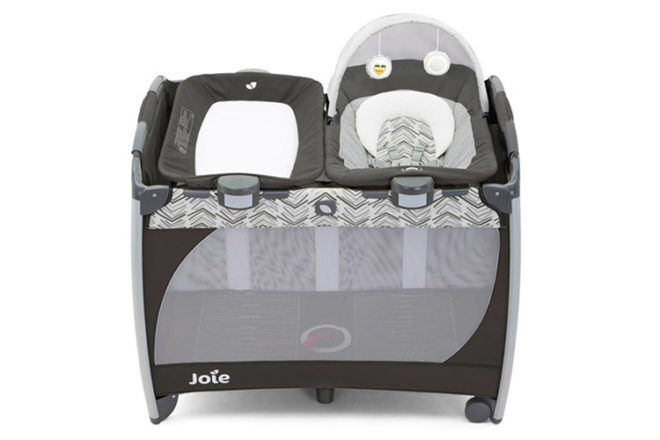 Suitable from birth right up to 15kg, this portacot really has it all. With the click of a button, remove the handy rocker and take your sleepy bub into another room, to the pool or even out for dinner. There's also a changing unit for those late-night nappy swaps and a mesh lining on all sides for optimum ventilation.
Folded Dimensions: 84.2cm x 26.3cm x 21cm
Weight: 15.1kg
"We love our Joie portacot! I used it full time with my first as we didn't have space for a full nursery set up." – Jeni V
---
phil&teds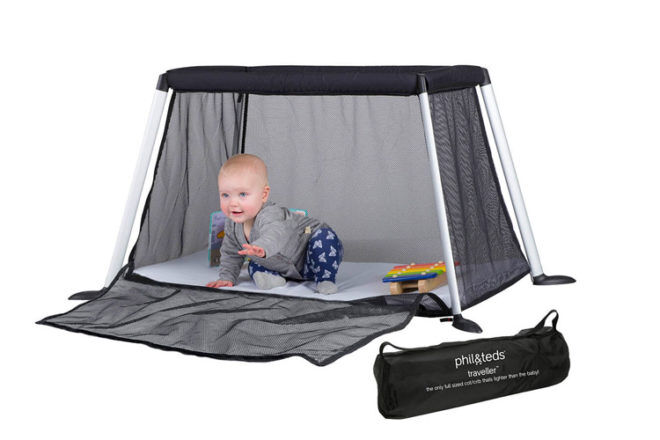 Meet the portacot that's lighter than your baby! Weighing in at just 2.8kg, this portacot is light as a feather with a few snazzy features to boot. A zip-open side transforms the cot into a play space for baby and a self-inflating mattress makes for speedy assembly. Win-win.
Folded Dimensions: 65cmx 20cm x 20cm
Weight: 2.8kg
"We just got home from 3 weeks in Japan. It was awesome. So light & easy. It has a zip down side to help get bub in & out. And we just put a blanket on the floor underneath it for a bit more comfort." – Nicole I
---
Babyhood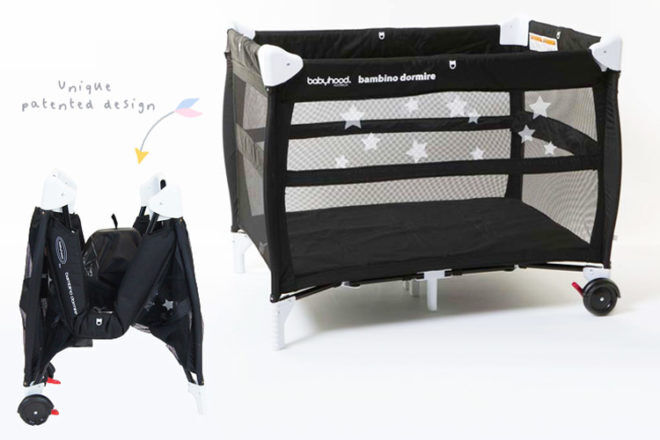 Wheel right this way! The award-winning portacot from Babyhood boasts a standout design with brilliant features. The fully mesh sides provide baby with a comfortable sleeping environment while giving mum and dad a chance to check on baby from any angle. Convenience is key with this cot – a simple zip and clip system, lockable wheels and carry bag ensure setups and pack-ups are as easy as 1,2,3.
Folded Dimensions: 82cm x 26cm x 26cm
Weight: 9.7kg
"Wheels around and also very sturdy construction with thick mattress and added bassinet level so easy to transfer Bub sleeping. Bub slept perfectly for a week in it. " – Marianne A
---
Vee Bee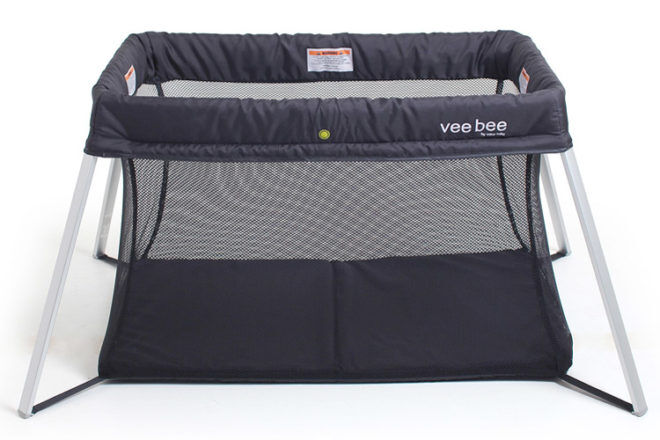 Thanks to its slender aluminium frame, this nifty travel cot folds flat ready to be tucked away into its accompanying travel bag. Weighing in at just under 4kg, it's ideal for plane travel or taking to the grandparents. With fully mesh sides, this cot also offers complete visibility of your dreaming, darling bub.
Folded Dimensions: 60cm x 16cm x 52.5cm
Weight: 3.9kg
---
4Baby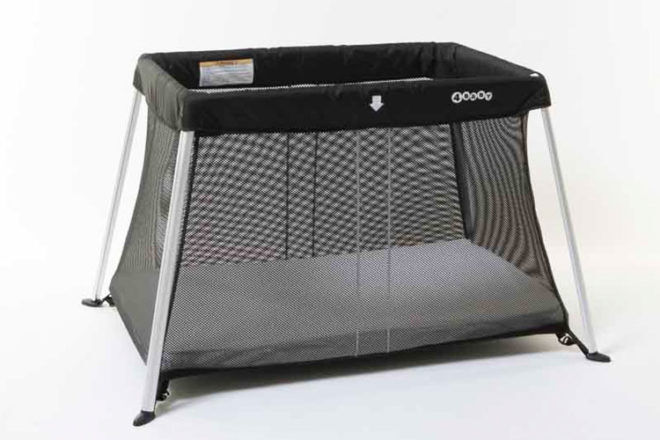 A cuddle-worthy padded mattress earns this portacot rave reviews. Featuring a similar design to many others on the market but at a fraction of the price, it's a no-brainer for last-minute family holidays.
Folded Dimensions: 60cm x 15cm x 49cm
Weight: 5kg
"Baby Bunting have a travel cot that's nice and compact. I think we have the 4baby one…works fine, nice and light and doesn't take up make space." – Olive B
---
Chicco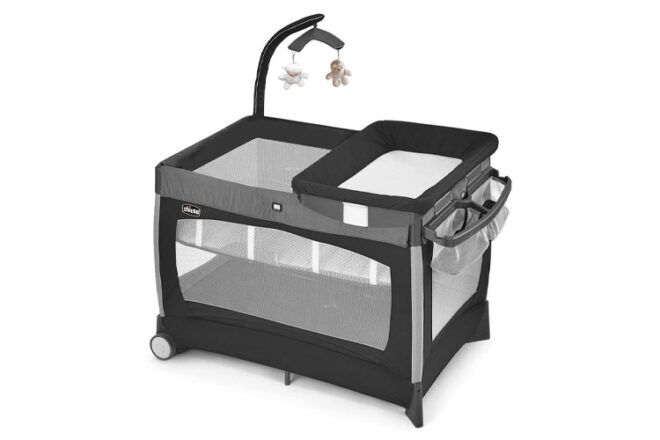 Dripping with features, the Chicco Lullabye portable cot includes everything you could need for travelling with bubs, from the newborn stage right through to toddlerhood. There's a detachable change table, a newborn bassinet, a sweet mobile and a super-sized play yard for keeping inquisitive tots entertained in one spot.
Folded Dimensions: 80cm x 48cm x 30cm
Weight: 15kg
"We've had the Chicco lullaby magic and have used it since baby was born whenever we've travelled but also used it as his day sleep cot when had a two-storey house and it been amazing." – Nirmani G
---
Travel cot alternatives for babies under 6 months
Smaller babies don't necessarily need a full-sized portacot for their daytime naps. Whether you're visiting a friends house or pottering around at home, these travel cot alternatives may be all baby needs while they're teeny tiny and sleeping like…well, babies.
Fisher-Price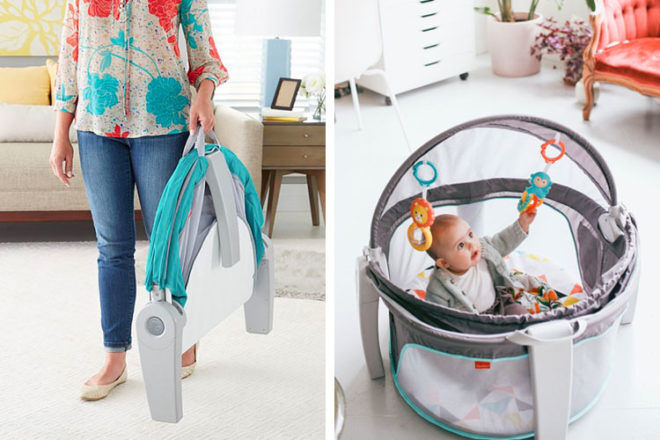 A playpen and portable napping spot all-in-one. This clever little creation gives bub an enclosed space to sleep and smile at the toys hanging above. Perfect for indoors and outdoors, the handy canopy protects little one from the sun and pesky flies all while giving mum peace of mind that they're staying put.
Folded Dimensions: 79.8cm x 56cm x 13.4 cm
Weight: 8.48kg
"We used this Fisher-Price dome for her play and sleep, it folds down compact it's amazing." – Lauren J
---
Sunbury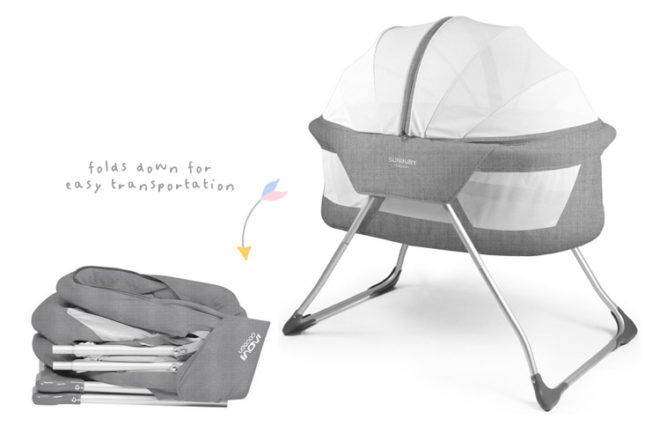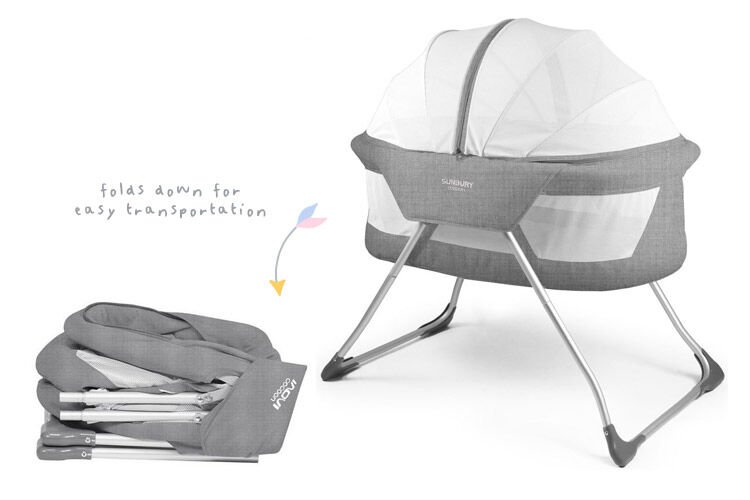 A safe and secure sleep space for the home that doubles as the perfect travel companion. The Sunbury Cocoon is ideal for families with newborns needing a little flexibility. The lightweight bassinet can be easily moved from room to room or folded down and stashed in the car ready for a weekend away.
Dimensions: 50cm x 41cm x 21cm
Weight: 4kg
"We used for our first for the first 6 months and I loved it as could move from bedroom upstairs/lounge downstairs and anyone's house we went to. Folds up in seconds with sheets on and throw in the car (I never took the legs off, just had them sticking out of the bag). We never had next to the bed, we had the baby in own room from the start and was a good height next to the chair." – Gemma C
---
Bébé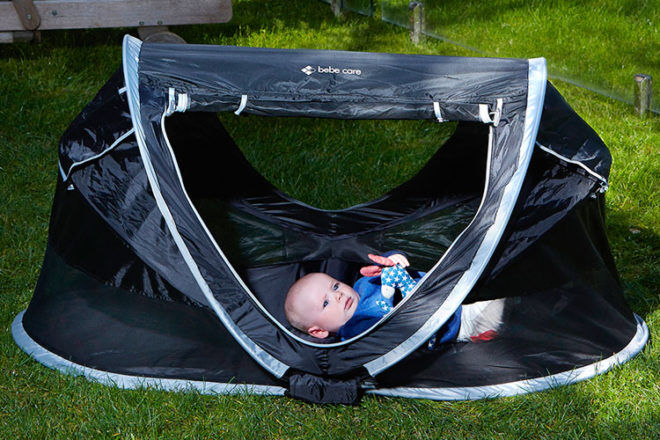 Like a pop-out tent, but for baby. The dome-like design creates a darkened place for little ones to lay down and nap while the world carries on around them. A UPF of 50+ makes it ideal for camping and beach trips – simply fold away when not in use.
Folded Dimensions: 46.5cm x 43.55cm x 10cm
Weight: 2.77kg
"I have a Bebe Care Travel Dome and can't recommend them enough! I just bought my 3-month-old one for when we go away early next year so will have one for my 3-year-old and our baby as well. They are just a pop–up portacot dome thing. Easy to fold down and they are only 2.5kgs (I think). Fits easily into a suitcase when you travel. Love it." – Kiah P
---
This post includes affiliates and/or paid inclusions. See our Disclosure Policy.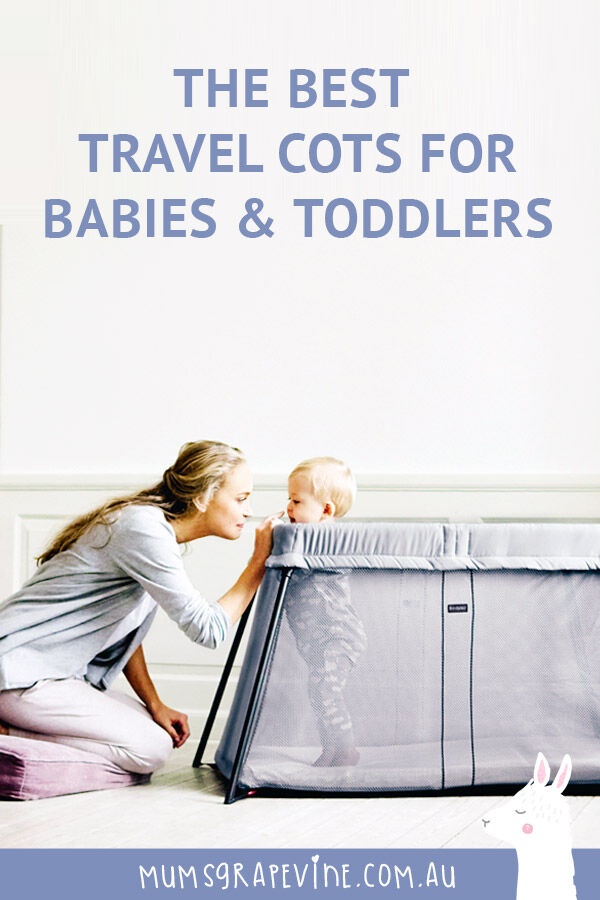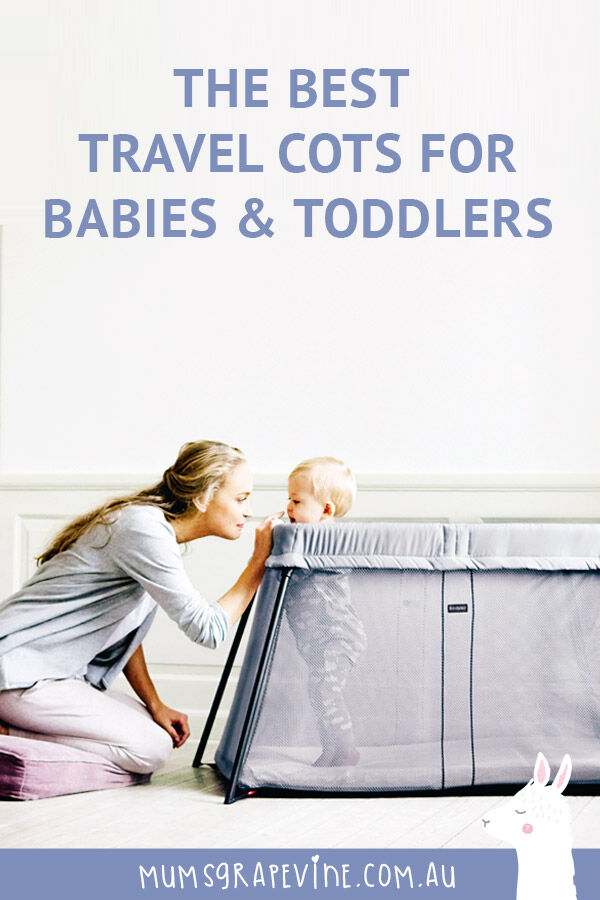 Know some portable cots we should add to our list? Contact us and let us know.
Find more products for travelling with baby …
Portacot, tick. now check out our other juicy roundups for tips on Australia's best baby products and brands. From prams to sweet personalised blankets, we've got everything in one handy spot.
Read this: tips for flying with babies