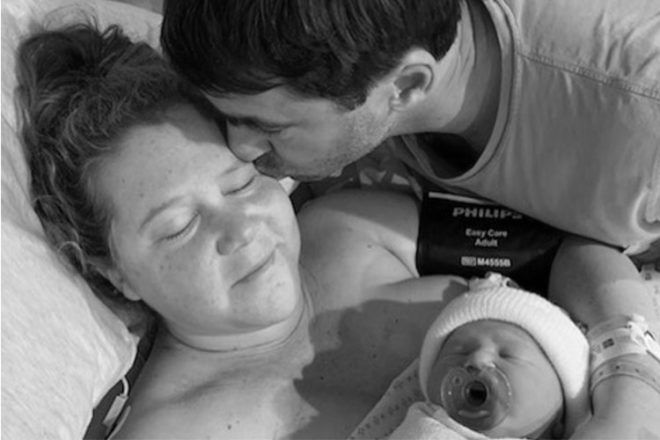 Amy Schumer has revealed her new baby boy's name, and we're all swooning over the old-school vibes.
The comedian posted an adorable pic of her new son and his daddy, with the caption: "Gene Attell Fischer And his dad Chris."
There's speculation Gene's middle name is a nod to fellow comedian and Amy's friend Dave Attell, who recently invited Schumer to perform with at his in New York.
View this post on Instagram
Amy's little prince was born just hours after Duchess of Sussex, Meghan Markle gave birth, and the actress wasn't afraid of sharing the limelight.
Amy took to Instagram earlier this week, posting a loved-up pic with her new baby boy and hubby Chris Fischer with the caption, "10:55 pm last night our royal baby was born."
View this post on Instagram
Amy has struggled throughout her pregnancy with Hyperemesis gravidarum, which has seen her hospitalised and forced to cancel a comedy show.
"Texas I am so deeply sorry. I have been really looking forward to these shows. I have to reschedule. I am in the hospital," she wrote at the time. "I'm fine. Baby's fine but everyone who says the 2nd trimester is better is not telling the full story. I've been even more ill this trimester. I have hyperemesis and it blows. Very lucky to be pregnant but this is some bullshit! Sending so much love to the doctors and nurses taking great care of me and Tati! They are cool as hell! And Texas I am really really sorry and I'll be out there as soon as I'm better."
She's been completely honest about her struggles with pregnancy for the past few months, even posting a photo earlier this week clearly over being asked if she'd had the baby yet.
Amy revealed in a post earlier this week that she was having a boy, but there's still no name yet – we'll keep you posted!
Come and share your pregnancy with other mummas
Expecting your own little one? Join one of the closed Mum's Grapevine pregnancy Facebook groups for non-judgemental support from other mums due at the same time as you.
Click below and join your group today.