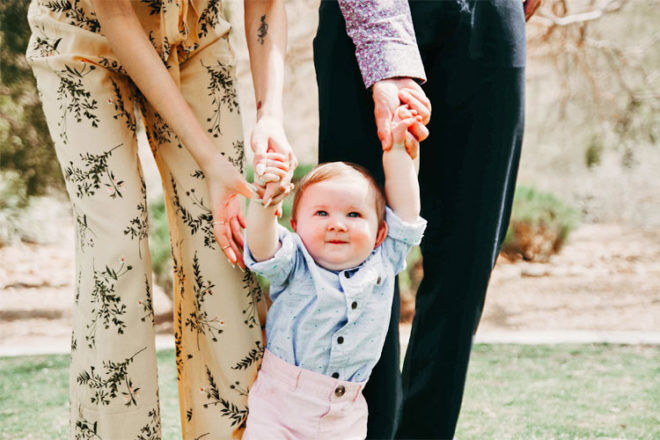 Most tots are in a big hurry to grow up, but little Freya has taken it to a whole new level. The tiny girl skipped the crawling stage altogether and stunned her parents by walking at just six-months-old.
Her parents Grace and Ryan, from the UK, said they were shocked when Freya took her first steps at six-and-a-half-months old, on March 25 this year.
"Freya was able to stand up whilst holding on to our fingers for balance, by the time she was four-months-old," Grace told the Daily Mail. "We could tell she was desperate to walk from then but it wasn't until she was six-months-old that it actually happened."


Take a look at tiny Freya walking at just six-months-old.
For most little ones, walking usually happens around the 12-month mark, but some tots start toddling a couple of months earlier, or quite a few months later. But it's thought Freya could be one of the world's youngest babies to walk.
And when she took her first tentative steps, Freya was proud as punch. "She had the cheekiest grin, Ryan and I couldn't believe it. At first, I thought it was a fluke, but then when she continued to walk a few steps here and there, I was amazed."
Mastering new skills
And now that she's got the world at her feet, Freya is already striding towards her next milestones.
"Freya has completely skipped crawling and has walked straight away, but she hasn't quite mastered how to get around things yet, she tries to go over them."
The parents say that while they bought Freya a walker, her feet can't touch the ground when she sits in it, so she just learnt to toddle all by herself. "Freya has never had seated walkers as I read this may delay a baby's learning as they get used to the support form the seat, so this might be why she is walking already. She is our first child so we don't know any different but we're so proud of her."
We all know that once babies are on the move it's a whole new ball game, but little Lula has taken it to the extreme. The tiny tot has been able to stand since she was just eight-weeks-old, according to her parents.
8-week old able to stand on her own
While Freya's skills are amazing, there's an even younger bub looking to zoom through their milestones.
While most babies don't progress to standing on their own until they're at least nine-months-old, parents Tezra Finn-Johnston and Emily Derrick claim Lula hit the milestone much earlier.
View this post on Instagram
A post shared by news.com.au (@newscomauhq) on May 18, 2020 at 8:20pm PDT
As reported on news.com.au, dad Tezra explained, "When she was about a month old, she was having a tantrum and I tried to sit her on my knee to calm her. Instead of sitting down, she just stood on my knee and wouldn't bend her legs. I tried to hold her and supported her, and she managed to take her own weight."
Lula was born weighing 2.5kg on January 31, and now at 15-week-old can stand on her own. Her dad says she may have picked up a few tips from the strongman clips he watches on YouTube. "Pretty much from the day we left hospital she was able to support her head a little bit more than we thought she should be able to," he said.
Last year little UK toddler Freya shocked the world when at just six-months-old she began walking.
Hold onto your hats mum and dad, this little girl is going to keep you on your toes!
Wondering if your baby is advanced?
Join one of our closed Facebook baby groups and chat to other mums with babies the same age as yours.
Click and join your group today – don't miss out!
Read next …
Baby's first year is full of incredible milestones, and these next articles reveal what they are and how to reach them: