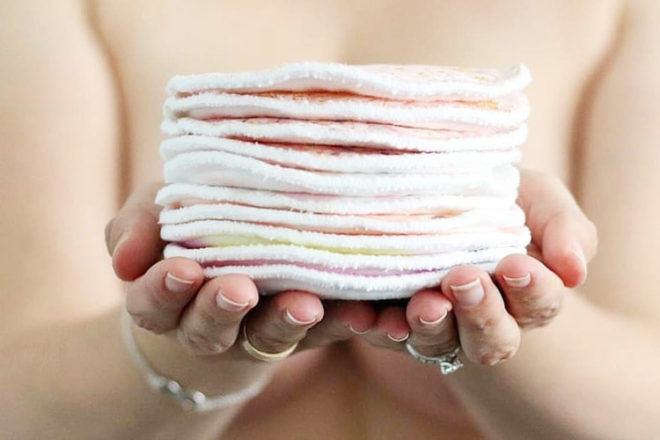 Leaky milk makers mean a wet mess, so breast pads are a post-pregnancy essential for new mums. Add them to your hospital bag, pop a pack in the nursery and have some wherever you're planning to feed – they will save so many milk-strained tops.
Modern breast pads are wonders of technology, made with super absorption and the aim of keeping mums dry and comfortable. Disposable nursing pads are simple to use, relatively cheap and convenient, while reusable breast pads keep costs down, and have less of an environmental footprint.
What to look for in breast pads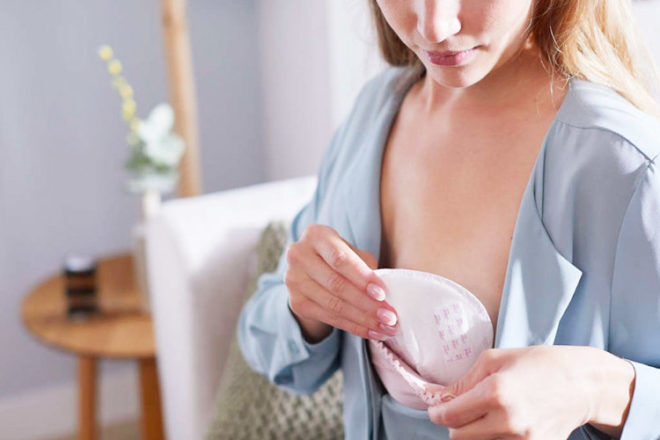 Absorbancy: The aim of breast pads is to catch milk leaks or letdown and stop your bra and clothing from getting soaked. Depending on what material the pads are made out of, some are more absorbent than others. Some breast pads come in day or night, with the night pads being more absorbent. With reusable breast pads, the night pads are usually made of a thicker material.
Coverage: Depending on the size of your breasts, the shape and circumference of the breast pad will play a role in catching leaks.
Material: Breast pads are made from several types of materials, each with its own benefits. Those with a stay-dry layer which goes against the skin are designed to wick moister away from the breast so you stay dry and comfortable.
Bamboo: thermo-regulating, so they're cool in summer, warm in winter and is naturally antibacterial.
Brushed cotton: used in the lining for comfort.
Cotton: for absorption and comfort.
Comfort: If you have sensitive skin, take a look at the materials in the breast pads to ensure there's nothing that will irritate your skin and nipples. Also the flexibility and shape of the pad, and how it contours to the breast.
---
Best breast pads
We asked our Pregnancy and Baby group members to recommend the best breast pads available and these are the brands they recommend.
Nature's Child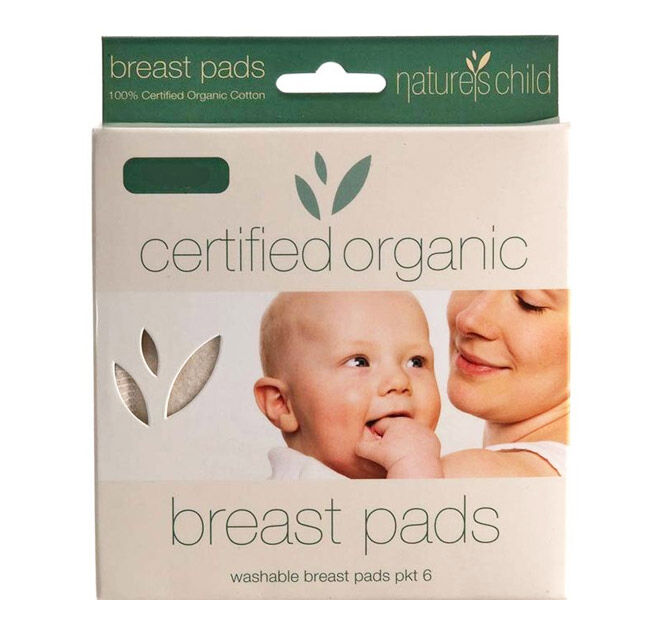 Nature's Child Cotton Washable Breast Pads ($18.95 6 pack): Made from 100 per cent organic cotton, an upper layer of jersey cotton sit against the maternity bra. The thick cotton protects clothing, and the pads are available in different diameters depending on your bra cup size.

---
Avent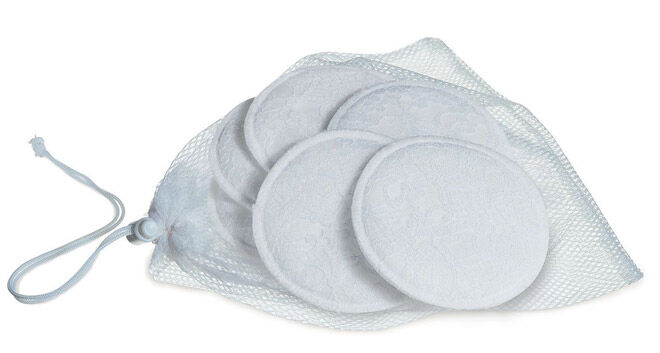 Avent Washable Breast Pads ($11.95): Packaged in a laundry bag for easy washing, these have a brushed cotton lining that's gentle against the skin. The absorbent padding wicks moisture away from the skin and stores it in a leakproof liner.
"I'm using the Avent reusable pads. I got two boxes, so I have six pairs and I think and that's enough for me. I change them every day and then they get washed when I have one pair left or if I'm on the last pair if its a nice day. They dry fast." – Hannah

---
Hotmilk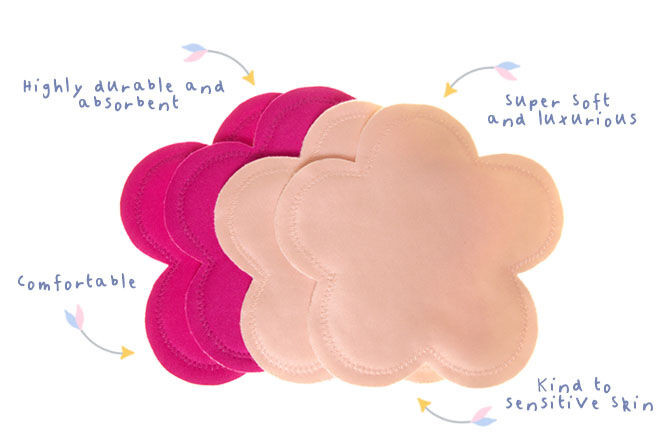 Hotmilk Bamboo Nursing Pads ($19.95, 4 pack): Made from thermo-regulating bamboo, these flower-shaped pads are designed for comfort. Naturally hypoallergenic and gentle against the skin, the pack comes with two double-layers pads for night use.
"I use Hotmilk reusable pads, they work really well and can just be thrown in the wash with your clothes." – Tess

---
Snazzipants Washable Breast Pads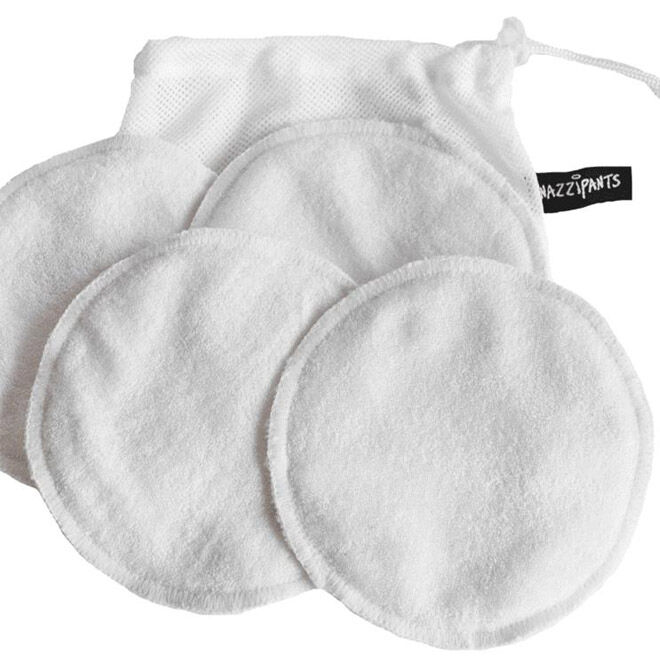 Snazzipants Washable Breast Pads ($19.95, four pack): Super soft, with a comfy bamboo upper, absorbent middle layer and breathable, waterproof outer, these breast pads will steer moisture away from clothing a skin and keep it locked away.

---
Tommee Tippee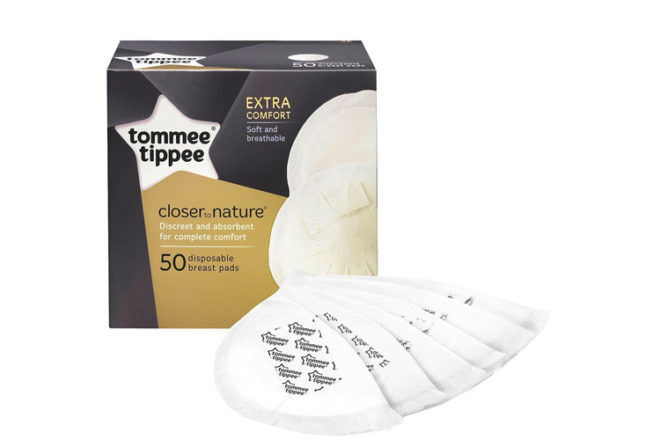 Tommee Tippee Closer to Nature Disposable Breast Pads ($8, 50 pack): Thin, ultra-absorbent with a silky soft lining, these include a non-slip adhesive pad and are contoured to fit the breast shape.

---
Pea Pods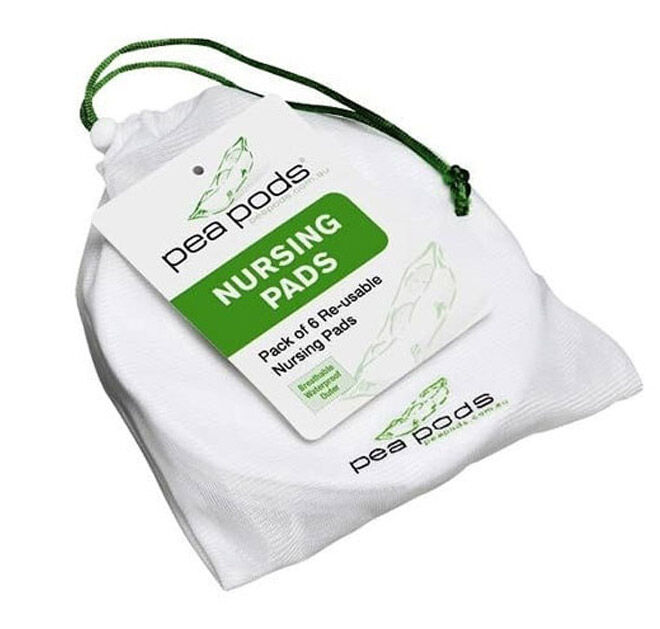 Pea Pods Bamboo Nursing Pads ($19.95, 6pack): Soft against sore nipples and made from ultra-absorbent bamboo, the waterproof outer layer protects clothing. They also come in a wash bag and can just be tossed in with a normal load of washing, using half-strength washing powder.

---
Avent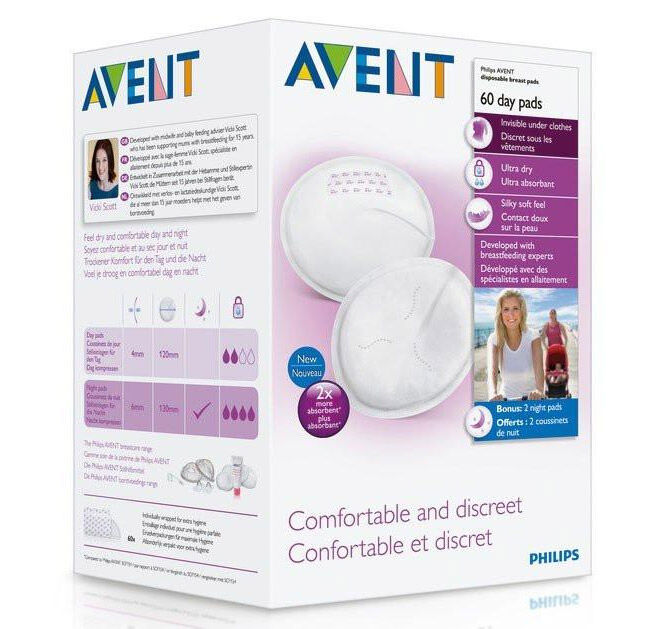 Avent Comfort Disposable Day Breast Pads ($9.95 – 60 pack): Discreet under clothing, with a contoured shape and adhesive strip to stop them disappearing into the wilderness! The outside is a one-way top sheet that traps moisture inside the pad.
"I got the Avent ones and they worked well. I leaked a lot with my first and it never went through… I'll be buying more this time too." – Emily

---
Econaps
Econaps Bamboo Nursing Pads ($29.95, 6 pairs): Made from super silky bamboo and organic cotton velour, these are designed for sensitive nipples. The breathable backing means they're gentle on the skin, and they're slim enough to be worn with tight clothing.
"I use Econaps Fabric ones they are good but they are more visible under shirts if you are wearing a thin bra. So when I'm at home in my crop the shape is visible. Under a maternity bra is fine though." – Nancy-Lee

---
Chicco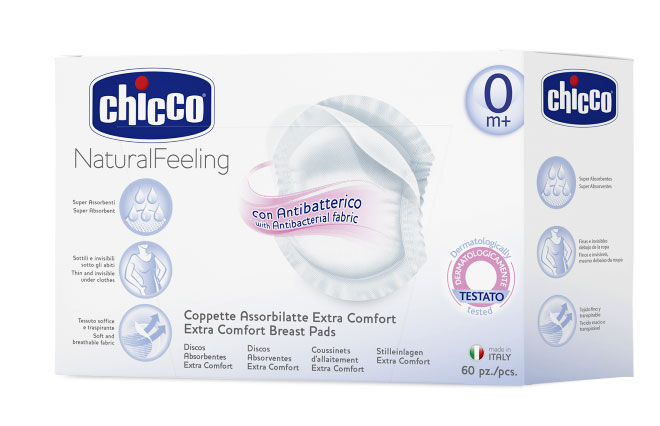 Chicco Antibacterial Breast Pads ($13.95, 60 pack): The special antibacterial fabric on these pads is designed to prevent bacteria breeding inside the cup and keep skin dry. Super absorbent micro-pearls hold onto liquid and stop it from seeping to the surface of the pad.

---
Milkmaid Mumma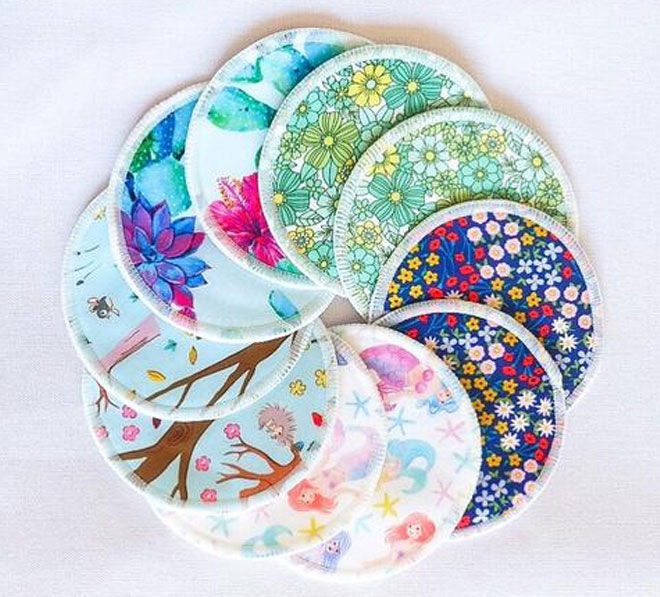 Milkmaid Mumma Reusable Bamboo Nursing Pads ($34.95, 5 pairs): Three layers, including soft bamboo terry, combine for soft pads that are gentle against the skin. The bamboo gets softer with each wash but keeps wicking moisture away from the skin. The middle layer of microfibre is super absorbent and the outer layer is PUL fabric with a waterproof backing. These are also available in a minky fabric for night use.
"The Minky ones are good for the big let downs I wear them at night. I wear the usual bamboo ones in the day as the waterproofing protects your clothing." – Melly 


---
Pigeon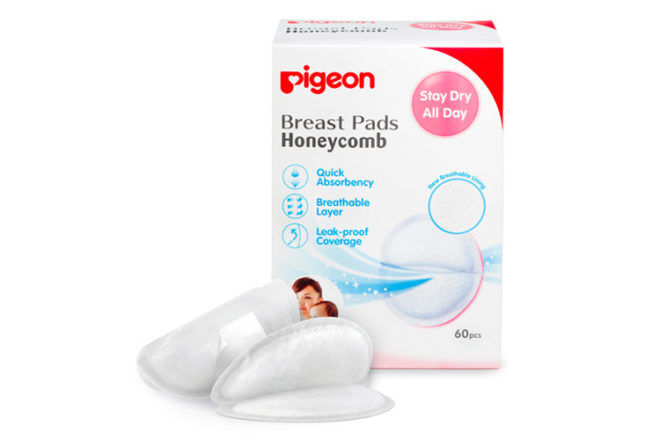 Pigeon Breast Pads Honeycomb ($13.95, 50 pack): Designed to help mums stay dry all day, with a leak-proof cover and two adhesive strips to keep them in place. The honeycomb lining spreads the milk evenly and traps it to prevent leaks. 
"Pigeon brand. Never had a leak." – Christina

---
Bamboo Basix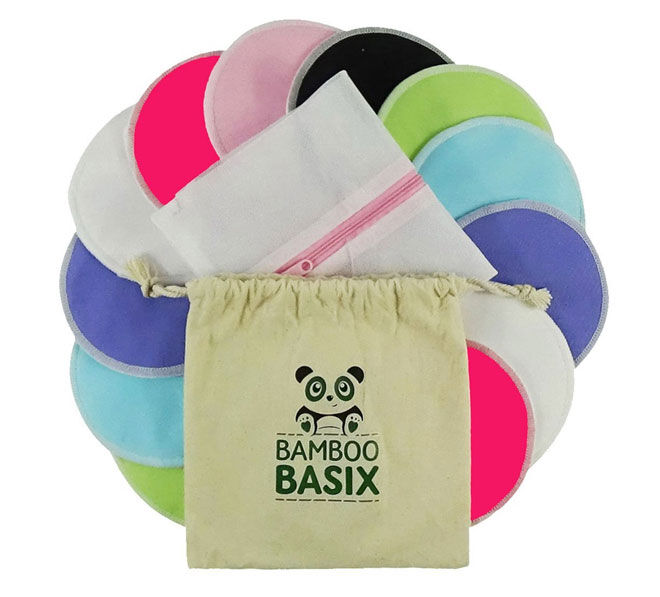 Bamboo Basix Breast Pads ($32.95, 7 pairs): The three layers of the Bamboo Basix Breast Pads combine for soft, absorbent and waterproof protection against leaks.
"I love Bamboo Basix Breast Pads. They can get so full and you don't notice they are wet until you take them out at the next feed." – Clarissa

---
Mamaway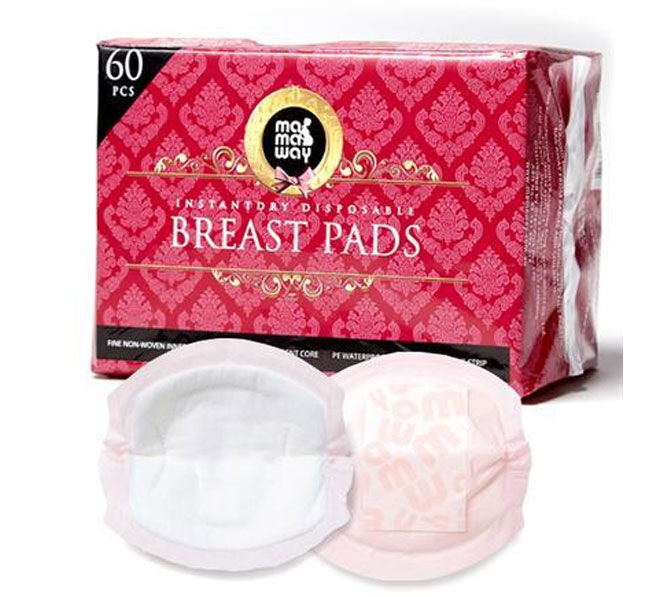 Mamaway Gentle Touch Instant Dry Nursing Pads ($12.95, 60 pack): A gentle curve shape helps these pads go where they're meant to, and the absorption zones have draining grooves and leakage barriers draw moisture away from the nipple instantly.

---
Little Miss Ellie Rose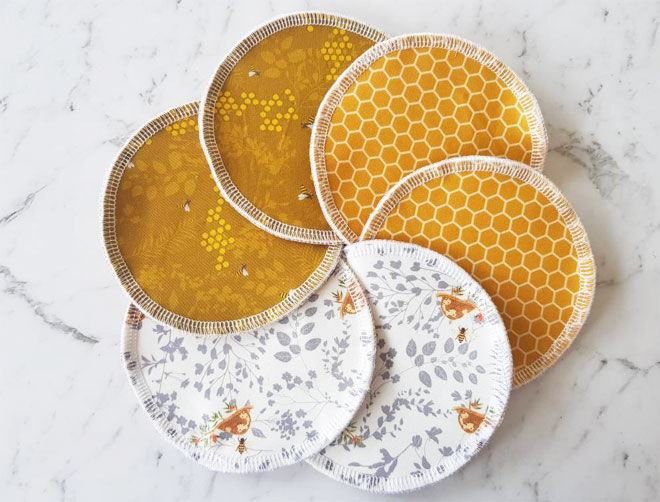 Little Miss Ellie Rose Reusable Breast Pads ( $14.50, 3 pairs): Super adorable, these bamboo nursing pads are made with PUL waterproof fabric, and incorporate four layers – printed cotton, PUL waterproof fabric, bamboo and flannelette.
"I can't recommend them enough. I have about 12 pairs. Come out of the wash brand new every time if you're interested in reusable." – Amie

---
Medela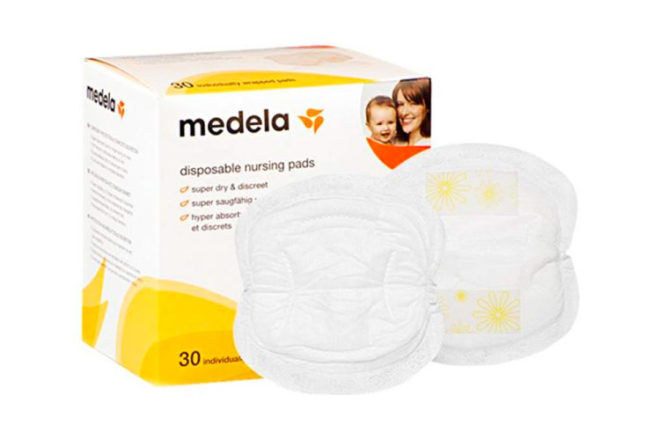 Medela Disposable Breast Pads ($13.95, 60 pack): Flexible and comfortable, the two adhesive tapes keep the pads in place. These are designed to be used day or night, without leaking.

---
Grubbee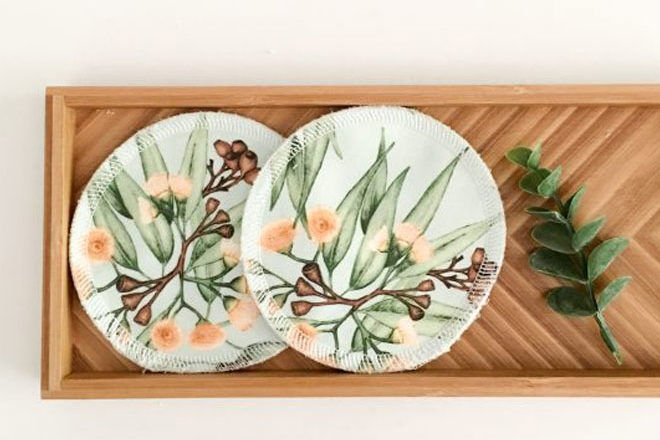 Grubbee Reusable Nursing Pads ($8.95, pair): Beautifully patterned, the pads use a combination of double bamboo towelling and waterproof fabric for ultra absorbency and comfort.

---
Nuk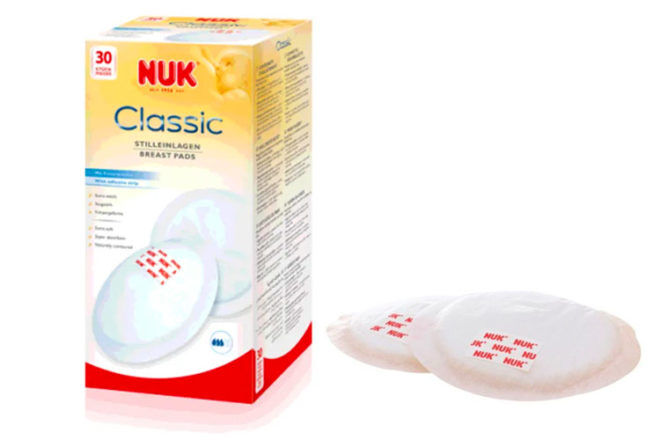 Nuk Classic Nursing Disposable Breast Pads ($10.50, 30 pack): The polymer core soaks up moisture and transforms it into a stable gel-like substance. The pads are designed so they can be worn longer and at night.

---
Rite Aid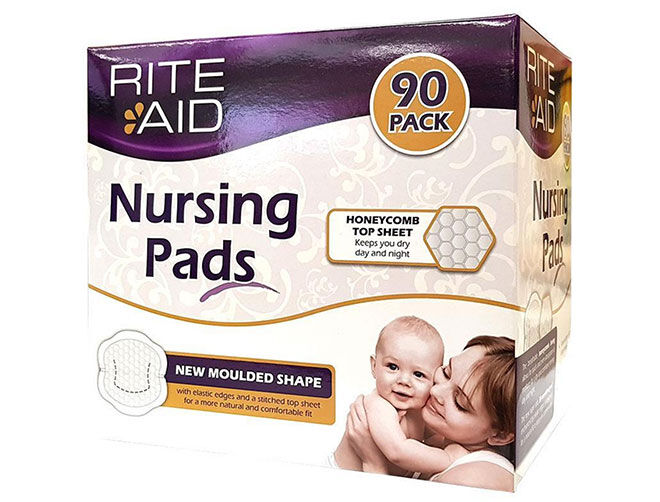 Rite Aid Nursing Pads ($6, 40 pack): Soft, breathable and moisture proof, with double adhesive strips to keep them in place.
"The Rite Aid disposable ones have been great for the early days where you leak everywhere." – Pia

---
Miss Mae Studio
Miss Mae Studio ($25, three pack): Super soft, these breast pads just get softer with each wash. Made from double bamboo fleece for super absorbency, with a layer of waterproof fabric and cotton print on top.

---
Best breast pad alternatives
There are other alternatives to using breast pads, including capturing the milk that leaks during letdown or using absorbent garments.
ModiBodi Breastfeeding Singlet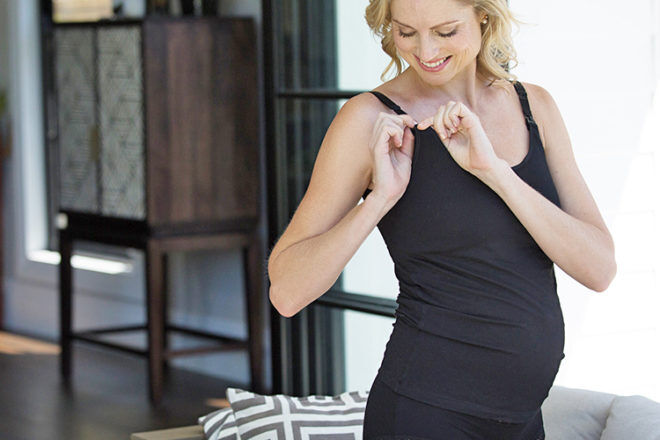 ModiBodi Breastfeeding Singlet ($69.50): The ModiBodi Breastfeeding Singlet is designed to catch up to two teaspoons of liquid per breast cup. It's leak-free protection without needing to use breast pads, and is perfect for night feeding.
"The leakproof singlet is a game changer! I would normally have to wear a bra or crop with breast pads which was never overly comfortable. The bamboo singlet felt so lovely next to my very sensitive skin." – Paula

---
Haakaa Silicone Breast Pump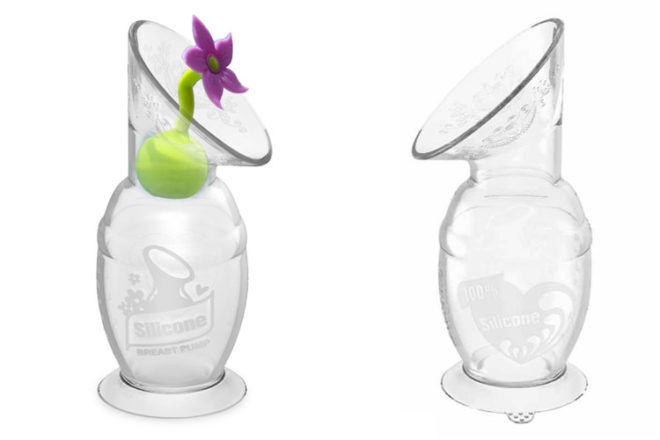 Haaka Breast Pump ($29.90): This attaches to the breast using suction and is an easy, hands-free way of catching the milk that would normally go into a breast pad while you're feeding from the other side.
"I have oversupply issues and from the start it has been amazing at letting down my second side (as my little guy would only feed from one side especially overnight) and from the Haakaa alone I have an amazing freezer stash and provided for a friend who had undersupply for a couple of weeks when I was only one month post birth." – Emily

---
Mumasil Breast Milk Saver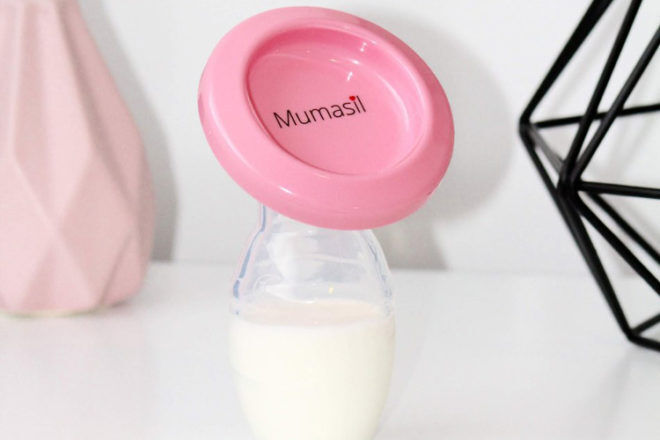 Mumasil Breast Milk Saver ($24.95): By suctioning to your breast, the Mumsil will capture the milk that leaks during let down, while bub is feeding from the other side.
"First feed of the day I would catch 70-90ml from the opposite side. Highly recommend! Bit of practice and YouTube the tricks for keeping it on and it works a treat." – Ciara

---
Medela Milk Collection Shells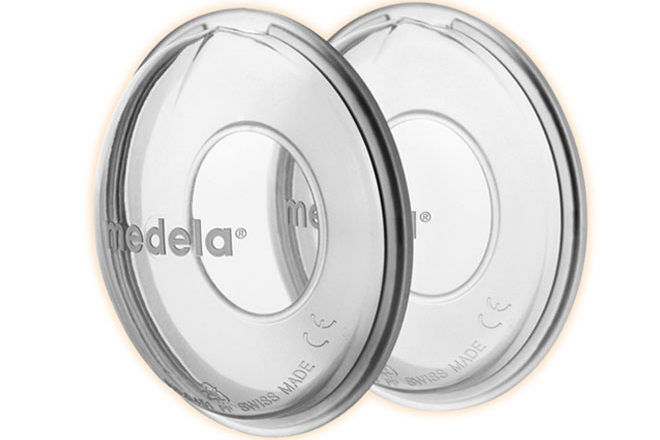 Medela Milk Collection Shells ($33.95): Can be worn inside the breast to catch milk that leaks during the day or at let down when you're feeding. The back is made from silicone so they're comfy to wear all day.

---
Mumasil Breast Milk Collection Shells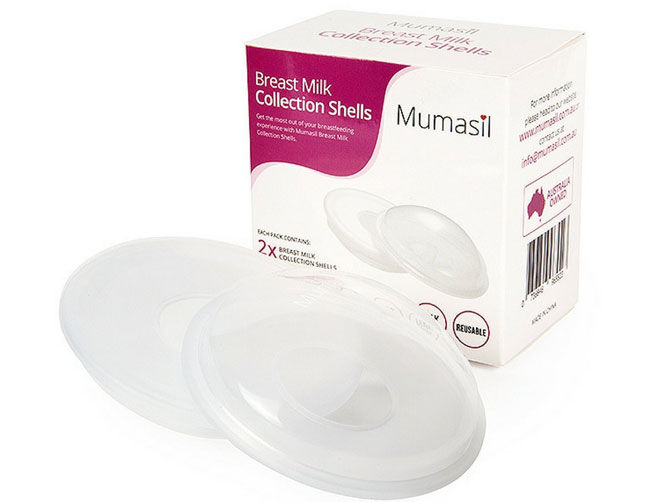 Mumasil Breast Milk Collection Shells ($24.95): Pop these soft silicone shells into a nursing bra to catch any leakage, or during a feed and then use the milk captured for feeding later.
"I got these day three postpartum and honestly they were a lifesaver! I'm two weeks postpartum today and still use them overnight and if I'm feeling engorged to catch the letdown of the other side. If I don't use them I find I get super engorged. Obviously, my breasts have settled a lot now but they have been the best for me." – Mubashra

---
Continue your search for the best breast pads
Searching for the best breast pads and still not sure if any of these are right for you? Continue your search online by jumping into one of our closed Baby groups and ask thousands of other Australian mums what they recommend – 'What to buy' is the most talked about topics, followed by MIL vents!
Click and join your group today!