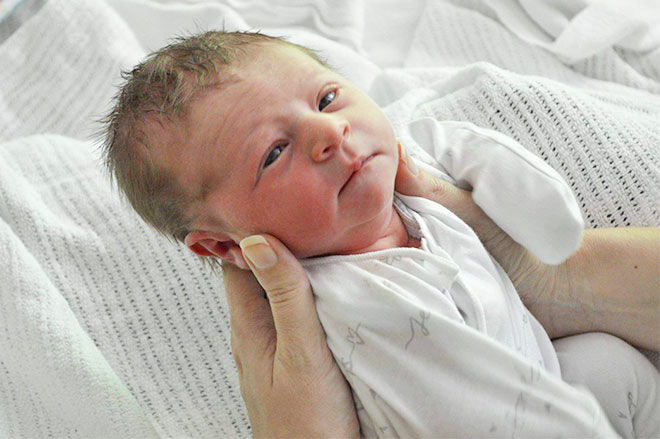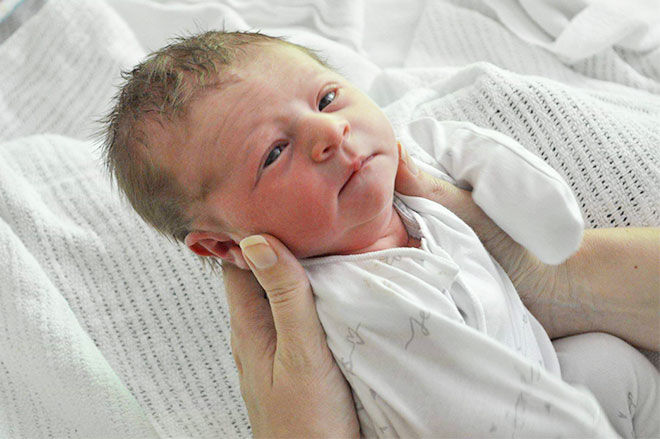 Most mums-to-be have a niggling end-of-pregnancy fear that they won't make it to the hospital in time. Call it mother's intuition, it keeps us on edge as we near those final few days before birth. For Rebecca Best, it became a reality, with her second-born bub in a big hurry to enter the world.
After struggling for years to have a second baby, Rebecca and her husband were thrilled to discover they had a little one on the way. An eventful pregnancy was punctuated with an equally heart-thumping birth that took place in a hospital car park, just metres from the maternity ward.
"When my eldest daughter was 18 months we decided to try for number, it turned out to be a lot more difficult than the first time and after almost two years, three miscarriages, an expensive specialist and lots of drugs I fell pregnant and it stuck," Rebecca, a member of the Mum's Grapevine Pregnancy & Baby Facebook Groups, explains.
"I had two scares after waking in pools of blood but both times baby was fine and it was just small haemorrhages. By the third trimester, I was pretty anxious all the time and just wanted this baby in my arms."
No room at the hospital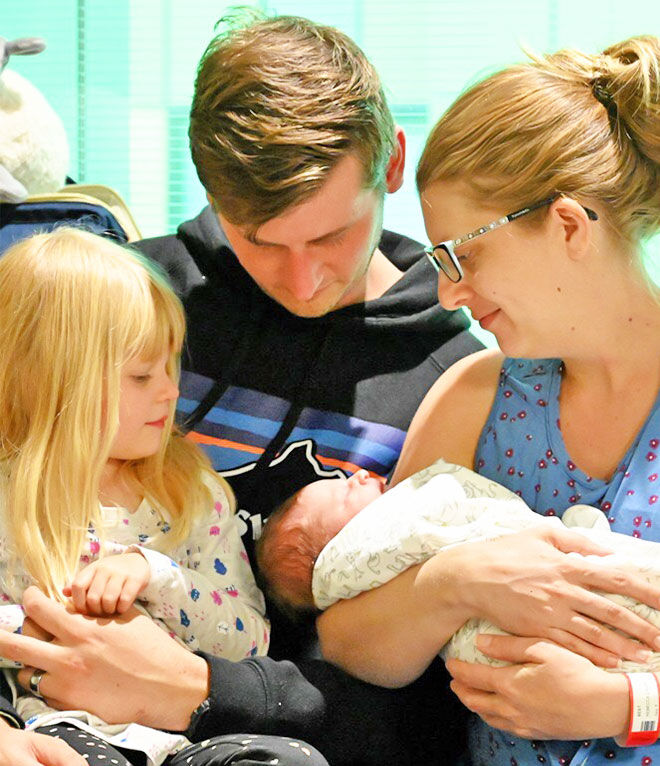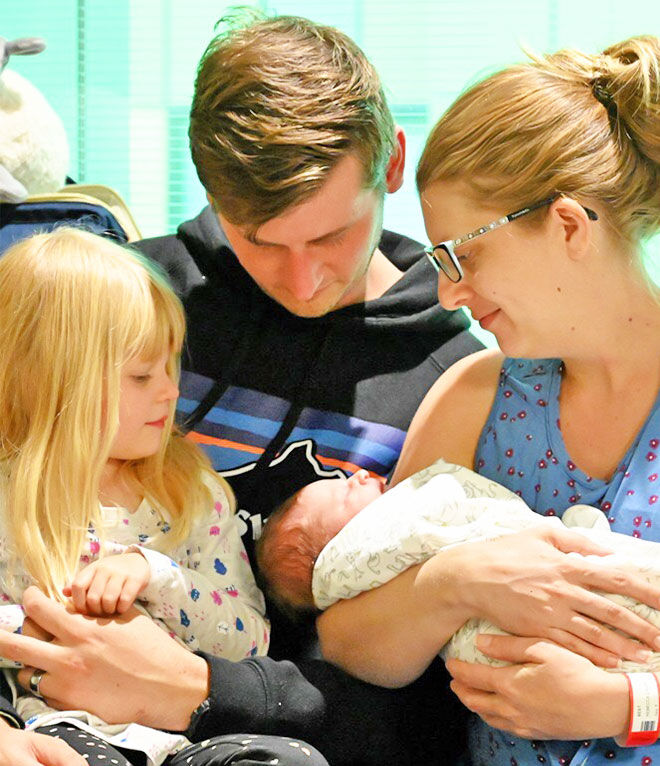 Rebecca, from Victoria, went early with her first daughter, so she had a sneaking suspicion her second pregnancy wouldn't make it to 40 weeks.
"So when at 39 weeks pregnant I started feeling strong Braxton Hicks I kept thinking 'today is the day' but after four days I wasn't sure what was going on. So Friday morning I woke up frustrated and went to my GP who did an internal check. Not quite in labour, she sent me to the Angliss in Ferntree Gully to have monitoring done. All was good and they could see I was having fairly consistent light contractions. We went home and I just rested as  much as I could, contractions were fairly irregular all afternoon/night and even stopped for about an hour."
Rebecca tried to get some sleep, but her contraction ramped up again at 11 pm, so she hopped into the bath and her husband called ahead to the hospital to let them know they wouldn't be far away.
"In the bath the contractions started to get really painful and close (about 3-4 mins), so we rang my parents and said we'll be there with our daughter in ten minutes. We left home just before 1 am dropped my daughter off and made our way there however the hospital rang on the way and said, we are at capacity, we've called Boxhill and they have a room for you so you'll have to go there!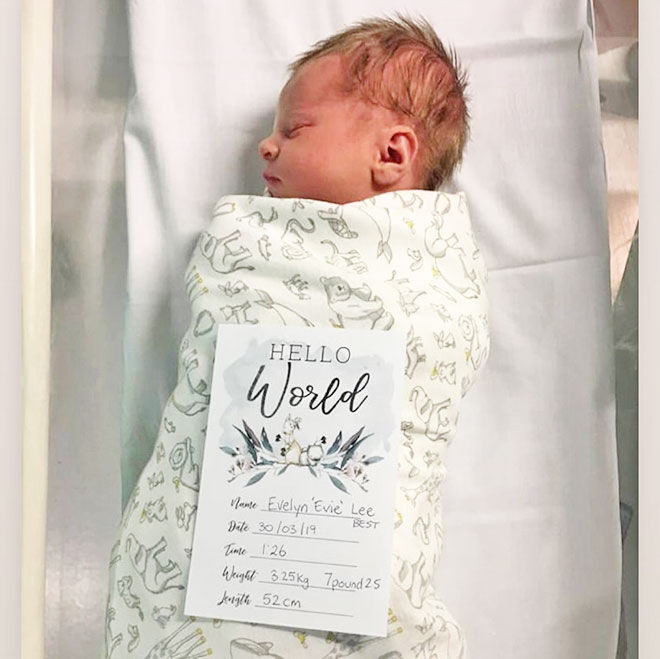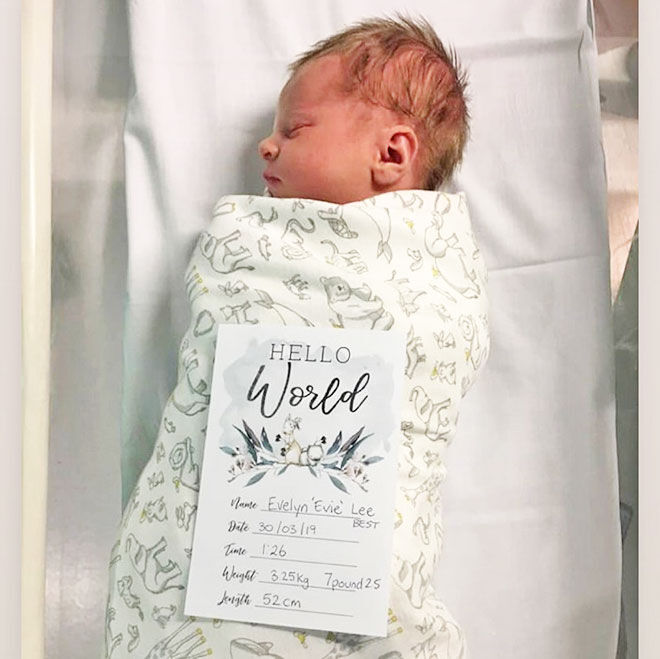 "We changed course and with my contractions feeling like they were about 30 seconds apart tried to get there as quick as possible, it was Oxfam walk night so they were everywhere and we had to keep slowing down through the 'event' areas. We finally made it to the hospital and pulled into the ED carpark, I had a particularly painful contraction in the car then we got out and walked about halfway to the door when I had another one that broke my waters and half a baby head popped out!
"A nearby paramedic heard what was later described as sounding like 'a mental patient screaming' and he raised the alarm. A few people ran out and tried to get me in a wheelchair but I couldn't sit for obvious reasons! Then they just threw blankets down and I got on all fours, two more quick pushes and she was out! I was suddenly surrounded by about 15 people and looked around to see my baby for a minute before she was wrapped up and whisked inside.
"Hubby was standing by looking shell shocked! Little Evelyn Lee took ages to create but was in a hurry in the end! Big sister Maddie loves her little sister Evie."
Read next …
Want to read more incredible birth stories? These next articles are inspirational: