After 9 months of being carried in the tranquil waters of mummy's tummy, it's no wonder newborn babies relax and rest easy with the help of a little movement. A cradle is a beautiful first sleeping space that uses gentle soothing motion to help settle little dreamers.
A popular alternative to a stationary bassinet, there are lots of baby cradle varieties out there. Whether it's a hanging basket or a more traditional style of cradle, you can rock-a-bye babe into a blissful slumber til morning.
What to look for when buying a cradle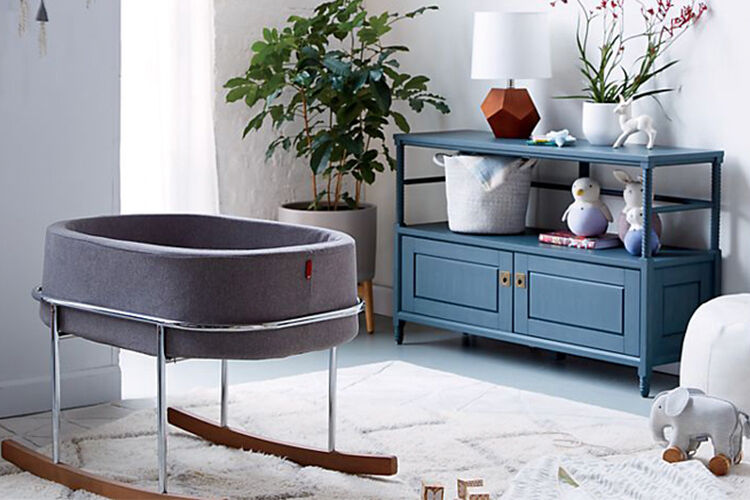 Here are some key features to consider when choosing a cradle:
Location: Will bub be sleeping in the master bedroom with you or in the nursery? Some parents prefer baby sleeping in their room with a plan to move into the nursery down the track. If this sounds like the right idea for your family, choose a cradle that can be easily transported.
Space: What size is the room? Whether it's the main bedroom or the nursery, measure the space and make sure the cradle including any accessories will fit. To get a head start on your planning use our helpful nursery planning guide.
Safety: Safety is paramount, so be sure to check that the cradle adheres to Australian standards. Especially if the cradle hangs in place. Ensure it is 100% sturdy and safe before use.
Quality: Safety and durability go hand-in-hand with quality. Choose a well-made cradle that will keep your little one sleeping safe and sound.
Nursery design: If you have a nursery theme in mind, pick a cradle to tie in with your vision.
Movement: Some cradles are simply controlled by hand while others have movement settings. Either way, test it out and make sure you are happy with the smoothness of the ride.
Leander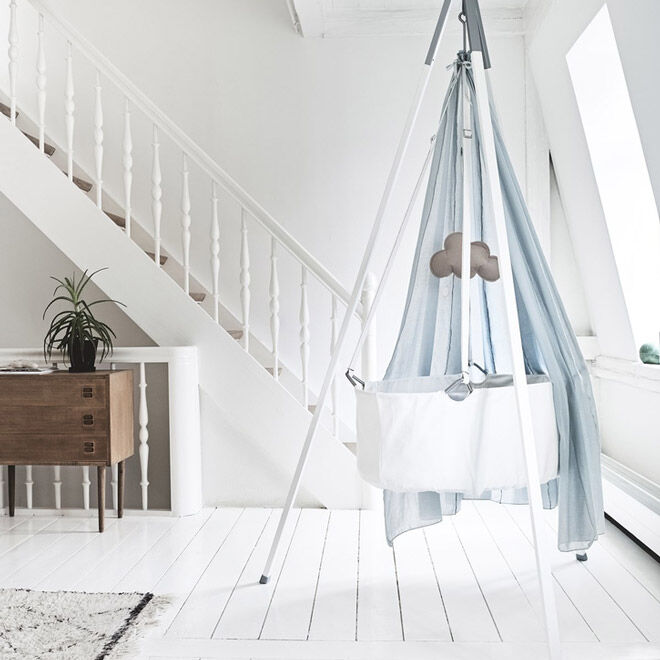 Leander Cradle ($369.95 with mattress): Create the feeling of floating on clouds with this innovative cradle that suspends from the ceiling or from the Leander Cradle Tripod (sold separately). The simple sculptural design allows a soft, slow swaying motion to soothe sleepy ones at bedtime.

---
Babyhood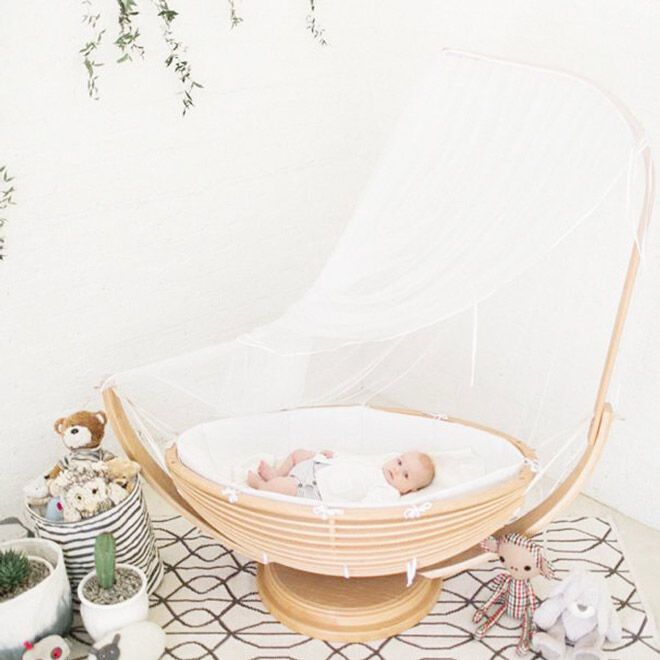 Babyhood Kaylula Yo Yo Cradle ($1,199.00): This truly beautiful beechwood cradle provides a smooth cradling motion to settle your newborn cub into dreamland. Adjustable tension allows you to select the movement which is right for bubba and the sturdy weighted base ensure safety at all times.

---
Hussh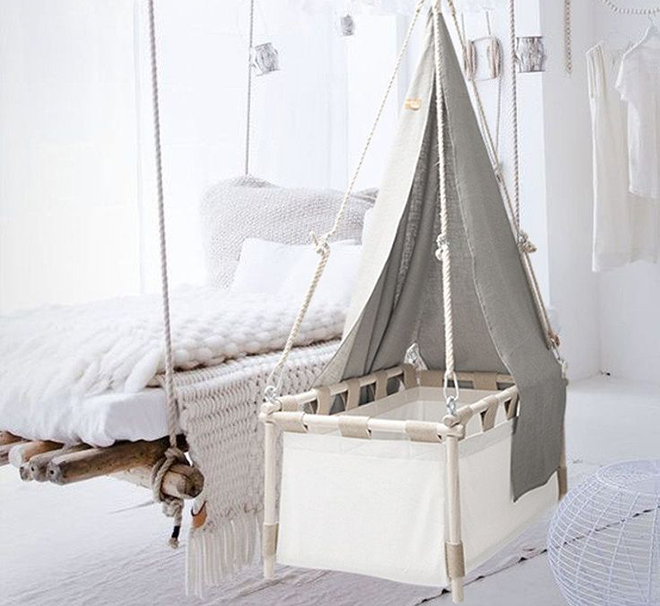 Hussh Hanging Cradle ($317): Beautifully simple this hanging cradle can be hung by spring or tripod, and is made from only natural materials including recycled wood, wool, organic cotton and even coconut-fibres! It also comes in a gorgeous twins version too.

---
O-bjekt Design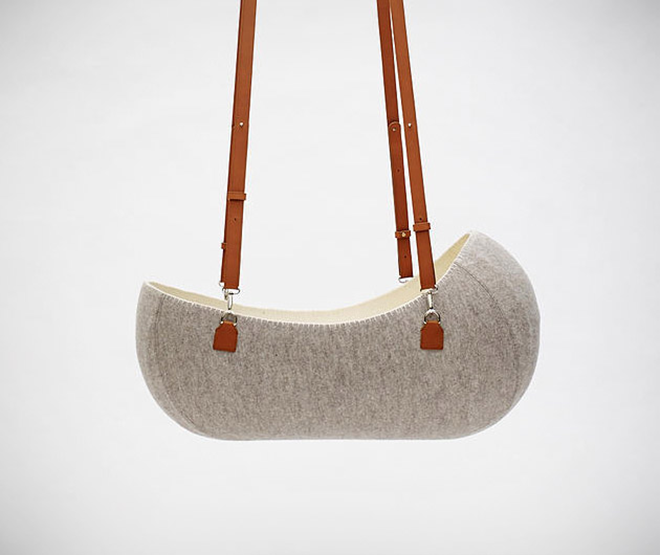 Little Nest Cradle: Made from felt, we can only imagine how snuggly and cozy the Little Nest cradle is (adult version please?). Gorgeous to look at, it does come with a cost and is the most expensive of our picks.

---
Sacred Bundle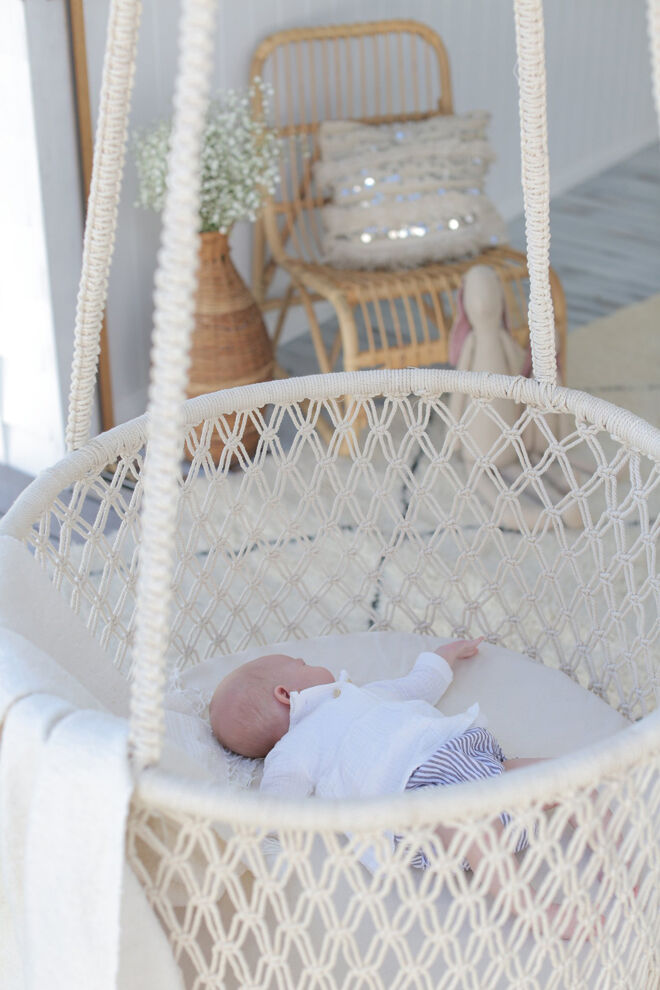 Hanging Bassinet ($249.99): Give it a gentle push and this beautiful hanging bassinet will do the rest. A stylish boho piece, it will look at home in any room of the house and can be used as decorative storage basket once your tot grows out of it.

---
Cariboo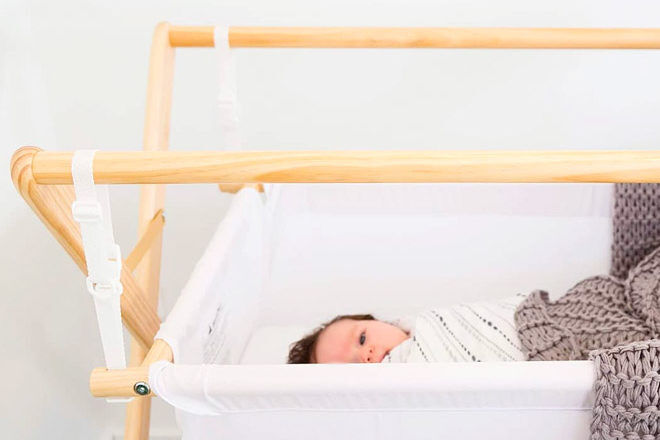 Cariboo Gentle Motions Cradle ($428 + shipping): Designed over 25 years ago, this simple cradle is still as popular as ever with new parents. Lightweight, it easily transports to other rooms in the home. Then when poppet transitions to a cot, it's easily stored away for baby number two.

---
Swingy Nest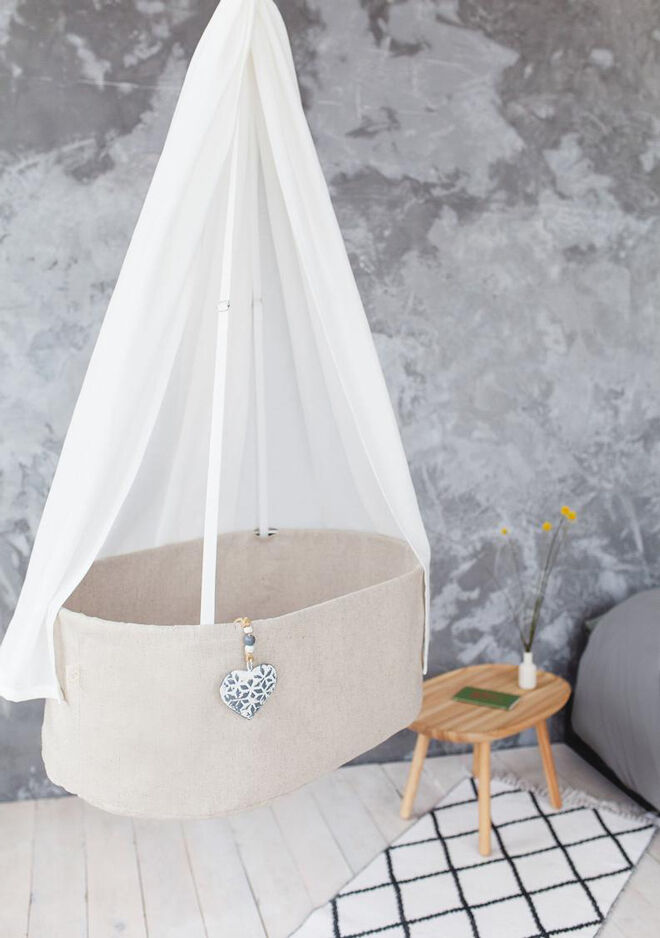 Swingy Nest Hanging Cradle (approximately $320 + international shipping): Swing them to sleep in this stylish linen hanging cradle. Fixed to a single point, it creates a freedom of movement in all directions that is sure to soothe your babe to snooze town. Made from stainless steel and natural organic materials, it's friendly to your dreaming darling and to the environment.

---
Ivory & Deene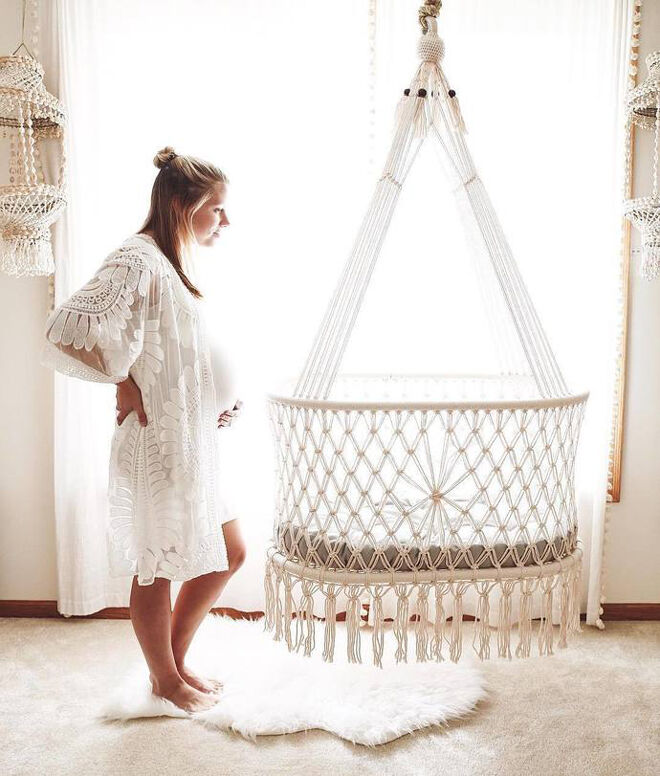 Baby Macrame Bassinet Hammock ($99): Add a little bohemian chic to your nursery or any room in your home with this dreamy boho hanging bassinet. Calmly swinging back and forth, the soft motion will most certainly put your little bundle to sleep, indoors or outdoors.

---
BabyBjorn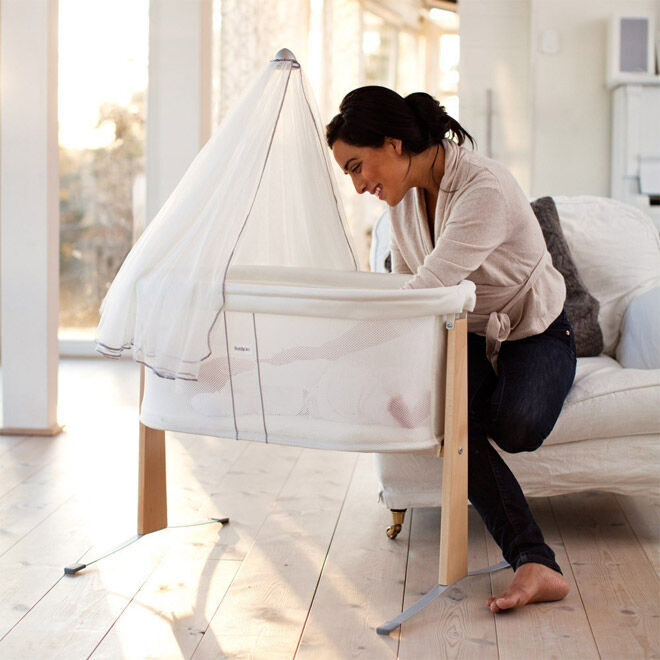 BabyBjorn Cradle ($449.95): Simple and compact in design, this cradle's gentle, comforting rocking is similar to the motion of a moving pram. The low height and transparent mesh fabric also allow parents to peek at baby day or night.
"I was given the BabyBjorn harmony cradle. Doesn't have removable sides but is light and can lift and shift around the house easily." – Lisa H

---
Crate & kids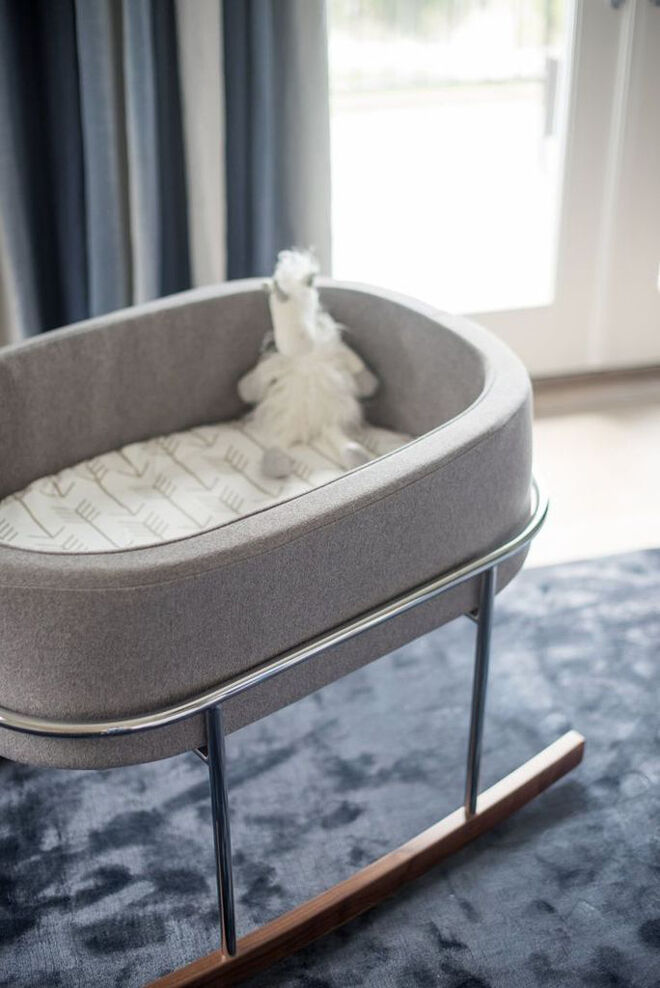 Monte Rockwell Bassinet (approximately $755 + international shipping): Ozzing clean, modern design this stunning cradle is a sophisticated mixture of solid walnut and chrome steel. The basket includes soft and protective sides with a removable, machine-washable microsuede cover for easy cleaning.
---
SNOO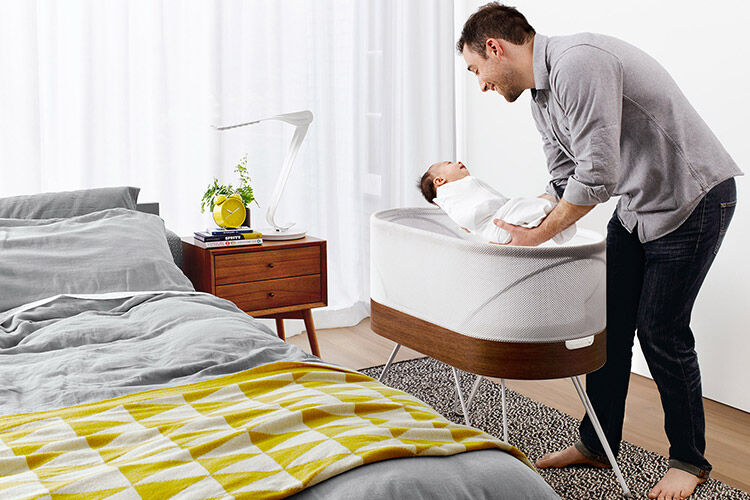 SNOO Smart Sleeper ($1,160): There's a reason this ingenious sleeper made our best cradles list. It uses microphones to tell parents when their bundle of joy is fidgeting, stirring or crying while they sleep. And while Mum and Dad stay tucked up in bed, the SNOO gets to work playing white noise and rocking bub back to sleep. Well played!
"We have the SNOO bassinet… and it is amazing! Our fourth baby and easily our most settled"  – Melissa C

Read next …
Still not sure if you've found the one? We take a look at the best bassinets, cots and more in the articles below: