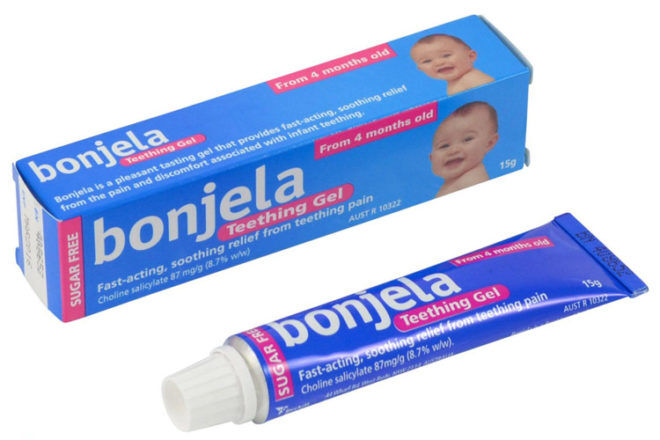 A New Zealand mum is warning parents after she claims her daughter almost died when she was given too much of popular teething gel, Bonjela.
Jessica Vermunt posted in a Facebook parenting group that her seven-month-old daughter Athena was 'minutes from dying' after having too much Bonjela.
"The active ingredient in Bonjela will turn your babies blood ACIDIC and cause complete renal failure," she wrote. "I'm aware that she had more than normal but the point remains that this has the potential to kill your child."
Baby had been in pain for days
Ms Vermunt told nzherald.co.nz that Athena had been screaming for days. "Over a period of a few days I slowly gave her a bit more."
Athena stopped breathing and was flown to Auckland's Starship Hospital in respiratory distress. She was sedated and put onto a breathing machine, while doctors performed blood infusions and transfusions.
"They diagnosed her with salicylate overdose. Salicylate is the active ingredient in Bonjela."
The distressed mother says she's aware that she used 'a lot more than normal', but that doctors were aware of how much she was having and 'said it was fine'.
She explained that the United Kingdom's Medicines and Healthcare products Regulatory Agency advised against giving children under 16 Bonjela teething gel in 2009, after a 20-month-old came down with a suspected liver and brain condition, due to Bonjela use. Bonjela teething gel in the UK and Ireland no longer contains salicylate acid.
Jessica is now warning other parents to take extra care when using the teething gel.
"I'm begging you, if you do use Bonjela for your baby please please please the smallest amount as little as possible."
Response from Bonjela
According to NZ site stuff, Bonjela said it is aware of the incident and was trying to contact the family. She pointed out that, "all Bonjela products in Australia and New Zealand were thoroughly reviewed and approved by the Australian Therapeutic Goods Administration, the regulatory body for safety and efficacy.
"As with all medicines, parents should use oral teething and mouth ulcer gels only according to the directions on the packaging and should speak to a healthcare professional if they have any concerns."
Read next …
Need ways to help your bub through teething? These next articles have you covered: