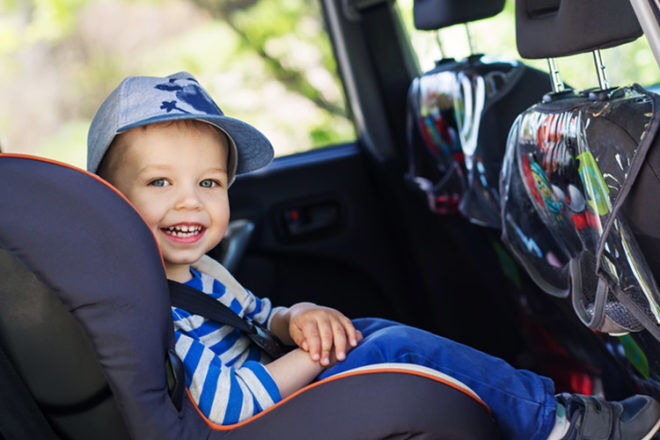 Mum's like to be prepared. Staying one step ahead of the mess, an impending tantrum or the unpredictable weather is the aim of the game.
For long trips and short trips, for kids of all ages, we've put together a handy list of things to help make an outing with the fam-bam stress-free and full of fun (both in the car and at the final destination).
1. Wipes and tissues
It goes without saying – wipes are the greatest invention known to parents. Even well beyond the nappy years, wipes can be used to clean up spills, take care of sticky fingers and food faces, sanitise toys, clean stains off clothes, wipe dirty noses and a thousand other things.
2. Nappies
Keep at least one spare in the car as well as in the nappy bag. They can also be used to soak up spills in emergencies!
3. A change of clothes (especially undies)
Because baby's and kids are messy creatures. Remember to replenish when they get used.
4. A spare top for mum
For the days when baby decides to eject their last meal or the kids decide to use Mum's t-shirt as a hand towel.
5. Singing voice
When the radio just isn't cutting it, little travellers may prefer the magical music stylings of their very own mum singing their favourite tune. Hit it!
6. Snacks in re-sealable packaging
"I'm hungryyyyyyy!" is a perpetual backseat complaint. Keep a supply of healthy, shelf-stable snacks in the glove box in resealable bags.
7. Bib
Where there are snacks, there must be a bib. Handy for the car ride itself or at the destination, keep a spare bib (or 10) in the car.
8. First aid kit
Buy a pre-packaged version from a reputable seller or assemble your own and make sure it's always well stocked.
9. Car sickness bags
We pray it will never happen, but the words "Muuuuum, I think I'm going to be sick" while barreling down a four-lane highway are simply terrifying. Always have a sickness bag within arms reach.
10. Spare sun hats and sunscreen
Sun hats are notorious for getting lost, so keep a spare in the car (along with a mini sunscreen roll-on) so that playing in the sunshine is always an option.
11. Picnic blanket
For those impromptu park stops, pop a picnic blanket in the boot so you and the kiddies have somewhere to sit and play.
12. Frisbee
If you've got a frisbee, you'll always make a friend.
13. Umbrellas or ponchos
Cheap, fold-up ponchos are compact and can be a great standby when making the kinder run in the rain.
14. Large ziploc bags
These all-purpose babies are perfect for sealing up wet clothes, rubbish or half-eaten food. We heart them.
15. 'Busy bag' games
Great for long drives or unscheduled waiting in doctor's offices and medicare queues. Take a look at our roundup of DIY busy bag ideas that don't take up much room.
16. Towel
Kids are drawn to water like moths to a flame. Going to the park or beach "just for a walk" …. aaaaaand three seconds later they're soaking wet.
17. Hair elastics and clips
For little girls with long hair, a stash of these is essential. Like socks in the wash, hair elastics seem to disappear off to magic-hair-accessory-land, never to be seen again.
18. Sanity
Possibly one of the more challenging things to always have in the car, try to keep your sanity. Car trips never last forever (although sometimes they seem to) so just remember you will arrive at your destination soon.
19. Water pop tops
"I'm thirrrrrsty!" … and you forgot their drink bottle. Keep a few packaged water pop-tops on hand for those forgetful days.
20. Plastic bags
Having a few recycled plastic supermarket bags on hand to take out the zillion wrappers, drink bottles, lone LEGO pieces, coffee cups and school notices that find themselves peppered all over the car at the end of each day will go a long way to keeping the car in some sort of order. Also great for muddy shoes and nappy explosions!
21. In-car phone charger
This is especially useful for kids prone to fishing your phone out of your bag and chewing up battery life playing Angry Birds while you're not looking.
22. Kids' music
A burst of Hi-5 or Wiggles on a long drive is a great way to distract fighting or fussy kids and get them through the journey.
23. Deodorant
For you (not the kids) obviously. Stressful days and chasing toddlers around the park can leave you feeling less than fresh. Keep a travel-size deodorant in the car console – just in case you run in to Ryan Gosling at the supermarket.
24. A roll of paper towel or a chamy
Mop up backseat spills and clean off dirty shoes with a roll of paper towel or keep a super-absorbent chamois in the glove box. They make good lap placements for messy snacks too!
25. Reusable shopping bags
Always forgetting to take these to the supermarket? Try storing them permanently in the boot – return them there as soon as the shopping is unpacked and give yourself a gold star.
26. Distraction techniques
Whether it's singing, pointing at trucks or buses out the window or bopping along to the radio; have a few ways to distract your kiddo and before you know it, you have arrived.
27. Hand sanitiser
For nappy changes on the road or a speedy hand clean after visiting the park, hand sanitiser is a quick and easy way to stay germ-free when washing hands isn't an option.
28. Teething toys
Teething toys are a great distraction and should (hopefully) keep them quiet and content for a little while. Top tip – attach the teething toy to bubba's car seat so if they drop it they can reach it again without Mum or Dad having to reach back or stop.
29. Seat organiser
Just like a nappy caddy, an organiser with plenty of pockets is ideal to (at least attempt to) keep the car tidy. Check out the Skip Hop Backseat Organiser ($44.95), with a clear pocket for a tablet, storage galore including two insulated bottle pockets and a D-ring for hanging toys, it covers all bases.
30. Dummy
There are few things worse than a baby screaming at the top of their lungs in the confined space of a car. We are all for doing whatever works for the sake of mums sanity, so if a dummy works, keep a spare in the car.
31. Blankets
Handy on a cold day or to use as a play mat, baby blankets are always a godsend to have around.
32. Pen and paper
Because we live by lists.
33. Protective covers
Car seat covers, floor mats, kick mats. Let's be honest, anything that protects the surfaces is worth its weight in gold. Plus, removable mats are much easier to clean. Win!
34. Spray bottle for hot days
On those days when the air con really struggles or for a quick cool down, a spray bottle provides immediate relief on a hot summers day.
35. Sunglasses
Squinting down the highway is no one's idea of a good time. Keep a spare pair of sunnies in the glovebox, just in case.
36. Coins/cash
For city parking, that one thing you forgot to get at the supermarket or the emergency take away coffee that is soooo needed. A few coins in the centre console will get you out of a jam.
37. Pram rain cover
Just because it's lovely and sunny when you set off, doesn't mean it will stay that way. Keep the pram rain cover in the car so the weather doesn't rain on your parade.
38. Spare shoes
Bundling kids into the car, regardless of age, is a process. And it is very possible to miss something – like the fact that they aren't wearing any shoes! Keep a spare pair of shoes in the car to avoid arriving to find tiny feet shoeless at the end of the journey.
39. Stickers
You can never.. and we mean never.. have too many distraction options. Stickers are a reasonable mess-free activity, perfect for the car.
40. Flashlight
All things going well, you will never be stranded in the dark. But just in case, a flashlight is very useful to have around. Even if it's just to find something under the seat.
41. Car manual
It's not very helpful left sitting on the kitchen bench. The owners manual belongs in the car for a reason. To help you change the clock when daylight savings starts/ends, to tell you what that flashing light means and to provide roadside assistance numbers in case of an emergency.
42. Sunshade
Car tinting is nice, but it can cost the earth. Protect precious cargo from damaging sun rays and annoying glare with a car sunshade. Whether it's custom made or a one size fit's all, it will go a long way towards snoozes and smiles in the car.
43. Baby mirror
There is a primal need for mums and babies to see each other. A baby car seat mirror like the BenBat Oly Active Baby Car Mirror ($57.92) leaves the lines of mutual adoration safely open.
44. Photos
We've got a ripper tip to calm a crying baby in the car that takes just five minutes to create. Lisa from the Mum's Grapevine Summer 2018/19 Baby Group suggested putting some photos around the baby mirror. The familiar faces are sure to soothe bubba making for a smooth car ride.
45. A ball
Kickabout, catch, dodgeball – you name it, let's play it. A ball is fun for all ages.
46. Sat Nav
Because getting lost with kids on board is SO. NOT. FUN. If GPS is not built-in to the family mobile, a sat nav device is essential.
47. A rag
An old towel or rag is super helpful for wiping down slides or swings at the playground after a downpour or on a frosty morning when the kiddies just can't wait to play.
48. A good book or magazine
There will be times where waiting around is inevitable. Whether it's waiting for soccer practice to finish or even when the planets align and you've arrived early. Enjoy the time to yourself with a good book or a trashy magazine.
49. Talcum Powder
This all-purpose powder is the best for getting sand off skin after the beach or for quickly drying kids up if they've had a nappy leak.
50. Gum/mints
For those rushed mornings when brushing teeth just didn't happen or to hide the four coffees you already had this morning, keep a supply of chewy and/or mints on hand.
Read next …
Want to be prepared for the next family road trip? Take a look at these articles next: