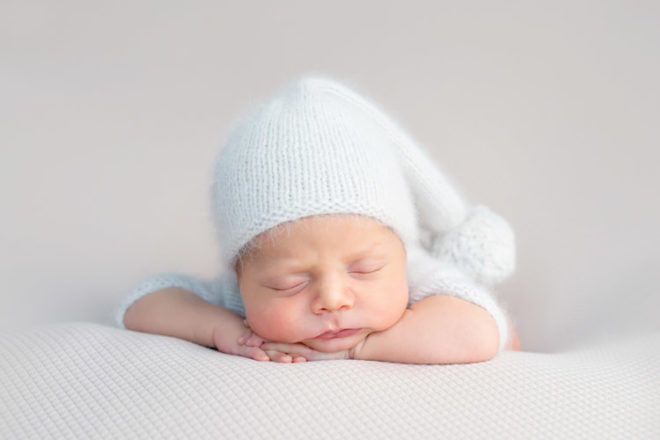 The king and queen of Australian baby names have been crowned, and once again Australia's reigning most popular names have held onto their thrones. But, as always, there are a few new names creeping into the top 100, as well as some that are slipping into obscurity.
The top boy name Oliver (1.) has remained unchanged for the past six years, the most popular name for girls Charlotte (1.) has held onto top spot since 2015.
McCrindle has finished crunching the data, and unveiled the top 200 most popular boys and girls names for Australia over the past year.
Looking across the globe
Taking a look at how Australia's top five baby names compare with other English-speaking nations, each Aussie name in the top five also appeared on the New Zealand, USA, UK and Canadian lists. The only name that didn't was Henry.
Who's in and who's out
It's a big hello to Leonardo (96.), which made its first modern-era appearance in the top 100 Australian baby names. Other monikers making a name for themselves are Maxwell (85.) and Christian (92.). For the girls, Adeline (82.) snuck into the top 100 for the first time in the modern era, as did Thea (77.).
The biggest bullet up the baby name list is Carter (52.), which climbed 17 places, while Louis (59.) also leapt up the ladder, thanks no doubt to the birth of Prince Louis last year. For the girls, Luna (62.) is rising through the ranks after first making an appearance two years ago.
Names that are standing the test of time are George (34.) and Sofia (21.). Going down the popularity ladder are Zachary (76.), Caleb (83.), Addison (88.) and Annabelle (67.).
Blooming beautiful
Once again, botanical baby names continue to bloom wildly on the most popular lists, including Willow (10.), Ivy (18.), Lily (22.), Violet (39.), Poppy (41.), Daisy (47.), Rose (56.) and Jasmine (63.).
Charlotte and Oliver reign supreme, again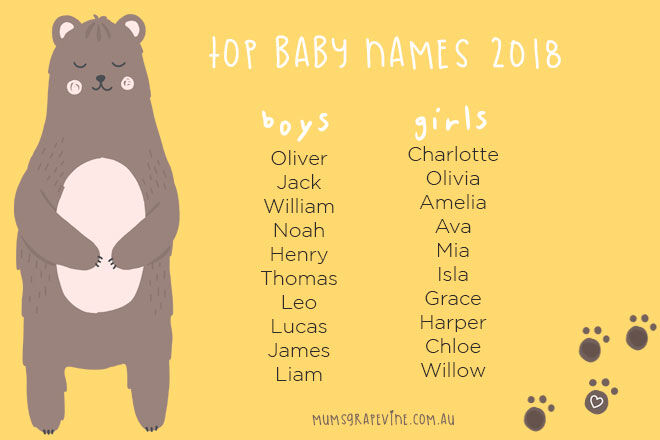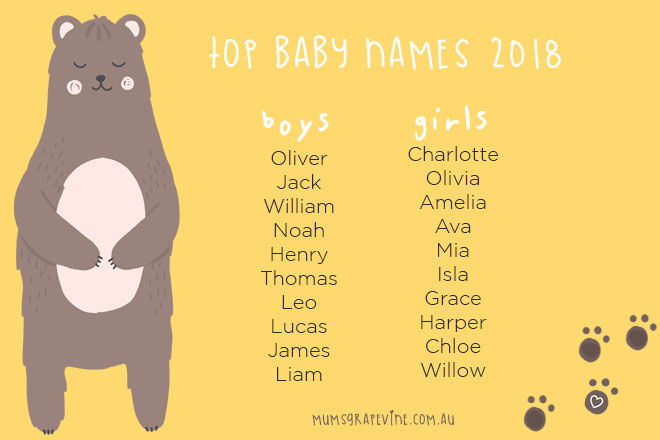 It was a bumper year for babies born in 2018, with just over 300,000 new bubbakins born in Australia – with close to one in ten given a name from the top ten of each list.
While the 40s saw a boom in the popularity of names like Peter, Paul, John, Karen, Jennifer and Sharon (hands up if your mum or dad have one of these names!), the 80s were all about the Baby Boomers, who became a lot more creative with names. As McCrindle explains, it's becoming increasingly tricky for parents to name their babes, because it's so much more important to make an impact in our tech world.
When it comes to the ever-popular names at the top of each list – 1,673 Australian baby girls were named Charlotte last year, while 2,134 boys were called Oliver. The only place where Oliver wasn't the most popular name was the Northern Territory, where it was pipped by Jack, and the ACT, where William reigned supreme.
Top 100 baby girl names in Australia for 2018
Charlotte
Olivia
Amelia
Ava
Mia
Isla
Grace
Harper
Chloe
Willow
Zoe
Ella
Matilda
Emily
Sophie
Ruby
Isabella
Ivy
Evie
Evelyn
Sophia
Lily
Georgia
Aria
Lucy
Mila
Hannah
Sienna
Scarlett
Layla
Zara
Isabelle
Abigail
Emma
Audrey
Alice
Eva
Hazel
Violet
Ellie
Poppy
Stella
Emilia
Frankie
Florence
Sofia
Daisy
Elsie
Aurora
Eleanor
Penelope
Savannah
Elizabeth
Mackenzie
Piper
Rose
Phoebe
Maya
Ayla
Freya
Imogen
Luna
Jasmine
Summer
Harriet
Billie
Annabelle
Lola
Alexis
Madison
Maddison
Sarah
Anna
Indiana
Eloise
Claire
Thea
Quinn
Olive
Elena
Eden
Adeline
Bella
Bonnie
Charlie
Ariana
Eliza
Addison
Lara
Victoria
Aaliyah
Chelsea
Heidi
Alyssa
Harlow
Hayley
Madeleine
Pippa
Millie
Clara
Top 100 baby boy names in Australia for 2018
Oliver
Jack
William
Noah
Henry
Thomas
Leo
Lucas
James
Liam
Ethan
Harrison
Alexander
Charlie
Mason
Harry
Hunter
Hudson
Elijah
Levi
Max
Oscar
Lachlan
Theodore
Archer
Cooper
Isaac
Samuel
Archie
Xavier
Logan
Jacob
Benjamin
George
Ryan
Joshua
Harvey
Sebastian
Arlo
Lincoln
Finn
Jackson
Luca
Hugo
Edward
Patrick
Jaxon
Riley
Eli
Daniel
Connor
Carter
Kai
Joseph
Austin
Jasper
Jordan
Ashton
Louis
Jayden
Michael
Aiden
Tyler
Flynn
Angus
Darcy
Nate
Luke
Dylan
Owen
Matthew
Arthur
Muhammad
Charles
Adam
Zachary
Spencer
Beau
Hamish
Sonny
Toby
Asher
Caleb
Nathan
Maxwell
Jake
Ali
Gabriel
Nicholas
Blake
Leon
Christian
Phoenix
Ryder
Jude
Leonardo
Vincent
Parker
Theo
Bodhi
The latest baby name data has also revealed that some of Australia's most iconic names are on the verge of extinction. On the 'in danger of disappearing list' are: Bruce, Sheryl, Gary, Wayne and Beryl.
What a shame, farewell, Gazza, Shazza and Wayno!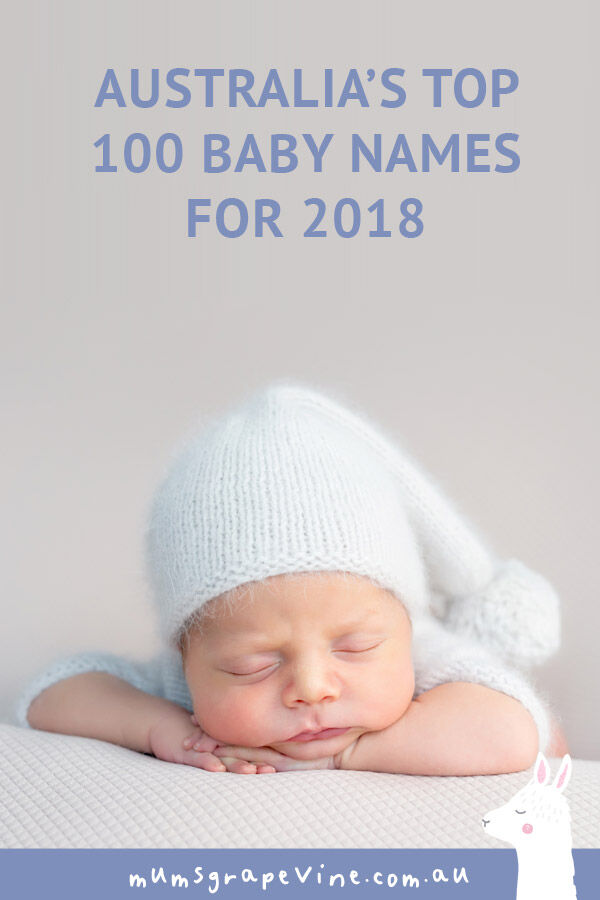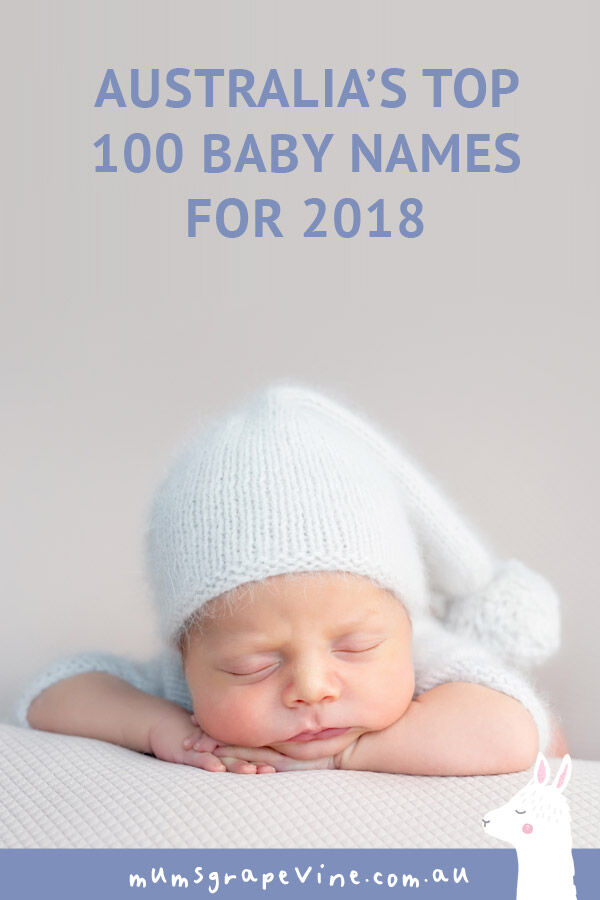 Read next …
Need to narrow down your baby name list? These next articles will help: