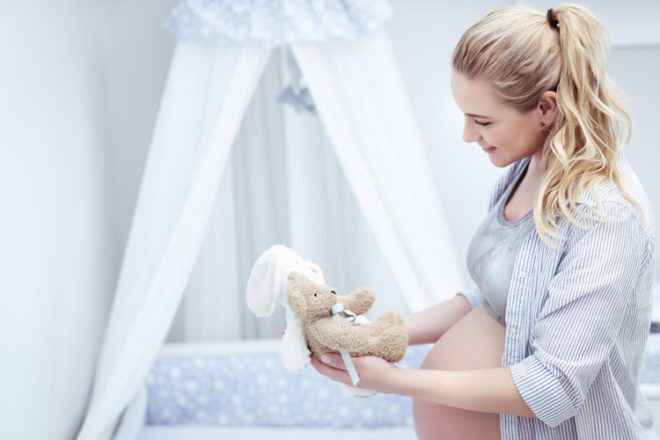 Yay – there's a teeny tiny baby on the way. And although your heart may be bursting with joy, welcoming a wee one into the world (the home, to be precise) often comes hand in hand with an overwhelming urge to get organised.
Nesting, prepping, roosting; whatever you like to call it, preparing the home for the arrival of a baby may feel like a big deal, but it's never too early to get the house ship shape and ready for a miniature you.
Here are 50 things to do during the nesting phase
1. Set up a downstairs change station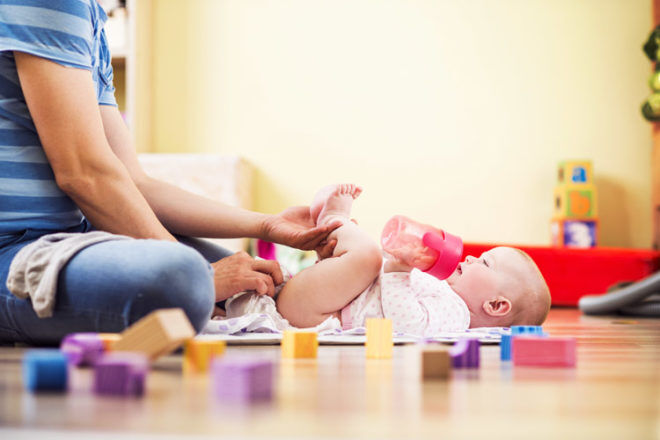 A second change station will not only save time but your legs too! Does your current home have two stories or more? Set up a mini change station somewhere downstairs. A portable change mat and a nappy caddy containing wipes, nappies, nappy cream and a change of outfits are all you need to make life a little easier.
2. Get a professional spring clean
Even if you're feeling like an Energizer bunny, now's the time to call in the professionals. Get them to spruce all the places that often get left behind when doing the daily 'once-over' – think under the grill and oven or behind the sofa, blinds and picture frames.
3. Put a lock on the bathroom door
Because privacy, people! In about 15 months you'll understand.
4. Buy an extra large laundry basket
That itty-bitty human you're carrying sure knows how to max out a laundry basket. Be prepared for the mountains of washing to come and go supersize on the one you already have. You'll thank us for it later.
5. Fill the freezer
Those first few weeks of baby being home are precious beyond belief. By having meals and snacks prepped and ready-to-go in the freezer it means less time cooking, more time cuddling. Naawww!
6. Check local services
Do a search online or at the nearest library for local support groups and programs. Anything from breastfeeding groups and playgroups to baby swim sessions could be just around the corner! Pop the phone numbers on the fridge so they're easy to find when you need them. And while you're at it, add the Poison Information Hotline number too.
7. Make room in the garage
The garage is often the home to any unwanted items that didn't quite make it to the bin. With baby well on the way, it's time to take on the clutter and have a clear out. Make simple rules for yourself if it helps – like 'anything that hasn't been used in the last year has to go'.
8. Steam clean carpets
Another job for the pros. Getting the carpets steam cleaned will not only leave the house feeling fresher but also give you peace of mind knowing that there are no hidden stains or bits and bobs lying on the ground.
9. Power cord check
Your sweet little love may still be tucked away in your tummy, but it's never too early to ensure the house is safe for their arrival. Pick up a few packets of safety plugs for any power point outlets not in use,  and do a quick 'spot-check' to make sure all power cords are out of reach.
10. A stationery station
Trivial as it may sound, the last thing any new mum wants to spend time doing is searching for a pen. Whether it be for writing lists, filling out forms or writing thank you cards, having a pot of pens and pencils handy will save you (and baby) from being up and down like a yo-yo.
11. Make Lists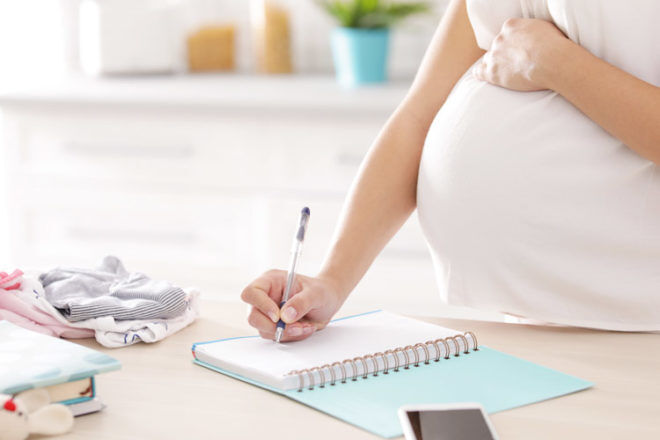 Lists, lists, lists – Welcome to motherhood. Lists are set to become an everyday companion throughout your motherhood journey. There are one or two lists you can make now to save yourself time when bubba is teeny tiny (and taking up a lot of your energy). These include simple cooking instructions for your partner; simmer rice for ten minutes, boil pasta for 8-12 minutes etc, or easy-to-follow operating instructions for the dryer and dishwasher. They'll come in super handy when in-laws and friends want to lend a helping hand. Remember – there's no such thing as being too prepared.
12. Tackle that sock pile!
Let's face it, now is as good a time as any.
13. Defrost the freezer
It's a job that always seems to stay on the 'to-do' list but never actually gets done. Make the most of the uninterrupted weeks ahead and address the freezer for good. Just think how you'd survive without it.
14. Stock up on staples
Nipping to the shops takes a little more time with a baby in tow. Use the nesting phase to stock up on staples for the panty such as pasta, brown rice, tins of soups, nuts and wholegrain crackers. You'll be less tempted to tear open the treats if theirs a panty full of whole foods too!
15. Show the bed linen some love
When was the last time your doona saw the washing machine door? The last few weeks of waiting for bub is the ideal time to shower your linen in love. Literally. Grab anything that doesn't see the laundry very often and give it a good soak.
16. Check your wardrobe
With a few 'free days' up your sleeve, check that your wardrobe is kitted out for the months ahead. Think about what season you're heading into and any additional (baby-friendly) clothes you may need. Shopping will be a lot easier now than with a baby and a pram along for the ride.
17. Stock the first aid kit
Bandaids, thermometer, panadol, baby scissors, nasal aspirator, hand sanitiser; they're all a must now that baby is on the way. Whether simply adding to an existing first aid kit or creating a separate one for bub, here's a list of the first aid essentials to keep baby happy and healthy at home.
18. Garden maintenance
Whether you decide to approach the overgrown shrubs and lawn yourself or outsource to a local landscaper, knowing that the backyard and surrounding areas have been taken care of means you get to enjoy the space as soon as baby is home. Win!
19. Buy in bulk
Toilet paper, laundry detergent, dishwasher tablets, baby wipes, toothpaste, shower gel – it's all better in bulk, especially once the wee one arrives. Buying in bulk is not only a brilliant way to stock up on essential items but can be a great little money-saver too.
20. Clear out the fridge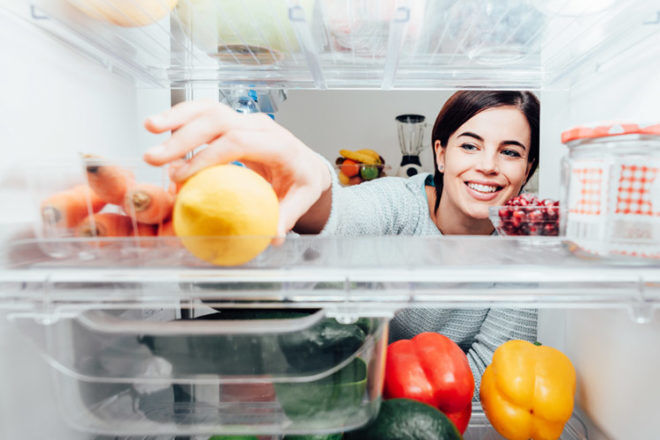 That questionable jar of onion chutney and buried bottle of salad dressing can probably be removed from the refrigerator and housed in the nearest bin. Making room for baby also means making room in the fridge – whether it be for expressed breastmilk, leftover formula and those all-important lactation cookies. NOM.
21. Dust the cobwebs
Reaching up high and climbing onto a ladder or chair to reach pesky cobwebs isn't a good idea when recovering from giving birth. Muscles may still be a sore for a few weeks, even months after welcoming baby into the world. Allow yourself plenty of time to recover and address any hard-to-reach issues earlier on in your pregnancy.
22. Assemble all baby items

Because Allen keys, IKEA manuals and babies don't mix.
23. Supersize the clothes horse
Despite having just one adorable addition to the household, the amount of weekly washing is likely to double. Be prepared and invest in a family-sized clothes horse to help get you through it. Slowly.
24. Op shop drop
With nesting well and truly underway and your inner Marie Kondo taking charge, think about where you'd like any unwanted items to go. The local op shop will be more than happy to receive donations.
25. Child-proof the cabinets

Whether using a lock and key or being incredibly creative with the organisation of items inside, child-proofing cabinets and drawers in the bathroom and kitchen are a must before baby comes home and will give you peace of mind from the get-go.
26. Check under the furniture

By four months old, babies love to put everything and anything straight into their mouths. And once crawling, boy do they move quickly! Be sure it's you who finds any choking hazards first by doing a thorough check under coffee tables, sofas, and tv cabinets.
27. Set up a feeding area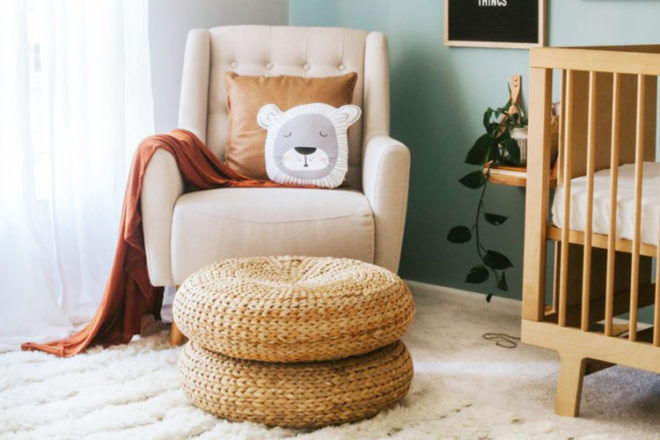 Feeding is the ultimate bonding experience for mumma and baby bear. As your due date edges closer, think about where in the house you'd like to feed your darling cub. In the nursery? A cosy nook in the living room? Wherever you decide to roost, here are a handful of essential items you'll need every time.
28. Rearrange furniture

Nesting brings out the Shayna Blaze in us all. Whether it's tweaking the spare bedroom or putting the final touches to the nursery, keep in mind furniture placement when styling your rooms. Tables, chests and drawers are prime climbing material for willing babies and toddlers and are best kept away from windows.
29. Get up in the attic
Just like the garage, the attic often becomes home to unwanted items that haven't seen the light of day in years. When your partner is home take on the job of clearing space together. You'll need as much extra space as possible once your little one has landed.
30. Give paperwork its place

With the arrival of a darling little bub comes a not-so-darling bundle of paperwork. Create a space in the study, spare room or even on the kitchen bench that houses any letters, utility bill and certificates, and aim to sort through them once a fortnight.
31. Clean the ducted heating
Good air flow makes a massive difference during the cold and warmer months, while also playing a big role in your families health. Change the air filter, remove vents and wash them in soapy water before vacuuming any remaining debris from the ducts. Keep baby safe by doing this before they come home.
32. Bye-bye use-by

We're all guilty of holding onto things for longer than we should, and food items are no exception. While stocking the pantry with supplies and organising the Tupperware, take some time to rummage through spices, sauce packets, tins, jars, crackers and cereals, and throw away anything passed its use-by date.
33. Find indoor plants a new home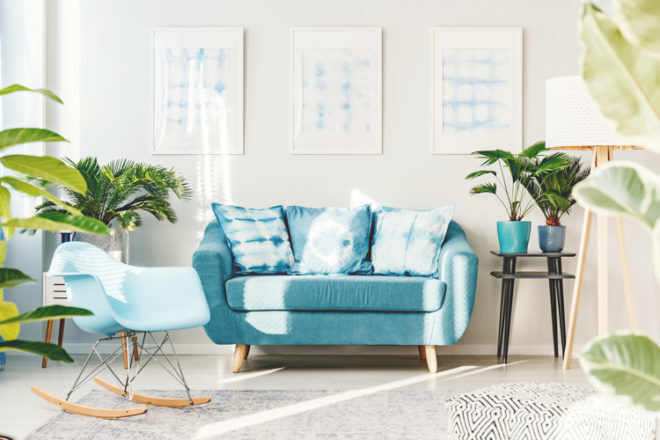 We're not talking outside here. Think about the movements of mini humans when finding somewhere suitable for houseplants. They need to be out of reach if possible, in pots that aren't likely to tip over.
34. Get on top of Tupperware
Tupperware is a new mums best friend. If there's already a dedicated Tupperware drawer in your house (and we all know that there is), now is the time to find the lid to that odd container, stack the ones that are forever jamming in the door and purchase a handful of new containers perfect for baby portions.
35. Organise cookware
Just like Tupperware, pots, pans, trays, dishes, bowls and utensils take up a lot of space in a family kitchen. Try this little hack for figuring out what you really need. Bring out all of your cookware from cupboards and drawers. Whenever you use an item, put it back into a drawer. After a month, everything left out of a drawer can most probably be put into storage or donated to charity. Voila!
36. Call a window cleaner
In those first few months, you'll be home with baby a lot. And when cosying up in a corner, the last things you'll want to see while looking out of the window are fingerprints and smudges. Call in a window cleaner and get that glass gleaming.
37. Expired medicines
Sorting through the bathroom cabinets and first aid kits will give you an opportunity to notice any medications passed their expiration date. Take any expired medicines to your local pharmacist who will safely dispose of them for you.
38. Savvy storage
As your mini-me starts to grow, so will your collection of toys, books and other bits and bobs they like to play with. Suss out storage solutions before baby arrives and give yourself plenty of time to install and move it if necessary.
39. Give appliances once-over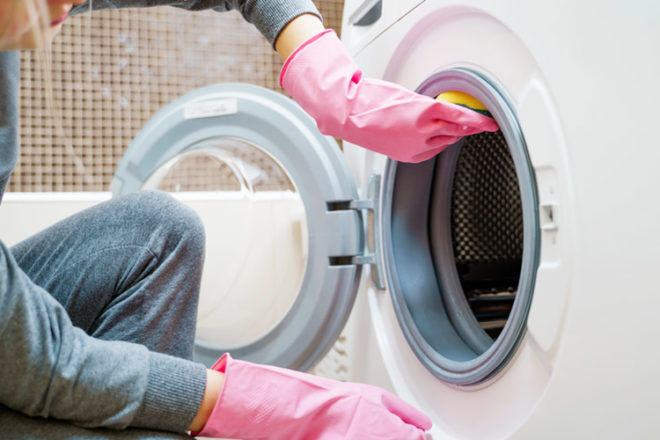 Just like us, the household appliances need a little R&R to work to their full capacity. While waiting for baby to say hello, pop on your gloves and give the vacuum cleaner, washing machine, dishwasher etc a well-deserved scrub. You'll be very glad you did it – we promise!
40. Put baby's clothes in size order
Before baby is even born, they are blessed with a better wardrobe than most of us. Lucky! Put aside a day or two to sort through bubba's clothes, organising them in a way that will make life easy for you while packing anything bigger than 0000 away.
41. Create an online profile
Not for dating but for dinners, silly! If you haven't already, now is the perfect time to set up a profile with your supermarket of choice. Put together a 'must-have' grocery list of things you buy, without fail, every week. From bread and milk to toilet roll and tins of tomatoes, having a comprehensive list to simply tap and shop (or print and hand to your partner) takes the pressure away from mumma bear and allows everyone to help where they can.
42. Back up the computer

Losing precious photographs of your baby's first year is the last thing any new mum wants. Pop your feet up, grab the laptop and be sure to back up all files and update the security software while you're at it.
43. Pet-friendly

Your little fur baby is moving down the baby chain. Preparing pets for new baby doesn't have to be a big dilemma. If done gradually, your four-legged friend will soon become accustomed to their new and totally adorable housemate. Try getting them used to eating their food outside and not jumping up onto the couch anymore.
44. Assemble an in-house toolkit

Once baby arrives, taking a moment to find the hammer or screwdriver for a simple fix may seem like a much bigger task. Do yourself a favour and put together a mini toolbox that can be kept in the house for minor repairs.
45. Tie up loose ends

And not just any loose ends, curtain cords to be precise. The plastic and wooden pieces dangling from a string are calling out to be played with and chewed on. Get safety smart and make sure they are well out of reach.
46. Bathtime ready
Think about how bathing bubba is likely to pan out. Will it be in the kitchen sink? Or a baby bath in the shower? Or will bub be taking a nighttime dip with mum? Work with whatever suits your family and the space that you have, and remember to have the must-have bath items ready to go.
47. Give floors a facelift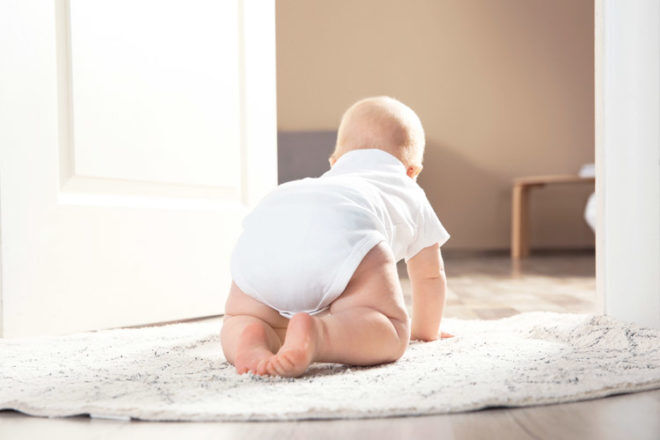 If you have wooden or tiled floors at home, think about buying a rug or mat to partly cover them. Not only will your feet appreciate the softer touch but once baby is crawling around they'll appreciate the added warmth too.
48. Let there be light

Walking around in the dark isn't fun for anyone, nevermind when you're living by the schedule of a newborn. Pick up a night-light or a hallway lamp to make nighttime trips to and from the baby's room a little easier for everyone.
49. Hello hygiene

Teeny tiny babies are vulnerable to all sorts of bugs and bacteria. Do your best to keep infections at bay by placing bottles of hand soap and moisturiser in every bathroom and at the kitchen sink. It will encourage both parents and any visitors to wash their hands before handling your little dreamboat.
50. Tick off the DIY list
Every household has one. That list of 'odd jobs' that often gets pushed aside once the weekend rolls around. Well, Now is the time to do it! A loose door handle need tightening? Curtain rod needs adjusting? Does the window seal need replacing? However small these may seem,  little jobs like this are a lot harder to stay on top of once baby comes along.
---
Feeling a little overwhelmed?
Come and talk it through with other mums-to-be who are due around the same time as you.
Click below and join your group today.
Read next …
If preparing for baby has you all in a spin, here are a few articles to help make life with baby a little easier: