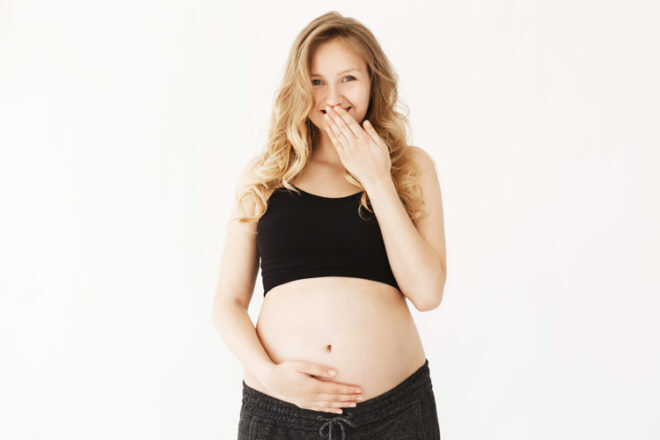 Growing a little being is a superhuman effort, it tends to sap our memory and dull our senses, despite the fact we're walking around with two brains.
Baby brain is totally a thing (whether the boffins want to admit it or not), and it's proven by all the nutty things we do while pregnant. We asked our huge community of mums to tell us the most stupid things they've done because of baby brain, and the answers are so hilarious, those pelvic floor muscles may not cope.
From not being able to spell their own name, to absent-minded husband injuring, here are 50 hilarious things mums have blamed on baby brain.
50 hilarious things mums have blamed on baby brain
"Point the air-con remote at the tv and wonder why the volume wasn't going down." – Casey
"Looked for my baby as I'm breastfeeding him." – Serena
"Accidentally stole from Woolworths because I put things under my arm to hold them and forgot they were there!" – Zoe
"Stand in the supermarket rocking the trolley back and forth while looking at the shelves. I was on my own." – Kim
"Put my thongs through the washing machine." – Casey Taylor
"Got in the back seat of the car instead of the driver's seat and didn't realise until I went to put the key in." – Renee
"Left the butter out of the fridge every day for a week after making breakfast. Middle of summer. Bought new butter each afternoon and told myself not to do it again but did 6 more times." – Meaghan
"Put formula in my coffee cup." – Maree
"Put the roll of paper towel and the spray n wipe 'away' in the fridge." – Kerry
"Hung out laundry on the washing line that hadn't been washed yet." – Kerry
"Cried at Donut King because I dropped my fresh hot dog." – Prue
"Went to work with my PJs on." – Sally
"I put cherry tomatoes on my cereal and tried to eat it all with a fork." – Alicia
"Left the handbrake off in my car and it rolled out of the car park across the road and into a brick wall. Ooopsy!." – Joannie
"Couldn't remember my address." – Amanda
"I tried to call my Mum on the baby monitor." – Alice
"I put cat food in the washing machine soap drawer!" – Nikki
"Tried to unlock my house with the 'unlock' button on my car keys and thought I must need to change batteries when it wouldn't work." – Kate
"Searched for days for the TV remote … finally found it the fridge." – Karen
"Forgot my keycard pin number that had for over 5 years. Bank reset it 18 times because I kept locking myself out." – Cheryl
"Put my clothes in the garbage bin instead of the laundry basket. When I'd realised, it was already thrown out." –
Carolyn
"Sent out baby shower invitations with the return address on them but not addressed to anyone." – Krystal
"Pulled up at a red light. Put the car in park, hand brake on and went to open my door to get out." – Brooke
"I lost my phone … it was in the fridge." – Madison
"Asked my hubby to get up on the ladder to fix one of our wall stickers … I got hot … so I turned on the fan." – Rae
"Thought I changed babies nappy to go to the shops, only to go to get her out and there's wee everywhere. I didn't put a nappy back on." – Eden
" I walked out of the restaurant and left the baby in the capsule under the table." – Louisa
"Put a bag of frozen broccoli in the pots and pans drawer. Found it days later and it stank." – Danielle
"Stick my finger in a blender to scoop out the purée, and not realising it was still on. A day in surgery and the only cosmetic surgery I've ever had!" – Danielle
"Threw my phone in the trash at Burger King." – Tanya
"Tried to PayWave a $50 note!" – Hilary
"Turn up for the same appointment three times … none of the times/days I showed up were correct." – Claire
"When driving to work I suddenly forgot how to get there I had to pull over. Then seen a work colleague drive past so I followed them to work." – Casey
"Doing some late night baking and forgetting to put the banana in the banana bread." – Sophie
"Forgot how to spell my name and my date of birth." – Sarah
"I was madly searching for my mobile phone like crazy in my bag, car, house —-while I was on the phone with my friend." – Alex
"Walked to the petrol station to put petrol in my car." – Samantha
"Left my car running all day at the train station while I was at work." – Coleen
"Turned the oven on an put my fish in the fridge instead of the oven, wondered why I couldn't smell it cooking then looked everywhere for it. I was so hungry too." – Roo Roo
"Soy sauce in my Greek salad instead of balsamic. The best bit? None of my guests said anything!" – Nikita
"Left my house in my slippers. Thank goodness I was going to the spa." – Charity
"One time on the way to town to drop my son off at kindy I had to double check I had pants on." – Melanie
"Celebrate my daughter's birthday 2 days early and not realise until her real birthday." – Simone
"Tried putting the washing basket in the fridge. I was so confused why it wouldn't go in." – Jodi
"When I was pregnant I cracked my egg for scrambled eggs into my morning coffee. I cried." – Lauren
"Throw keys in the rubbish bin and nearly blame a delivery man for stealing them." – Lauren
"Spent 10 minutes searching for my glasses that were in my face the entire time!" – Kylie
"I told my husband I forgot the baby at home. I was pregnant." – Kylie
"Drive on wrong side of the road for about 10 metres till I saw cars coming towards me." – Kelly
"Made plans with a friend, but never turned up." – Kelly Ellul
There's a moral to this story for every preggo woman. If you've lost anything, it's probably in the fridge.
Read next …
Our famous '50 lists' are full of funny, heartfelt and smart advice for mums-to-be. Check out the latest lists here: