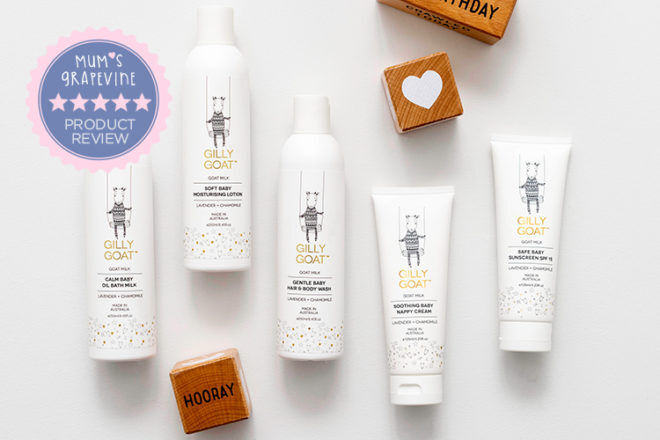 Fresh baby skin needs only a kiss of natural ingredients to stay soft and supple.
Australian-owned and made Gilly Goat baby skincare products are bursting with irresistible botanical extracts that make every bath time and bottom change a sensory experience.
There are no artificial fragrances or nasty chemicals in the Gilly Goat range, just soothing and calming ingredients found in nature, like Aloe Vera, shea butter, lavender, chamomile, goat's milk and nourishing botanical oils. All of these goodies combine to keep baby's skin protected, clean, soft and nourished.
Who is Gilly Goat?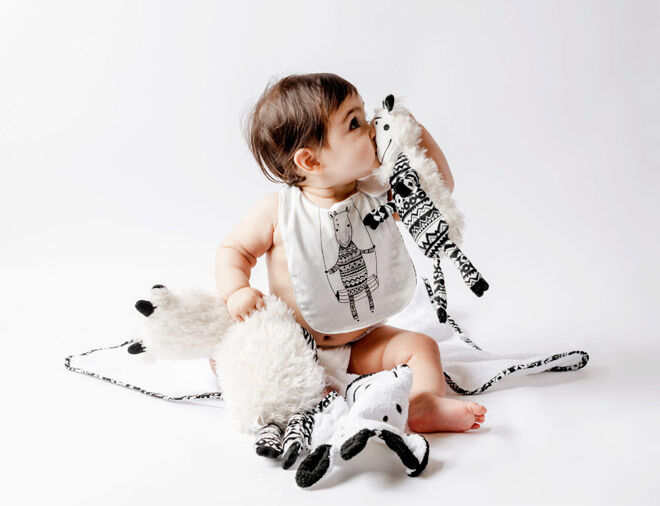 Gilly is the adorable little ambassador behind the Gilly Goat brand – a playful, gentle, loving and caring character who reflects everything the Gilly Goat range stands for. Just like a little goaty kid, Gilly is playful, intelligent, fun and full of energy and revels in life and nature, just like our own kiddos.
Gilly Goat wants to spread the message of unconditional love, care, quality and childish joy to all families. The Gilly Goat message is that biology is only part of the story – love and care is what matters most.
What's in Gilly Goat?
From calming bath time routines to soothing baby massages and nappy change care, the Gilly Goat range adds a magical soft touch to daily one-on-one moments. Little poppets have delicate skin, so the Gilly Goat experts have crafted the naturally effective range that's low allergen while still hydrating the skin.
Free from parabens, sulphates, artificial colours and petrochemicals. It's a skincare range mums and dads feel good about using on their bub's skin.

Gilly Goat Calm Baby Oil Bath Milk: The richness of Vitamin A, Vitamin E, Chamomile and Lavender transform bath water into an ethereal, deeply moisturising milk that calms baby and nourishes precious skin.
Gilly Goat Gentle Baby Hair & Body Wash: Designed for delicate skin, the all-in-one hair and body wash gently caresses baby skin with soothing Lavender and Chamomile. Low-allergen and highly moisturising to relieve dryness, cleanse skin and hair and leave bub's entire body fresh and calm.
Gilly Goat Soft Baby Moisturising Lotion: Soothing goat's milk teamed with botanical extracts and the oils of Shea Butter, Aloe Vera, Vitamin E, Lavender and Chamomile combine for a lush, delicately scented lotion that conditions and soothes baby's skin.
Gilly Goat Soothing Nappy Cream: The delicate nappy area is given special treatment with a soothing cream enriched with Goats Milk, Shea Butter, Vitamin E, Allantoin and Aloe Vera that's soothing but not greasy.
The range is available online from Gilly Goat.
Gilly Goat review
Kylie Mexsom is a busy mum of four who's been looking for a soothing skincare range for her youngest little button.
Kylie Mexsom, mum of four-month-old Ella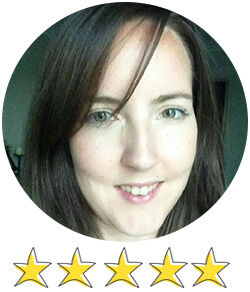 "Gilly Goat is now a part of our daily routine, we love it."
Gilly Goat exceeded my expectations. The Gilly Goat Safe Baby Sunscreen wasn't oily or greasy, it was light and went on easy.
The Soothing Nappy Cream was great too, it was silky and felt more like a moisturiser than a paste but worked just as well as the most popular brands and creams. Ella has some allergies that we are still working out so her bottom can get quite red and sore but the nappy cream had it all cleared up before the next nappy change!
My favourite product though was the Calm Baby Oil Bath Milk. Normally bath time is rushed because Ella really hates it. So much so that I bath her during the day because she won't sleep afterwards because she is so worked up. We used the Calm Baby before the bath for a relaxing massage which she loved and followed the bath up with the lotion and she was asleep every time before I could even dress her. Our two-year-old lines up for her turn also! Now we love bath time, it's relaxing for us all.
Gilly Goat is now a part of our daily routine, we love it. I was really impressed with the products. The quality was amazing, they were extra gentle on Ella's skin and the chamomile and lavender scents were so relaxing for us all!
I recommend it to anyone wanting to enjoy their baby's skincare routine and have it be a special time of the day rather than just another tick on your to-do list. The packaging is gorgeous, I'm happy to have them on the bathroom counter instead of shoved in the cupboard! Gilly their mascot is very popular with our toddler, he's very cute!
The range is available online from Gilly Goat.