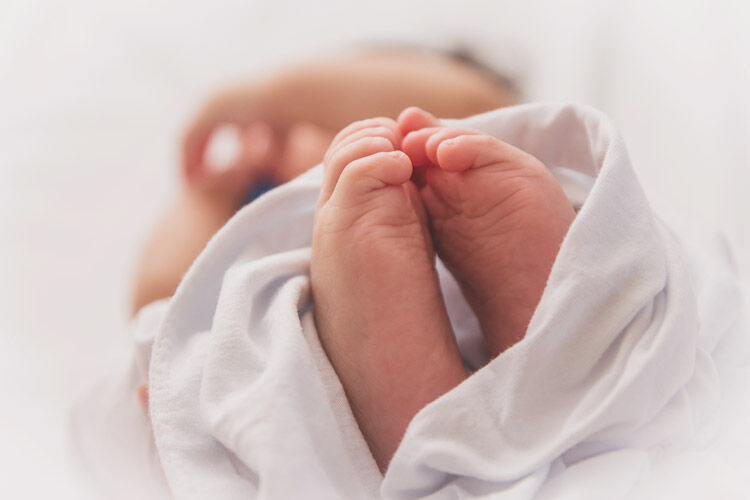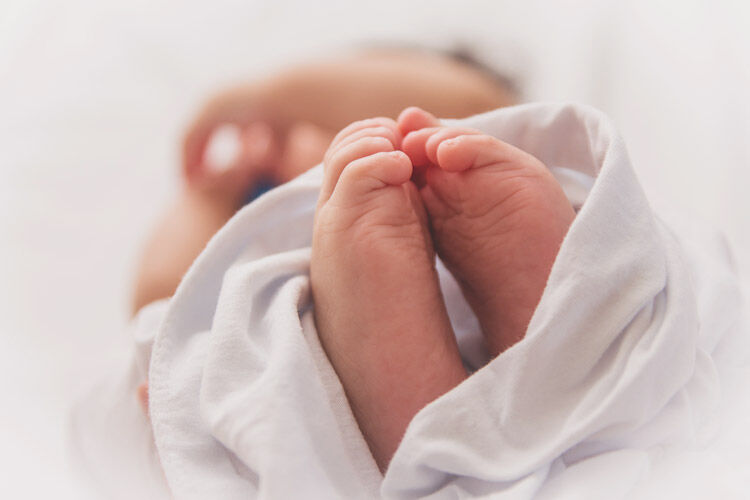 Dear friends and family,
It's almost time for us to welcome our little bundle of joy, and we know that you're just as excited as we are. We love that our tiny button has so many people ready to meet them.
As eager as we are to show off our little love, there are a few things we need you to know. Please understand that our wishes come with the best of intentions and above all a desire to protect the most precious thing in our world – our newborn.
Here's what we'd like you to know, before visiting our newborn.
1. Please wait for an invite
We know you're itching to come and get your fill of baby squishiness – we get it! But giving birth is exhausting. Learning to feed is hard. We're still getting the hang of this parenting thing. We'll let you know when we're ready for visitors. Please don't be offended if you don't hear from us straight away, we want nothing more than to share our baby with you. We just need a bit of time to adjust.
And if we have arranged a visit, we'd be so grateful if you could let us know if you're running late. While 15 minutes late might not seem much, it may throw us off if we're planning visits around feeds and sleeps.
2. Please don't kiss the baby
Newborns are so totally kissable (and ours will no doubt be the MOST kissable baby ever!), but kissing a baby can be really dangerous for them. We don't want to scare you, but kissing a baby when you have or are getting a cold sore is really unsafe. It's the same deal if you're sick with a cold or virus, and you may not even know that you're carrying the illness yet. Your germs are just too big for our baby.
Here's what you need to keep in mind:
Ask before picking up the baby.
Wash your hands before holding the baby.
Don't visit if you're sick, or someone you've been around is sick.
Don't kiss the baby.
3. Please get your vaccinations
Our baby is brand new to this big, wide world of germs, illnesses, and diseases. So to keep them safe, we ask that you are up to date with your vaccinations – this includes getting the whooping cough immunisation.
We know this is a personal choice, and respect that, so if you're not comfortable with getting your jabs, we ask that you don't visit until our baby is fully protected with their own immunisations. We'll let you know when that happens.
4. Please ask if you can bring your kids
We love your kids. But we may be having a particularly rough day (after a rough night) and need some quiet while visitors are around. So just let us know if you intend on bringing your beautiful kiddies along for a visit, and we'll let you know if it's a good day for your mini-me to meet ours.
5. Please don't share photos of our baby before we do
We plan on taking a bunch of photos of our new addition meeting the people we love the most. And we're expecting you'll want to snap some pics of our cutie pie as well, which is perfectly fine. But we'd really appreciate it if you could keep the photos off social media until we've had a chance to share some ourselves.
Or, we may even decide that we don't want to put photos of our baby on the internet – so just ask us when you come and visit and we'll let you know what we've decided.
6. Please ask if there's something we need
We don't expect you to bring anything but yourselves – we can't wait to see you! But it would be great if you could just ask if there's anything we need before you drop in. We'd love to share a cuppa with you but may have just run out of milk.
If you're visiting us at home, just simple things like offering to walk the dog/change the kitty litter/clean the bird cage or wash the dishes would mean the world to us. We may say no it's fine, or we may just hug you and cry and say thanks so much, you're the best. A cooked meal is kinda amazing too – nothing says I love you more than lasagna or chocolate cake.
7. We love you, but please don't stay forever!
As much as we can't wait to see you and show off our little lamb, we're probably going to be tired and little grumpy. So please don't be offended if we keep visits brief.
8. Please don't burst our baby bubble
We know everyone has their own way of parenting, and we're still learning ours. We'd really appreciate it if you could respect our choices – feeding, sleeping, burping our baby – anything really. It can be really disheartening to have half a dozen (well-meaning) visitors each outlining the 'best' way to hold a baby when feeding.
If we need some advice on how to do something, we'll ask.
9. Please ask me how we are doing. Like, really ask.
We've been through something life-changing, and while we may look like we're holding it together, we may be struggling. It would be amazing if you could ask each of us, gently, if we're doing ok. There's no need to push the issue, but just let us know that you're there for us, and that's it's ok if we're not coping. In our new baby haze, we may forget that we have a village that can help us.
Finally, we just want to say thank you. Thanks for being part of our support network and helping us welcome our new baby into the world. We hope you understand where we're coming from, and can't wait to see you once our darling decides to make an appearance.
See you soon. xx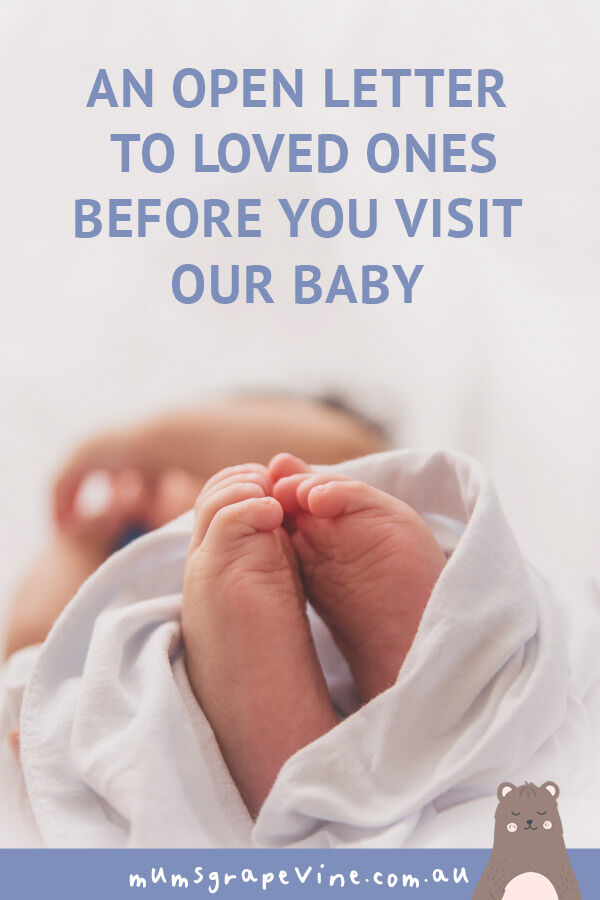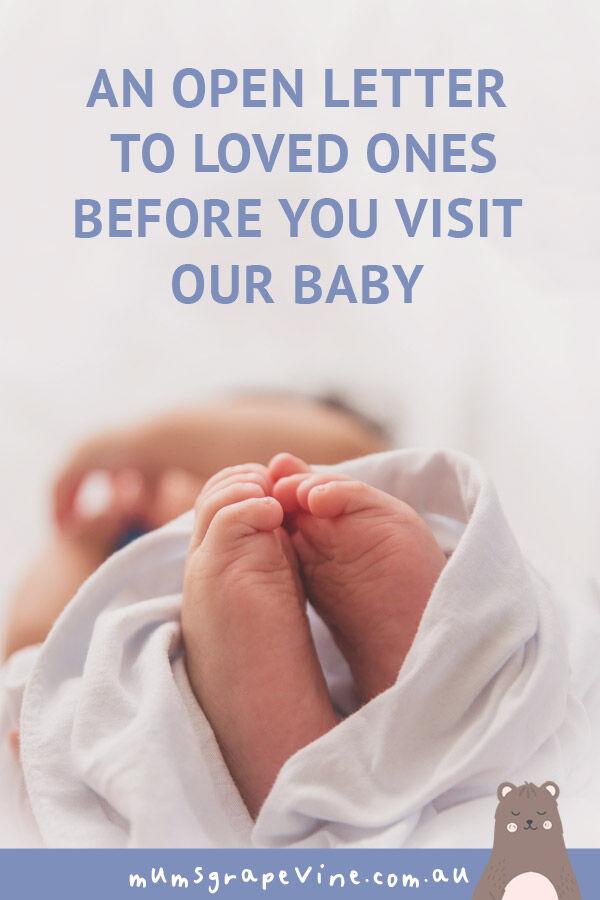 Read next …
Those first few weeks of baby being home may feel like a whole new world. Here are a few articles to help guide you along the way: