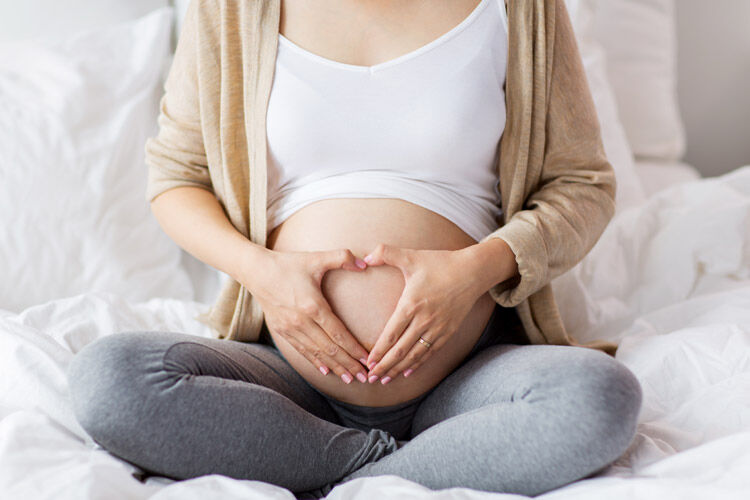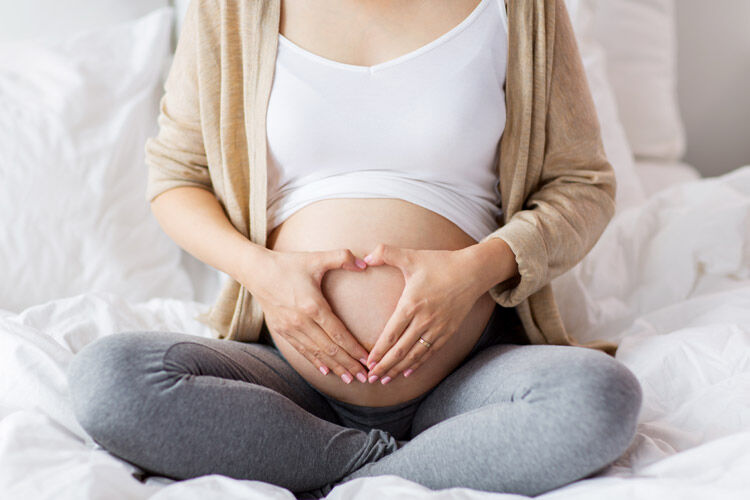 Making a little human is out-of-this-world stuff, and that's why the nine months of being pregnant is something to be celebrated. It really is the best.
We went straight to the source and asked the thousands of pregnant mummas in our famous Mum's Grapevine Pregnancy Groups what they're loving about rocking a baby bump. We were flooded with positivity, from amazing things happening to skin and nails to no longer having to suck your guts in!
From baby backflips to the best boobs ever, here are the 50 reasons why being pregnant is the best.
50 reasons being pregnant is the best
"No period for nine months. Enough said." – Anita
"Knowing you are growing a miracle inside your body." – Courtney
"Feeling every move and little hiccups." – Teisha
"Watching my body change, absolutely incredible stuff, nature at its best." – Tanya
 "I got boobs!" – Elizabeth
"Guilt-free eating." – Louise
"Seeing my beautiful belly grow." – Ashley
"Always looking awesome in long dresses." – Dee
"People are generally actually really polite to pregnant people." – Kylie
"Loving a person you've never met from that very first flutter." – Amber
"I have never felt more confident in my body as I did while pregnant." – Serena
"Thick, shiny hair." – Linda
"I had great skin." – Gillian
"Feeling healthy and strong most of the time." – Jules
"The anticipation." – Chelsea
"Setting up the nursery." – Kim
"Having your baby with you all the time. Safe. Growing." Ashlea
"The ultrasounds. It's truly surreal the first time you see that tiny pumping heart." – Karina
"The special way that people treated me, they made me felt so precious." – Blanca
"Those first flutters that no-one else can feel. It's like it's finally real." – Karen
"Dreaming about the possibilities of a future as a family." – Kate
"Not having to suck my guts in all the time!" – Chelsea
"No-one raising an eyebrow when I make my third trip to the fridge – after dinner." – Shae
"Connections built with other mums or soon to be mums." Maree
"People saving me special treats at every morning tea at work!" – Michelle
"Having strangers smile at you and having something easy and relatable to talk about with anyone." – Tara
"Being able to eat chocolate and ice cream without feeling fat." – Rhian
"The second-trimester sex!" – Jessica
"Having that connection with other pregnant women you see out and about. Just a little knowing smile – it's like being in a special club." – Phoebe
"That pregnancy glow – it really is a thing!" – Jenn
"Watching my partner become a father even before he'd held our baby." – Carrie
"People giving me a seat on the bus on the way to the football." – Claire
"Sharing the news with my parents – truly one of the most emotional things ever." – Rebecca
"My hair! I usually have to wash my hair every day or it becomes a big ball of oil, but when I'm pregnant I can leave it up to 3 whole days without having to wash it. Bliss." – Christine
"The amazing dreams. I know lots of people say they have awful dreams, but mine were just beautiful." – Sally
"Guilt-free early nights!" – Taya
"Waking up each morning and feeling my heart leap as I remember I have a baby growing in me." – Faith
"Watching my bump change – even from morning to night." – Lilly
"Going on maternity leave! So amazing to have that special time to nest and prepare." – Bonny
"My nails became so shiny and strong – it was incredible." – Jane
"It's totally acceptable to wear comfy leggings for nine months." – Meagan
"Going on a babymoon!" – Feli
"The afternoon naps." – Penny
"Being able to skip the queue at any public toilet. Pregnant woman coming through!" – Quinn
"Not having to change the kitty litter for nine months!" – Shelly
"Watching my firstborn talk to his little brother in my belly. It was so special." – Yari
"Being able to use my tummy as a table – ha ha!" – Bree
"Having my husband looking after me so beautifully. It made me feel so special." – Kel
"Always being warm! I was pregnant right through winter and was toasty all the time!" – Tully
"The whole experience, it's something I've always wanted, and it's so surreal when it finally happens." – Liz
Read next …
Want to know even more fabulous stuff that happens during pregnancy? These articles will take you right there: