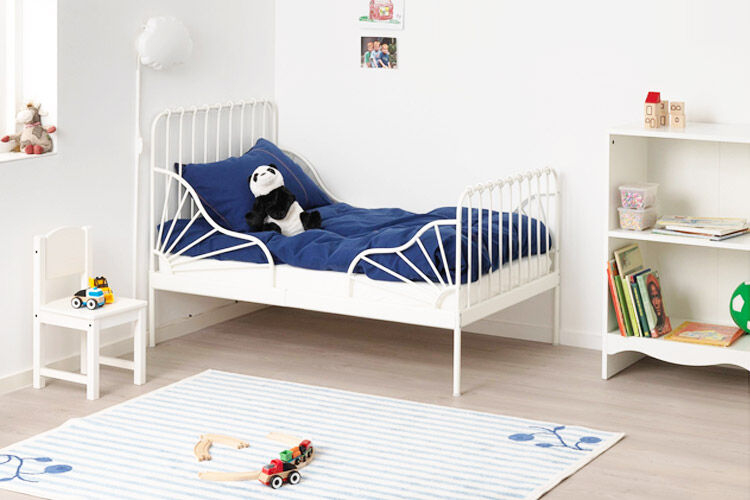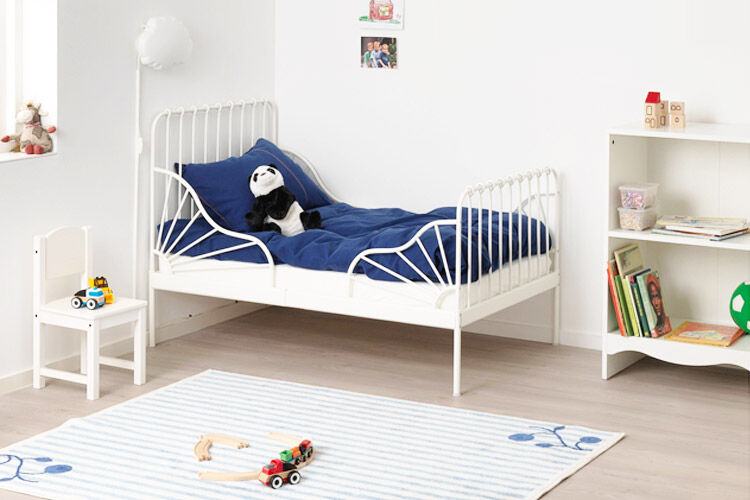 Cots are great for keeping squirmy wormy babes contained while they sleep. But when your darling is a baby no more, it may be time to transition to a toddler bed.
Toddlers with a strong sense of independence often show signs of wanting a bigger bed, but a regular-sized single bed can be quite the leap for a little 'big' kid. The happy medium is a toddler bed – not too big and not too small, just right for sleepy bears.
Buying a toddler bed also makes a lot of sense if you're tight on space, or the cot in bubba's nursery doesn't easily transition into a bed.
What to look for when buying a toddler bed in Australia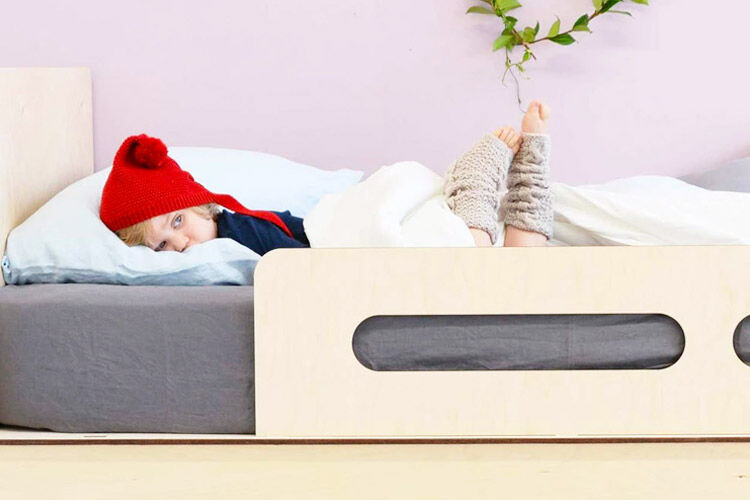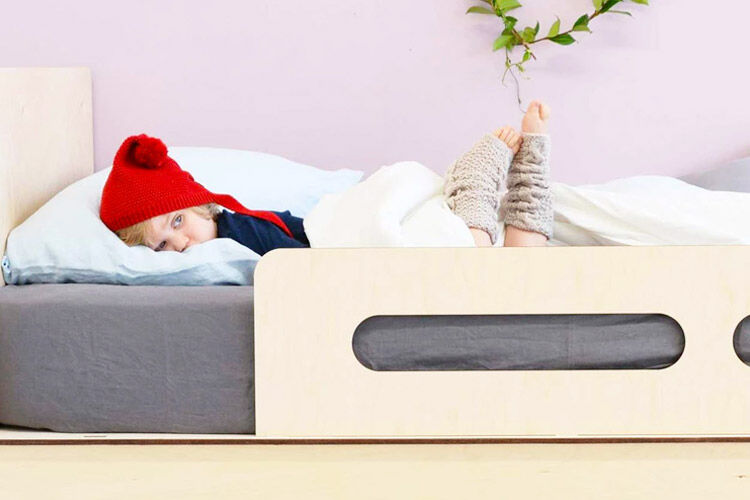 Here are some of the key features to look for when buying a toddler bed:
Height: Look for a toddler bed that sits lower to the ground, as transitioning tots may find themselves rolling beyond the edge.
Guard Rails: While toddler beds are generally low to the ground, it's still a shock to fall out of one.
Safe Bed Frame: Round edges are the safest for toddlers tossing in their sleep.
Weight Limit: Toddlers don't all come in one size, so make sure you check the weight limit on any toddler bed you're buying.
Non-Toxic Paints and Finishes: They may be getting older, but toddlers are still prone to the odd gnawing and chewing of…well… anything, really.
---
16 toddler beds for growing kids
Oeuf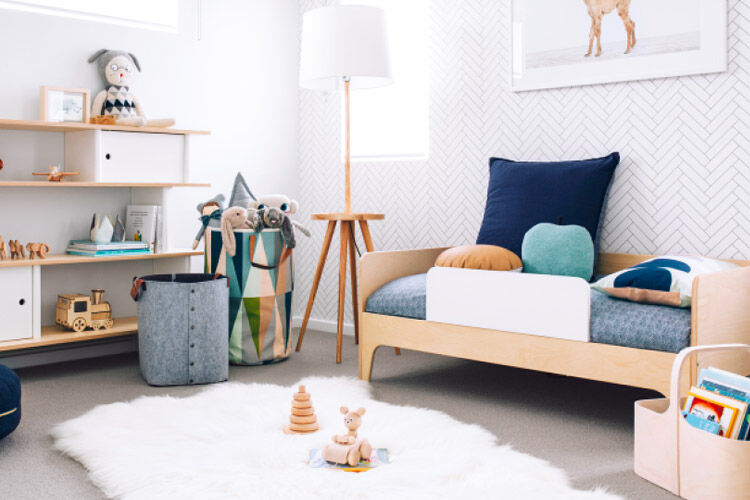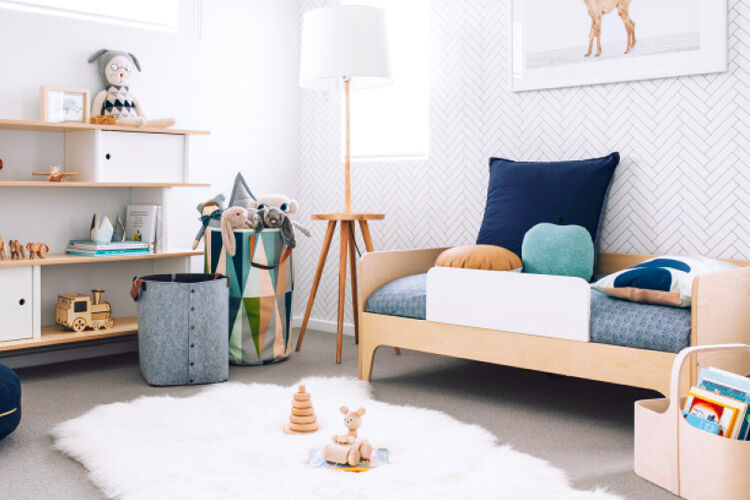 Oeuf Perch Toddler Bed ($699): A triumph of design (a win for parents!) and a safe and sturdy sleep nest for transitioning toddlers, the Oeuf Perch is a stunner. A low-profile bed with a security rail that transforms into a sofa once the toddler days are done. Sublime.
---
Mocka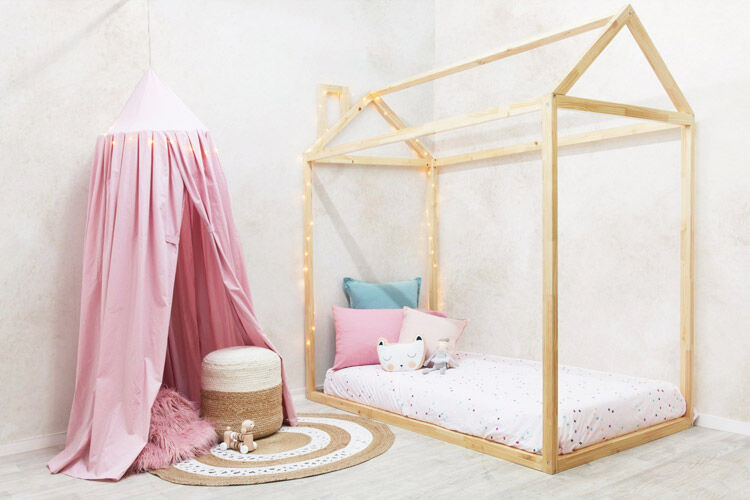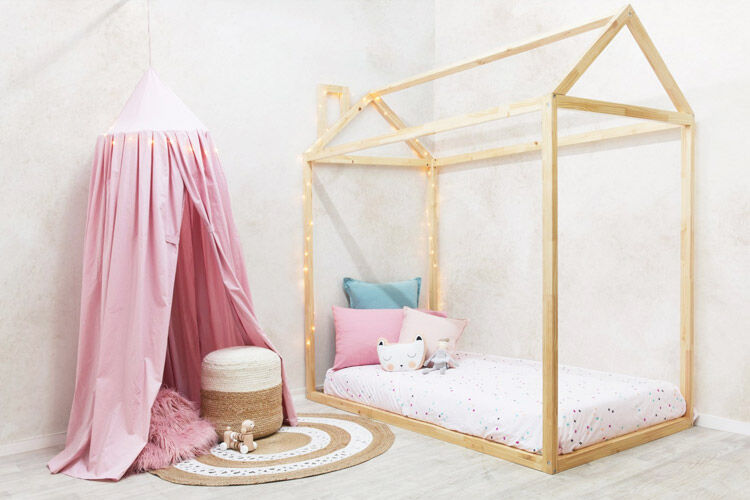 Mocka House Bed ($349.95): A budget-beater without compromising on style, the House Bed makes the toddler bed transition even more fun. Safe as houses (pardon the pun) thanks to its floor position, it's a whimsical entry into the world of big beds.
---
Plyroom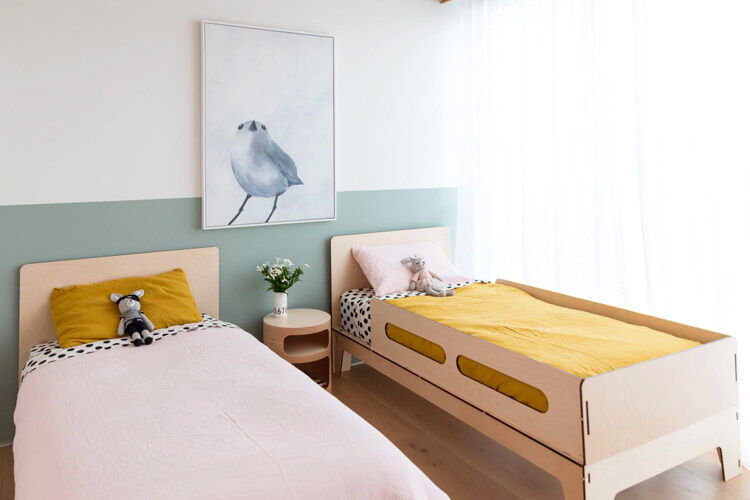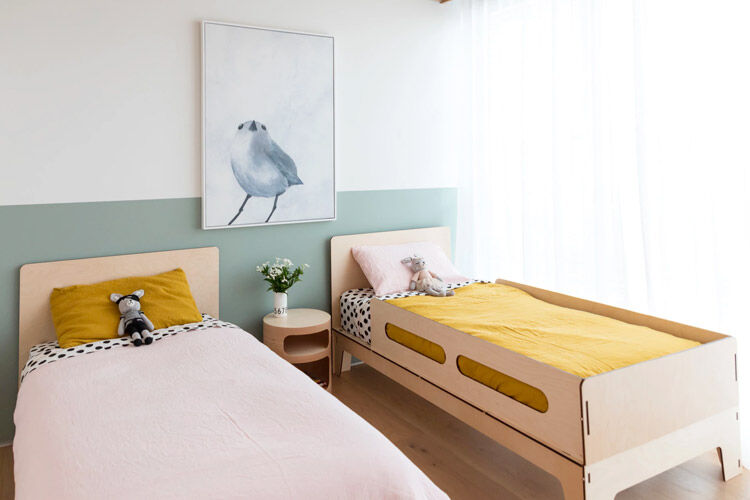 Plyroom Sleigh Single Bed ($1,650): Sleek and minimalist, there's nothing overwhelming about this thoughtfully crafted toddler bed. The side and end rails help mimic that cocooned-in-a-cot feeling. It's also a fabulous compromise, having the safety features of a toddler bed with the mattress size of a single.
---
Boori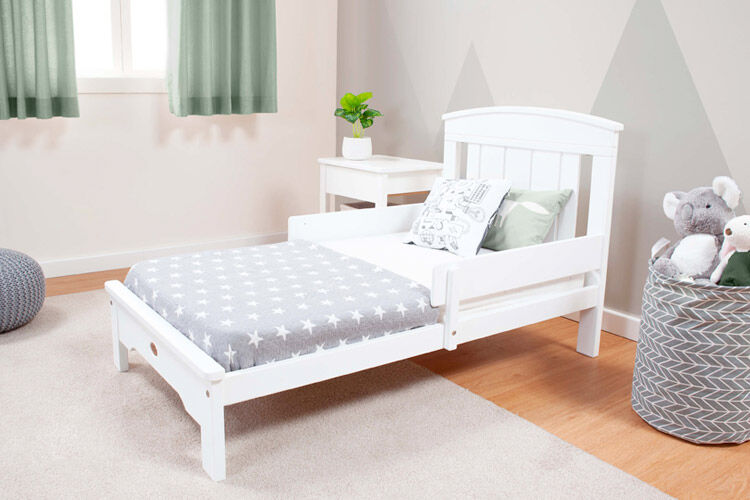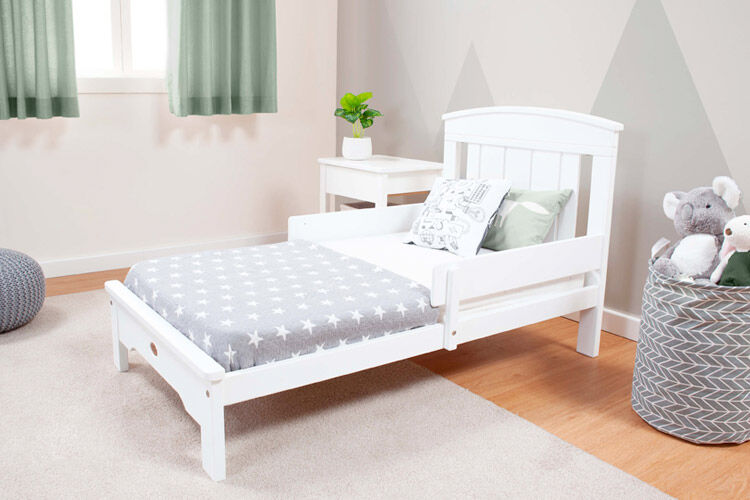 Boori Casa Toddler Bed ($314): Crafted from sustainably sourced Australian Araucaria timber and finished with a water-based bio-paint, this is excellent for the environmentally conscious. Two safety guard panels help keep teeny transitioners in place.
---
IKEA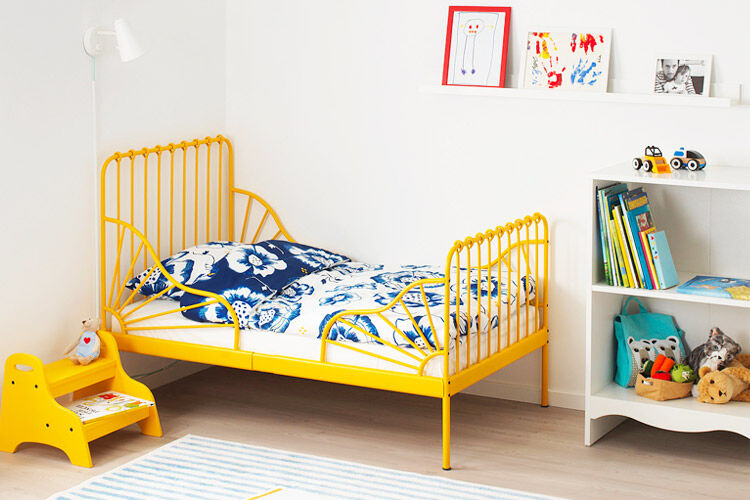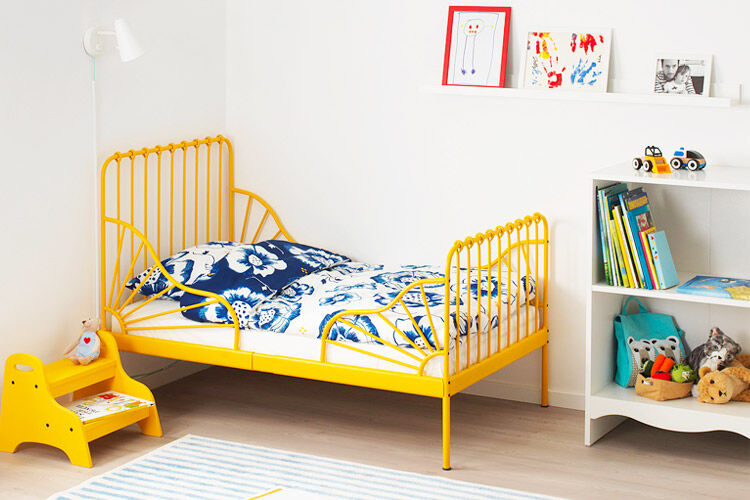 IKEA MINNEN ($199): A super-smart, budget-friendly toddler bed that grows along with your kiddo. Paired with the PLUTTEN mattress, it can be adjusted to three different lengths.
---
Fantastic Furniture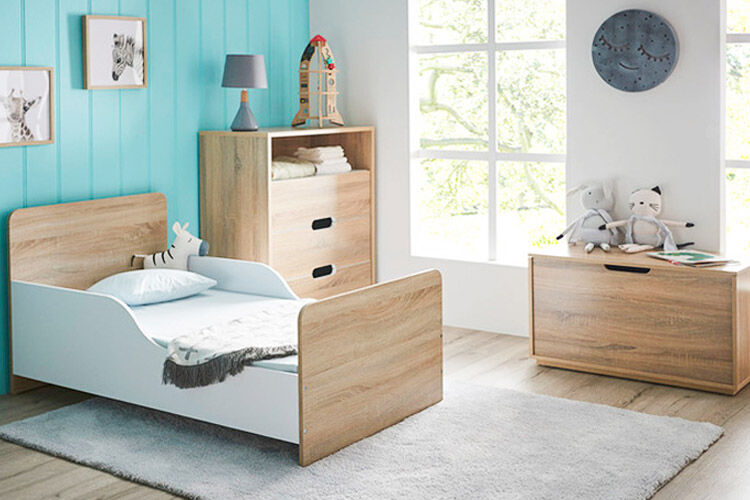 Fantastic Furniture Cabin Toddler Bed ($129): Smooth, round edges and high side rails create a warm cocoon for sleepy kittens who still need the comfort of close quarters.
---
Hip Kids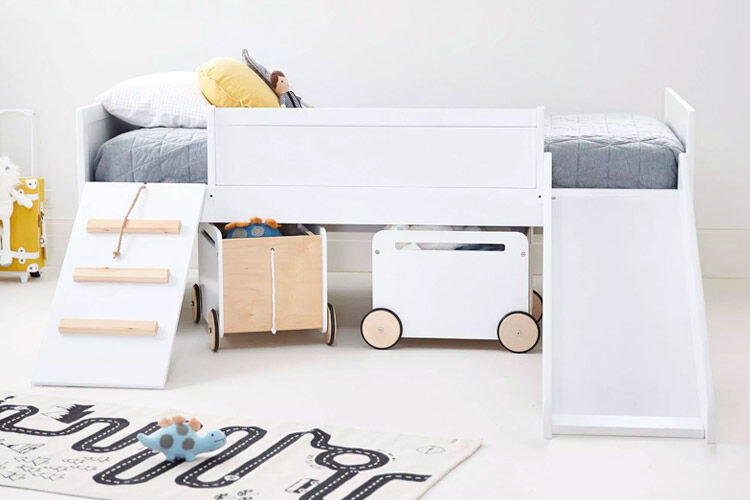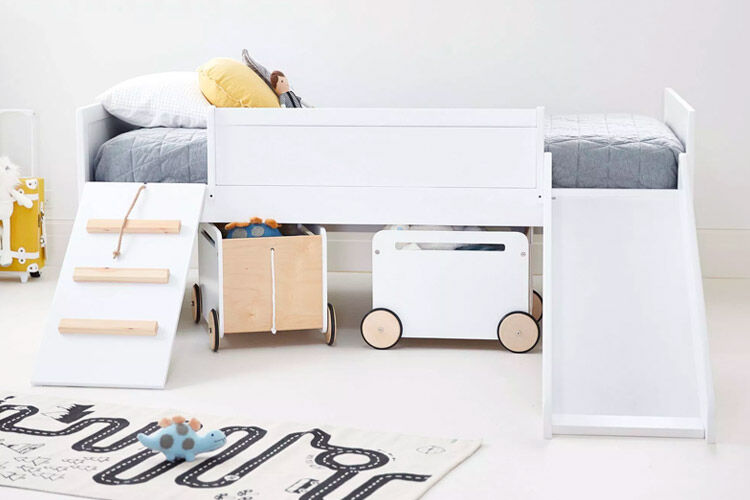 Kids Loft Timber Bed ($749.95): The fun factor is high with this toddler sleep space. A single-sized bed with all the appeal of a loft without the dizzying height. With a cute slide and climbing wall, getting tornado toddlers into bed is a cinch!
---
Harvey Norman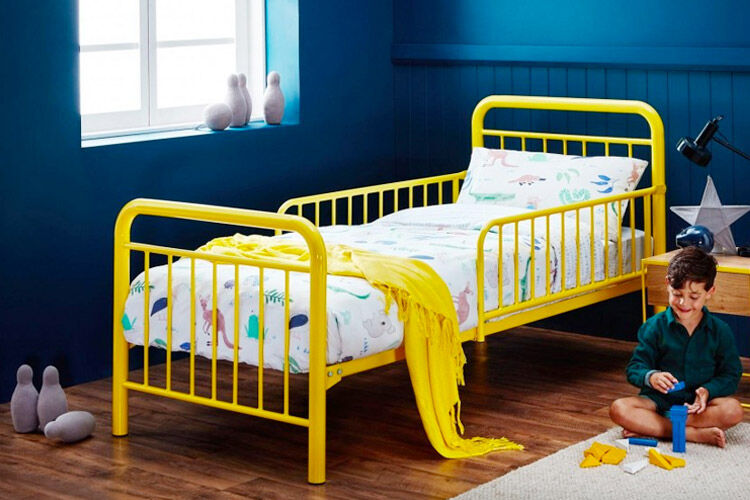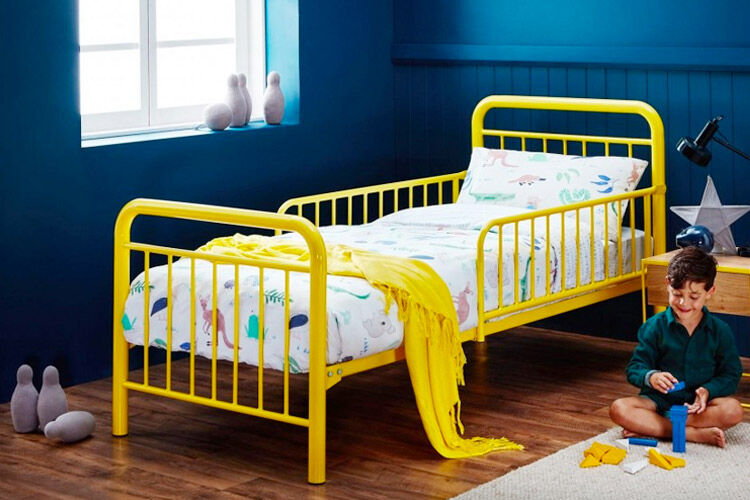 Harvey Norman Cali Bed ($699): Guard rails that match the aesthetic of the bed mean transitioning toddlers still feel like a big kid.
---
Childcare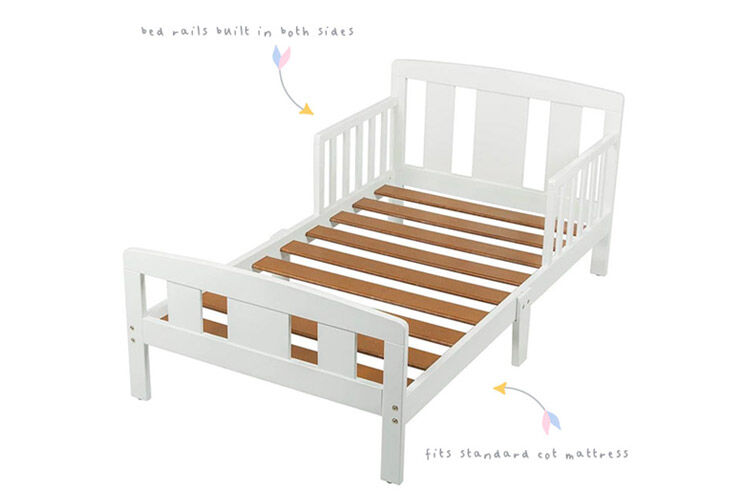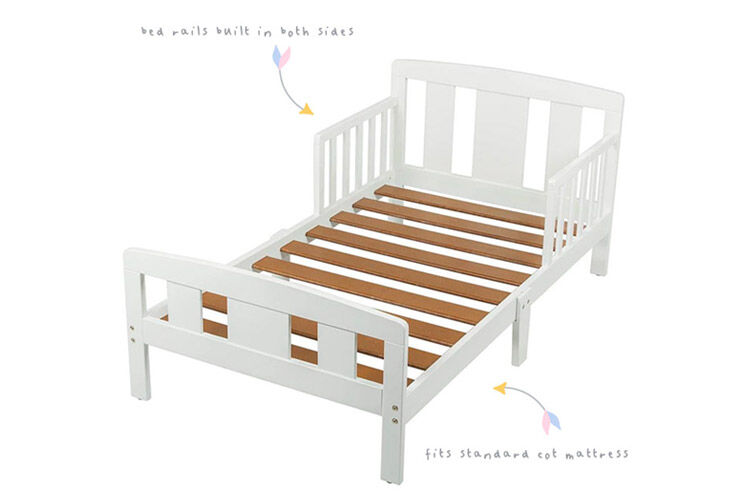 Hudson Toddler Bed ($199): A super sweet sleep nest with bed rails on each side and suitable from 18 months up to 23 kilos, this sturdy toddler bed is a subtle new addition to the nursery. Just transfer your cot mattress to this frame and transitioning toddlers are good to go.
---
Amart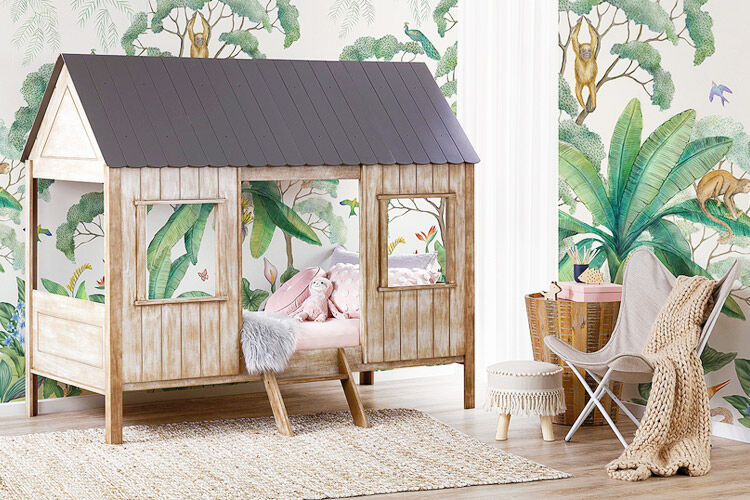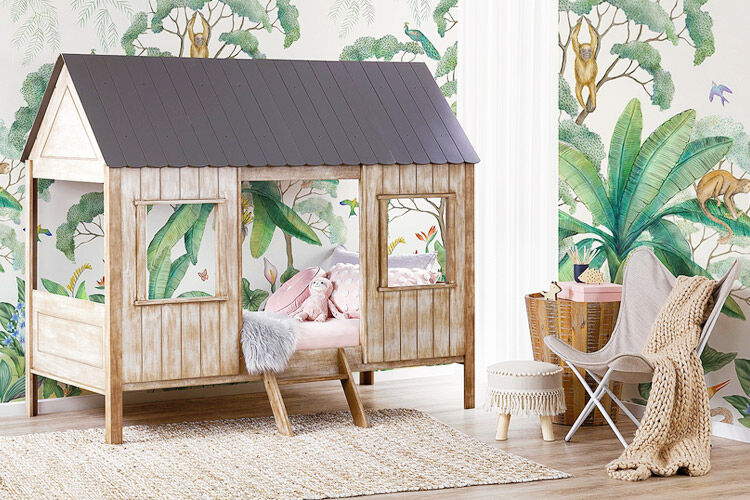 Amart Cubby House Single Bed ($719): A thing of beauty as well as a cosy space to curl up and cuddle the night away. The walls of this sleepy home feel just like the familiar surrounds of a cot.
---
Forty Winks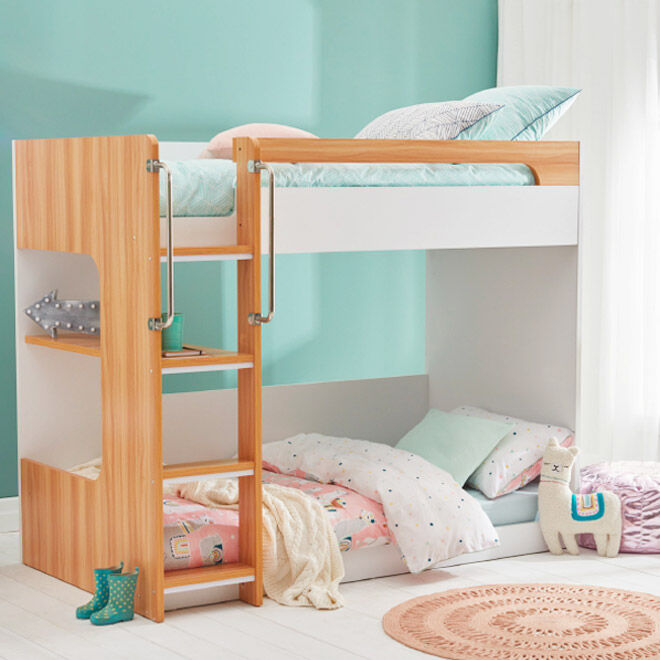 Forty Winks Mercury Bunk Bed ($1,199): For toddlers who are feeling the move from cot to bed is a little too overwhelming, share a space with a big sibling might just help ease their fears. With a bottom bunk that's at ground level, it means a safe, cosy nook for newly-crowned big kids.
---
Snooze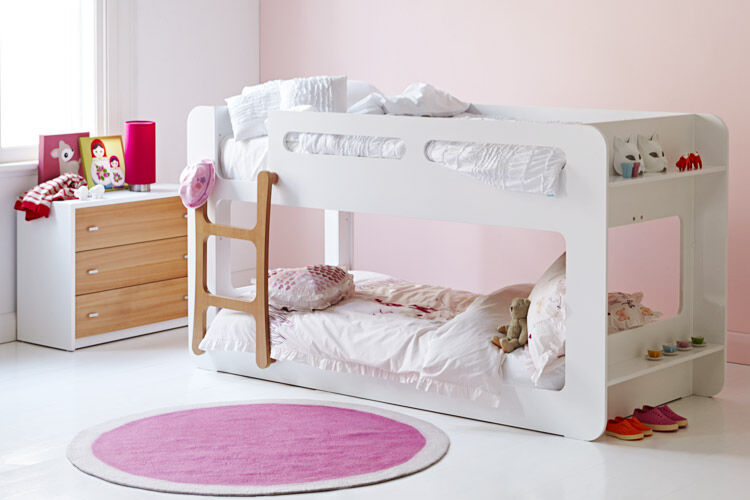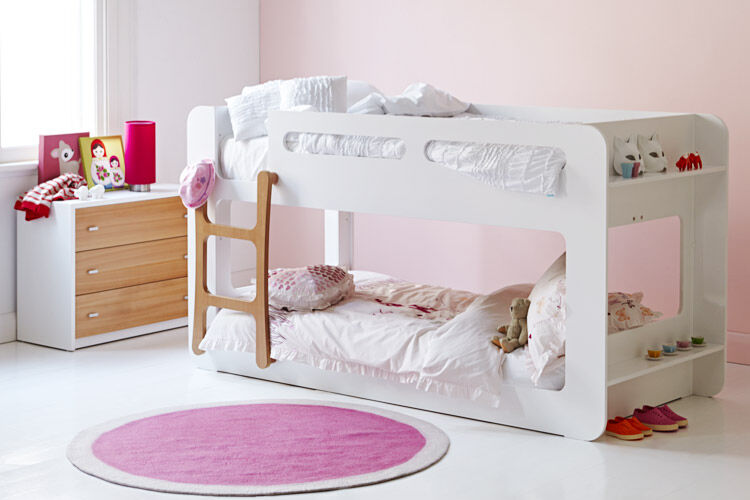 Snooze Mini Me Compact Bunk Frame ($1,399): A compact bunk option so siblings are close enough to comfort each other, this delight is nice and low to the ground for both kiddos.
---
Oak Grace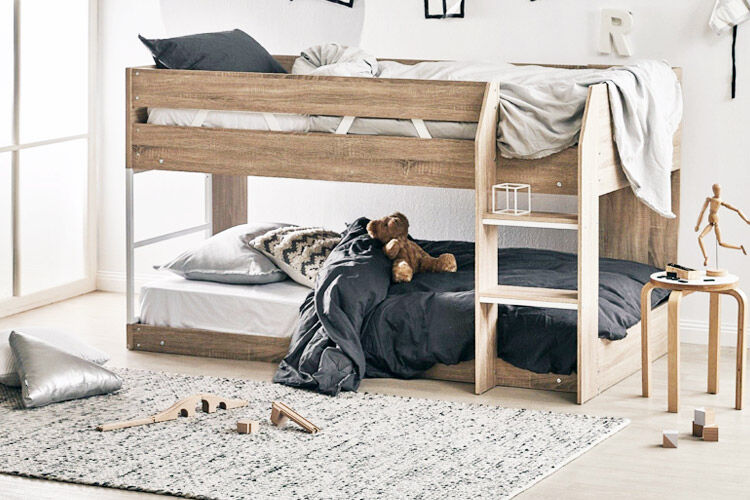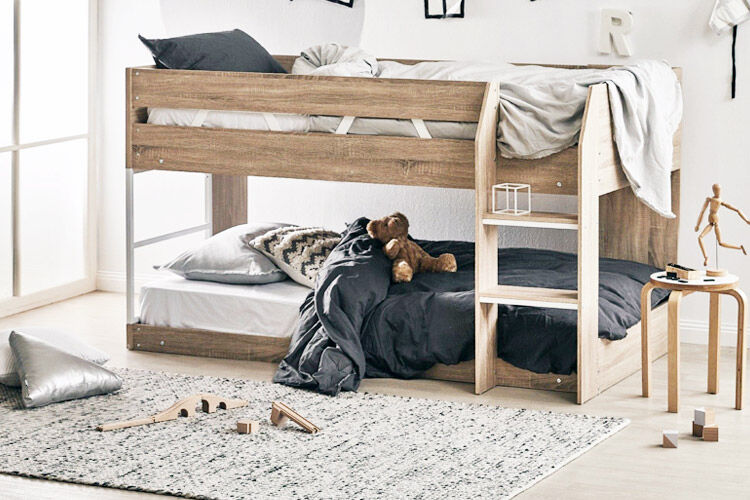 Oak Grace Low Line Single Bunk Bed ($679): Low enough to be an ideal toddler transition bed, and stylish and sturdy enough to last two sleepy crumpets for quite a few years.
---
This article is curated by our Editors and includes affiliates and/or paid inclusions. See our Disclosure Policy.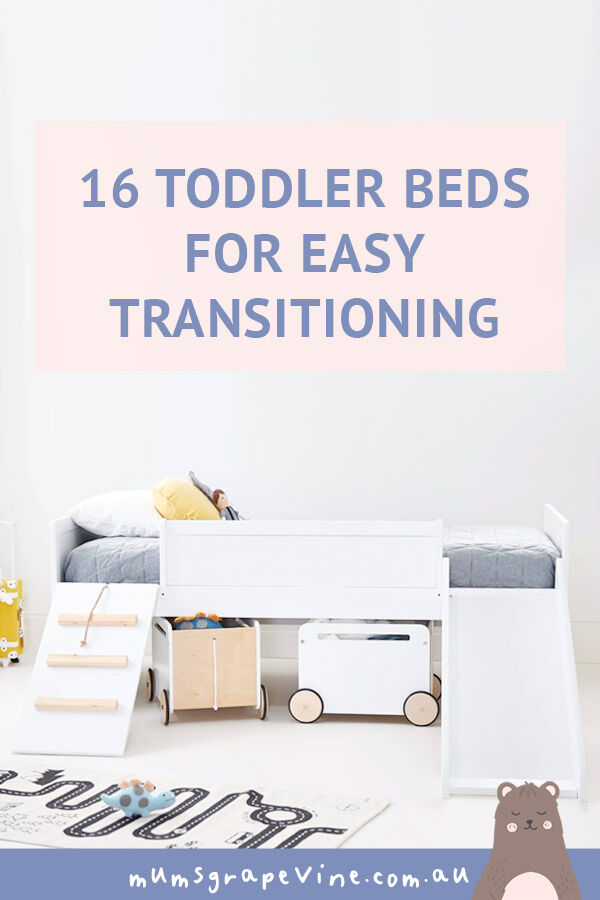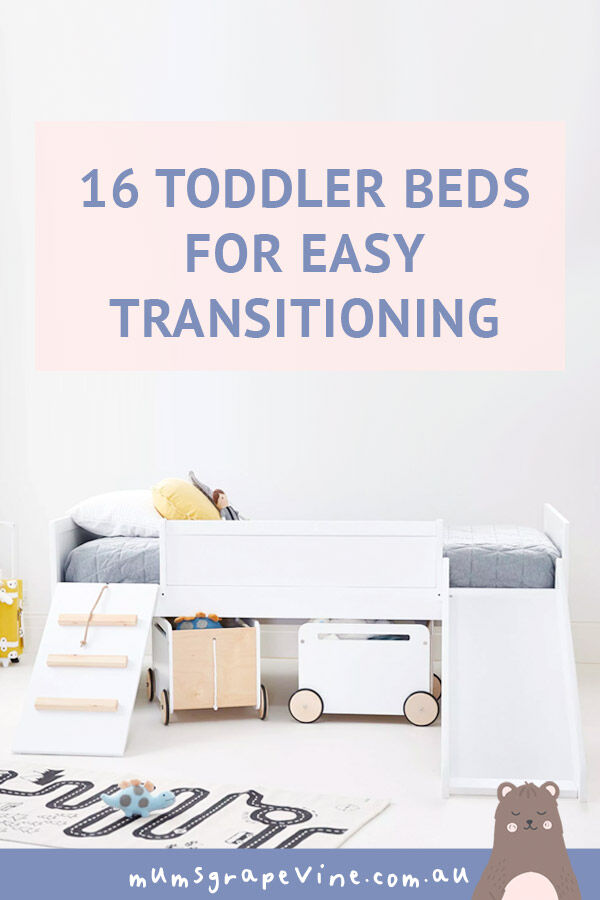 Know a brand of junior bed we should add to our list? Contact us and let us know.
Read these roundups next …
Continue your search for the best toddler bed
Looking for a junior bed and still not sure if any of these are right for you? Join one of our Facebook Baby Groups and ask thousands of other mums what they recommend. They are grouped together based on your baby's birth date so everyone is going through the same stages at the same time.
Click here >> Mum's Grapevine Facebook Groups  << to find your group today!