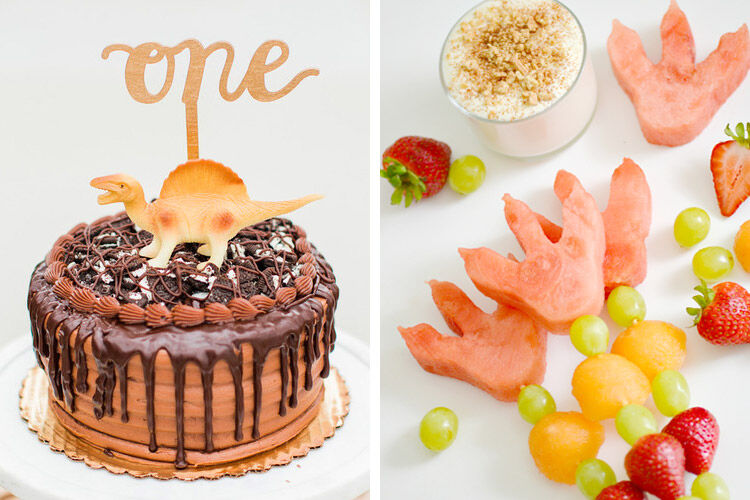 A dinosaur themed party appeals to kiddos big and small. It's easy to wow little tots with lots of colourful dinos and leave older kids flabbergasted with realistic-looking prehistoric creatures. Whatever age you're catering for, a dinosaur party truly is rip-roaring fun for boys and girls.
To help with the event planning, we've gathered everything from dino-mite games and roarsome party favours to jaw-dropping cakes that'll leave lil' guests stomping for joy.
Here are our top tips for hosting a mega dinosaur party.
Dinosaur party venues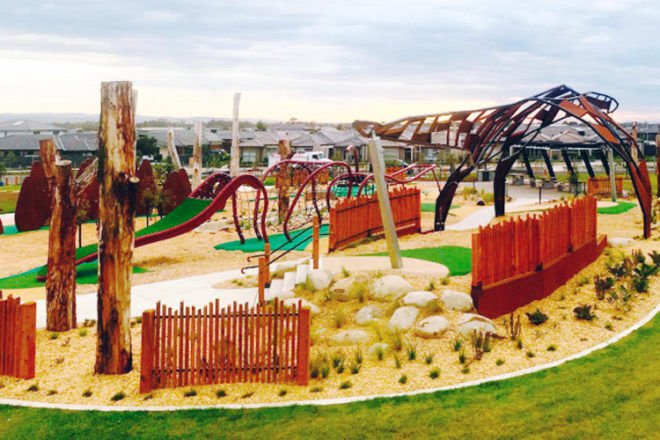 Head outdoors to enjoy a natural dinosaur setting. Think anywhere that has a 'lived in' feel, perhaps somewhere green, with rocks, lots of tree stumps and a few nooks to hide in.
The Megasaurus Park in Victoria would be a terrific choice for budding palaeontologists.
Create an earthy feel at home by using things such as moss and dirt, to create a prehistoric feel. Calico and other more natural fibres such as hessian will further the look.
Cut out and lay down a pathway of huge dinosaur footprints to leads guests to the party area.
Many museums pay homage to the incredible creatures – Spend the morning wandering around a local museum with some special friends, then have a picnic afterwards at a local park. The Australian Museum in Sydney hosts special Dinosnore sleepover events at times throughout the year – they aren't cheap, but dino-lovers may prefer to take this amazing adventure with just a few special friends.
The team at the National Dinosaur Museum in Canberra take care of everything with their special Dino-Mite parties. Start with a tour of the museum followed by hands-on activities and special dinosaur photo settings that create lasting memories for everyone!
Dinosaur party games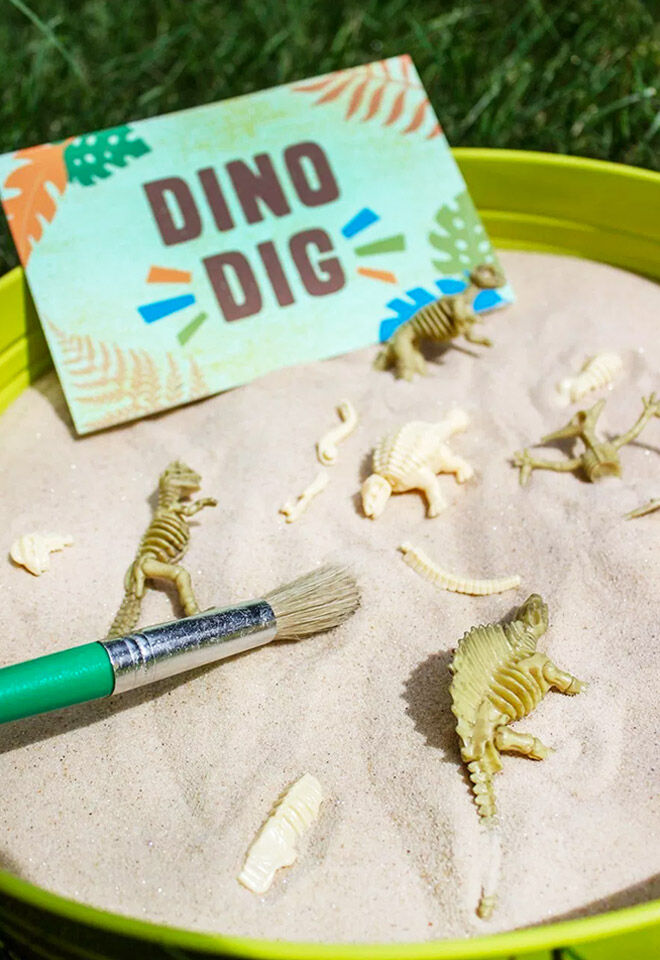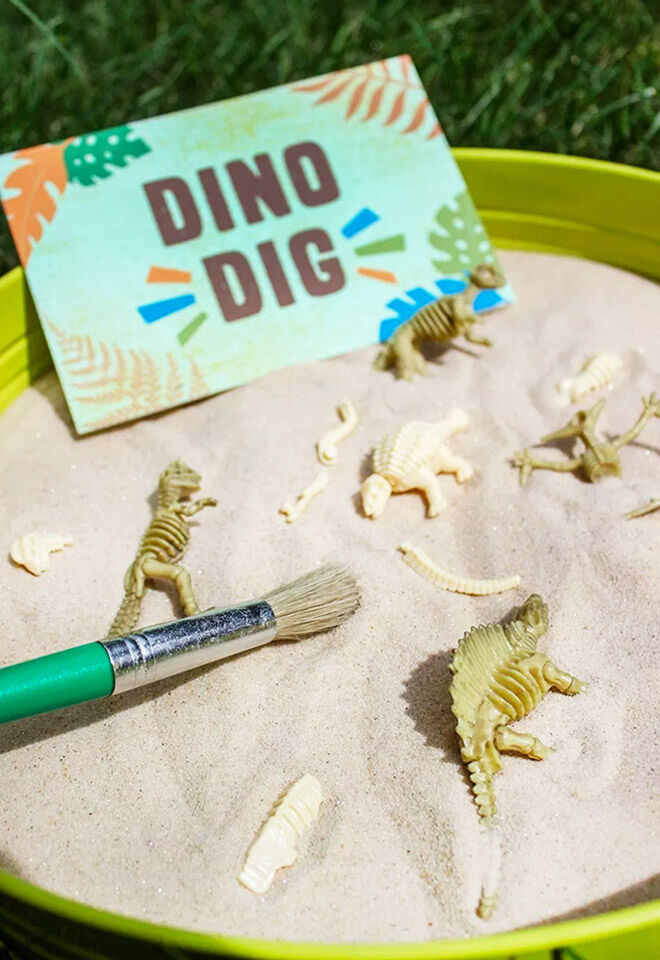 There's so much fun to be had at a dinosaur party in the way of entertainment, including a game of Dino Dig (via Just Add Confetti).
Here are some of our favourite dinosaur party games:
Tug of War – who is the strongest dino of them all?!
Dinosaur egg hunt – hide some chocolate eggs all around the party area and give the kids a brown paper bag to collect their stash in (this activity could even end up being their take-home lolly bag – score!)
Dress ups are always fun – check out how to make some awesome dinosaur tails here.
Pin the Horn on the Triceratops is a good alternative to the good old pin the tail game (which you could also do).
Dinosaur races – turn some old tissue boxes into dinosaur feet that the kidlets have to wear, then sit back and watch the kids clomp their way to the finish line, giggling all the way there.
Dinosaur Egg and Spoon Race – go old school with this classic party game.
Guessing the Number of Dinos – Ask your guests to guess how many plastic dinosaurs are in a jar. The winner takes home the jar!
Dinosaur cakes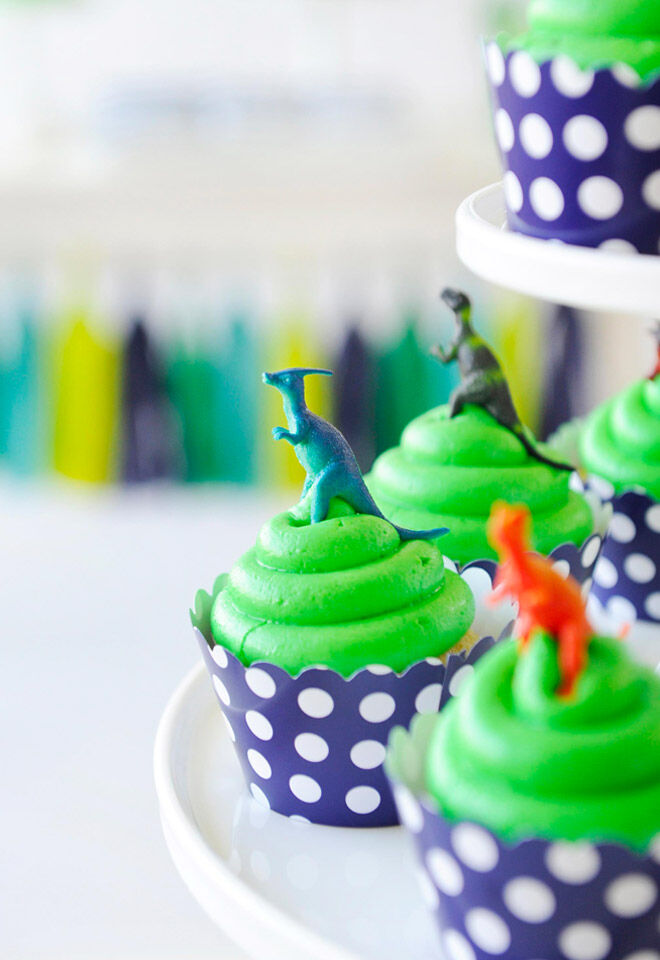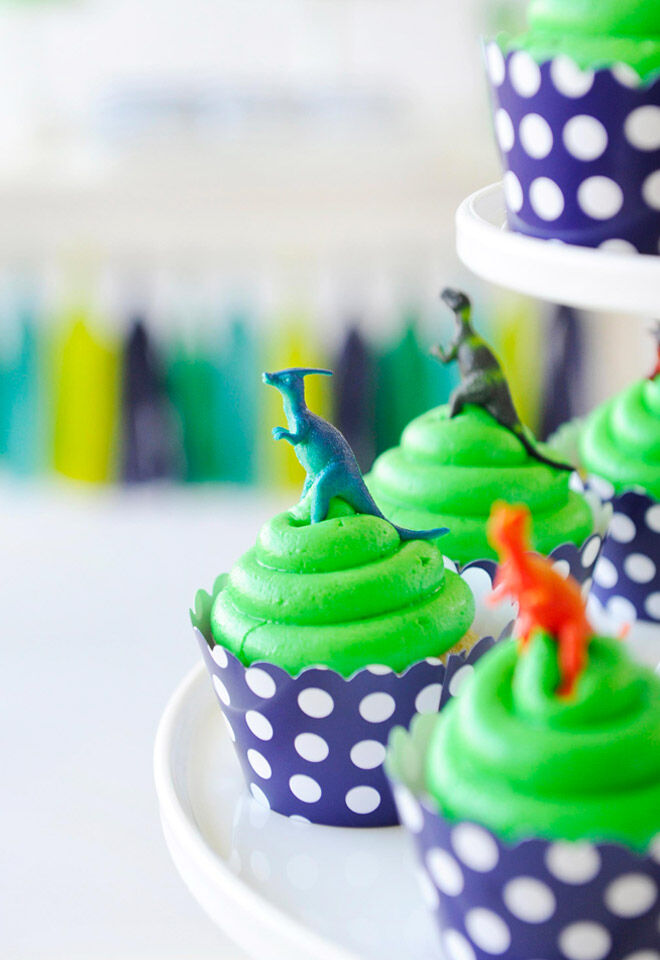 Iced to perfection, these colourful dinosaur party cupcakes are perfectly sized for mini chompers. Don't have steady hands? Don't worry! When it comes to dinosaur parties, the more rustic the cake, the better! Phew. (via Project Nursery)
A chocolate cake topped with crushed biscuits and toy dinosaurs works a treat.
Chocolate cupcakes with green 'grass' icing are easier for little fingers to handle.
This chocolate crackle volcano cake would be a great centrepiece of any dessert table.
Mint leaves make great spikes on top of any type of dinosaur cake.
Turn a plain chocolate cake into a mini palaeontologist's dream with white fondant shaped into dinosaur bones.
Dinosaur party food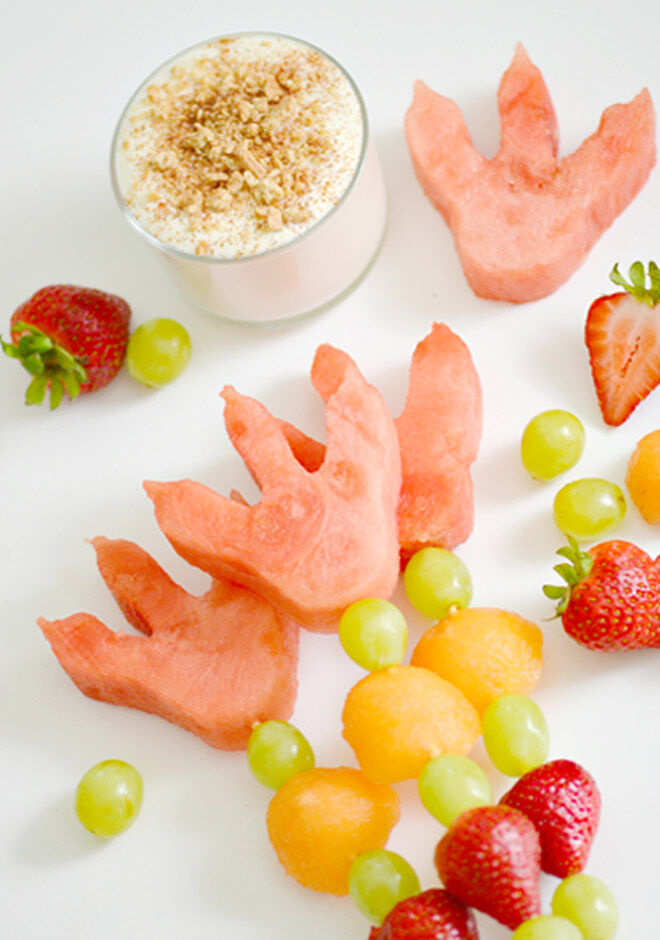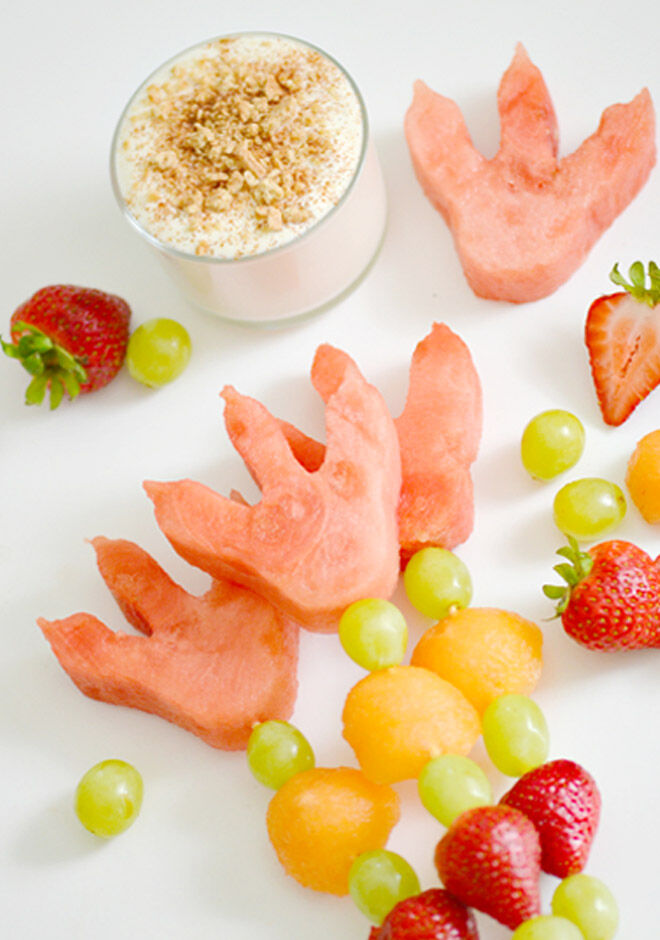 Dinosaur fruit skewers are fun to make and fun to eat! Here are some of our favourite dinosaur party food ideas that will have your mini dino chomping at the bit! (via Finding Zest)
To cater to all prehistoric creatures, have both a herbivore and carnivore section.
Watermelon triangle pieces make great dino spikes!
Make some ice-age icy poles – suspend some dinosaur lollies in lemonade then leave to freeze.
Oozy lava cakes are perfect for dino-loving sweet-toothed kids.
Attach a marshmallow to each end of a pretzel stick then dip in chocolate for bones.
Hard-boiled dinosaur eggs are a yummy, but healthy alternative.
Maltesers make great swamp rocks.
Use the foot of a plastic dinosaur to make a fossil imprint in some homemade cookies.
Anything on a stick is always a hit with kidlets; we love the idea of volcano cake pops.
Green jelly in jars = gooey, green swamp sludge.
Mini 'meat lovers' style pita pizzas would be perfect for carnivores.
Dinosaur party decorations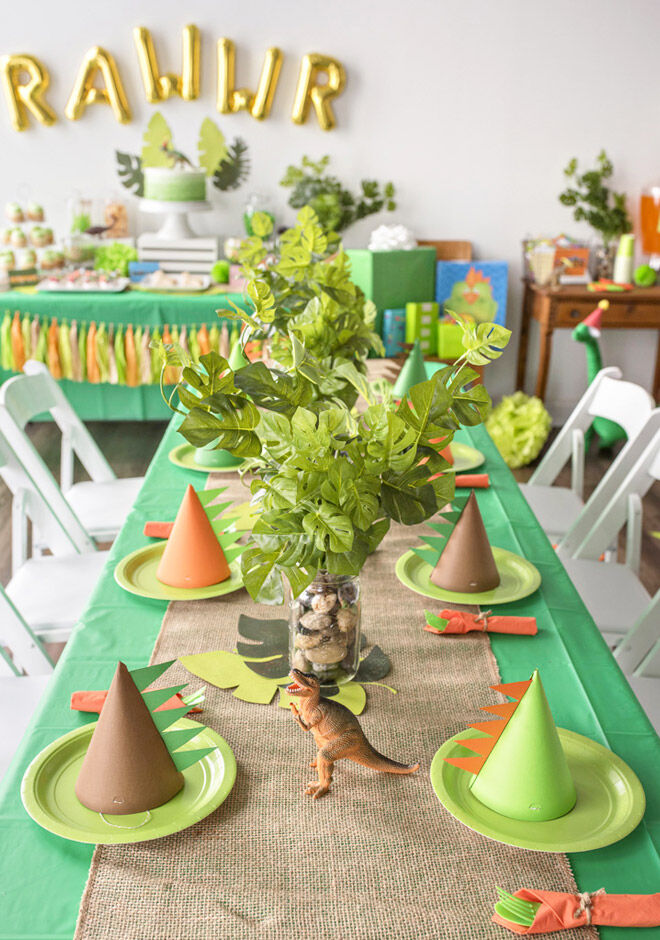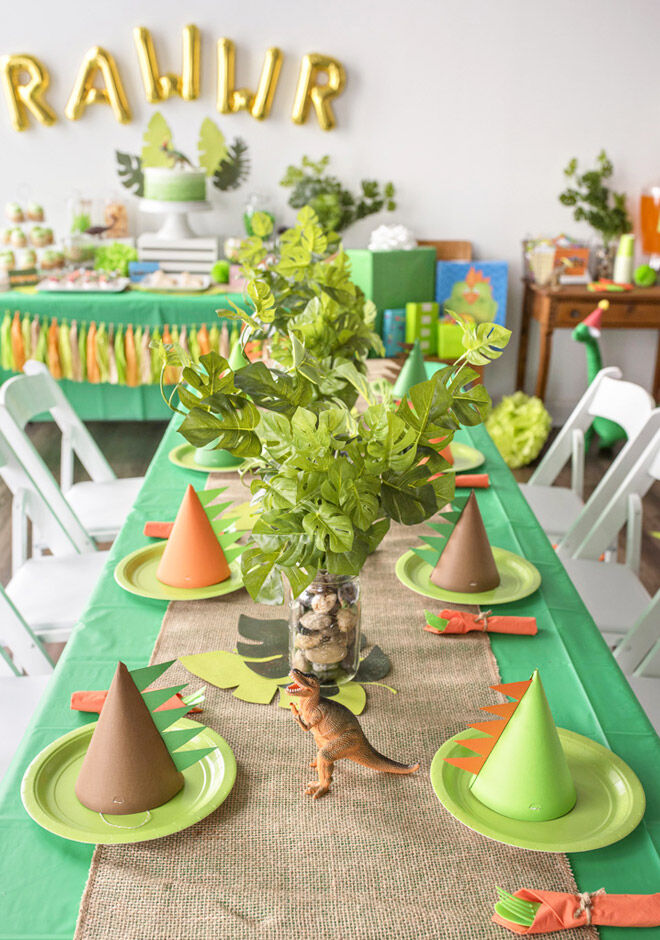 Homemade party hats are a cinch to make and will get little guests in the party mood. When in doubt, go with a colour palette of green and brown to give it that natural feel. (via American Greetings)
Encase invitations in egg-shaped plastic containers (such as those that come with Kinder Surprise chocolates).
Use rocks on top of hessian fabric to create a rustic feel on all the party tables.
Hire some pot plants to create a natural atmosphere.
Green and brown streamers cut in long lengths to dangle from the roof look fab.
We love these DIY helium dinosaur balloons that can float their way around indoors, or secured to some fishing wire outdoors.
Dino hats for the party guests are a must.
Dinosaur party favours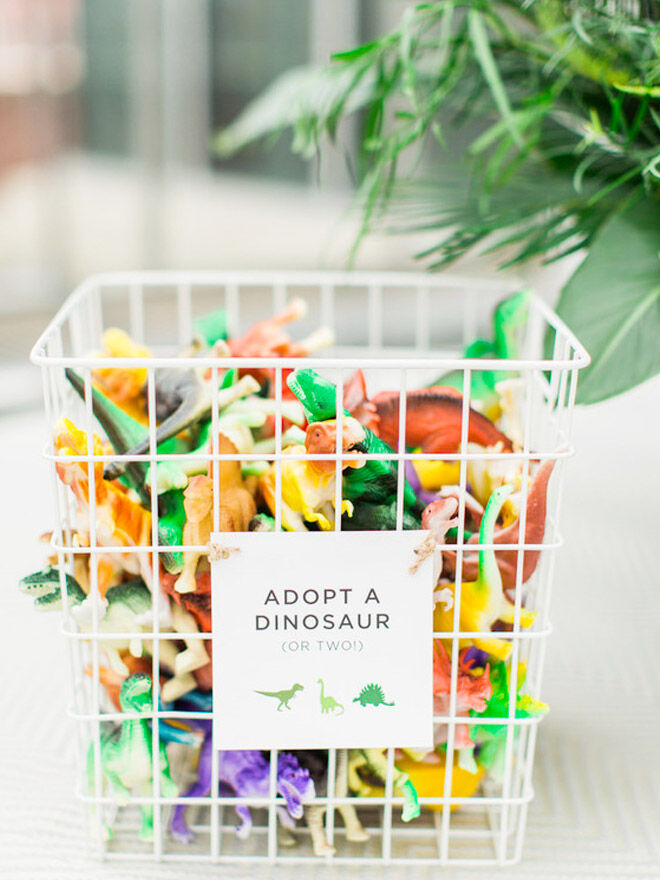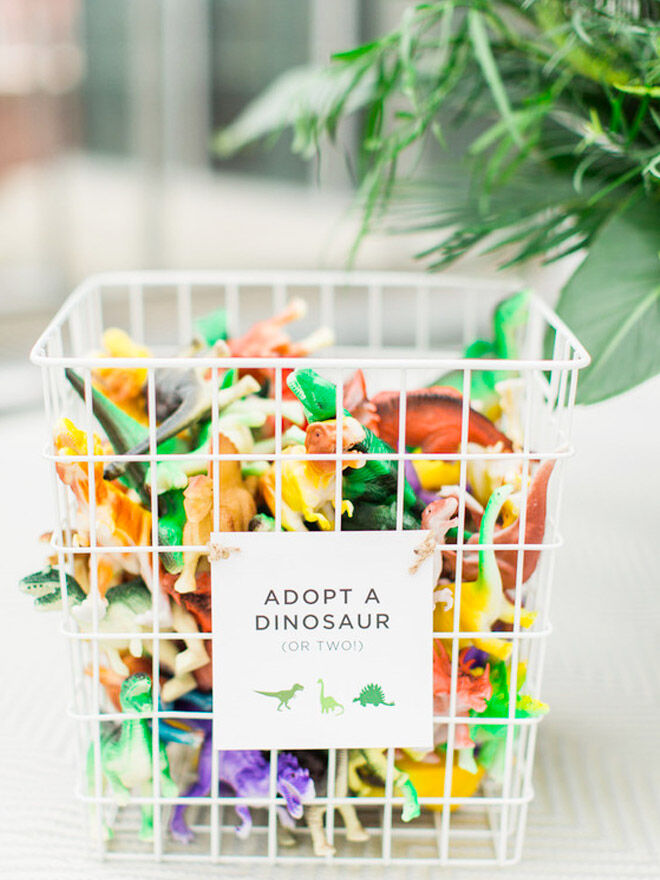 Arguably the part of the party kids remember the most: the good old lolly bag. If steering clear of sweets and lollies, adopt a dinosaur is a great option for kids of all ages. (via 100 Layer Cake)
Want to let the kids construct their own party favours? Here are a few ideas to get you started:
Dinosaur stamps are easy to come by. Let kids stamp and draw on their own loot bags that they can then fill with the goodies from a dinosaur egg hunt.
Creating a dinosaur terrarium is a great activity that will keep kids of all ages happily entertained – they can proudly display their creation at home.
We love the idea of filling your lolly bags with Cadbury 'dinosaur' eggs.
These mason jars topped with a painted plastic dinosaur can be filled with treats of your choice.
---
Read more …
Looking for more party ideas and inspiration? We've got stacks of tips and tricks right this way: