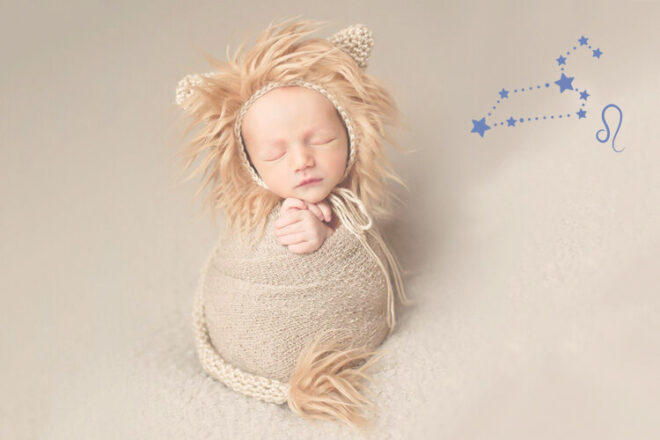 Leo babies – (July 23 – August 23)
Friendly, sociable and funny, little Leos are otherworldly in their unique personality traits. Ruled by the sun, it's little wonder that these tiny beings shine incredibly bright. So grab your sunnies and get set for an amazing ride.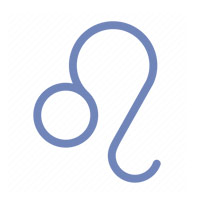 5th astrological sign
Symbol: Lion
Constellation: Leo
Element: Fire
Quality: Fixed
Ruler: Sun
What to expect with a Leo baby
Bright and warm, Leo bubs love their time in the sun. They thrive on attention and the adoration of their family, so heap on the praise and your little cub will roar with pride. But with great attention comes little humility. These attention-seekers crave the praise of others, as they believe they're the centre of the universe.
They're not afraid to let you know that they need attention and love, but luckily they know you catch more flies with honey than vinegar. So instead of being cranky, they're more likely to be sweet to get your attention.
They're also happy and always up for a laugh, but this means they can be a little tricky to get to sleep. They have a serious case of FOMO! They're also born leaders, bursting with ideas and eternally energetic. And as their namesake suggests, little Leos are brave and fearless
Leo traits
Attention-seekers
Cheerful
Leaders
Great sense of humour
Creative
Outgoing
Strong
Fearless
Enthusiastic
Energetic
Daring
Adventurous
Famous Leos
Creativity and leadership qualities, as well as a need to shine bright, have propelled these famous Leos into the spotlight.
Sandra Bullock
Jennifer Lopez
Madonna
​Mick Jagger
Shawn Mendes
Jackie Cruz
Barack Obama
Arnold Schwarzenegger
Roger Federer
Neil Armstrong
Daniel Radcliffe
27 names perfect for Leo babies
Fierce, strong, bright and cheerful names are all perfectly suited to shining Leo babies.
Adelaide: Of German origin and meaning noble and kind, this beautiful moniker ticks off two of a Leo's most admirable traits.
Aidan: Used as either a boy or girl name, it has Irish roots and means 'little and fiery'.
Annika: There are a couple of cultural references that are attributed to this name – Russian, meaning grace, and also the most powerful goddess in Hinduism.
Apollo: Of Greek origin, this is as strong and bright as baby names get, as Apollo was the sun god.
Ari: Hebrew for 'Lion of God', the perfect name for a little Leo.
Ariel: While most of us associate this beautiful name with The Little Mermaid, the Hebrew meaning is 'lion of God'.
Aslan: Meaning 'lion' in Turkish, most of us get a pang of nostalgia from this strong name, which was also the name of the lion from The Chronicles of Narnia.
Aurelia: This Latin-origin name means 'the golden one' – a beautiful nod to the Leo ruler – the sun.
Bowie: Yep, it's the name of one of the most incredible musical artists the world has seen, but it also means 'golden-haired' in Scottish. Just the ticket for a little lion with a golden mane.
Brigid: Drawing on the strength of Leo children, this Irish-origin name means 'strength or exalted one'.
Cressida: Of Greek origin, this is yet another name that reflects on the bright, shining light that is a Leo baby, and means 'gold'.
Ignatius: Meaning 'fiery one' this firecracker of a name suits a Leo child with aplomb.
Imelda: Meaning 'powerful fighter' this is all about strength and stamina, both Leo traits.
Kellan: Another strong name meaning 'powerful' – and one you won't find on many of the popular baby names lists.
Leander: This Greek-origin name literally means 'lion man' or 'man of lions' and is incredibly unique.
Leo: Why not take a literal translation of your bub's star sign and just go for the obvious, beautifully simple name.
Leon: Meaning 'lion' with both Greek and German origin, this is a sweet vintage name with strong undertones.
Leona: Meaning 'lioness', could there be a more perfect name for a fierce and fabulous Leo?
Lucinda: A Spanish-flavoured name meaning 'beautiful light', such a gorgeous way to honour the shining star that is your little Leo.
Magnus: Meaning 'greatest' this name has a certain Gladitorial feel.
Maximilian: Also meaning 'greatest', if you're wanting an uber strong name, this is one to add to the list.
Nero: Meaning 'stern' and 'powerful' for a baby cub that's determined to live up to their Leo traits.
Ora: This sweet Latin-origin name meaning 'prayer' is also associated with gold.
Ruby: The July birthstone, for cubs born in the first couple of weeks of this star sign.
Samson: Meaning 'as bright as the sun', this name is often associated with strength.
Seraphina: A magical name that means 'burning fire', for those little lionesses who are passionate and loving.
Sol: A unique, short and sweet name meaning 'sun'.
Image: East Cost Stitches
---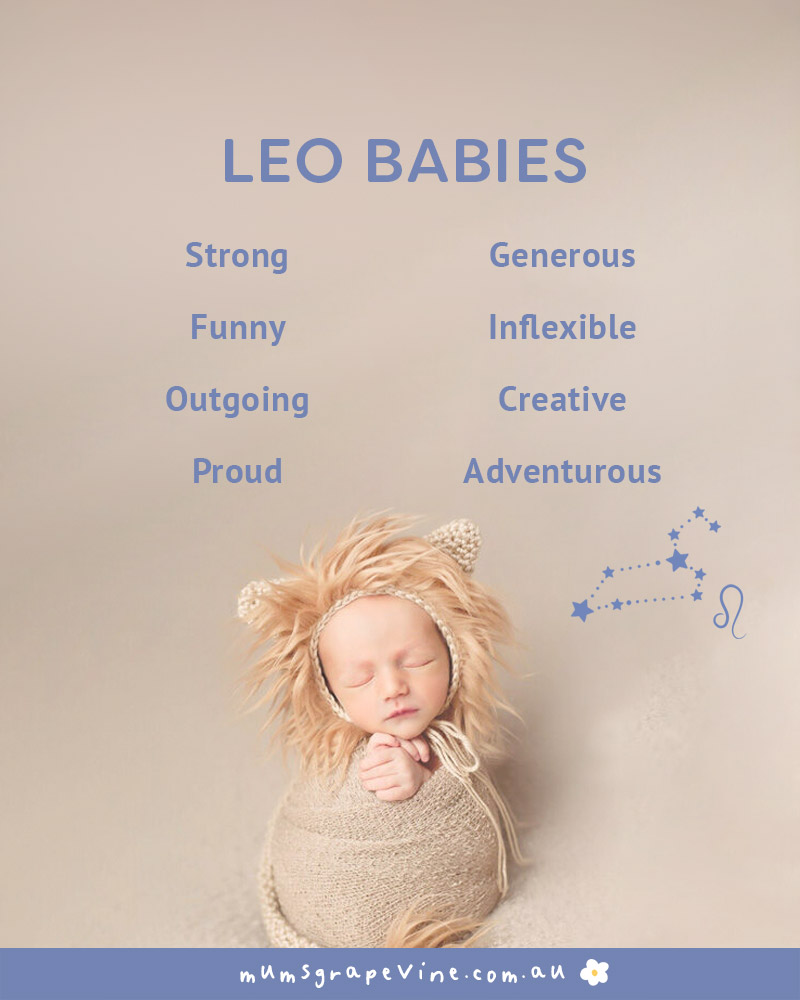 Find more baby names …
Want more baby name inspiration? Pop these articles on your reading list:
Having a baby in 2022?
Year of the Water Tiger: Your 2022 baby's personality
Having your own little Leo baby? Join thousands of other Aussie mums with babies the same age as yours in a Mum's Grapevine Due Date Facebook group. Join today!