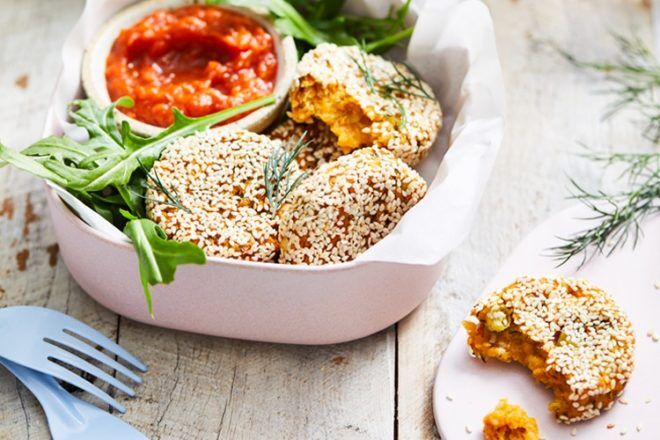 We love the convenience of using a Thermo appliance in the kitchen, especially for cooking a mid-week meal. They're quick, easy to use and get things done in the push of a button. Having just one pot to clean rather than four is an added bonus.
These vibrant patties are a great way of getting extra protein from a meat-free meal. Sweet potato is jam-packed with nutrients and combined with chickpeas, sesame seeds and a whole load of goodness they score high on the taste charts too. Serve with a no-nasties dipping sauce for a healthy, yet scrumptious family meal.
Let's get cooking …
Ingredients
Sweet potato patties
500g orange sweet potato
400g can chickpeas
1 tsp caraway seeds
2 tbsp arrowroot flour
4 green onions, white part chopped finely
1 tbsp chopped fresh dill, plus extra to serve
1 tsp sea salt flakes
1⁄4 tsp freshly ground black pepper
1⁄3 cup (50g) white sesame seeds
extra virgin olive oil cooking spray
No-nasties tomato sauce
1 medium onion (150g), chopped coarsely
2 cloves garlic
1 tbsp extra virgin olive oil
400g can diced tomatoes
40g tomato paste
80g fresh dates pitted
2 tsp apple cider vinegar
Method
STEP ONE: Make no-nasties tomato sauce. Place onion and garlic in mixing bowl; blend for 5 sec/speed 5 or until finely chopped. Add olive oil. Scrape down the side of the bowl. Cook for 5 min/120°C/ reverse/speed 1. Add tomatoes, tomato paste, dates and vinegar; blend for 10 sec/speed 10, increasing the speed gradually.
STEP TWO: After blending the no-nasties tomato sauce mixture, position the steaming dish over the mixing bowl. Chop sweet potato into 3cm pieces; place in the steaming dish. Pour over the can of chickpeas, letting the canning liquid fall through onto the tomato sauce. Scatter with caraway seeds. Cover and cook sauce and sweet potato mixture for 30 min/steam mode/speed 1.
STEP THREE: Remove steaming dish with sweet potato mixture and set aside. Transfer tomato sauce to a bowl. Add sweet potato mixture, arrowroot, green onion, dill, salt and pepper to mixing bowl; return measuring cup to lid. Blend for 10 sec/speed 5 or until coarsely chopped and mashed. Chill mixture for 20 minutes in the fridge.
STEP FOUR: Meanwhile, preheat oven to 200°C/180°C fan-forced. Line an oven tray with baking paper.
STEP FIVE: Roll heaped tablespoons of sweet potato mixture into balls (mixture will be sticky), then toss in sesame seeds. Press and shape into 5cm patties; spray with olive oil. Bake for 30 minutes, turning halfway through cooking and spraying once more with oil, or until golden and moved easily when pushed. Serve patties with tomato sauce for dipping, and accompany with rocket and extra dill sprigs, if you like.
Top tip!
Tomato sauce can be made up to 1 month ahead and refrigerated in a sterilised jar.
---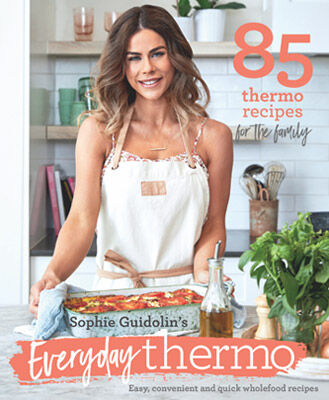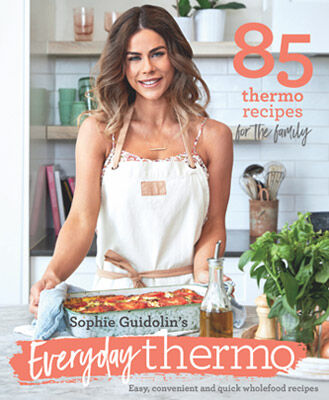 Recipes extracted from:
Everyday Thermo
Sophie Guidolin
($47.22)
---
Read next …
Looking for more meal ideas the whole family will love? Head right this way: