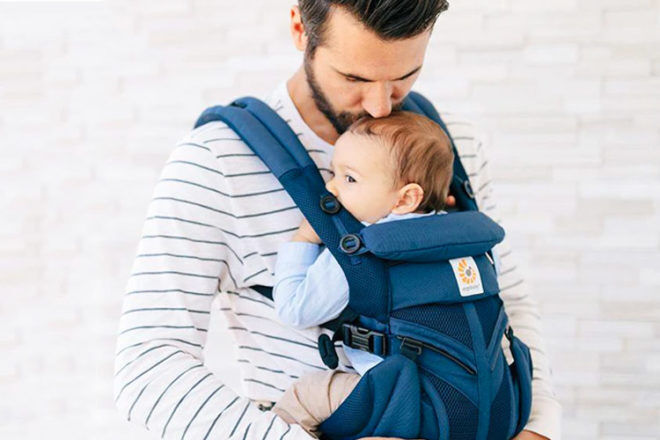 For parents on the move, a trustworthy baby carrier can be a lifesaver, offering both convenience and connection. Thankfully, the best baby carriers in Australia are thoughtfully designed to make outings easier and keep bub close as you head out and about.
From traditional wrap styles to modern carriers with multiple carrying positions, we're spoilt for choice when it comes to hip-healthy and hands-free products for carrying our baby's around town.
Types of baby carriers
Buckle carriers are worn on the front or back of your body, held in place by two adjustable shoulder straps, and a waist belt. Newborns may require an insert.
Wrap carriers are soft-structured pieces of wide fabric that are wrapped around your body, over your shoulders and tied into a knot. They can be tied in several different ways to suit toddlers and babies, and are a popular choice for newborns because they provide a close and secure fit.
Ring slings are similar to a wrap carrier, it's a wide piece of fabric that wraps around your body, but over one shoulder only. A ring or knot in front of your shoulder holds it in place and keeps it closed. Ring slings are a good choice for newborns because they are lightweight and easy to use.
Pouch slings are similar to ring slings, but they have a pocket sewn into the fabric to support the baby's head and neck. Pouch slings are another good choice for newborns because they are very comfortable and supportive.
Mei Tai carriers are semi-structured carriers that have a panel and four long straps which form the waist belt and arm straps, and you simply tie it around you each time.
Backpack hiking carriers are sturdy, framed backpacks often used for bushwalking and travelling. They're not suitable for newborns.
Hip seats are designed with a cushioned seat and a waist strap for parents. The baby sits on the padded seat, and their weight is supported by the parent's hip. These carriers are ideal for parents seeking a hands-free option for brief periods.
OUR PICK OF THE CROP
7 Best Baby Carriers in Australia
With so many baby carriers on the market in Australia, it's hard to know where to start, so we asked the HUGE Mum's Grapevine Facebook community which styles and brands they love. In no particular order, here are the carriers they recommend.
Ergobaby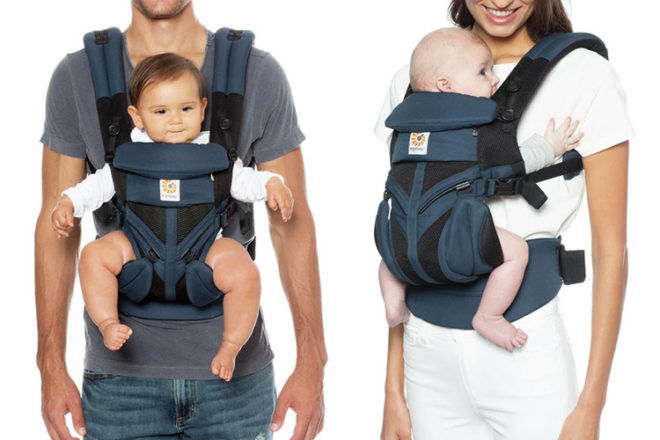 A favourite in Australia, the votes for Ergobaby Omni 360 were incredible! It has a padded waist belt and padded shoulder straps which means you can comfortably carry your little one for long periods of time. You also have three carry positions for keeping bub close (front, back and side) and it can hold up to 20kg.
"Honestly cannot go past the Ergobaby Omni 360! I tried others and it's been the best for my back and I still use it occasionally for my nearly two year old!! Best baby purchase EVER!!" – Debb Sing
---
Baby Tula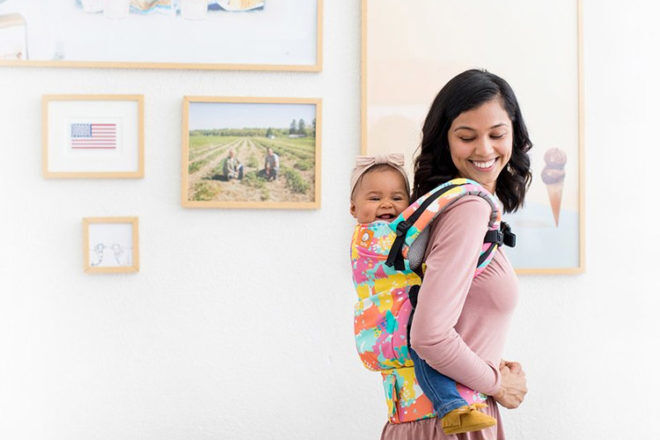 After months of travelling with their little ones in tow, the husband and wife team behind Tula set out to create a fab carrier that distributes the weight evenly. Noted for being incredibly versatile with its carry positions and extremely long-lasting, we're not surprised to see our readers rank this one so highly.
"I would recommend the Tula Free to Grow carrier. It's super comfy on and can be used for a newborn as well without an insert." – Monique
---
Cococho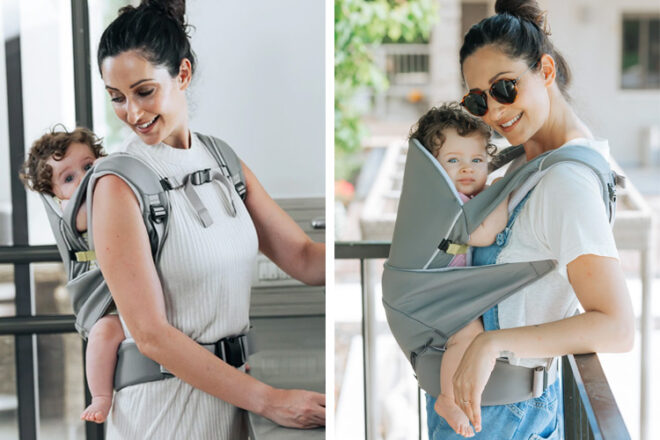 Ergonomic for both parent and child, Cococho Carrier allows you to secure bub in the carrier BEFORE wearing it. We love that it's hip-healthy and sleeping babes can be offloaded or switched between wearers without waking.
---
Hug-a-Bub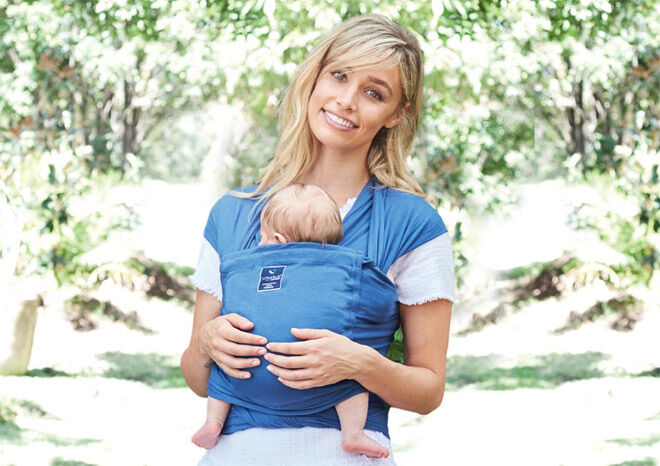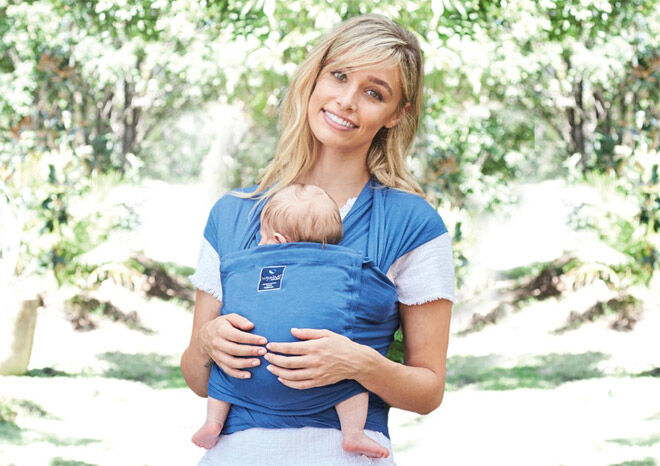 Our readers love the machine-washable Hug-a-Bub. The baby wrap carrier is designed to be used from birth without any extra attachments or inserts. Babies need to be close to you and the Hug-a-Bub does exactly that – giving you vital bonding time with your little one.
"Takes a bit of getting used to, but I love my Hug-a-Bub! My girl falls asleep straight away and she's so snuggly and close to me, it's almost as though I feel pregnant again. Fabric is gorgeous too."  – Rachel
---
Manduca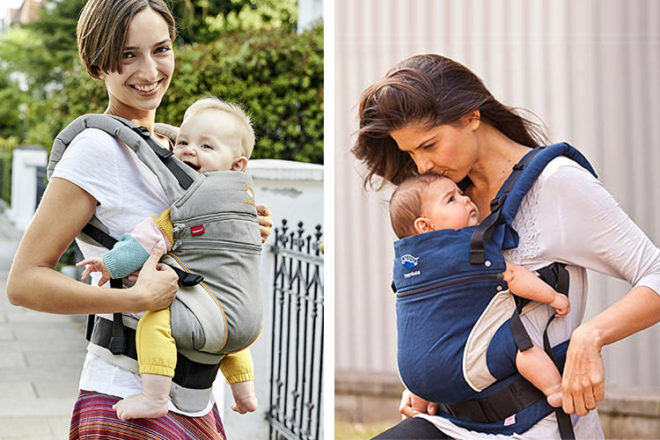 Made with 100% certified organic cotton lining the Manduca came highly recommended. Padded shoulder straps, waistband and adjustable neckrest mean you are able to easily carry your little one 'til they reach 20kg.
"Manduca. Loved mine, so comfy to wear and my little man was a big bub. Could wear him all day." – Yvonne
---
BabyBjorn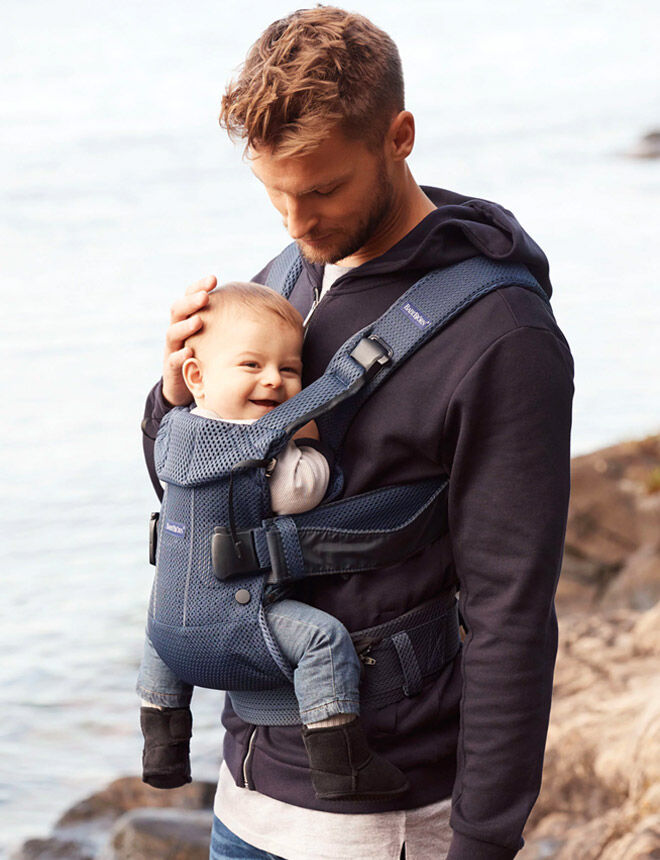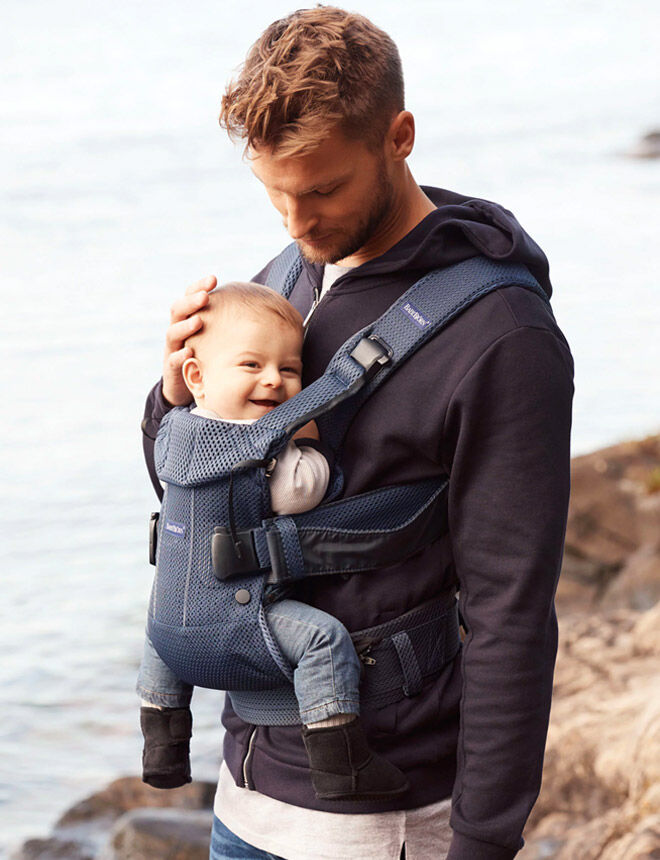 The BabyBjorn is another super-popular carrier in Australia and it's been around since 1961 supporting babies' heads, necks, spines and hips through special design and breathable fabric. It can also be easily taken off to put your child to bed when they fall asleep while being carried.
"I'm loving my BabyBjorn with my third child. Really wish I had used it with my first two boys. Great back support and great price." – Lorna
---
LILLEbaby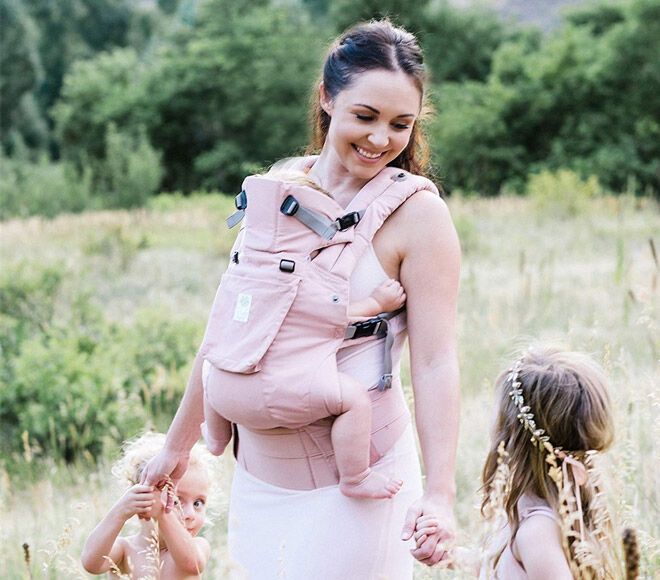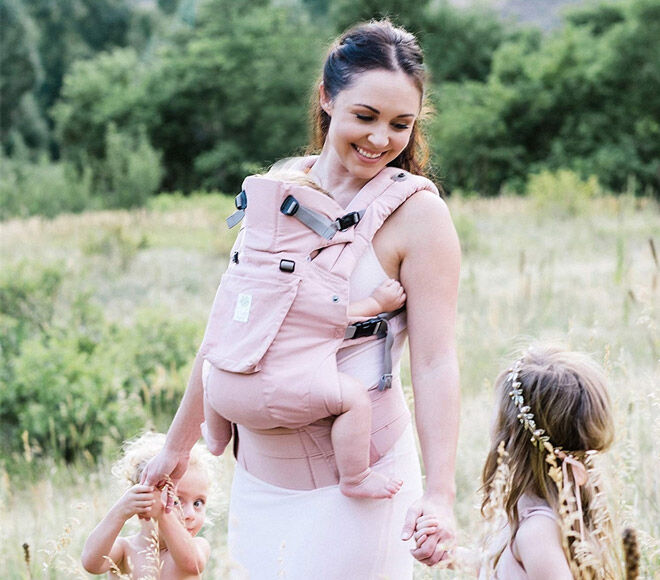 With its ethos drawing from the Scandinavian values of quality of life, honesty and a love for nature's beauty, Lillebaby is all about adventuring in comfort with tots in tow, without sacrificing style. Designed for year-round use, simply adjust the air mesh panel for optimum airflow.
"Lillebaby All Seasons are amazing with built-in back support as well." – Sarah
---
Baby Dink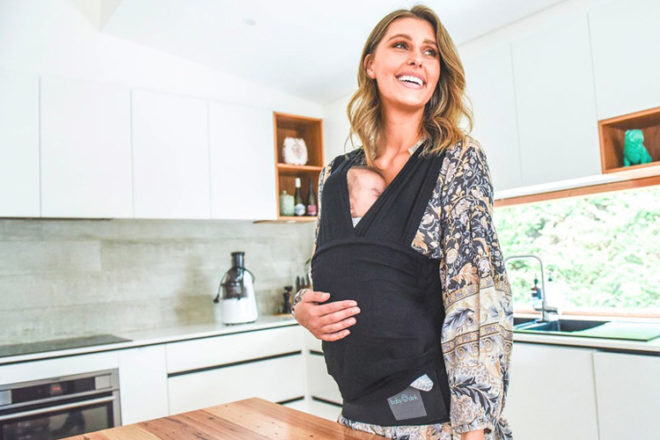 With no clips, buckles or warping, the revolutionary Baby Dink is more like a t-shirt than a traditional baby carrier. Made with the knowledge of a team of experts, it's comfy and cosy for mum and bub.
"I love Baby Dink! It is far more fashion aware than similar products and is easy to put bub in without assistance from anyone else. Once they is in, she isn't going anywhere and is very secure." – Amelia
---
Babywearing safety
Raising Children explains that you should follow the T.I.C.K.S rule to ensure your little one is safely positioned in slings and carriers:
Tight – position baby tight, high and upright with no loose fabric around them.
In view always – You should be able to see bub's face at all times.
Close enough to kiss – Just by dipping your chin, you should be able to kiss that sweet forehead.
Keep the chin off the chest – Make sure your childs chin is up and off the chest for ease of breathing.
Supported backs – bubs back should be in a natural position, with little chests against yours.
There are no Australian safety standards for baby slings, carriers or backpacks, so look for products with either the European standard EN 13209-2:2005 or the US standard ASTM F2236-08.
---
FAQ: Your Questions Answered
What are the benefits of babywearing?
A study has shown that convenience is the most common reason for babywearing. Going someplace? Whip out the carrier instead of a stroller. It's quicker, more portable, and you can go anywhere you're able to walk normally. Stairs, grass, crowds, and narrow aisles aren't really an issue anymore.
When you carry an infant, you also enjoy loads of skin-to-skin contact and special bonding, plus they've proven to be very useful for babes with reflux.
Are all carriers safe for newborns?
Many carriers are not recommended for younger than four months in Australia due to insufficient neck and head support. But, some brands offer inserts or special designs that cater for newborns.
What position in a carrier is safest?
While positions vary depending on the style, the way a little one sits in a carrier or sling should always resemble the way a parent naturally holds them in their arms in the upright position.
The best carriers allow the spine to remain in its correct 'J' shape and with legs raised into a squat 'M' position, reducing the risk of hip dysplasia and supporting healthy hip development as they grow.

Know a carrier brand to add to our list? Contact us and let us know, we've been curating Australia's best baby products into helpful lists for over 16 years and we're always happy to support new brands and businesses.
Read next …
Ask other mums
Looking for a carrier or wrap and still not sure if any of these are right for you? Join the huge Grapeviner community in one of our private Facebook Due Date or Baby Groups and ask thousands of other mums with babies the same age as yours which ones they recommend.
We want you to know
We're Mum's Grapevine, a team of mums who've been there and done that (we have a combined 19 kids, so we know a thing or two about parenting!). We've been writing about all things baby and parenting for over 16 years, and we're passionate about helping new mums find the best products for their little ones.
Sometimes, we do include paid inclusions in our reviews, but we promise that we only recommend products that we truly believe in and have either used or personally seen. Our goal is to give you, our Grapeviner mums, the inside scoop on the latest and greatest parenting products, and we're always striving to maintain our high standards of quality and honesty. See our Disclosure Policy.
Thanks for trusting us to be your go-to source for all things baby-related!
xoxo