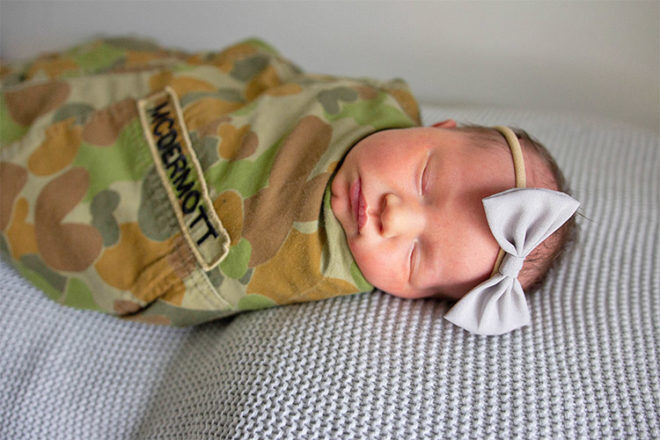 Caitlin Brown was just 15 weeks pregnant when she kissed her partner Cody McDermott goodbye for his Australian Defence Force training. She knew he'd miss the majority of the pregnancy – the scans, the appointments, the kicks. But Caitlin was determined he wouldn't miss the birth of their baby.
A mother's determination and a father's tenacity meant nothing would get in the way of their dream to welcome their child into the world together.
Planning the birth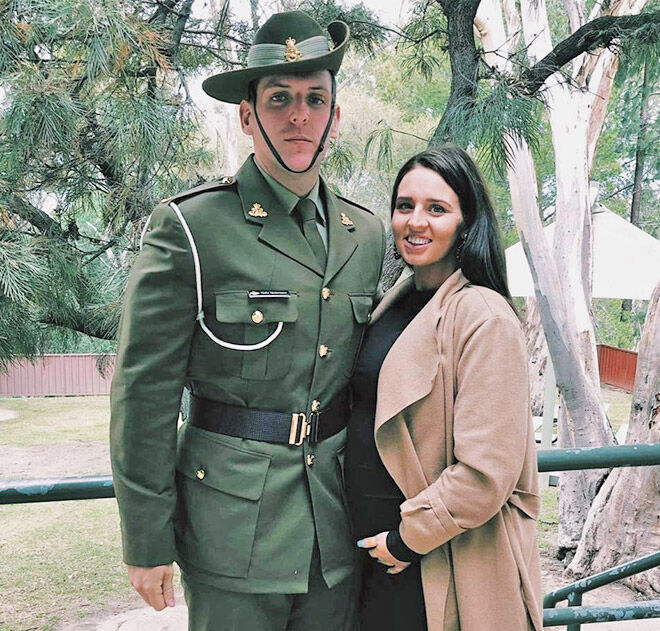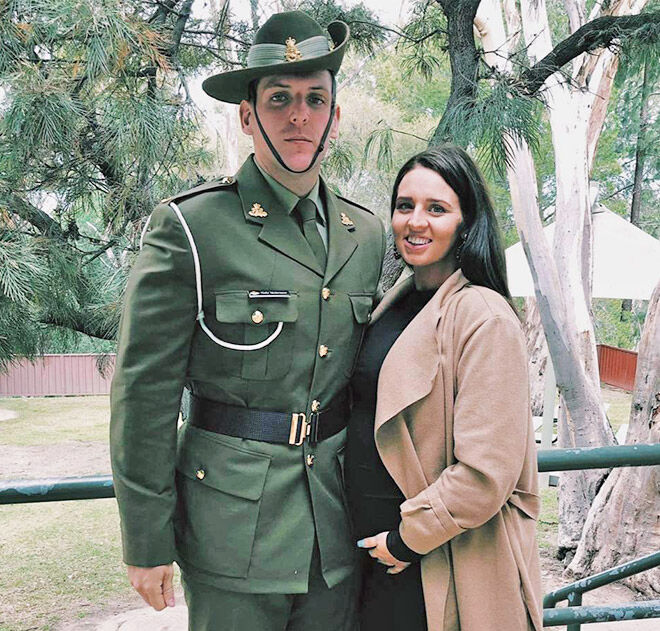 As a blended family, life was busy for Caitlin and Cody, with four children between them from previous relationships, and a new addition on the way. And then Cody enlisted into the Australian Defence Force, leaving his tribe and heading to training when Caitlin was 15 weeks pregnant.
"At his going away party we announced our pregnancy and gender of our pending baby," Caitlin explained to Mum's Grapevine.
"Cody completed his three months of basic training and went on to finish the next training steps for his job role. Being in a completely different state, missing all our scans, all our appointments and only seeing my belly in person two times throughout the pregnancy as our baby grew. Fast forward to the dawning idea and possibilities of Cody missing out on the whole pregnancy, the movements, having to build the nursery room furniture alone, all the special parts of having a baby we did apart, we weren't willing to bring her earthside with us both being there."
The pair both worked furiously to secure a birth together. They spent weeks planning and filling out paperwork to get approval from both the hospital for a social induction and the Army, to allow Cody to fly home. The timeline was tight, with Cody needing to be back and ready for his role.
"The lead up was a long process, of a lot of begging done on my behalf to my midwives to be socially induced, a non-medical induction so that we didn't run the risk of Cody missing the birth. It almost felt like it was never going to be possible. With going overdue with my three older children and my last birth being 50 minutes long I was so worried that if natural labour did start I knew there was no way Cody would make it with needing to get on a plane to get to us."
Just in time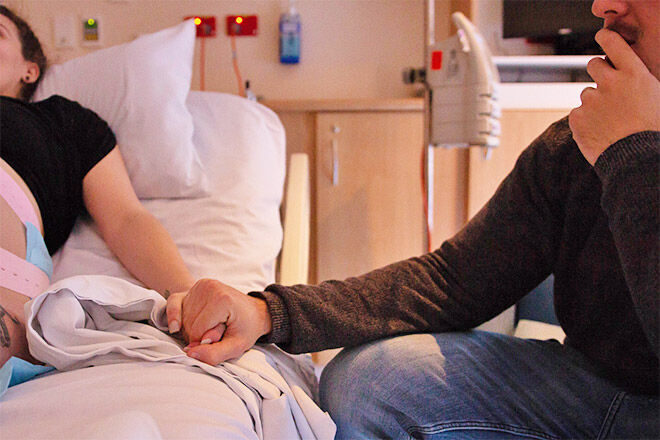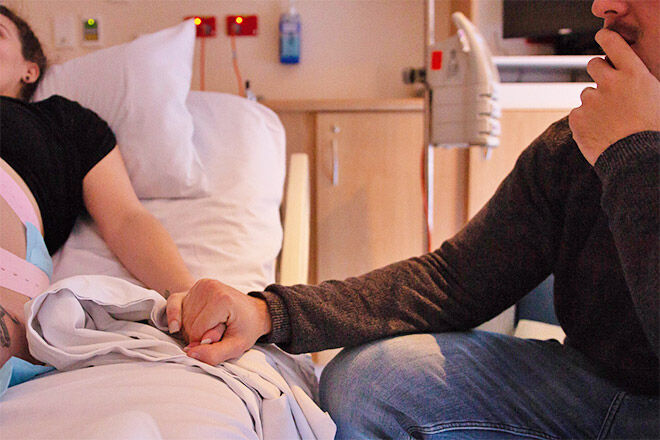 Caitlin spent the hours waiting for Cody to arrive trying to kick-start her labour.
"The whole day of waiting to be admitted into the hospital I felt numb … no emotions … it didn't feel real. Once I had arrived at the hospital and I was settled into the room, the count down until Cody would be there made it so much more exciting and real! Cody's plane from Melbourne to Adelaide ended up being delayed, so instead of arriving at the hospital by 9:30pm he didn't end up arriving until close to midnight due to terrible weather in Adelaide.
"Being 38.3 I was only 1cm dilated at the beginning of my induction so we decided to use the cervidil to help dilate me so that my waters could be broken. Cervidil was inserted at 8pm. Being eager to have a baby ASAP so that cody and I had as much time possible with our newborn, once all the monitoring was complete I began pacing the hospital room. I walked back and forth for two hours, waiting for Cody to just get on his plane!
"Having mild contractions, I decided the next best way to stimulate these contractions would be to dance myself into labour. I did the cha-cha, slide and the 'git up' challenge, but this just ended up making me more sleepy than anything. As time ticked away, updating Cody on every little niggle, I ended up just laying down waiting for him to come. Arriving close to midnight Cody sat by my bedside, holding my hand we fell asleep together. I manage to sleep for two hours through contractions until 2am. I had some pain relief and went back to sleep until 4am, then I was awake unable to sleep as I could hear other women around me birthing and I wanted that.
"At 6am I made Cody walk back and forth in the room with me, trying to stimulate stronger contractions. Again two hours of us walking and talking telling jokes, finally back in each other's company, we popped some music on in our room to block out the world and just went with the contractions.
"At 8am my midwife came in and assessed me. I was finally 3cm, dilated enough to break my waters. We broke my waters but bubs head was so low that it was hard to know as my waters only leaked each time Cody made me laugh! Within five minutes of my waters breaking my contractions became more intense. We got a gym ball out to help bounce and get things moving.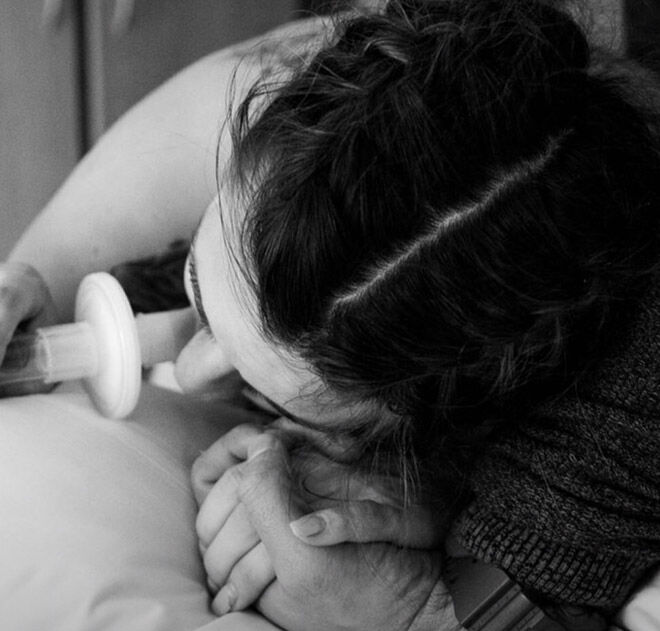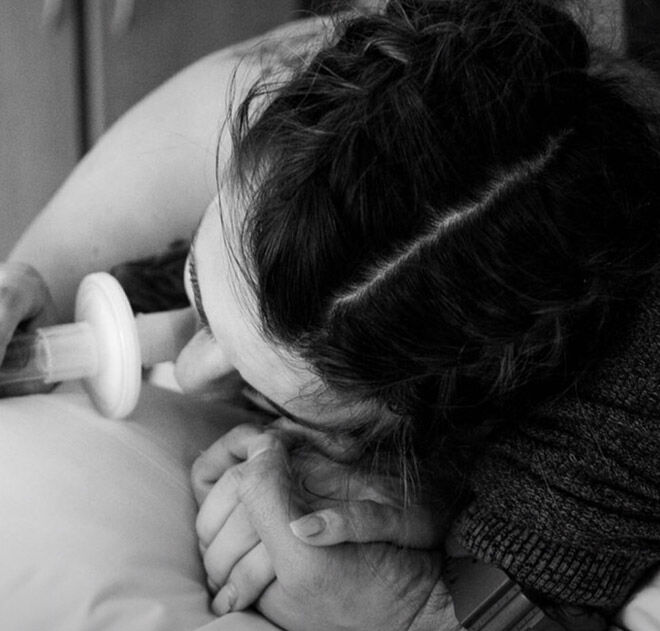 "One hour after having my waters broke, I stood up and said I needed the gas for some help as I could feel it was push time. We set up the gas, I was a few breaths in the student midwife I'd agreed to walked in and said, "Hi I'm the student midwife my name is Emma." Me, high on life and gas and hadn't said a word in over 30 minutes shouted out "Emma Wiggle?". I instantly knew the gas was working!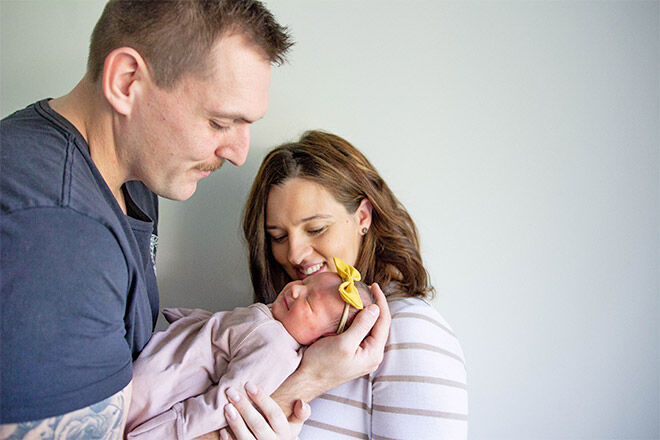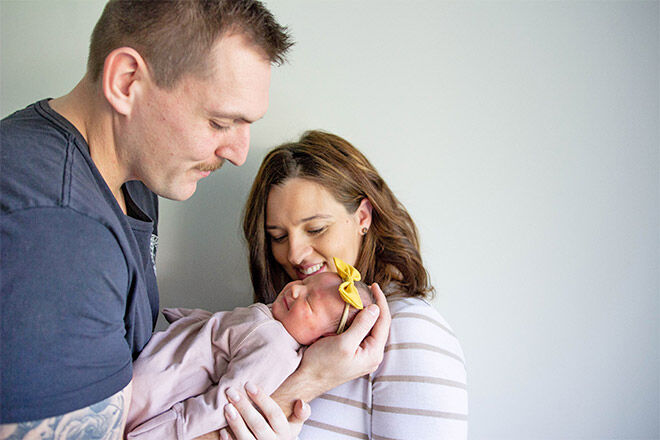 "Standing up, using gravity to my advantage with 20 minutes of pushing, our beautiful girl Sadie Kaye took her first breath. We had waited nine months for her, six months apart and were finally back together to welcome her into the world.
"We were lucky enough to have just 48 hours together before Cody had to return back to his role in the Army and put daddy duties on hold for three more months."
Images: Melissa Anne Photographer
Read next …
What an incredible birth story, full of sacrifice and love. We have so many beautiful birth stories to help you prepare for your own: